Vegan dining around Invercargill, while we cannot boast an all Vegan restaurant (yet!), here are some favourite restaurants, cafes and fastfood franchises offering great Vegan options.
BurgerFuel, 123 Dee Street (corner of Dee/Spey)
BurgerFuel offers a wide vegan selection, proudly labelled on the menu.  Two great burgers, soy thickshakes, potato or kumara fries…..and "motobites" of fried vegetable.  Conveniently located on Invercargill's main drag, check out this automotive "boy racer" themed burger joint.

Vegan burgers $7-9, alongside $6 kumara fries, $6.50 Soy Thickshakes, 8 "Motobites" for $6.90.  Highly recommended for great convenient vegan food, served till late.

Speight's Ale House, 38 Dee Street
Ask for their FULL VEGAN MENU!
Located right next to the Invercargill City Library (where we hold INVSOC vegan potlucks), the Speight's Ale House has a FULL Vegan Menu (!).  From Entrées, Mains, Side dishes, Desserts….you're covered :-)

We enjoyed Asparagus and Roast Tomato Bruschetta, Spinach, Mushroom and Kumara Gnocchi.   Mushroom and Spinach Coconut Taglietelle and Kumara Courgette Curry.  For dessert, Apple Crumble and Berry Parfait.  Prices are around $15 for Entrees, ~$24 Mains and ~$11 for Desserts

Z Energy's Vegan Pies
Our friends at Z Energy offer petrol, vegan pies…..and soon, even ways to charge your electric car!
Try the vegan Kiwi classic, the "Gourmet Mexican", or the limited edition "Vegetable Korma", which we hope will stick around longterm.
 It's bloody awesome having great vegan food at a petrol station: convenient, and animal friendly :-)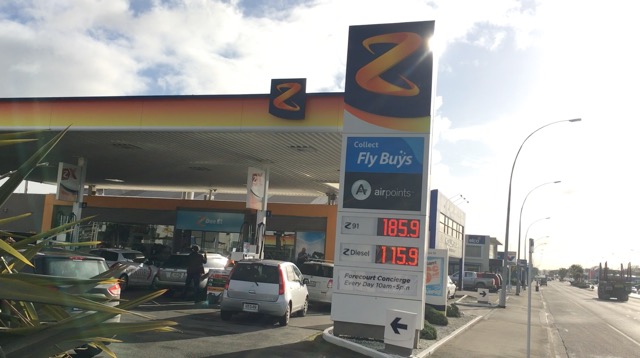 Devil Burger, 16 Don Street
With gourmet vegan burgers for just $10 each Tuesday and Thursday, try Devil Burger for brunch, lunch or dinner!  Located right in the heart of Invercargill, with an incredibly textured and varied location.  See also "The Vinyl Bar" hidden within…

Devil Burger's "Bad Girl" falafel burger, order vegan by saying NO aioli (contains bird's eggs)  $13.99 large, $10 on Tuesday and Thursday!

Elegance at 148 on Elles, 148 Elles Road
Perhaps Invercargill's finest animal friendly dining experience.  "148" has a separate VEGAN MENU for both main course *and* vegan desserts!  Located on Elles Road (opposite the South Alive Dog Park), "Elegance at 148 on Elles" is absolutely fantastic for vegan customers.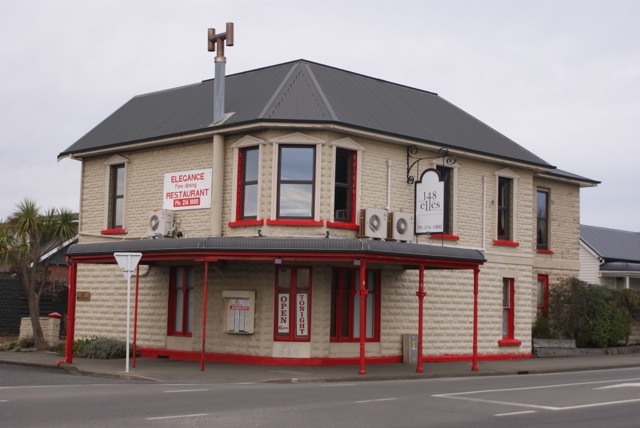 Hoisin Stack "Slices of fresh root vegetables & seasonal greens sautéed in hosin & ginger sauce.  Layered with sesame seed wontons & mixed lettuce leaves.  Dressed with lemongrass & lime vinaigrette." $26.90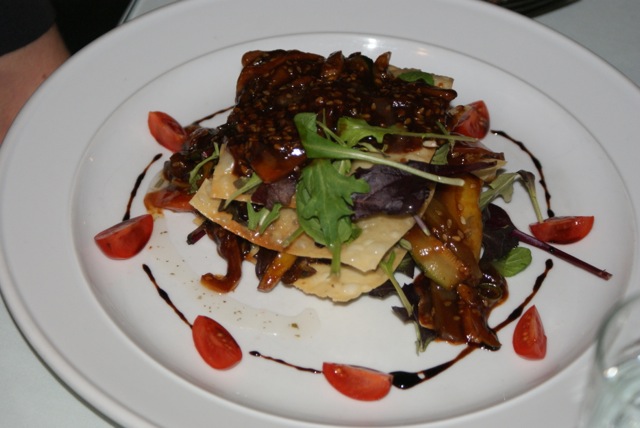 Hell Pizza, 2-10 Dee Street
Heaven and Hell ensnarled in one great pizza joint, they proudly have a separate benchspace area for vegetarian orders.  As of October 2014, Hell even offer VEGAN CHEESE for just $1 extra!
Running "in your face" advertising campaigns, Hell offers both extremely "Non Vegan" ads about killing cartoon baby lambs AND posters of their great Vegan options!

"Sinister" Vegan pizza actually listed on the menu!  Refried Beans, Avocado, Onions, Salsa, Tomatoes, Jalapeno Peppers and Capsicum  $17.50, ~25 delivered  Add an extra dollar for VEGAN CHEESE :-)

Subway, 10 Dee Street (beside Hell Pizza), 2 Martin Street, South City and 38 Windsor Street, Windsor
Subway have franchises the world over, including two in Invercargill!  From the plain all salad "Vegie Delight" to the deluxe "Veggie Patty", Vegans are well covered :-)

 Subway's "Veggie Patty", similar to falafel ~$9 foot long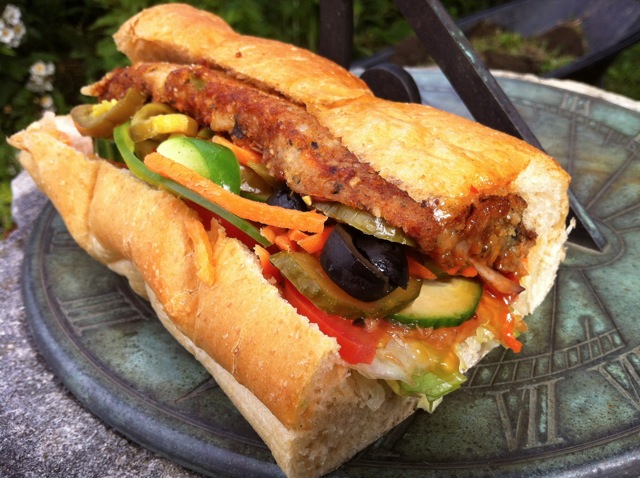 KiwiYo + Pita Pit, 47 Tay Street
KiwiYo and Pita Pit offer side by side vegan delicacies :-)  Enjoy a refreshing fruit sortbet on a 28 degree day, or a filling falafel pita

KiwiYo, "Dole mango sorbet" with Lychee fruit, ~$4 sold by weight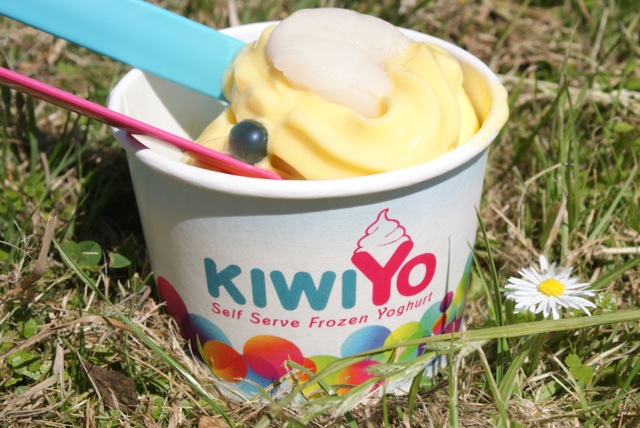 Pita Pit, "Falafel Pita", $10.50 large although as "Pita of the Day" on Mondays, its $9.00 :-)

Zookeepers Cafe, 50 Tay Street
The best kind of "Zookeepers" in a Vegan world, without animals kept in zoos :-)

Quesadilla with rich bean mix, Zookeeper's own hummus and salad.   Falafel Burger, Roast Vegetables with Falafel, Quesadilla and Fried Noodles are all vegan friendly :-)
Mevlana Kebabs, 61 Tay Street
Offering great Turkish vegan options, try the great Falafel Kebabs, stuffed vine leaves or the "mixed vegetarian plate".  Just make sure you mention being "vegan, no yoghurt" to the friendly staff.  Try the Turkish Delight! :-)

Falafel Kebab with NO YOGHURT (make sure you let them know!), $11
Bento Sushi, 101 Dee Street and 31 Kelvin Street
Bento sell vegan sushi from several convenient stores, for $1 per piece.  With absolutely world class friendly staff, they're pretty darn fantastic.


Waxy O'Shea's, 90 Dee Street
"The Southernmost Irish Pub in the world", we attended a Green Party meeting here to meet MP Eugenie Sage in the tofu.   Waxy O'Shea's has a variety of seating areas in the restaurant section, surrounded by stereotypically "Irish" themed objects.

Roasted Vegetable Salad with balsamic vinegar, $17.90

Bombay Palace, 68 Forth Street
Great Indian food from Bombay Palace, located close to Pak n Save.  Mostly animal skin leather seats, but Bombay Palace also have free takeaway delivery for orders over $35.  Settle in at home with a great movie and great Indian food :-)

Dal Makhani (top, red kidney bean) and Chana Masala, (bottom, chickpea) curries served with rice.

Colonial Bakery, 25A Gala Street

Located very close to Queens Park on Gala Street, the Colonial Bakery have a great Vegan selection.  Try their Chelsea Bun assortment!  Sugar, Iced, Blueberry, Pear…..should all be Vegan, just ask before ordering :-)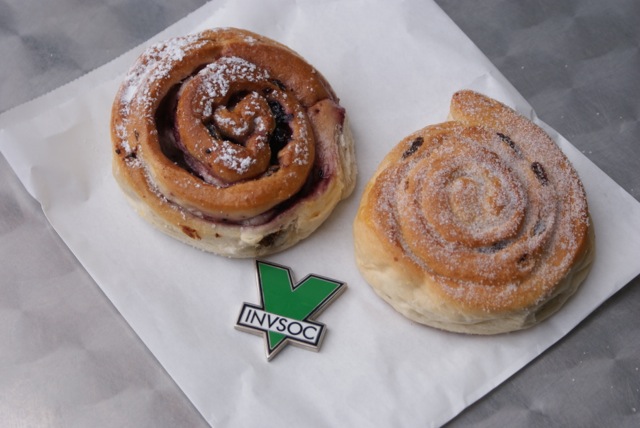 The Batch cafe, 173 Spey Street
One of Invercargill's most popular cafes, located on the bottom floor of WHK accountants.
Dan visited The Batch recently, and reports:
"Last time they had a vegan chickpea and pumpkin salad ready made in the display cabinet, this time they didn't have a ready made vegan option but they made me an amazing salad!
And very reasonably priced….Emily and I went for 2 lunches and a coffee for $23 total"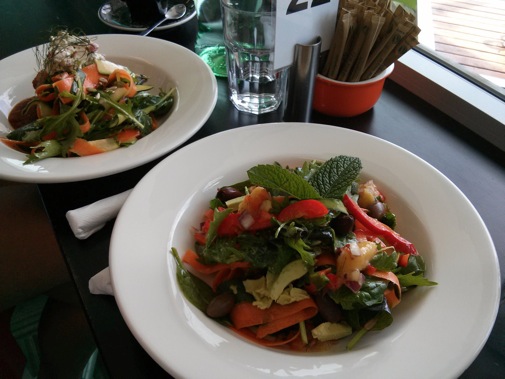 Ziff's Cafe & Bar, 143 Dunns Road, Otatara
Located just a few minutes west of Invercargill as you head towards Oreti Beach, Ziffs Cafe & Bar is located opposite the Otatara School and Community Hall.
Indoor and outdoor dining options are available.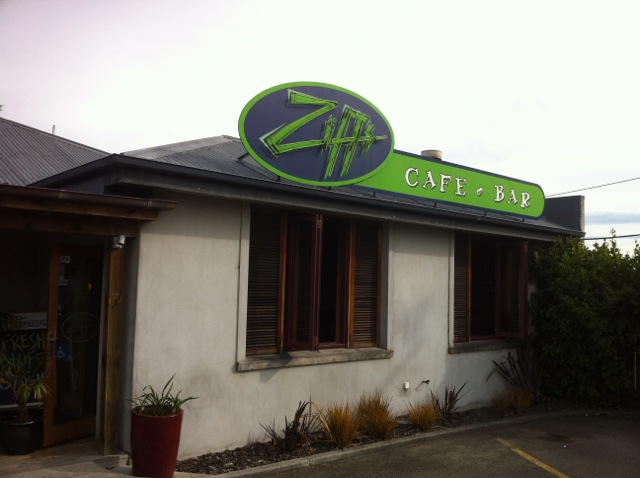 "Mediterranean Vegetables with grilled Tofu"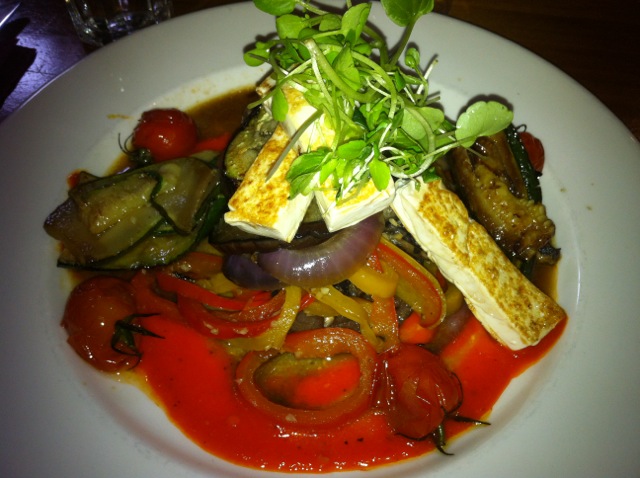 Enjoy the great Vegan dining available in Invercargill :-)