With the restaurant having a sort of automotive enthusiast "boy racer" theme, we were surprised to see a couple of uniformed police stop by BurgerFuel for a thickshake :-)


On offer, several vegan friendly burgers, deep fried "Motobites", potato or kumara fries, and soy thickshakes.  It's fantastic to see such a great animal friendly range, and well promoted on the BurgerFuel menuboard.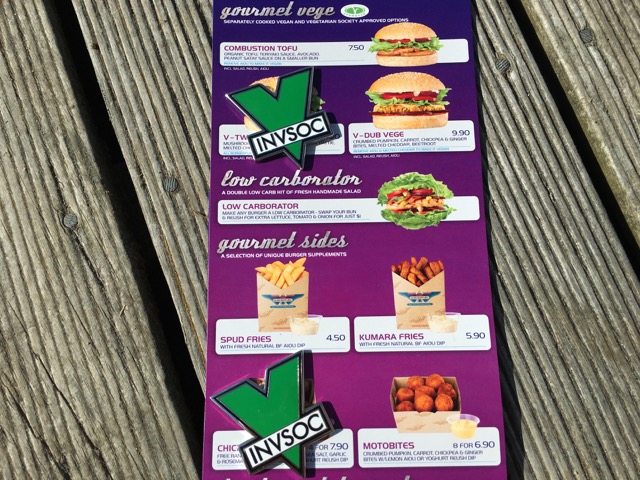 On Invercargill's main drag, BurgerFuel is easy to get to in a hurry.  Fun fact, a vegan project manager actually got in touch with us during construction.  An animal rights supporter actually helped build BurgerFuel Invers :-)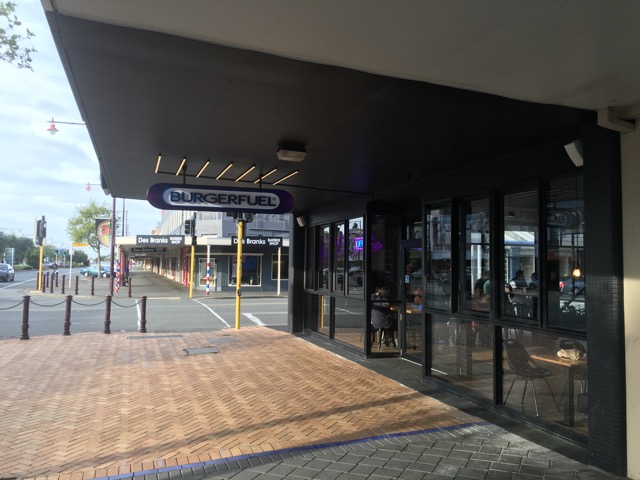 BurgerFuel Invercargill is spacious and well lit.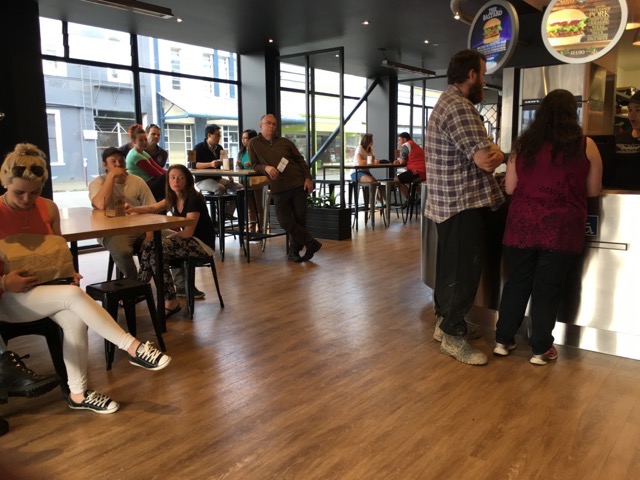 We love them so much, we even gave them a World Vegan Day 2016 award!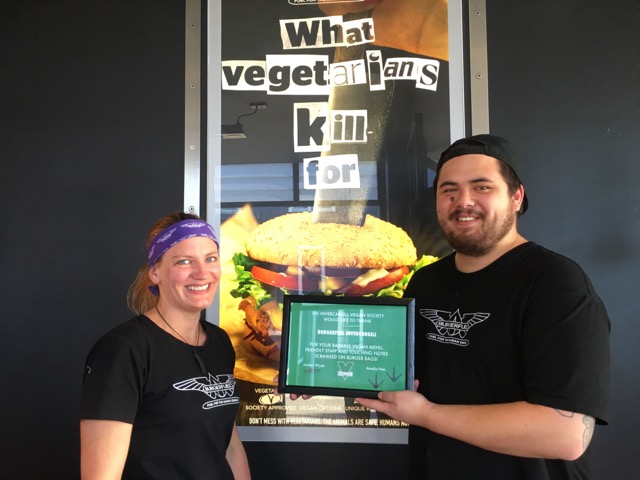 Seated at the boardroom BurgerFuel table, Sea Shepherd New Zealand board member Grant Meikle  and Vegan Society of Aotearoa boardmember Jenny Stone.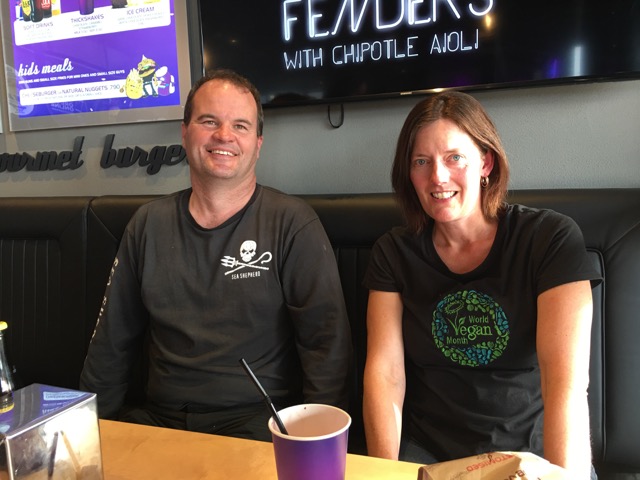 Simply ask for your order to be vegan, to drop the aioli (egg) and cheese.
"Combustion Tofu , no aioli please".  The smaller Combustion burger features "organic tofu, teriyaki sauce, avocado, peanut satay sauce on a smaller bun.  Remove aioli to make it vegan" $7.50.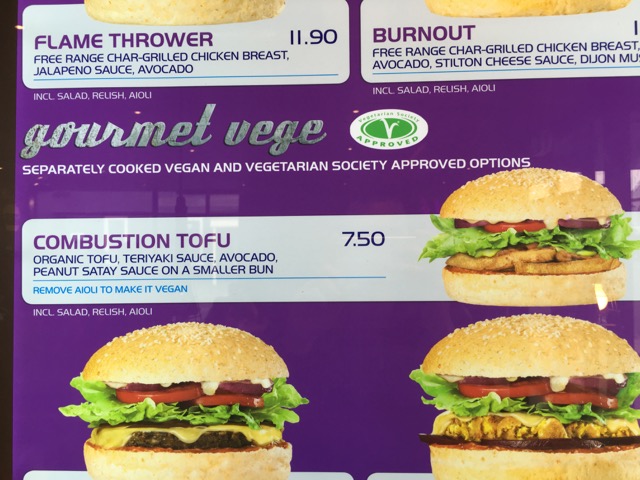 Combustion Tofu burger, with no aioli.  Usually a small burger, for an extra $1 you can get our favourite Combustion Tofu burger, without aioli, on a LARGE bun :-)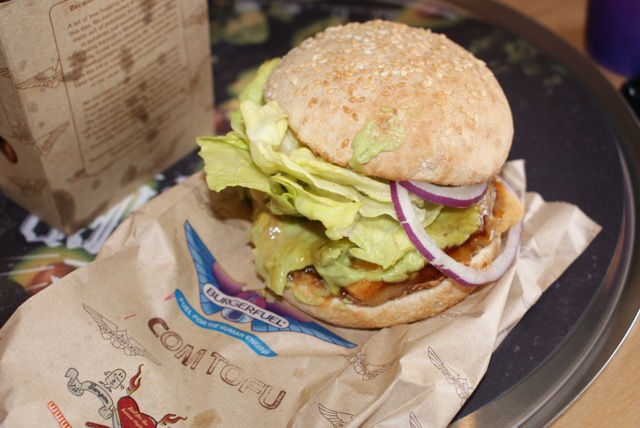 Great firm tofu!
"V-Dub Vege, no aioli or cheese".  A large burger starring "crumbed pumpkin, carrot, chickpea & ginger bites, beetroot.  Remove aioli & melted chedder to make it vegan." $9.90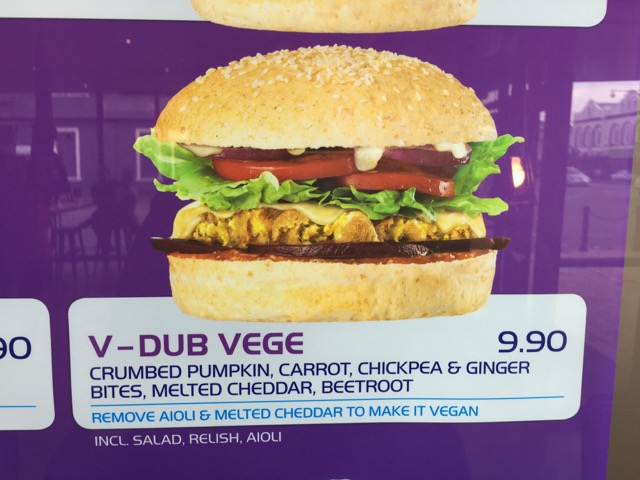 V-Dub Vege, with no aioli or cheese.  The special veggie patties have a tasty secret…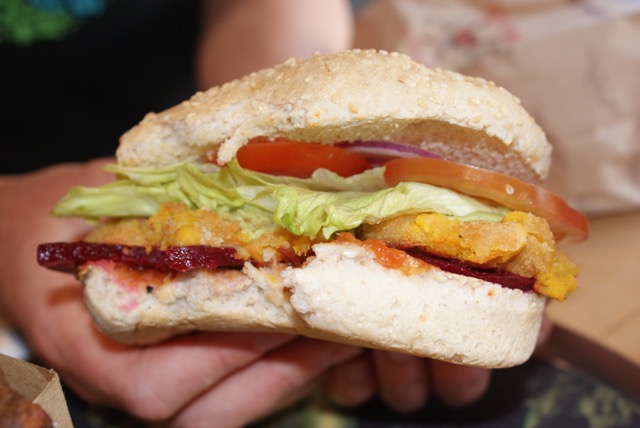 The "V-Dub Vege" burger uses BurgerFuel's tasty "Motobite" fried vegetable balls as a patty.
Also available separately, Motobites are pretty darn good! "Crumbed pumpkin, carrot, chickpea & ginger bites".  8 for $6.90
Ask for no aioli, the friendly staff will happily upgrade you to a punnet of tomato sauce or relish.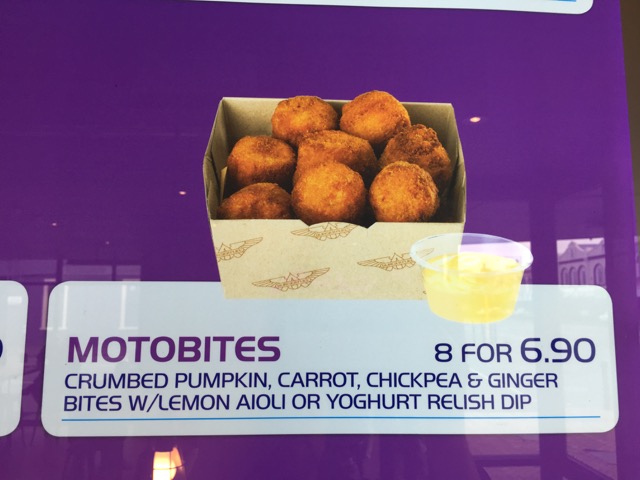 Motobites are crispy, flavoursome and essential for the full BurgerFuel experience.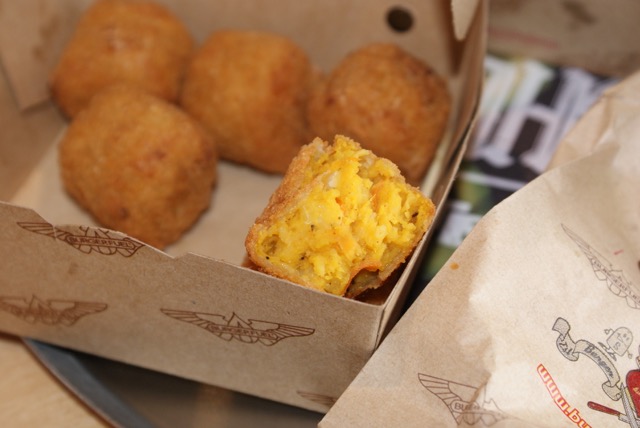 Burger Fuel is REALLY vegan friendly!  Even to those murderous vegetarians!

"Vegetarian Society Approved, Vegan Options, Unique Recipe, Separately Cooked.  Don't mess with vegetarians.  The animals are safe.  Humans not so."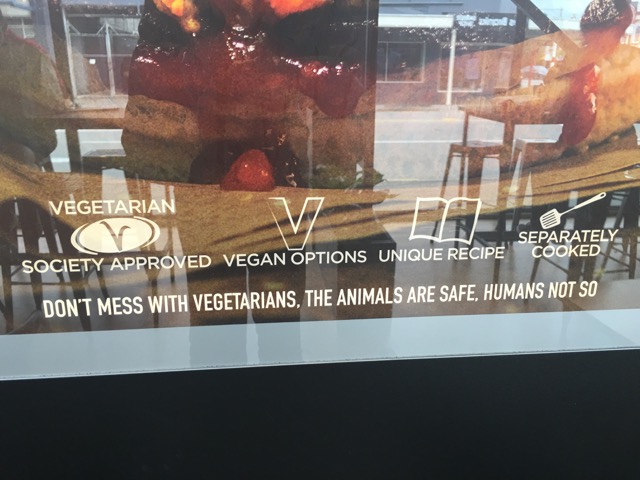 Both "Spud Fries" $4.50 and "Kumara Fries" $5.90 are vegan, just ask them to swap out the aioli dip for tomato sauce.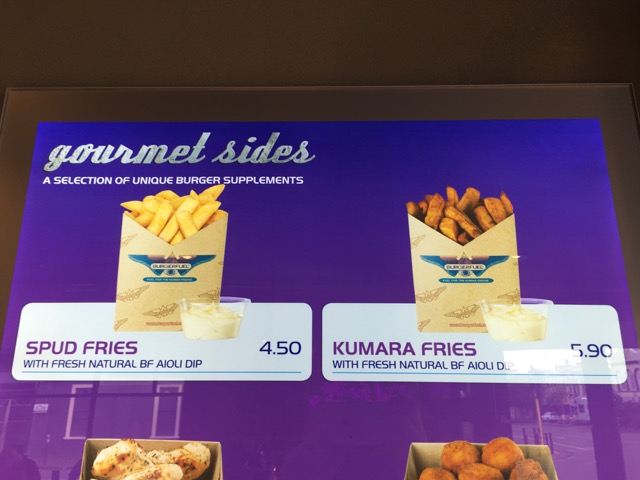 Kumara Fries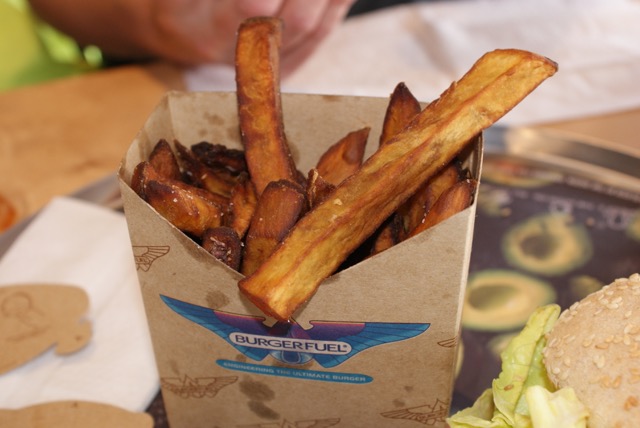 I'm telling you, these are pretty darn good.

Strawberry soy thickshake.

 BurgerFuel Invercargill is even so hip, so down with the kids, you can *even* place orders using their iOS and Android apps.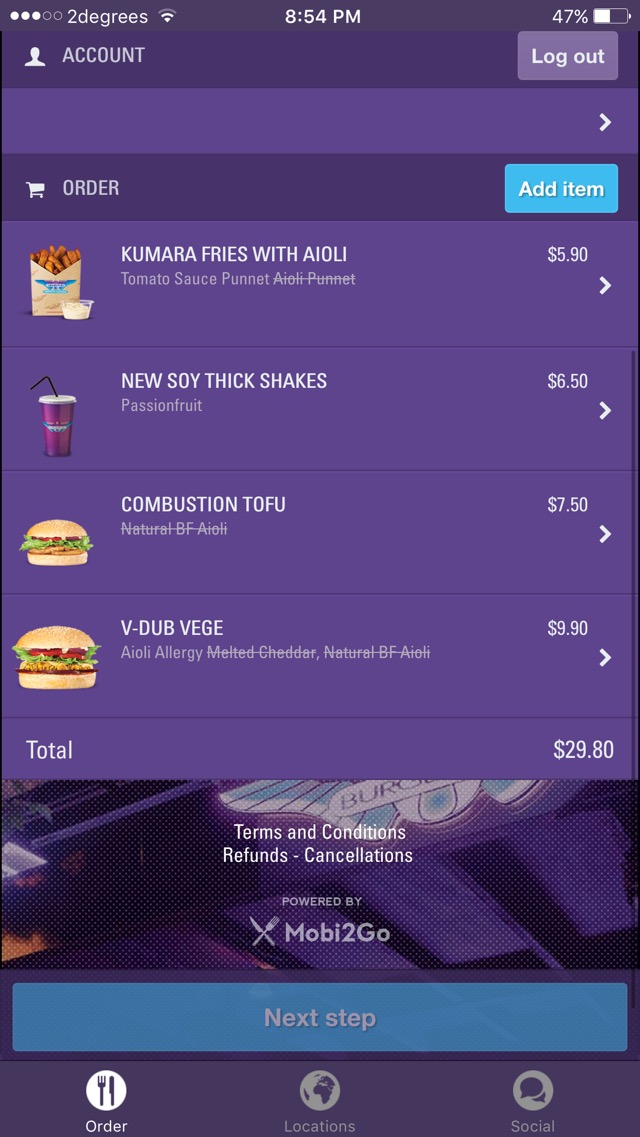 It makes it easy to ping out the aioli and cheese, to have your order ready by the time you arrive at the corner of Dee and Spey Street restaurant.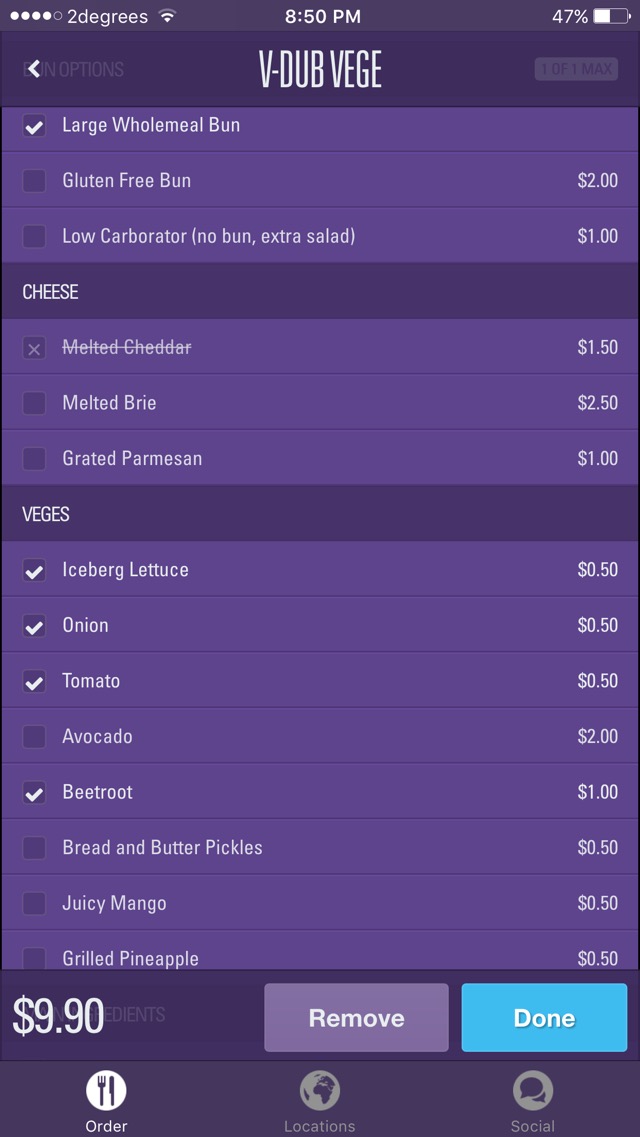 Great burgers, chips, "motobites" and even soy thickshakes.  BurgerFuel is highly vegan friendly, right there on the menu. HIGHLY recommended :-)
BurgerFuel Invercargill
123 Dee Street (corner of Dee/Spey Street)