Hell Pizza, 2-10 Dee Street
Hell started in Wellington (imagine that, an actual New Zealand owned brand) and its taking over the globe.  They now also stock Angel Food vegan cheese!  You can have a great vegan pizza from Hell, complete with dairy free mozzarella :-)  Angel Food products are also available at New World supermarkets, to buy whole and sans-pizza.


Hell's "Sinister" vegan pizza (refried beans, avocado, onions, salsa, tomatoes, Jalapeño peppers + capsicum)

Often running offensive ad campaigns, Vegan customers find themselves in limbo between Vegan Heaven (being supported with the "Sinister" VEGAN pizza in the menu!) and being reminded of how we can buy "baby lamb shanks" with ads of a cute cartoon sheep going off screen to be killed.
Hell: with both non-vegan ads…

….and yet paradoxically also being the best Vegan friendly fastfood chain, weird eh? :-)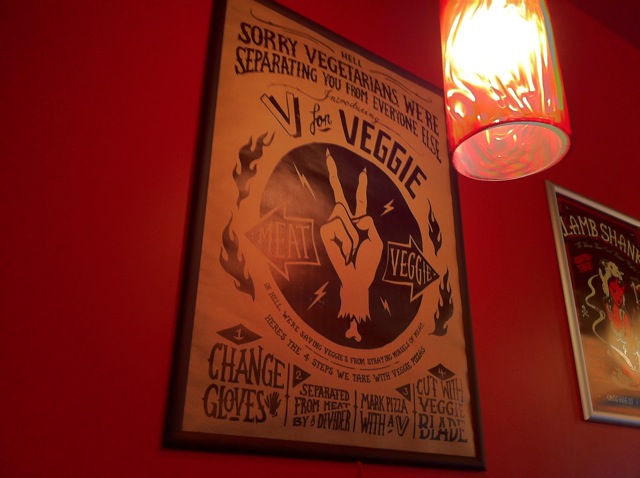 There is no moral difference between their usual serving of chicken flesh, cow flesh, pig flesh…..and eating the flesh of a rabbit.  It "seems" more controversial, because most New Zealanders do not eat rabbits (anymore!).  By giving out vegan bunny chocolates to coincide with Hell's big nationwide marketing push, we had a great time speaking up for animals.  INVSOC activists visited Hell Pizza Invercargill, and gave vegan chocolate bunnies to the staff!

Hell Pizza Invercargill manager Brad with INVSOC member Terry
By having a sense of humour in our activism, we made a good impression with Hell staff.   Months later, we asked Hell for help with our World Vegan Day 2014 promotions.  Not only did Hell Pizza Invercargill offer us free vegan pizzas to giveaway, but also a special "Convert a Carnivore" deal!  Customers ordering vegan pizzas on the 1st of November could say "Invercargill Vegan Society" to receive two pizzas for the price of one!
Hell Pizza Invercargill manager Brad had remembered our easter giveaways :-)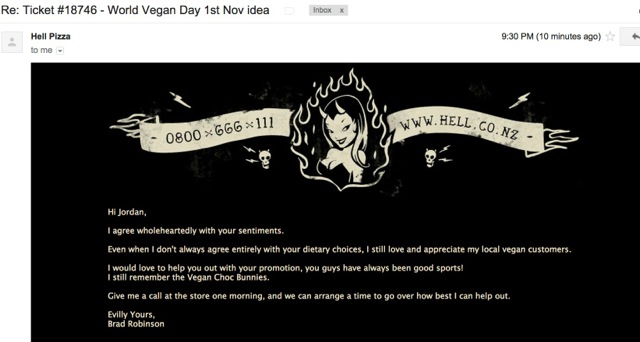 But it gets better…..
October 14th 2014 Update:
Hell Pizza now offer VEGAN CHEESE!  "Angel Food"dairy-free Mozzarella, for just $1 extra per large pizza.  Based on sunflower and pea protein, our lives will never be the same again.  This is huge, the first readily available dairy free cheese in Invercargill too!  (New World Windsor now carry Angel Food cheese)
Heard of the "Royale with Cheese"?  Well, here's a "Sinister" with vegan cheese, personally delivered to our house by Hell Invercargill manager Brad himself :-)

Try ordering the "Sinister" (Avocado/refried beans) with the optional vegan cheese as shown above.  Or try a "Creator" pizza with your custom pick of toppings.
"Creator" snack pizza with custom toppings:  Angel Food vegan cheese, asparagus, mushrooms, spinach, garlic, rosemary and oreganum.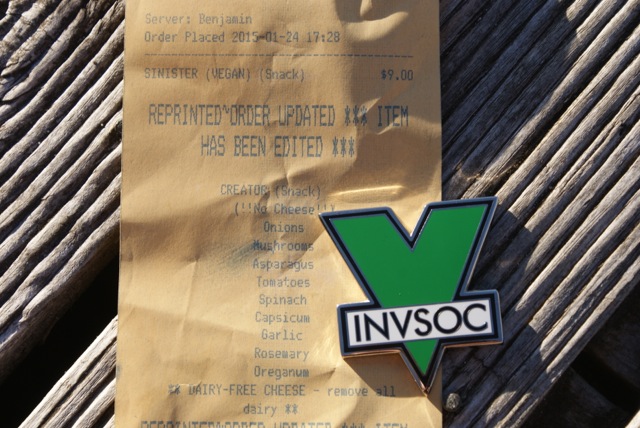 When you order a Hell Pizza with vegan cheese, they'll make sure it's labelled "Dairy Free" for their staff ordering system.  You even get a pretty little sticker on the box, sealing the veganism in :-)
Hell also offer great salads.  We usually order a "Creator Salad", which costs $3 plus 50 cents per extra ingredient.  With tomato, cucumber, spring onion, sun-dried tomatoes, pine nuts, cashews, gherkins, pineapple, spinach….., you can go wild with your selections!

We appreciate the support Hell Pizza have for their vegan customers.  For years now, Hell have been serving up great vegan pizzas, to their many vegan customers.  We love seeing a New Zealand pizza chain take on the world, while having great vegan options.

Brad was kind enough to hang the certificate up inside the store, for all to see :-)

Enjoy the nightmarish decor of Hell Pizza while waiting for your pizza, or make use of the colossal tables and "dine in".  Hell also offer free delivery on certain days, for online orders.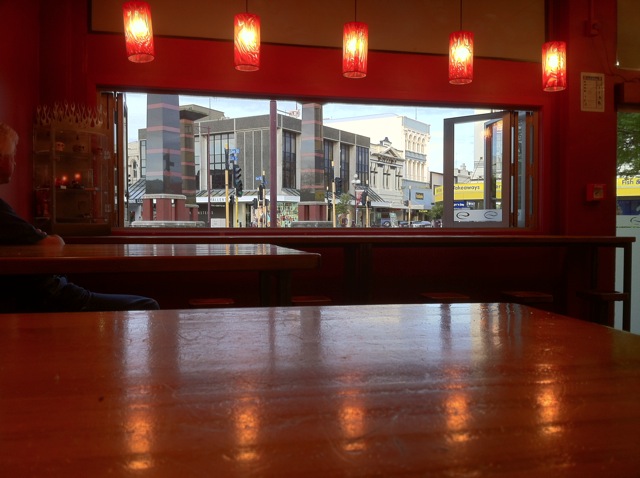 "Sinister" pizza, actually labelled "Vegan" on the Hell Menu!
Refried Beans, Avocado, Onions, Salsa, Tomatoes, Jalapeño Peppers and Capsicum  $18.50, ~$25 delivered.
Add $1 for Angel Food vegan cheese.

While second to Russell's Vegan pizza, its fantastic to see that a mainstream pizza chain has a featured Vegan Pizza!  Its great to be able to walk in and ask for "a double Sinister with Vegan cheese please my good man/woman" :-)