For Easter 2014, Invercargill Vegan Society (INVSOC) members Jordan, Terry and Dan gave out easter chocolates.  With our unisex-name powers combined, we were unstoppable :-)

Animal advocates shared "Sweet William" brand Easter Bunnies throughout the Invercargill CBD, including a visit to the Invercargill City Council to see Mayor Tim Shadbolt.
We also journeyed to "Hell Pizza".  With Hell selling Rabbit flesh pizzas as a marketing stunt, we thought it appropriate to give out vegan easter bunnies.  If you'd like to eat cute animals, make sure they're made out of vegan chocolate :-)
Terry enjoying a rabbit friendly Vegan chocolate outside Hell.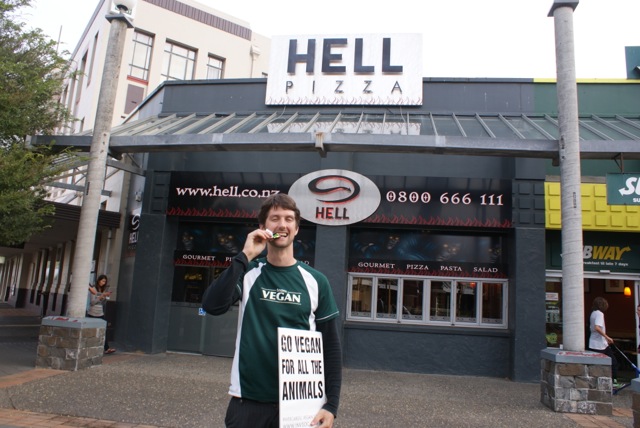 Hell staff receiving easter bunny Vegan chocolates!  "Go Vegan For All The Animals", our Invercargill Vegan Society easter giveaway was a great success.  They thought our chocolates were quite clever :-)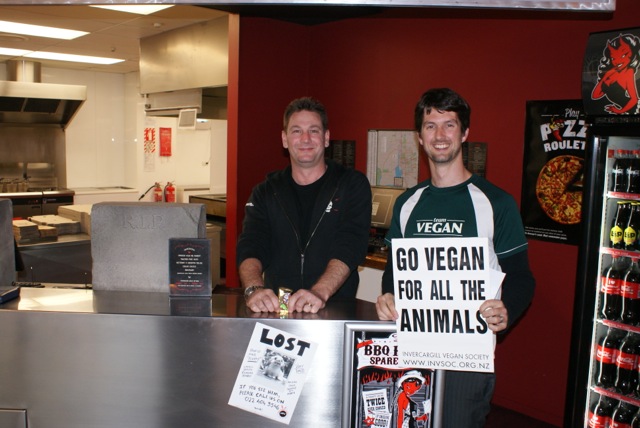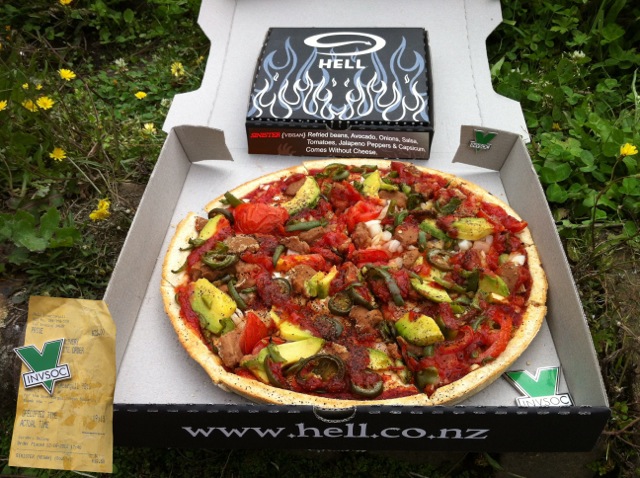 Hell marketing materials for the rabbit flesh pizza.  Reports of missing pets….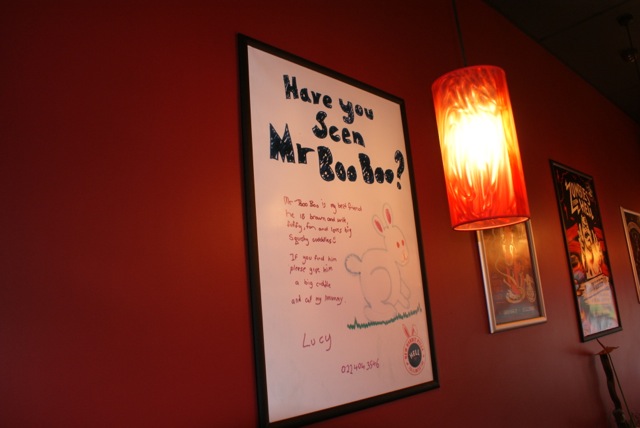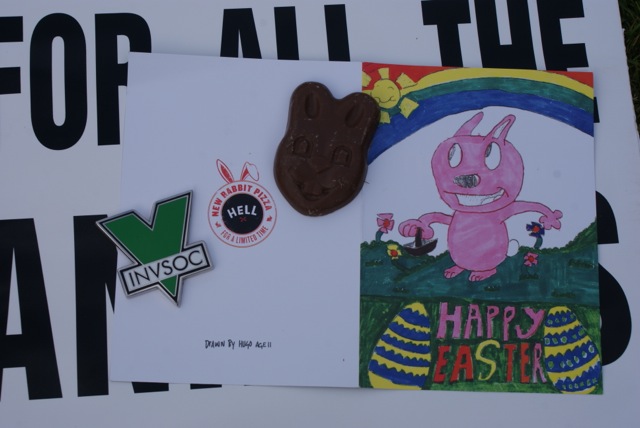 "The Rabbit" pizza included dead rabbit, which is certainly different than most other takeaways in New Zealand.  But is it any different from eating chickens, pigs, sheep?   Hell have constructed a billboard sign made from rabbit's skin.  Ethically, is there a difference between wearing the skin of a rabbit, or the skin of a cow?  Or is the shock due to our cultural traditions, that we grow up socialised into using certain animals, but not others?

As Invercargill Vegan Society members, we wish all Hell pizzas were as awesome as the animal friendly "Sinister".  Peace activists, Vegans would like a world where all animals are respected.  We are glad Hell have led the ever-increasing number of Vegan food options available in New Zealand.  We would love if they'd have an animal friendly marketing campaign for next Easter.  After all, the season is about celebrating new life, not taking life!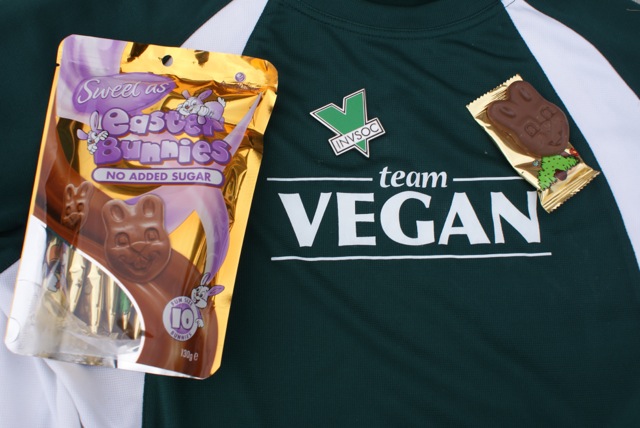 Vegans "make love, not war", working for a peaceful world :-)  Our friend Ms Dove would agree!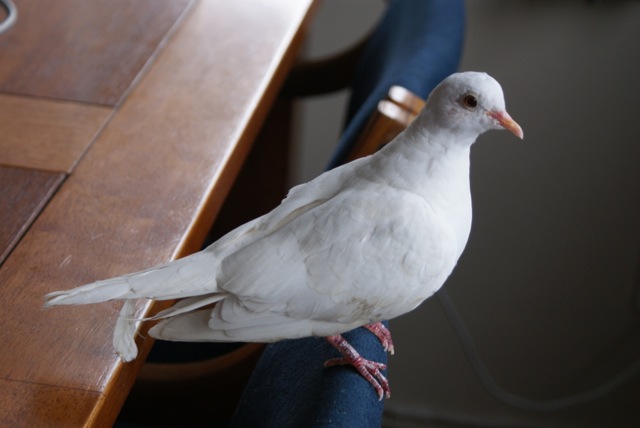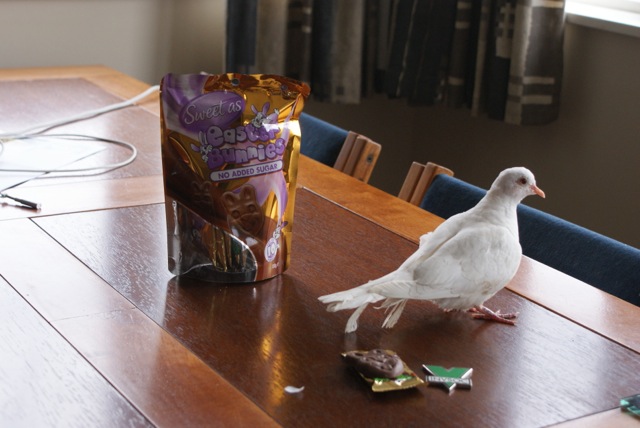 Jordan at Wachner Place, giving out easter chocolates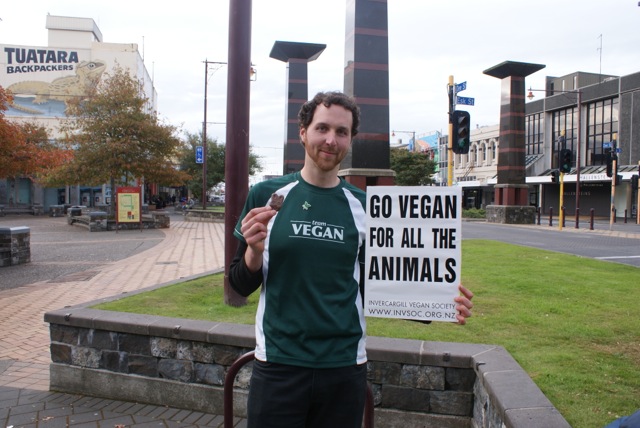 Dan and Terry on Esk Street, outside The Southland Times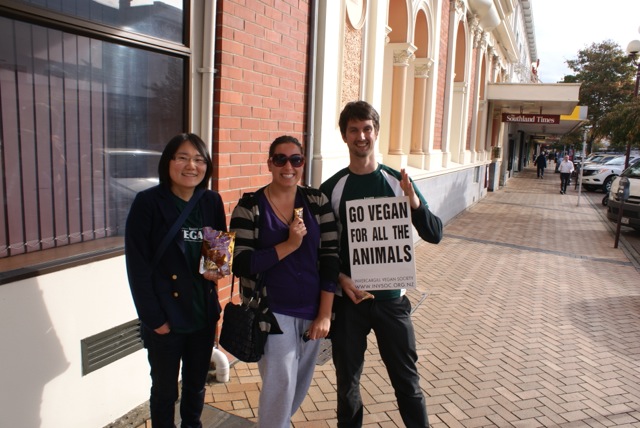 We made a new vegetarian friend, inviting her to our monthly Vegan potlucks!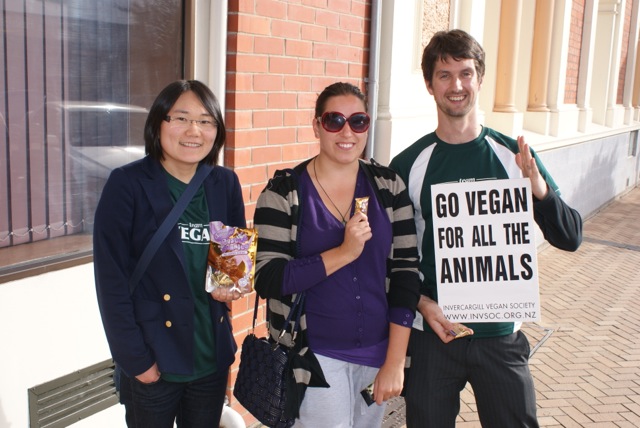 Animal advocates were not alone in giving out information, there's a new Bhakti yoga workshop held each fortnight at SIT. "Upasana Group, Free entry.  Friday 18th April 7-9pm, every fortnight"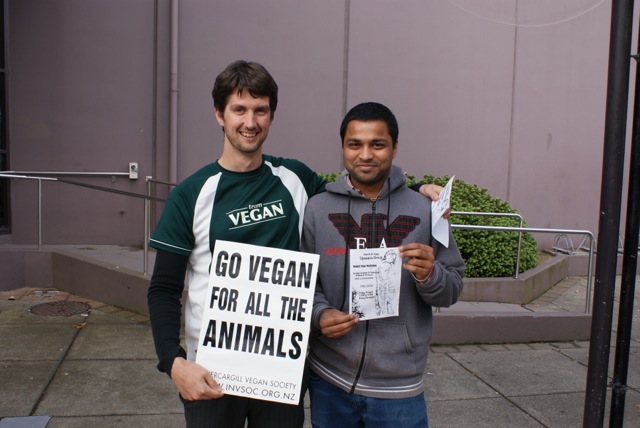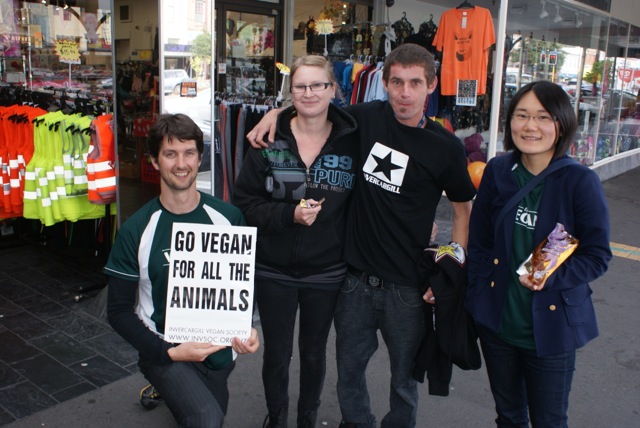 Terry and Dan outside "Hannahs" shoe shop.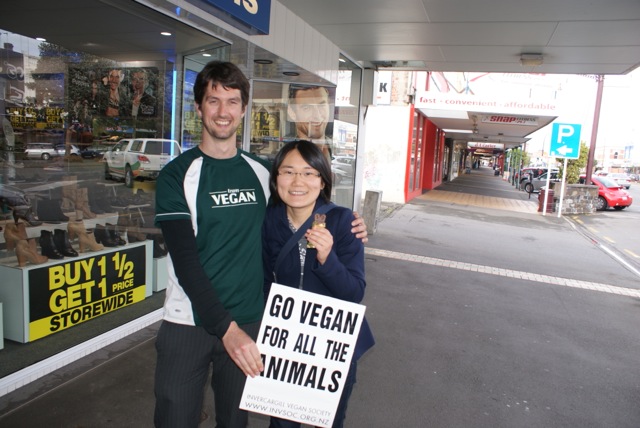 "Julie Bryce Fashion Emporium" has a great sign.  Notice the little message at the bottom.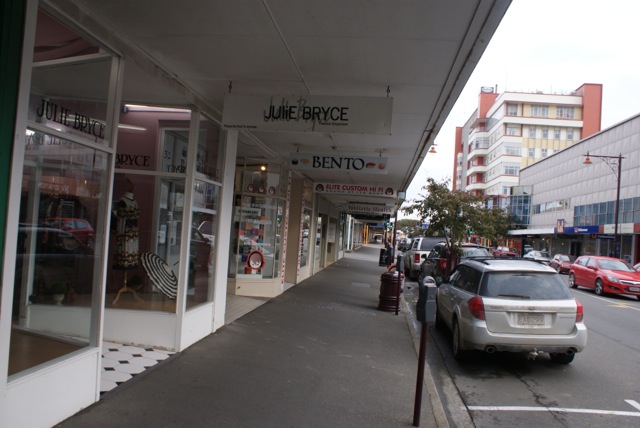 "Please Be Kind To Animals".  We think it's great to see people concerned about animal cruelty.  We stopped by and offered Julie a Vegan easter treat, and a card for more details about Veganism.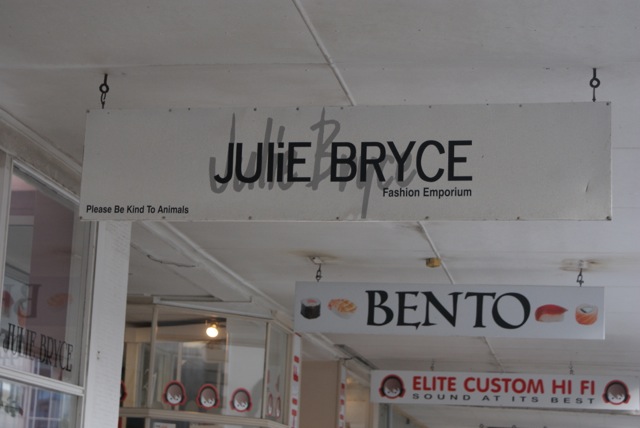 Julie mentioned how she has always felt strongly about being kind to other animals.  She showed how all her stationary mentions being kind to animals, we told her about the dove and chicken friends we care for.  We look forward to seeing Julie at a future Invercargill Vegan Society potluck :-)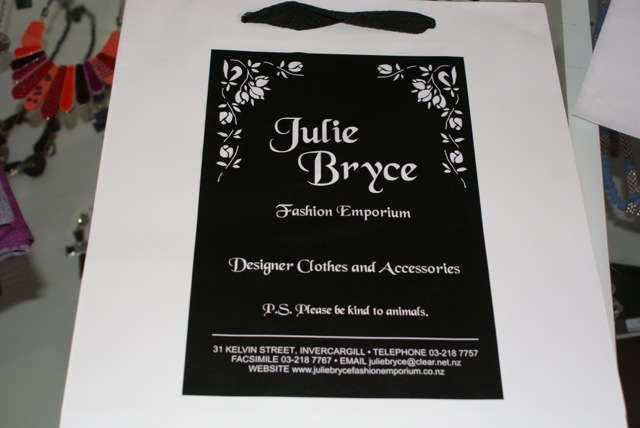 We had an appointment to see the Invercargill City Council Executive Assistant Rachel Christensen.


Invercargill Mayor Tim Shadbolt was busy, but we left them some Vegan chocolates :-)  Mayor Shadbolt has joined us for an Invercargill Vegan Society promotional video before, it's proven quite popular on YouTube :-)
Invercargill Vegan Society members Jordan, Dan and Terry had a lovely afternoon sharing Vegan chocolates, being advocates for animals.  We had great conversations, and met some really incredible people!  For easter 2014, celebrate new life by going Vegan :-)