The Invercargill Vegan Society has taken to the streets to distribute soymilk to the good people of Invercargill!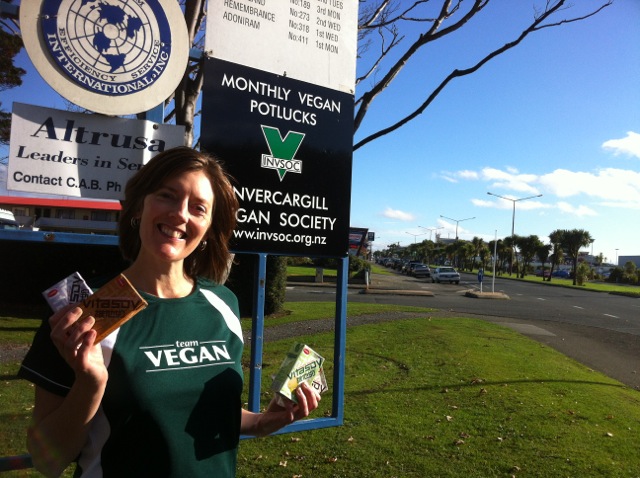 "Dairy" monopoly Fonterra have started giving out cows milk in Southland schools again.  New Zealand school children had room temperature cows milk forced upon them until 1967.  "Milk Monitors" went around each class and handed out the warm, unappetising bottles of breastmilk.  Apparently it was good at putting New Zealanders off drinking cows milk by itself, as they remembered how AWFUL "milk at school" was!
"The white stuff" reads the headline.  Notice the background cow who has soiled herself.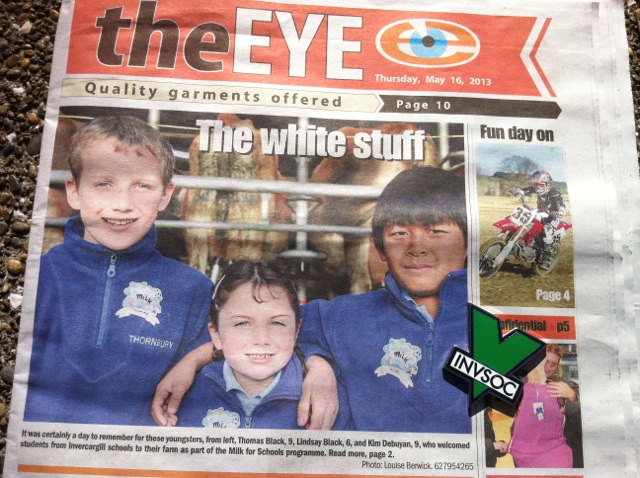 "Visit dispels milking myths"  "Youngster thought cows were milked with a bucket".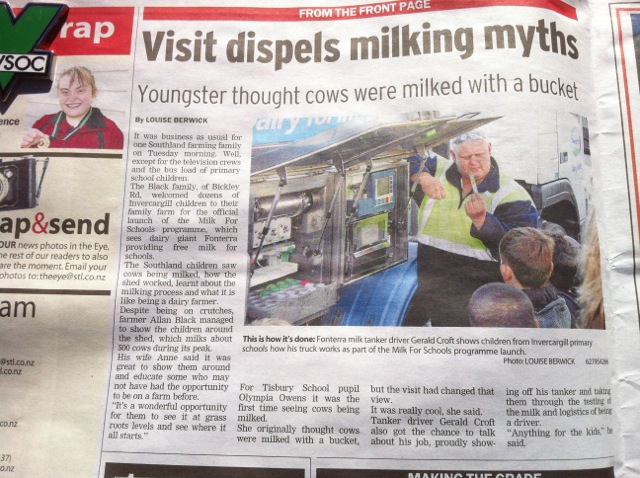 Based on some of the questions Vegans get, many New Zealanders seem to believe female cows naturally produce milk nonstop.  At the Health and Disability Expo, a girl was adamant that it HURT cows to keep their milk.  That they would WANT us to take it out of their udders for them!  Like all mammals, cattle produce milk for their young.  Female cows produce milk only after being made pregnant.  The dairy industry uses artificial insemination to keep cows pregnant, and to avoid having to keep a male bull alive on their farm.  They can "import" the male contribution to a child, and a "technician" inserts that into the female cow to force her into a pregnancy.  Her children are removed from her, sold as "bobby calves" if male.  Bobbies are killed as soon as possible, female cows (who can be made to produce milk) are kept alive for future use.
To be fair to the child who thought farmers still milked by pulling on a cows teats with their bare hands, and collecting her milk in a bucket.  The "Rosie Show" touring New Zealand primary schools with "Rosie the dairy cow" lists cows milk as being magically made, just by the cow eating grass.  No mention of pregnancy, children or her naturally milk free state of adulthood.



The dairy industry doesnt exactly tell consumers exactly HOW or WHERE cows milk comes from.  "Cow eats grass and produces milk" is the first step given by Dairy NZ.   Its no wonder that children believe it comes from fresh meadows, with laughing cows, blue rivers and rolling green pastures.   No mammal produces breast milk constantly.  Cows produce milk for their children, only after having a pregnancy.   Dairy farms remove the cows children, and when her milk declines, they will make her pregnant again to resume the cycle.
Cows milk given away in primary schools for dairy monopoly PR. Children: "it helps you grow", it tastes good and "it's good for your teeth", "helps you focus on your work" "and calciums good for your bones". Do you think those young kids decided that for themselves, or did the prancing cow mascot costume TELL them those bulletpoints?  :-)

Principal: "it's fuel for learning, it gives them a healthy option and most importantly it's supplementing some children's food. The children are really excited about it".
"Fonterra said the programme was part of its commitment to helping improve the health of New Zealand's children AND MOVING KIWI KIDS BACK TO MILK"
"Pacifica, the country's leading carrier of domestic sea freight, will provide discounted shipping to move containers of milk from Auckland to Christchurch for all participating South Island primary schools. 
"We are very proud to be working with Fonterra to deliver milk to New Zealand's primary school children." "
Nearby Southland town of Edendale boasts the former worlds largest factory for exporting powdered cows milk internationally.  The coal powered El Diablo is massive, and our whole province is known for the "dairy" industry. Isn't it a little odd that Fonterra are IMPORTING cows milk to Southland?  A little like "selling coals to Newcastle" eh? :-)
"Fonterra Milk for Schools is now underway in Southland and Otago, with 135 schools already signed up, representing almost 19,000 eligible children. The programme will work its way north, finishing in Auckland. Mrs Black says Fonterra is proud of the programme and excited to see it benefit Kiwi kids every day.
"Fonterra Milk for Schools is an investment in the health of our future generations. It's about getting more Kiwis drinking more milk because when it comes to good nutrition, you can't look past dairy."
"Carly Robinson, Group General Manager Global Co-operative Social Responsibility says: "Today is a big day for us and for the Southland and Otago communities, and we wanted to recognise it, as well as everyone involved in making Fonterra Milk for Schools happen.
"This programme is our commitment to helping improve the health of New Zealand's children and to moving Kiwi kids back to milk," Ms Robinson says."
From the Fonterra press release about Southland schools, I'm guessing a "group general manager global co-operative social responsibility" handles press releases!  "Moving Kiwi kids back to milk"?  Yeah, because primary children have recently been weaned from their own mothers milk, so we better get them back consuming milk…from another species of mammal! :-)
"Making the never-weaned point, Watson further states: "Need it be added that [lacto-vegetarianism] would imply too accepting the spectacle of a grown man attached to the udder of a cow as a dignified and rational spectacle on the part of Nature!" Watson says the new vegans were aware that "milk drinking by adults is an absurdity never intended by Nature. We know we are at least as well without dairy produce as we were with it".
Better get those "Kiwi kids" right back onto drinking milk indeed!
It all sounds rather like an episode of The Simpsons,  "Lisa The Vegetarian" eh? :-) Video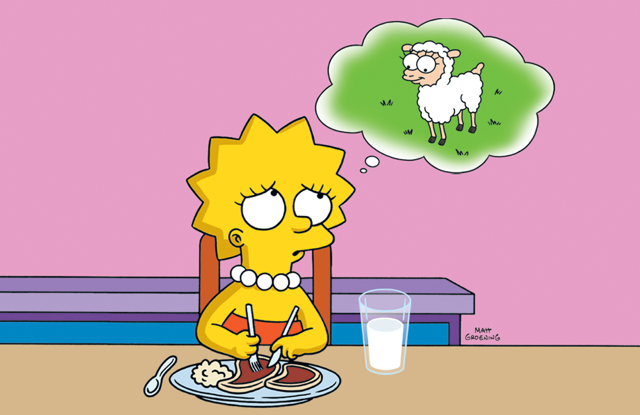 Skinner: "Good morning class. A certain…agitator…for privacy's sake
let's call her…Lisa S. No, that's too obvious…uuuh, let's
say L. Simpson —
[Lisa slaps her forehead in a slient D'oh!]
has raised questions about certain school policies. So, in the
interest in creating an open dialogue, sit silently and watch
this film."

Troy McClure: "Don't kid yourself Jimmy. If a cow ever got the chance,
he'd eat you and everyone you care about!" [Image of a cow
quietly chewing cud.] (Edit, a "cow" is female, HE would be a "bull")
Jimmy: "Wow, Mr. McClure. I was a grade A moron to ever question
eating meat."

Troy: [Laughs.]" Yes you were Jimmy, yes you were." [Briskly rubs
his hand on Jimmy's head.]
Jimmy: [Timid] "Uhh…you're hurting me."
Film's over.
Lisa: "They can't seriously expect us to swallow that tripe!"
Skinner: "Now as a special treat courtesy of our friends at the Meat
Council, please help yourself to this tripe." [Class cheers and
runs to table loaded with tripe.]
Lisa: "Stop it Stop IT! Don't you realize you've just been
brainwashed by corporate propaganda?"
Janie: "Hmmph, apparently my crazy friend here hasn't heard of the food
chain."
Uter: "Yeah, Lisa's a grade A moron!"
Ralph: "When I grow up, I'm going to go to Bovine University!"
Amid recent environmental, tainting and pricing scandals, Fonterra has generously decided to hand out free samples of its product to New Zealands young.  The "Milk for Schools" scheme has been running for over a year now, starting at the top of the North Island.  Now Southland at the bottom of the South Island is receiving gifts from our friends at the milk monopoly.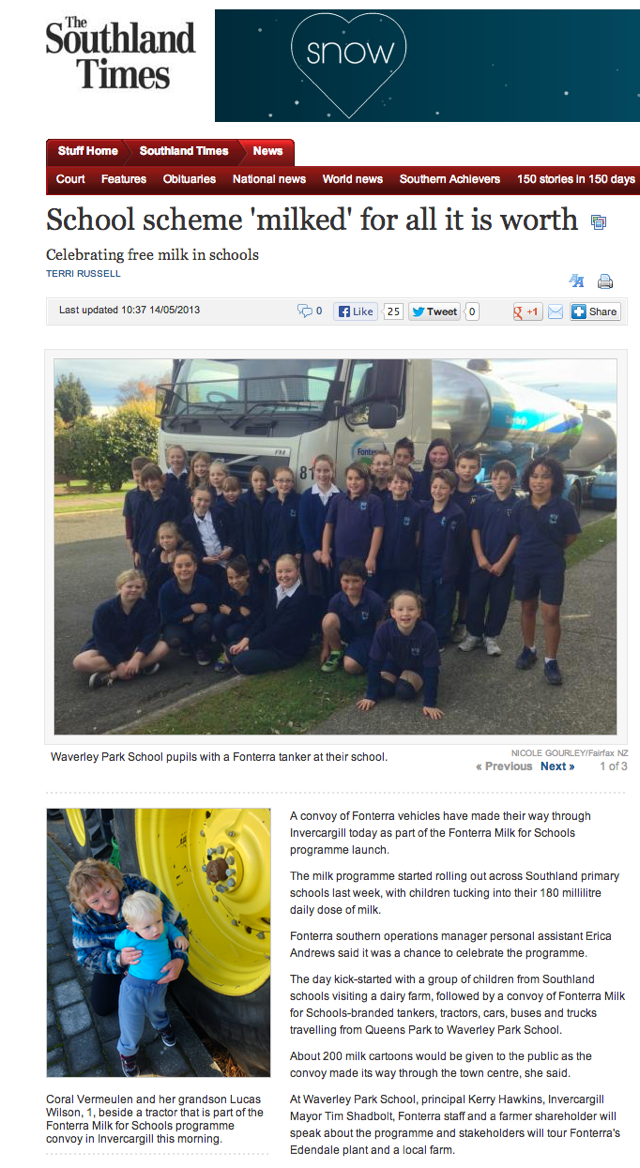 Imagine all the free publicity for dairy monopoly Fonterra.  They provide specially branded refrigerators, stocked with specially labelled product (cows milk from 1000km away).  And here the children are, with Fonterra stickers while sitting around a Fonterra "Milk for Schools" table!  Its all about helping the children of course!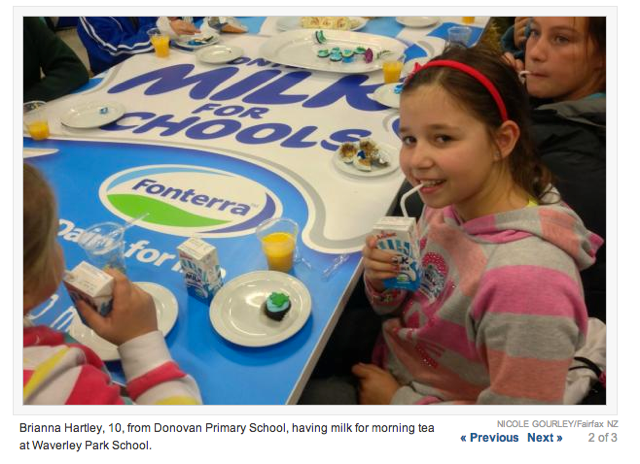 Fonterra produced video of the Invercargill launch event.   Mayor Tim Shadbolt gave a speech at the podium, Fonterra "Milk for Schools" and "Dairy for Life" branding behind him.
"I know its about nutrition and I know its about health, but I still believe its more of a statement."   (Yup, a PR statement for the dairy monopoly! :-) )
"What we are saying to the next generation is we appreciate you, we want you to thrive, we want you to be strong, we want you to be the future leaders of this country, we are prepared to make that sacrifice as farmers and as a community to help you on the road to your future."
Mayor Shadbolt was kind enough to read along to our script as well though :-)  Jordan pinned an A4 piece of paper to his shirt using an INVSOC badge, with large sized text spelling out the videos script!  "Southland has many wonderful attractions……but our most prized possession is the wonderful Invercargill Vegan Society!" :-)
Fonterra are not the only ones promoting their Non Vegan products inside schools to young children.  "Our Friends at the Meet Council" have a singing and dancing mascot called "Iron Brion" who encourages primary school children to eat New Zealand "Beef + Lamb".  Not Australian cows and sheep, they have to be New Zealand killed animals!  The hour long presentation features giveaways (questions like "what makes you big and strong?" with the shouted answer being of course "NEW ZEALAND BEEF AND LAMB!") and each child receives a burger at the end.
As the Beef + Lamb Iron Brion theme song above put it:
"So put some chops on me plate, put some mince on me toast,
Mum if you really love me (?) then you know what you need most,
Actually it's quite simple, listen heres the plan,
Next time you're at the table shout "MUM, where my beef and lamb???"
For episode 64 of our show "Coexisting With Nonhuman Animals", I interviewed Vegan mother Zimena whose 6 year old daughter had to sit through the hour long brainwashing session.
"I actually didn't even know it existed until my daughter came home from school, emphatically telling me that we need to eat red meat and dairy every single day, to be healthy.  Then when I said to her "well actually sweetheart, theres a lot of research coming out lately which says its bad for you.  The meats too fatty and the dairy is not good for your bones" and things like that.   She said "NO!  Iron Brion says you HAVE to eat it every single day!"  And I thought "Christ almighty, what the hell have they been telling these kids? It was awful!""
Perhaps we take it for granted how corporations target children?At the Surf to City 2013 funrun, McDonalds fastfood had a "Fun & Magic Show" at the finishline.  They clearly targeted children to create a positive brand image, customers of the future.

Here McDonalds mascot "Ronald McDonald" leads the children away for an adventure.
Interestingly enough, the original "Ronald McDonald" went Vegetarian :-)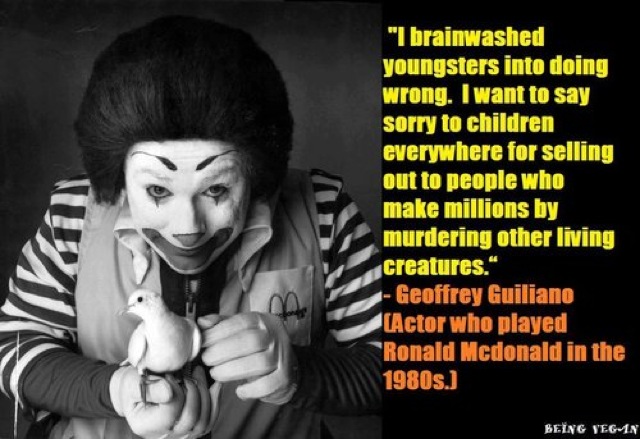 An interesting turn of events!
We currently have corporate propaganda in our primary schools, from both "Beef + Lamb" with "Iron Brion", and Fonterra promoting cows milk consumption.

"Fonterra farmers helping out Southland & Otago kids"
"At Fonterra, we think one of the best ways to look after New Zealand's future is to look after our kids.  Thats why together with our 10,500 Fonterra farmers we are doing our bit to help out kids all around New Zealand by sharing what we do best."
After invading Southland schools, Fonterra staff were even pounding the Invercargill pavement to hand out cows milk to adults!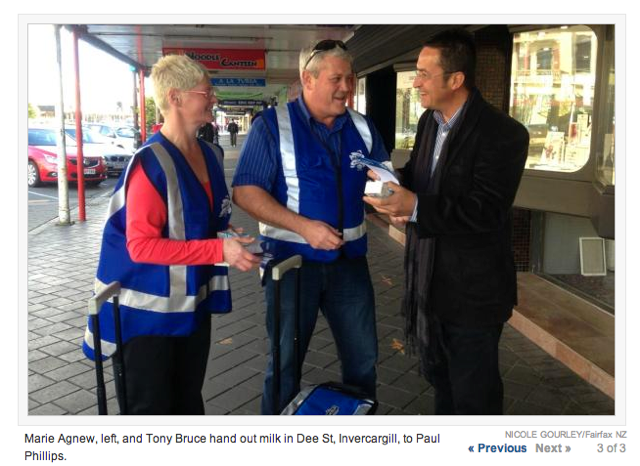 The nerve of it!  Fonterra coming here to Invercargill from their towering Auckland headquarters to pimp out cows milk!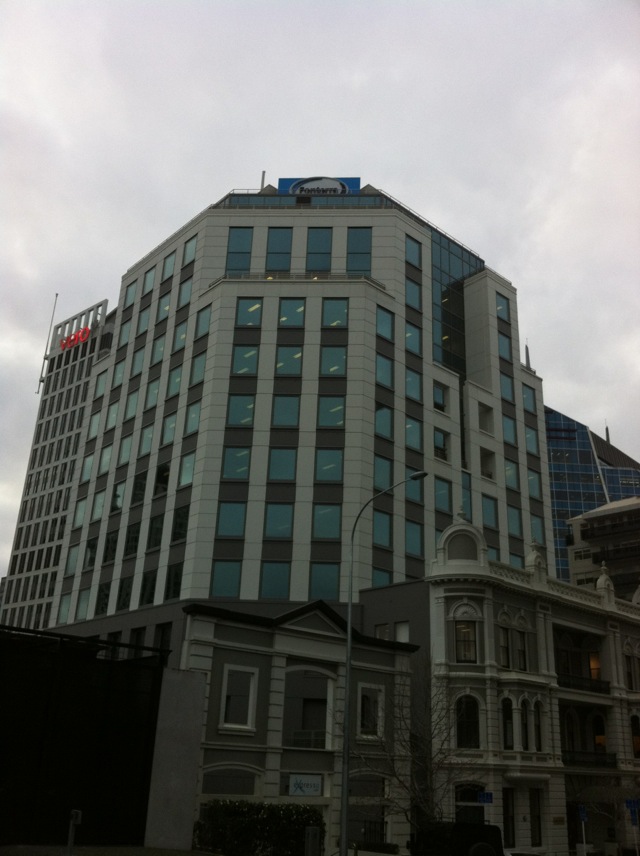 Here at the Invercargill Vegan Society, we keep it real!  I was born in Invercargill, our humble INVSOC HQ is located in Invercargill, we promote respect for animals, here, in Invercargill :-)  My maternal side is from Ohai, my fathers family is from Greenhills.  I was born at Southland Hospital.  Invercargill Vegan Society members work at the hospital :-)   The Invercargill Vegan Society is 100% Invercargill.  Heck, it's our first name! :-)
We weren't going to stand by and let Fonterra invade OUR city, and promote their illgotten cows milk on OUR citystreets!
We fought fire with fire, cows milk with soymilk :-)  Asian House is a great new Asian supermarket on Tay Street.  They stock flavoured soymilk in 250ml cartons.  Perfect for taking on Fonterra!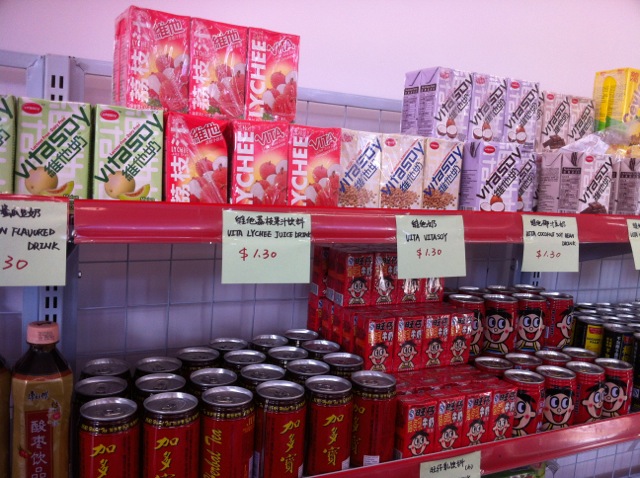 Albeit from Hong Kong rather than Japan, the Vitasoy packaging has a kind of "Blade Runner" meets "Neuromancer" feel.  Futuristic, flavoured and 100% Vegan.  Soymilk beats school supplied cows milk anyday :-)
We also used Sanitarium's "So Good" brand of chocolate flavoured soymilk.  So Good is now available in three packs of 250ml cartons, great value for money and delicious! :-)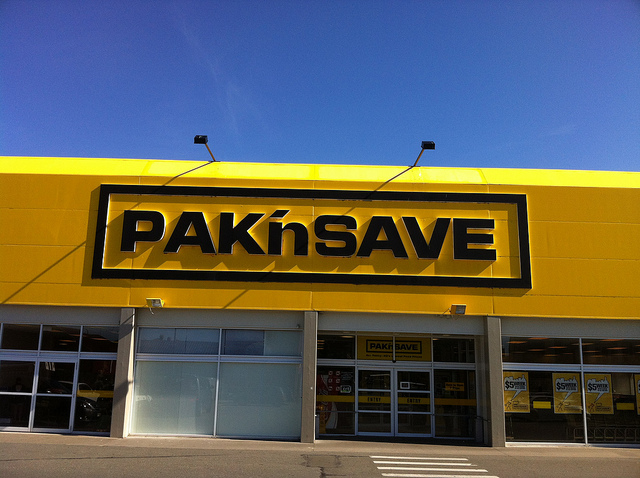 Fonterra's school cows milk campaign has fizzled out in Northland after a year.  We reckon New Zealand children would prefer soymilk any day!
"When we started the program, most of the schoolchildren started, and that was 75 children.  Now there are about 5-10."
"We think its too powdery"
"If it were a smaller drink, more might drink it.  It takes a long time for children to drink that container through a small straw"
"Smells like rotten milk."
"If its down behind the bookshelfs, it'll let you know its presence real quick, specially on hot days."
The Managing director of Fonterra appears in the latter half of the clip.  "Fonterra is committed to health in our children."
Mark Sainsbury asks: "Why are you doing it…goodness of your heart….or a PR move?"
"No, Its healthy for kids.  Its wonderful for kids, its nutritrious.  Secondly, we want to see New Zealand as the dairy capital of the world.  We're the biggest exporter of milk products in the world, and at home, people arnt drinking as much milk as they used to.  And we're starting with kids, so its a long term play, and our farmers are really proud of what they're doing."  The Fonterra executive also jokes about forcing people to drink cows milk :-)
Vegans cannot force the world to go Vegan, but we certainly can try our hand at handing out free samples too! :-)
Chocolate/Melon/Malt/Coconut Soymilk :-)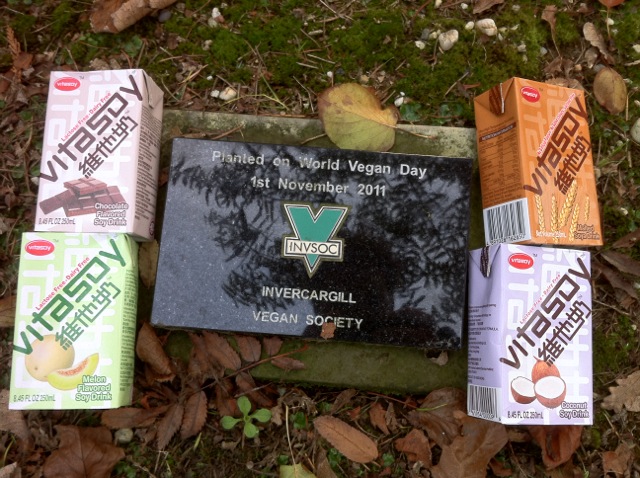 Jordan and Jenny put on our Team Vegan shirts, and off we went to give away Soymilk to the good people of Invercargill :-)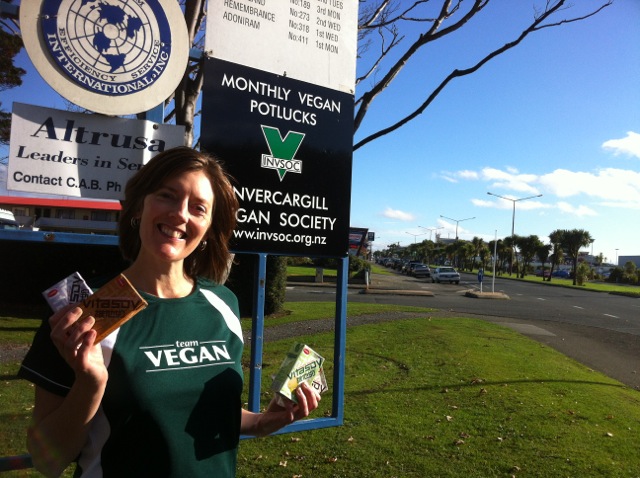 Click to hear Jordan and Jenny talking about giving out soymilk on the street! :-)

direct download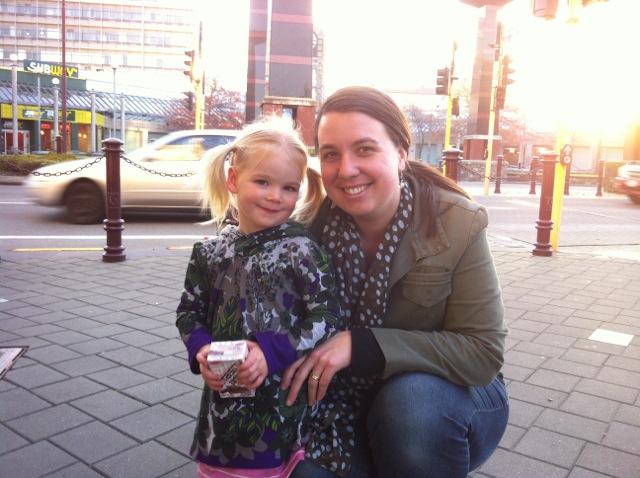 "Vegan missionaries" met Mormon missionaries!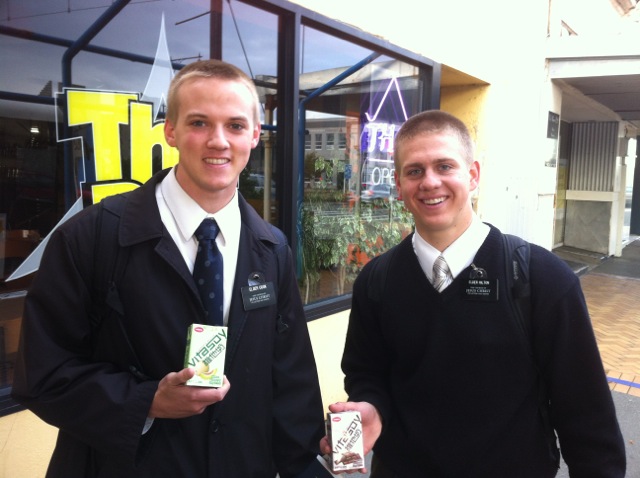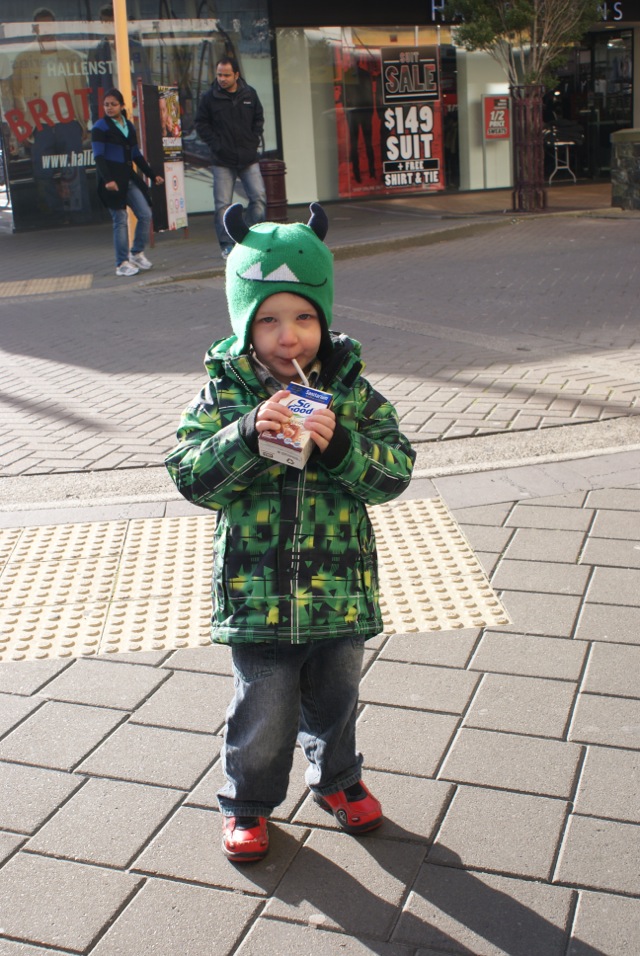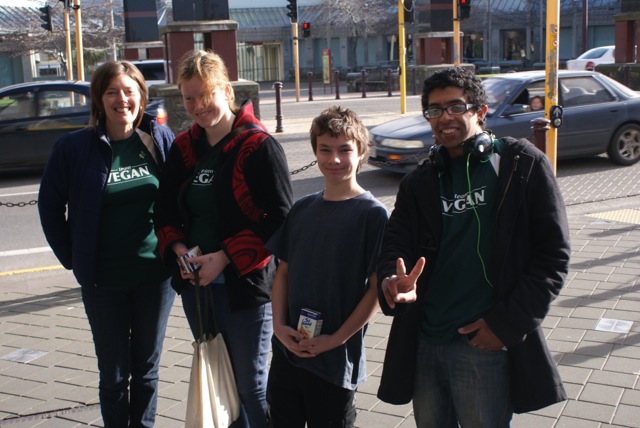 Side-alley Soymilk dealers :-)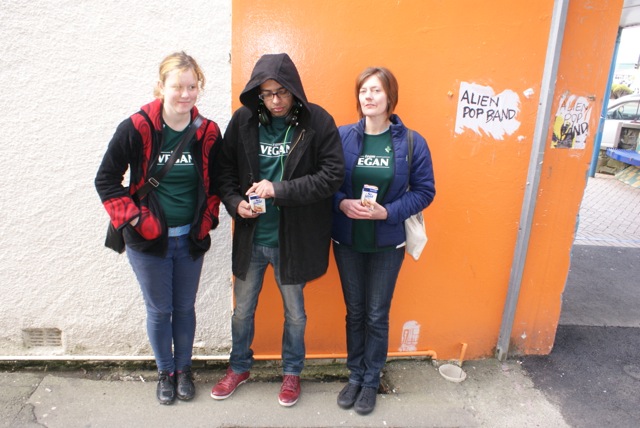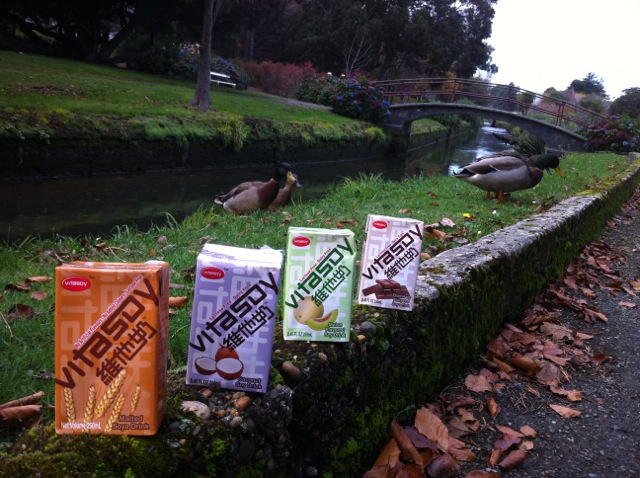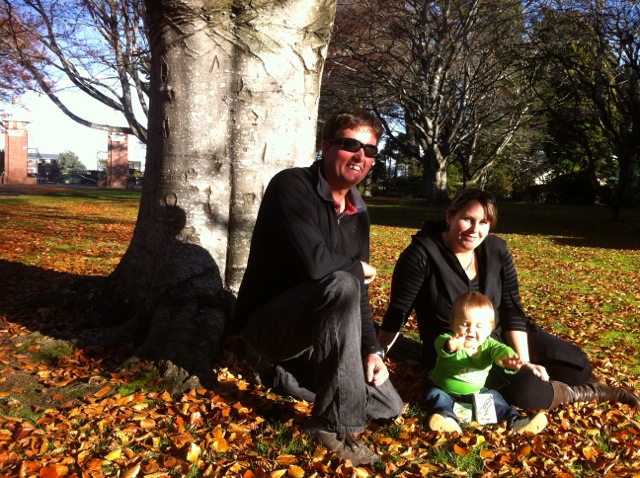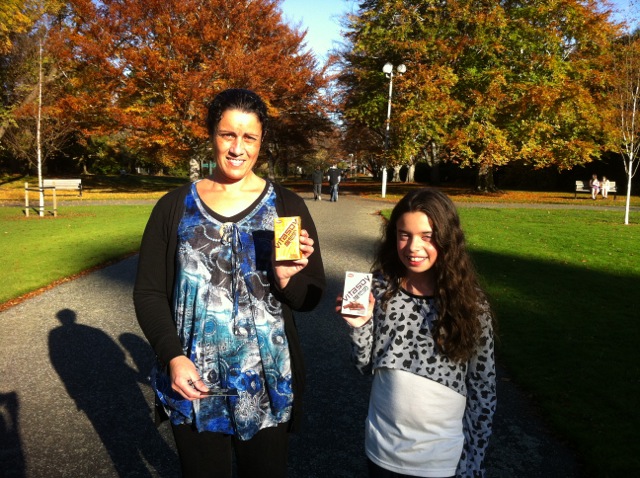 We had a lovely time giving out a couple dozen cartons of chocolate/melon/coconut/malt flavoured soymilk!  We also gave Invercargill Vegan Society business cards for more information.  We were well received, and can confidently say that our animal friendly soymilk would beat Fonterra's cows milk any day.  Cows milk belongs to the cows and their children.  Animals are eventually weaned from breastmilk, and they have their morning muesli with soy yoghurt and soymilk :-)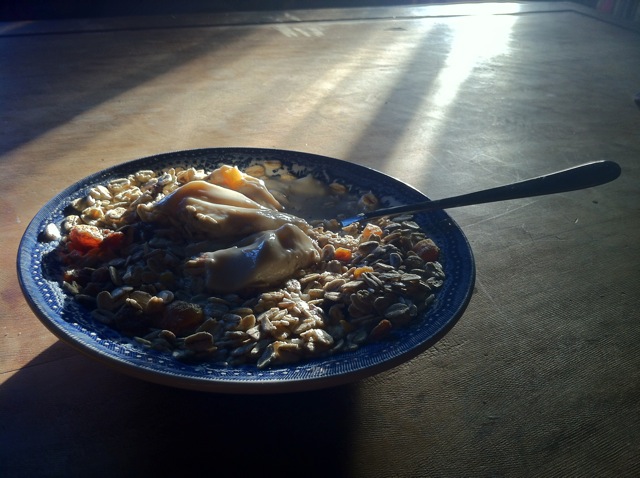 Vegans are weaned, we do not rely on Little Britain's "bitty" into our adulthood :-)
For the animals, for the environment, for our own health, we live alongside Other Animals with whom we share this world.
We also share trees cut into seats after a long day sharing soymilk throughout Southland :-)
We had a great time, we talked about animals, and people loved our sense of humour.   "If they can hand out cows milk on the street, then we can hand out animal friendly flavoured soymilk on the streets of Invercargill!"
We focused on the positives of Veganism, of respecting Other Animals :-)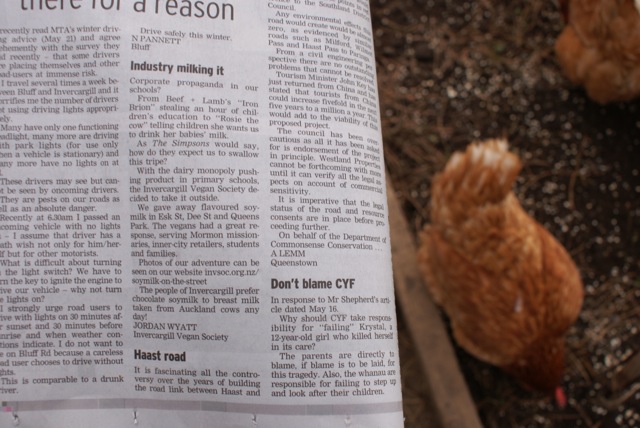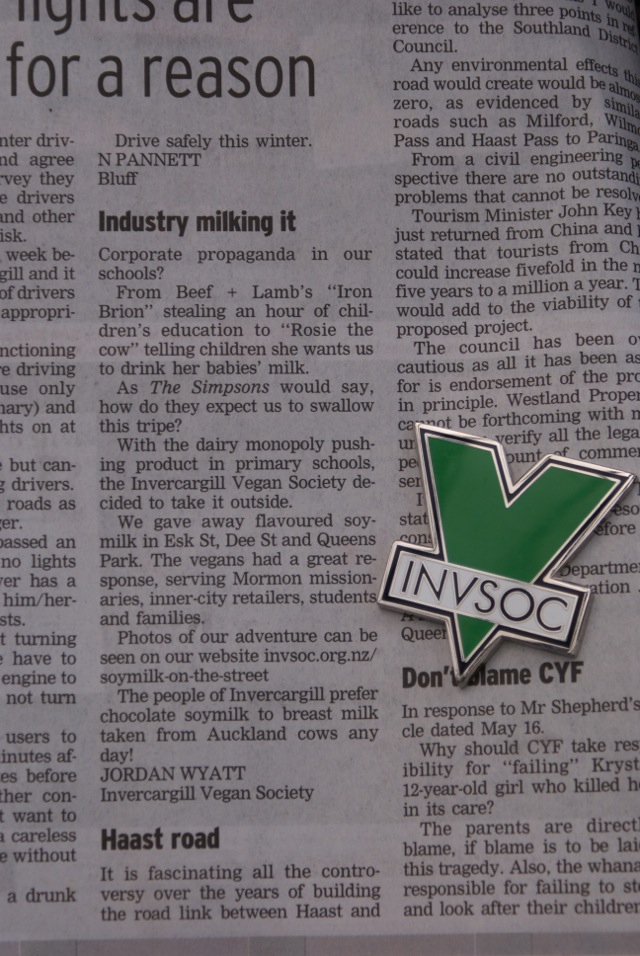 We've also interviewed Vegan children's book author Ruby Roth, author of "That's Why We Don't Eat Animals" and "Vegan is Love" about countering corporations in our school system.  Ruby was lovely to speak to, and as you'll hear, she had great advice!  Let children know that the "free gifts" are marketing, and that its great to be Vegan :-)
Scene moves to Springfield Elementary, where Principal Skinner is
standing before a projection screen in front of Miss Hoover's classroom.
Skinner: "Good morning class. A certain…agitator…for privacy's sake
let's call her…Lisa S. No, that's too obvious…uuuh, let's
say L. Simpson —
[Lisa slaps her forehead in a slient D'oh!]
has raised questions about certain school policies. So, in the
interest in creating an open dialogue, sit silently and watch
this film."
The film starts. "The Meat Council Presents: `Meat and You: Partners in
Freedom'. Number 3F03 in the `Resistance is Useless' series." Open on
cattle country.
Troy: "Nothing beats a stroll in cattle country. Hi, I'm Troy McClure.
You may remember me from such educational films as "Two Minus
Three Equals Negative Fun" and "Firecrackers: The Silent Killer".
Jimmy: "Mr. McClure?"
Troy: "Oh! Hello Bobby."
Jimmy: "Jimmy. I'm curious as to how meat gets from the ranch to my
stomach."
Troy: "Whoa, whoa, whoa! Slow down Jimmy. You just asked a mouthful.
It all starts here, in the high density feed lot. Then, when the
cattle are just right [swipes his finger along the top of a cow
and licks it] Yum…it's time for them to graduate from Bovine
University."
A klaxon blares out a siren and the cattle begin moving up a conveyor
belt into the meat packing plant.
Troy: "Come on Jimmy, let's take a peek at the killing floor."
Jimmy: "Ohhh!"
Troy: "Don't let the name throw you Jimmy. It's not really a floor,
it's more of a steel grating that allows material to sluice
through so it can be collected and exported."
They walk throught the door of the plant accompanied by the sounds of
moo-ing and startled cows. Electricity noise sparks in the background
as the camera pans down the length of the factory to a truck marked
"Meat For You" being loaded with raw chunks of meat. Troy and Jimmy
emerge, with Jimmy visibly pale and queasy.
Troy: "Gettin hungry Jimmy?"
Jimmy: "Uhh, Mr. McClure? I have a crazy friend who says its wrong
to eat meat. Is he crazy?"
Troy: Nooo, just ignorant. You see your crazy friend never heard
of "The Food Chain". [Flash to a picture of "Food Chain",
with all animals and arrows pointing to a silhouette of a
human.] "Just ask this scientician."
Scientician: [Looking up from a microscope.] "Uhhh…"
Troy: "He'll tell you that, in nature, one creature invariably
eats another creature to survive."
[Images of various wild carnivores attacking and eating
others appear.]
"Don't kid yourself Jimmy. If a cow ever got the chance,
he'd eat you and everyone you care about!" [Image of a cow
quietly chewing cud.] (Edit, a "cow" is female, HE would be a "bull")
Jimmy: "Wow, Mr. McClure. I was a grade A moron to ever question
eating meat."
Troy: [Laughs.]" Yes you were Jimmy, yes you were." [Briskly rubs
his hand on Jimmy's head.]
Jimmy: [Timid] "Uhh…you're hurting me."
Film's over.
Lisa: "They can't seriously expect us to swallow that tripe."
Skinner: "Now as a special treat courtesy of our friends at the Meat
Council, please help yourself to this tripe." [Class cheers and
runs to table loaded with tripe.]
Lisa: "Stop it Stop IT! Don't you realize you've just been
brainwashed by corporate propaganda?"
Janie: "Hmmph, apparently my crazy friend here hasn't heard of the food
chain."
Uter: "Yeah, Lisa's a grade A moron!"
Ralph: "When I grow up, I'm going to go to Bovine University!"