Visitors will now be welcomed to Invercargill by the Invercargill Vegan Society and our monthly Vegan potluck :-)  The Lions club have allowed us to add an INVSOC potluck sign alongside Freemasons, Altrusa International and Citizens Advice Bureau :-)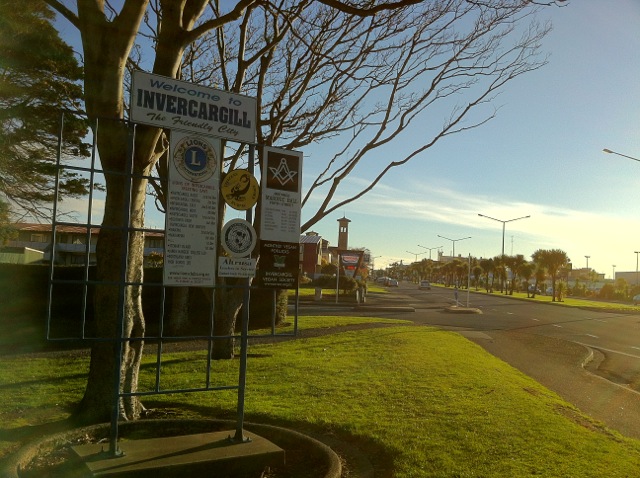 We are delighted that Veganism is now in the mainstream (at least so far as "secret societies" go!), and that more New Zealanders will be aware about Vegan gatherings in our city :-)


Located close to the Tay Street/Queens Drive intersection near Countdown supermarket, this Welcome to Invercargill sign greets visitors heading into the inner city.
Our sign is also near Yule House, Invercargill's oldest existing wooden residence (1866).  
The Invercargill Vegan Society decided to enquire about adding a Vegan sign, to promote respect for animals and raise awareness of our local Vegan organisation.   Lions local Zone Chairman Graeme Wilson was great to deal with.  We were also in correspondence with Host treasurer Kevin Wall, who we met in person at the Health and Disability Expo! :-)
Measuring the existing signs, to work out measurements for the INVSOC sign addition.


The completed sign!





We've already met a new friend thanks to our potluck sign!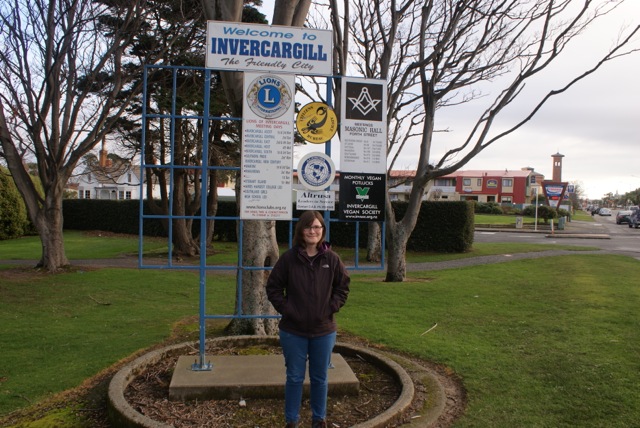 "Hi!
My name is Nicole and I'm a medical student from the UK doing an elective placement at Southland hospital. I just read about the vegan society (from the "welcome to Invercargill sign!) and I was wondering if I'd be able to attend the June (or July) potluck? I'm vegetarian at the moment, but in a sort of slow transition to becoming vegan. I'm only in Invercargill for 8 weeks but don't know anyone, so it would be really nice to meet some new people!
Thanks for reading and best wishes"
We are very glad to have met Nicole, she is lovely!  Great having her at our June 2013 and July 2013 Invercargill Vegan Society potlucks :-)
Other English vegans have visited our sign too!  Here's our longtime online friend Sammy, when we finally met "in the tofu" :-)
Our friends Sonja (pictured) and Tania visited from Wellington :-)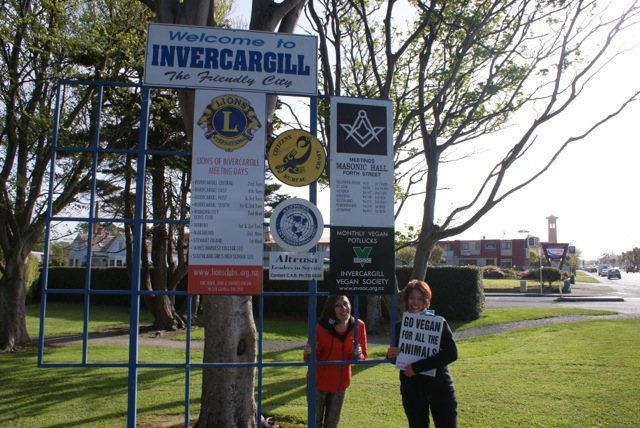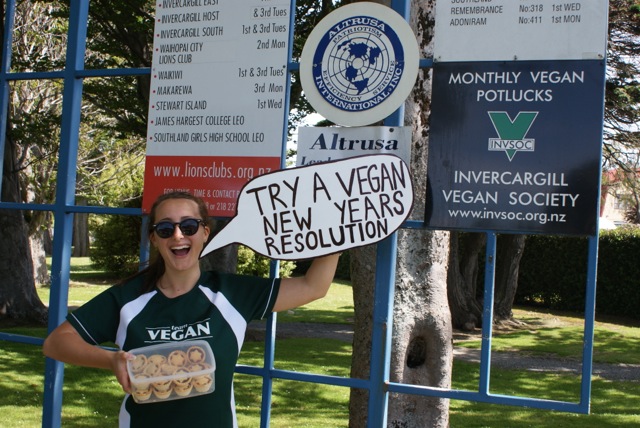 February 20th 2015
Yolanda Soryl of the Christchurch Vegetarian Centre,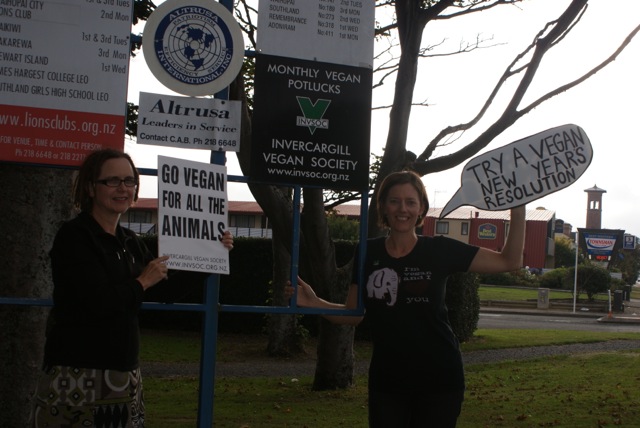 April 2015
Sociologist Dr Tobias Linné all the way from Sweden!  During his New Zealand visit, Tobias spoke to the Invercargill Vegan Society about animal rights activism around the world, and what WE can do to best help animals.  Tobias focused on an intersectional approach, of being respectful to everyone, and trying our best to avoid racism, sexism and speciesism towards other animals.
The  Swedish sociologist also posed with Southland's favourite crop, the mighty swede!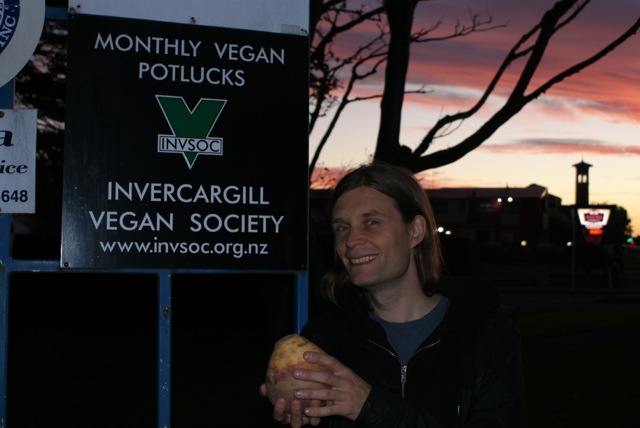 Our "Monthly Vegan Potlucks" sign has already paid for itself!  We continue to get email and Facebook messages from new Vegans and Vegetarians who've come across our sign, and we love it! :-)
Thank you to everyone at Lions for their work in the community, and allowing the Invercargill Vegan Society to proudly welcome people to Invercargill :-)
"Welcome to Invercargill, the friendly VEGAN City" :-)