Click to see the 2014 Southland Santa Parade
 Invercargill Vegan Society members Jordan, Jen, Hannah gave away vegan holiday treats downtown.  Our chocolate santas and festive fruit mince pies showed that you can love animals, live without killing/hurting/using them AND have happy holidays!
Erin also joined in, with her identical twin daughters Charlotte and Lizzie keen to help animals :-)
 
To encourage people to consider veganism as their New Year's Resolution, INVSOC member Jordan rang into Radio Live.  Host David Slack was quite interested!   They shared regret for hurting animals, chatted about Glenorchy (near Queenstown), eating bugs, vegan-izing food, land use and old country music.
The caller afterwards felt upset about killing an animal too. We'd started a c

hain reaction of men talking about animals they'd hurt/killed, talking about their feelings! Perhaps many more vegans in the making?

 
[soundcloud url="https://api.soundcloud.com/tracks/183836328″ params="auto_play=false&hide_related=false&show_comments=true&show_user=true&show_reposts=false&visual=true" width="100%" height="450″ iframe="true" /]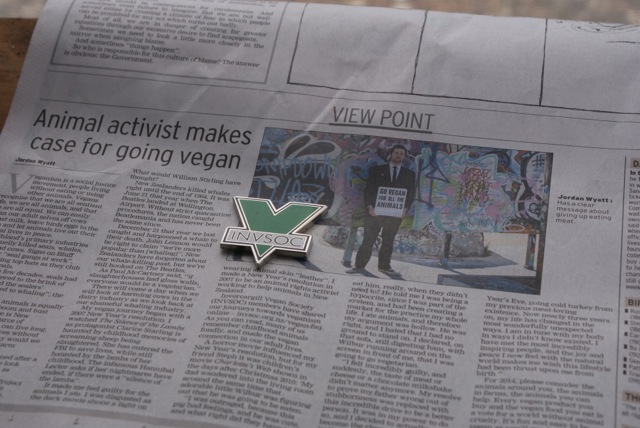 Invercargill Vegan Society activist Hannah with the "Welcome to Invercargill" sign :-)  With our vegan sign made out of recycled Real Estate boards, we took group photos throughout Queens Park, Dee, Tay and Esk Streets.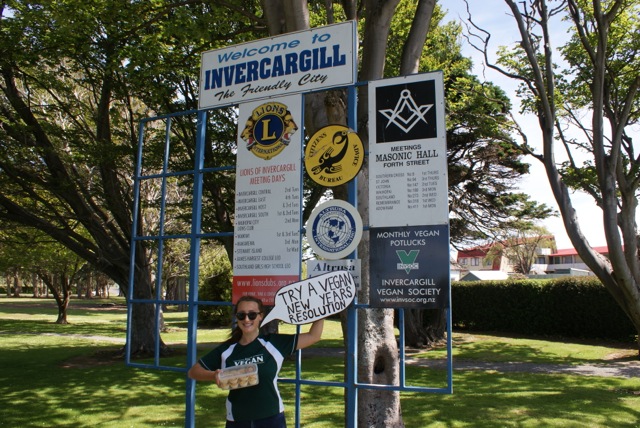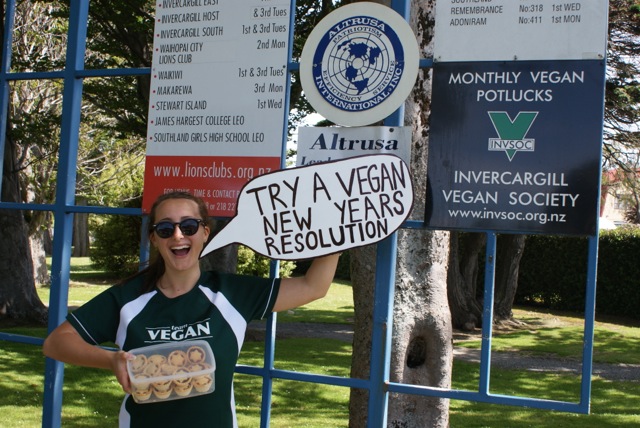 "Kez's" brand Fruit Mince Pies.  Everything free, including animal products, they were perfect for vegan giveaways.


 Esk Street Giveaways :-)
 We also shared "Sweet William" chocolate santas.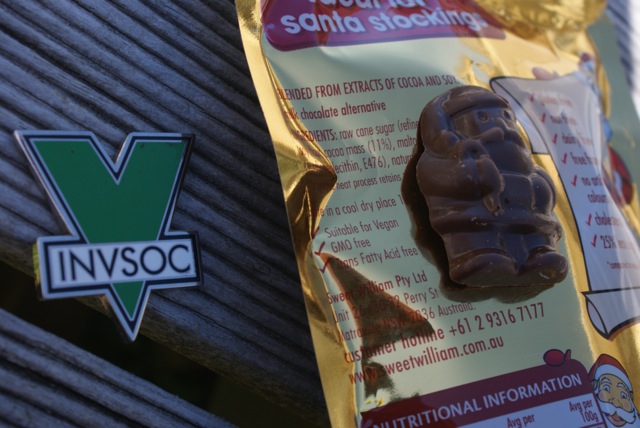 We've had a lovely year promoting Veganism, and we can't wait to meet new vegans in 2015!  Have a happy VEGAN new year everyone :-)