We started at Gala Street outside Queens Park, down Dee, turned onto Tay at the Bank Corner, down Kelvin Street by H&J Smiths and finished at Gala Street where we started.
It was great fun marching as advocates for animals through the Invercargill CBD :-)

We also gave out Vegan friendly Santa chocolates made by "Sweet William", wishing the people of Invercargill a compassionate Vegan holiday :-)  Of course, we already have our very own "World Vegan Day" on the 1st of November, but every day should be a vegan celebration :-)


We told the company how we loved their dairy free chocolate and were giving it out as compassionate vegan alternative to cows milk chocolate, and we won a prizepack worth over $100!

We'll be glad to share our chocolate prize with everyone :-)  Keep an eye out for people in green Vegan shirts on Esk/Tay/Dee :-)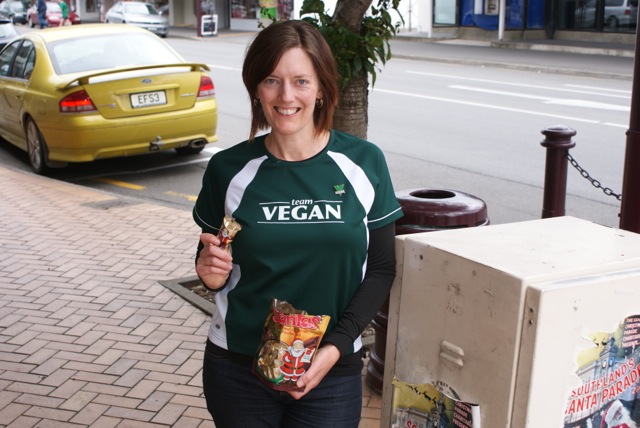 Raising money for an exchange student trip :-)  The woman in the middle had recently been to Los Angeles, and was helping her friend on the left raise money for a trip of her own.  We asked her what it was like, and the first thing that came to mind was "THE FOOD!  It's so DIFFERENT!  So……MUCH BIGGER!" :-)

Bluff Volunteer Coastguards were raising funds.   We were asked "so what's Veganism all about, whats the difference?"  As it happened, the coastguard pictured is a *vegetarian* for health reasons!  He said he liked eating cow's milk cheese, but that it did upset him how the animals were hurt.  We agreed that it was horrible what the dairy industry did to our animal friends and the environment.  "You've got me thinking!" he said as we left him with an INVSOC card :-)


We had a fantastic vegan turnout for the Santa Parade!


Jen by the Feldwick Gates at Queens Park.

We met "Gary the Ram", a sheep mascot for the suburb of Glengarry woven from over a thousand plastic bags!  Fantastic creativity!


This "Winnie the Pooh" float is sponsored by a slaughterhouse company!  Imagine telling the children dressed up as animals on the trailer who they represent!  "Err, well son, Alliance make meat for us…."

You can read about Alliance Group Limited slaughterhouses in the industry book "A Cut Above" here.  There were several animal agriculture related entires, and we saw a young boy with an LIC cap on.  I wonder if he knows what LIC do to animals?
(Dairy industry artificial insemination.  Female cows are kept pregnant so they keep producing breastmilk for babies who are taken off them.  The "best" bulls have their genetic contribution taken from them by LIC "technicians", and frozen "straws" are sent to AB technicians to implant into female cows.  The industry avoids the standard term Artificial Insemination, softening to just "AB" for "Artificial Breeding".  AB is now so standard across New Zealand's dairy industry, "natural" breeding has almost entirely been replaced)
We were happy to represent Animal Rights, to be on the animals side.
In line for the parade to start outside Queens Park.

Entry #70, The Invercargill Vegan Society!

Jen

Phil

Lori and Mark with their children

Erin and her twin daughters

Southland Building Society sponsored a "Chocolate Factory" float that looked suggestively Willy Wonka-ish :-)
Invercargill Parks and Reserves

Marching down Dee Street, the wrong way!

War monument roundabout, Bluff, Queenstown….and the Invercargill Vegan Society!

It was fantastic to hear people "reading aloud" as they saw our banner!  "Invercargill…Vegan…Society….whats that?"  Sometimes we heard them answer one another, "they only eat vegetables", "like vegetarians" or "they don't eat meat" were the most common answers we overheard :-)
It was our first time in the Southland Santa Parade, we hope to be an annual favourite :-)  It was lovely to see people we knew and to have people clap for us!  Lines of children would reach out their hand, and as parade entrants went past, we would "high five/slap" as though we were rockstars!  Talk about community outreach, lending a helping hand! :-)

Phil, Erin and Jen as we returned to Queens Park.  Well done everyone!

Thank you to everyone who helped out with our first entry in the Southland Santa Parade!  20,000 people saw Vegans marching down Invercargill's main streets, we had a great time!