The Invercargill Vegan Society had a stall at the Invercargill Eco Show 2013.  We had a lovely time, and gave two presentations onstage (Vegan food, gardening)  Jordan and Jenny were joined by Russell, Dan, Lindsay and George.
The first appearance of our new INVSOC banner :-)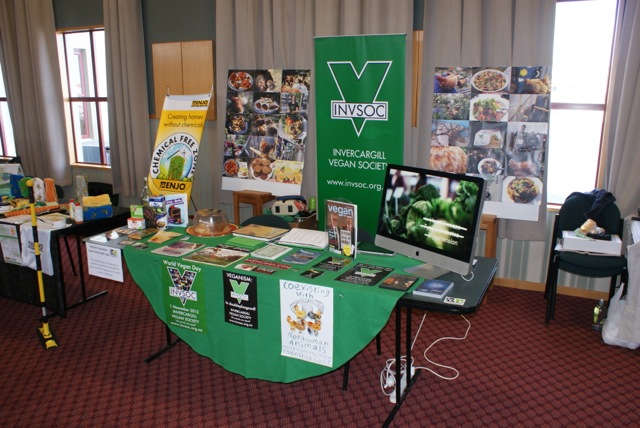 "Extra Extra, Read All About It!"…..on the sidewalk :-)

Our Invercargill Vegan Society stall was bigger and better than ever :-)



Our banana chocolate chip and lemon muffins were well received :-)

We met new Vegans living in Invercargill, Dunedin and Christchurch.  It was great to find high levels of interest in Veganism, and to share recipes, contacts and event details.  Oh, and don't forget the baking! :-)
Jen and Lindsay talking about Vegan baking

We had a great day at the Eco Show!
 
Jordan and Jenny gave presentations about Vegan food, and Vegan gardening.



The Invercargill Vegan Society does not make any miraculous health claims from being Vegan.  We are Vegan for the animals, to help and care for one another.  We mentioned that Veganism could be better for the environment and that there were interesting health documentaries such as "Forks over Knives".
Jen and Jordan are not medical professionals, and we did not make any health claims during our food presentation.  We were honest about our qualifications – Jen is a trained archaeologist, and Jordan?  Well, he graduated Verdon College highschool :-)
We were rudely interrupted during the food presentation by a self styled nutritionist who had a bone to pick with Veganism, and that's when we sprung our trap!
We admitted that we were not doctors or nurses, trained medical professionals, and so we wouldn't make any magical health claims.   BUT……luckily we have the Invercargill Vegan Society Medical Wing!  Professional doctors and nurses, dispensing opticians, a visiting anaesthetist and veterinary nurses :-)
Planted among the audience was Dr Thomas Joseph, who leads health presentations at the weekly Adventist Vegan cooking class!   Thomas was glad to correct any misconceptions about Veganism being in any way "limited" :-)


We are very grateful for the work Thomas and the Adventists do with their Vegan cooking classes each week.  Goodness knows he's working hard to save lives at Southland Hospital, we appreciate his culinary skills too!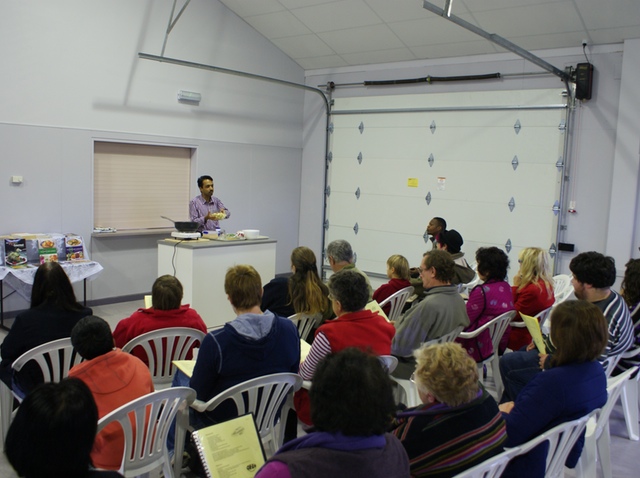 Green Party stall



Robert and Robyn Guyton also had stalls at this years Eco Festival.




Nathan and Rochelle Surendran also launched "Love Local" vegetable deliveries at the Eco Show.  We're glad to know them, and to support their  "Films for Action" documentary nights.

Environment Southland
   
Jen at the Invercargill Vegan Society stall

     
Grant Meikle at the Sea Shepherd and Save Hectors/Mauis Dolphins stall.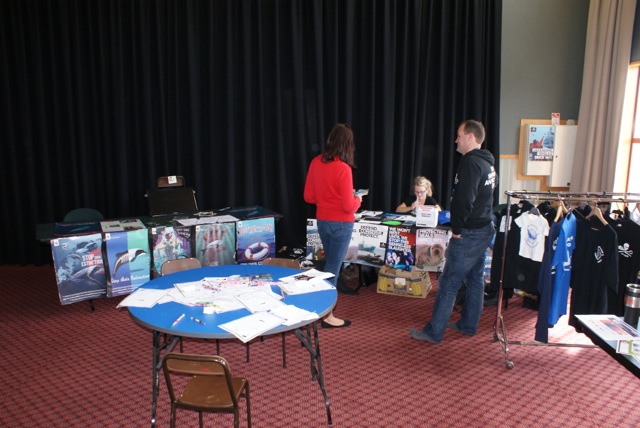 Russell Masters at the SAFE stall.

Russell made sure the stall included Vegan information, it's good to see SAFE talking about Veganism :-)




We had a lovely time at the Invercargill Eco Show 2013 :-)