This recipe is frequently shared around! We've demonstrated it at the 2012 Southland Eco Show, given the result out on the streets of Invercargill, posted them to Auckland for the great Supercity Vegan Potluck, met the recipe creator Jay at the 2014 Auckland Pride parade, made them into a loaf, cake, muffin forms……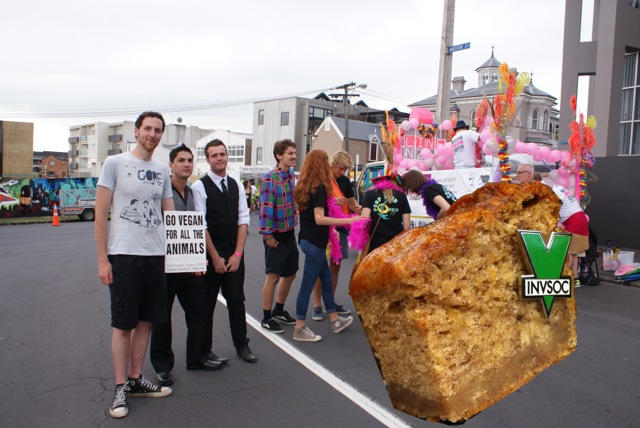 Make in a loaf tray for Banana Bread, or in a muffin tray for, yup, muffins (with added chocolate chips)


The world's most powerful banana bread recipe…..what CAN'T it do? Let's try and "push it to the limit"!
Ingredients
– 2C Mashed Banana (4/5 big ones)
– 2C Plain White Flour
– 3/4C White Sugar
– 1/2C Brown Sugar (packed)
– 3/4t Baking Soda
– 3/4t Salt
– 3/4t Cinnamon
– 1/2C Soy Milk
– 1t Cider Vinegar
– 1/4C Neutral Oil (Grapeseed/Canola/Rice Bran)
– 2T Maple Syrup ( I used Agave Nectar, as easily found at Holistic Health on Kelvin Street, and other health food stores )
– 1T Vanilla
Utensils Needed:
– Large bowl for mixing
– Stirring stirrer of some kind for stirring
– Cup, teaspoon and tablespoon for measuring
– Masher, for mashing bananas!
– Loaf baking tray, as found at quality Pak n Save supermarkets nationwide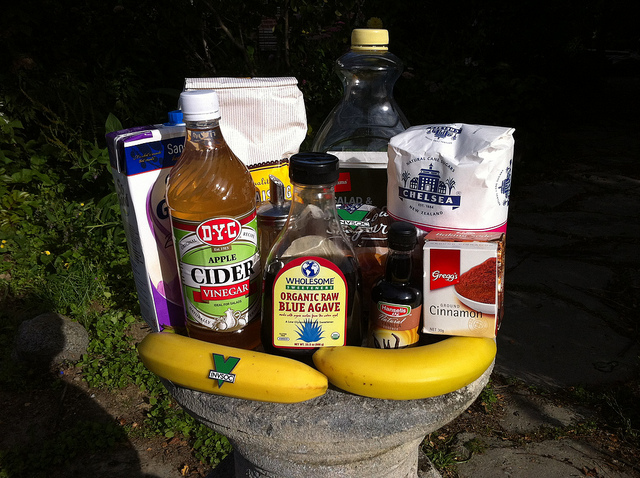 Method:
Mash Bananas into a bowl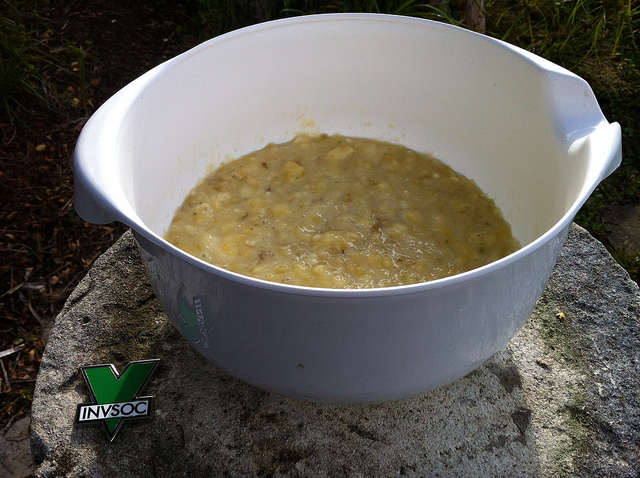 Cream Banana/Sugar/Vanilla together. (3/4 cup White Sugar, 1/2 cup Brown Sugar, 1T vanilla essence)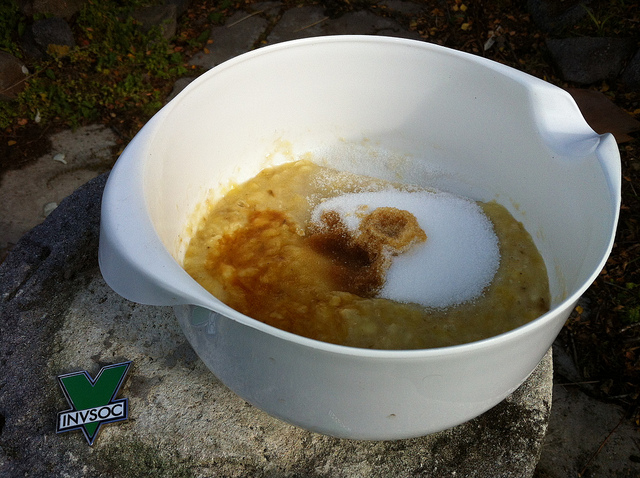 Add sifted dry ingredients. ( 2 C flour,  3/4 t baking soda, 3/4 t Salt, 3/4 t Cinnamon )
If making into cupcakes, add chocolate chips along with the dry ingredients :-)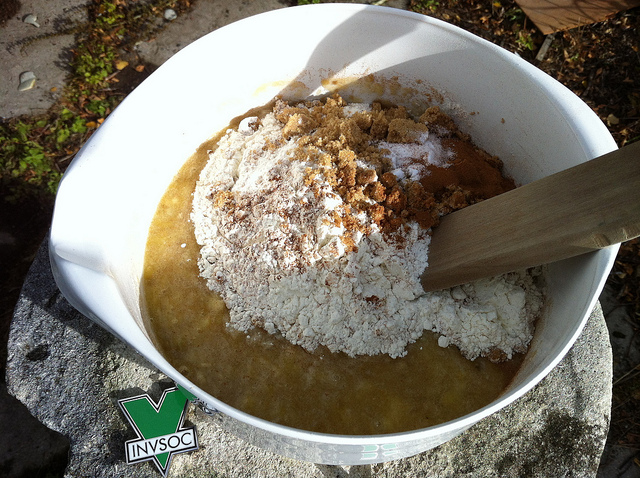 Add in wet ingredients.  ( 1/2 C Soy Milk, 1 t Cider Vinegar, 1/4 C of cooking oil, 2 T Maple Syrup (or Agave Nectar!) )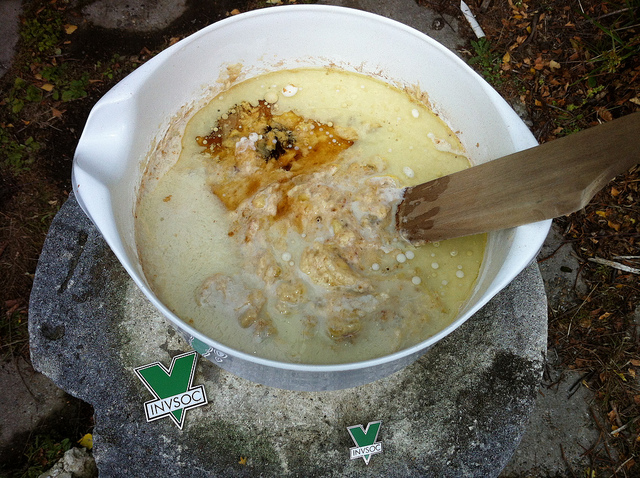 Fold until just combined.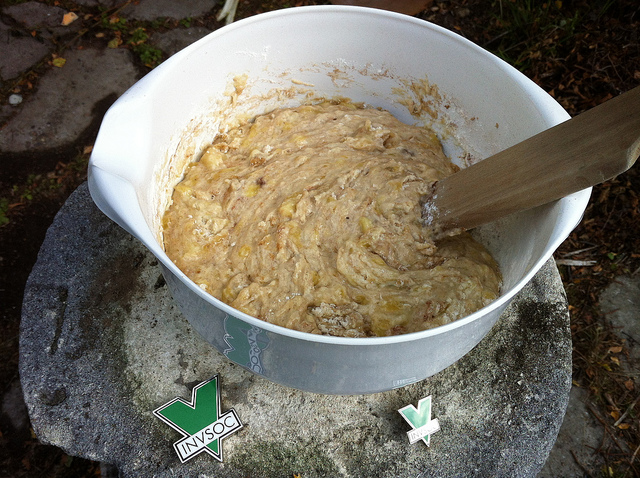 Baked in a greased loaf tin at 160c for an hour.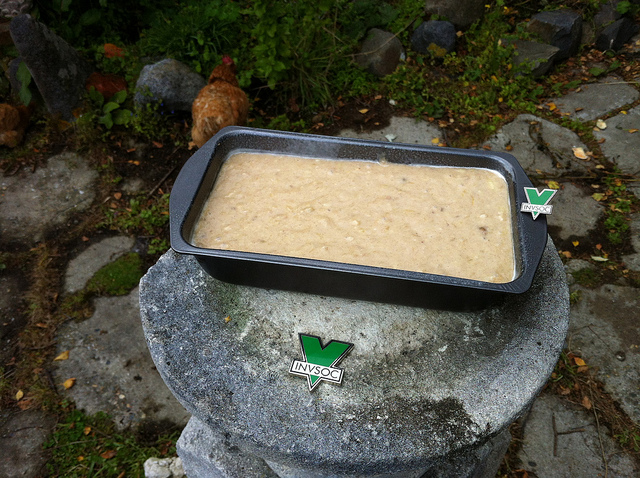 I enjoy watching the Banana Bread rise in the oven, the loaf tin was a little full, but it doesnt spill over the sides, the rising mixture just grows and grows and grows, until it settles back down.  I  made a couple of muffins from the mixture too, the full muffin cup below was too much, so I soon took some and added it to the second.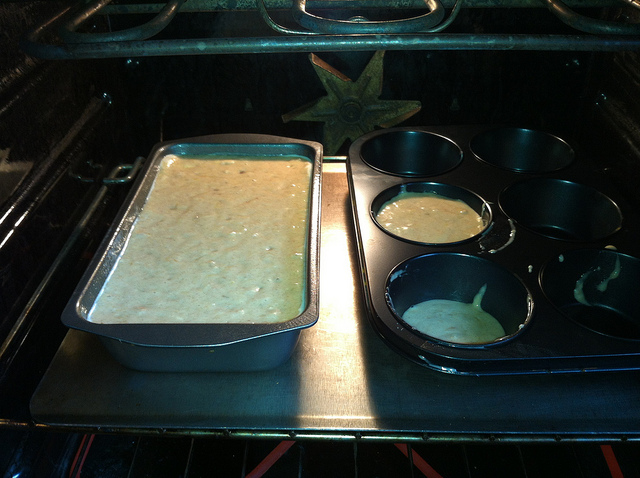 "Heres one I prepared an hour earlier!"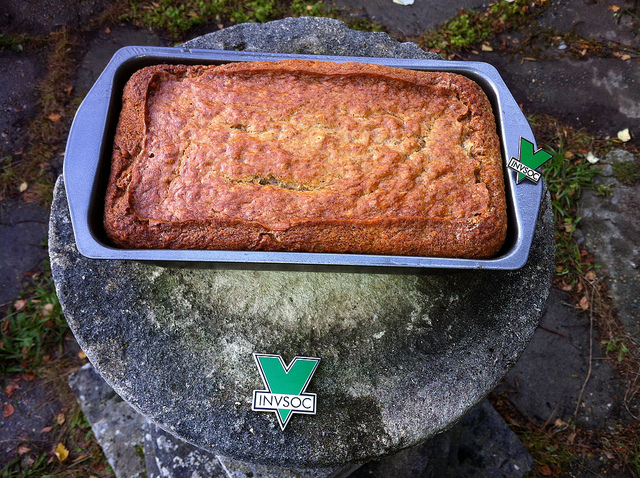 Enjoy with your friends :-)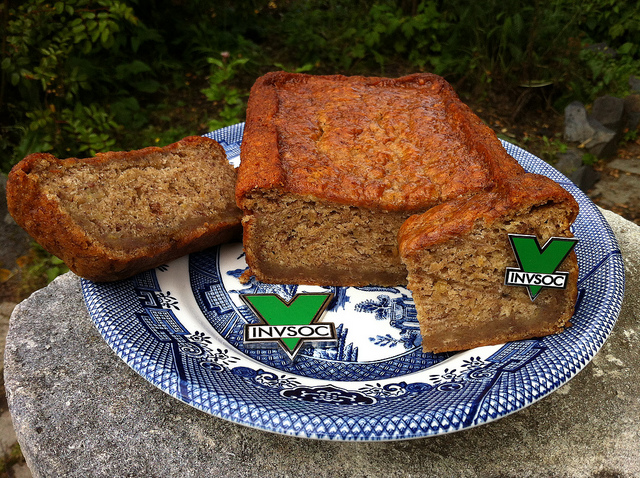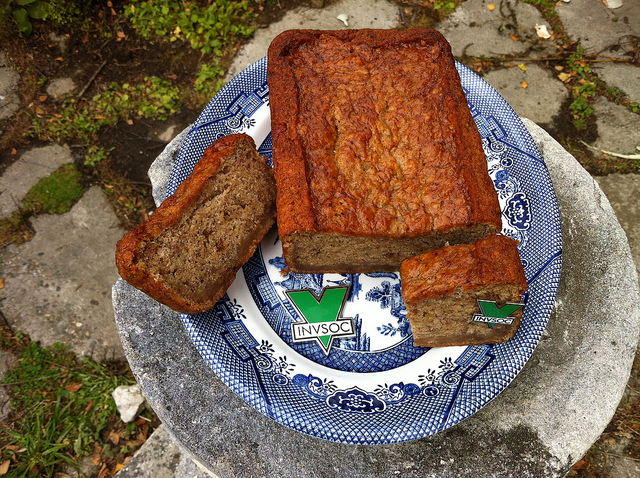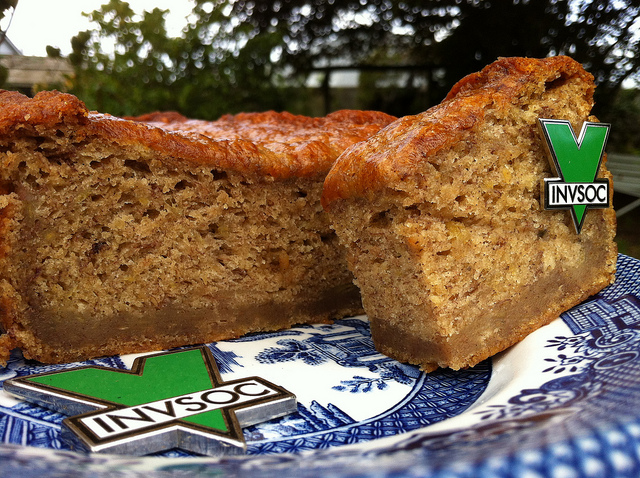 If you're feeling particularly confident of your baking abilities, you could *even* make this recipe into muffins!  It's pretty difficult alright, but try using less banana (so its lighter) and adding chocolate chips to the dry ingredients.  (Adding chocolate chips to the wet mix often makes them sink to the bottom of the muffins, thanks for the tip Jess!)  After using a spoon to add the mixture to your muffin tin, it should work out fine if you bake for 30 minutes or so.  Being smaller, the muffins will cook faster.
The mixture resulted in 12 large muffins.