Invercargill Vegan Society members Jordan and Jenny flew to Auckland to see Dr Will Tuttle speak about veganism.  We flew out of beautiful Queenstown airport, before spending a few days in Auckland with some of our favourite vegan friends :-)
Queenstown
We drove from INVSOC HQ to Queenstown.  "It's Easy To Be Vegan", but the Devils Staircase highway sure made the journey interesting!
Winding our way towards Queenstown (far left of photo)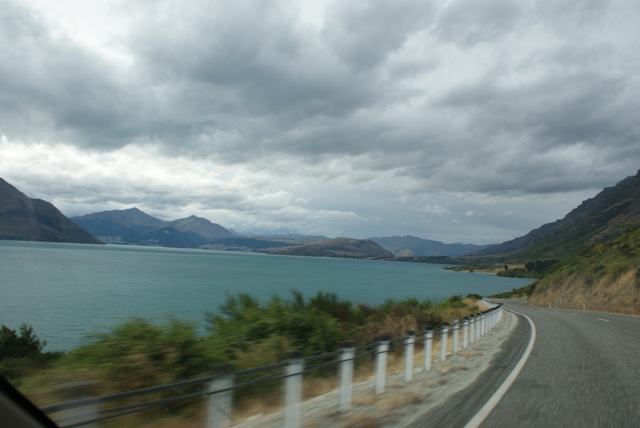 Surely the eighth wonder of the world, the Kawarau Falls Bridge at Frankton.  A bottleneck for Queenstown, this single lane bridge has queues of luxury cars backed up on both sides following traffic signals.  We also watched a slaughterhouse truck loaded with victims bang over the exposed bolts.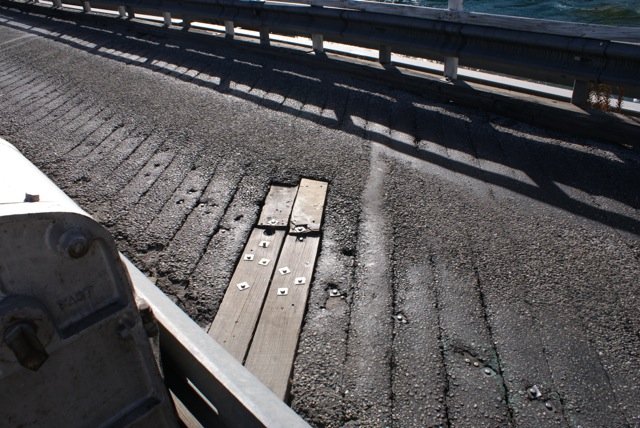 A rutted roadsurface matched with a sight for sore eyes.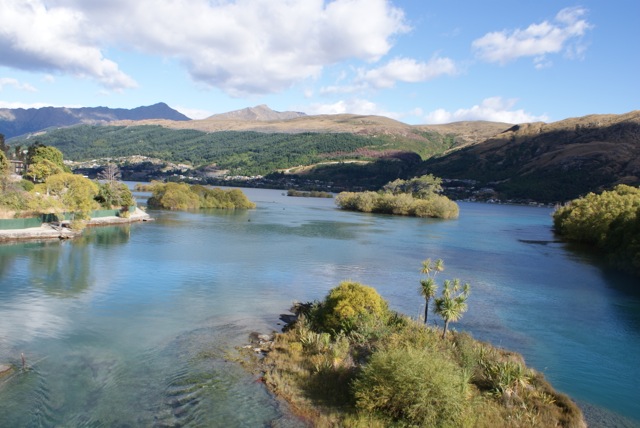 Turns out someone's went and plonked a Hilton hotel right along the waterside.  Half a decade ago, this used to be a campground where we paid about ten dollars to camp beneath the same trees to the left of photo!  We spoke with guests walking across the bridge to their luxurious lodgings, the per night price has SKYROCKETED!  :-)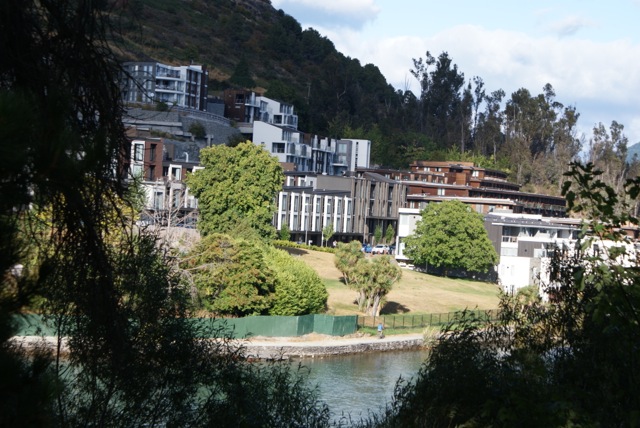 We stayed further towards Queenstown central, you can see the Hilton across the lake.  We chose accommodation better suited for grassroots animal rights activists…..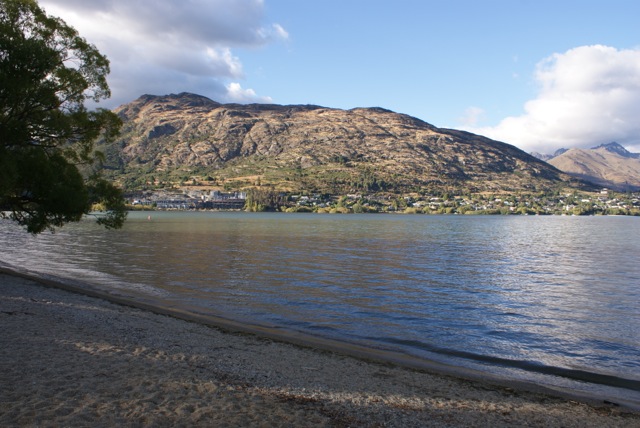 The Frankton motorpark!  Good ol' caravan #37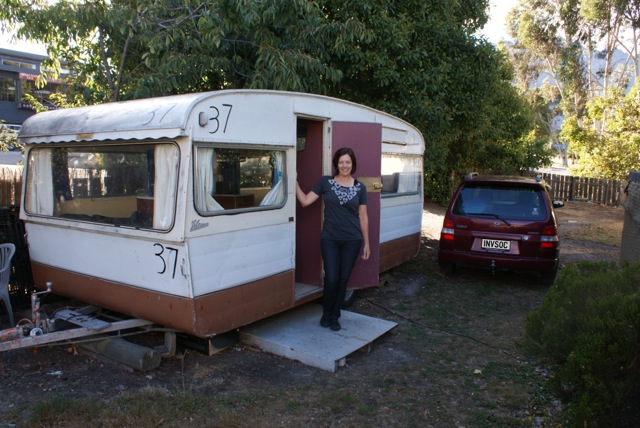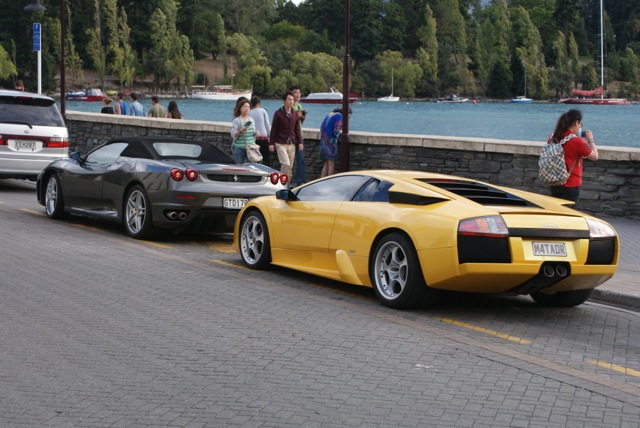 We ordered by phone to skip the crowded queue.  The "Holier Than Thou" tofu burger features "tempured tofu with a spicy satay, coconut and coriander sauce, lettuce, tomato, red onion, cucumber, snowpea shoots and aioli".  Asking them to hold the sauces, we brought along our own vegan aioli.

Off to Auckland, for more vegan adventures :-)
Auckland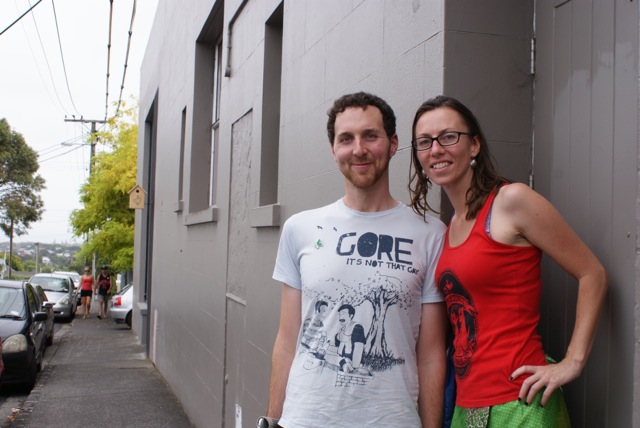 We briefly visited "Little Bird Organic's" new location, finding it packed!  NZ Vegan legend Sophie Andrews was inside.  A baker of supreme quality, we introduced ourselves but were too shy to ask for an autograph.

We refuelled at Little Bird's original Kingsland location.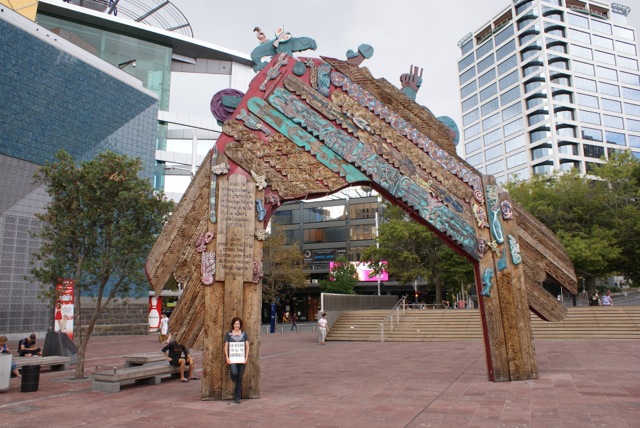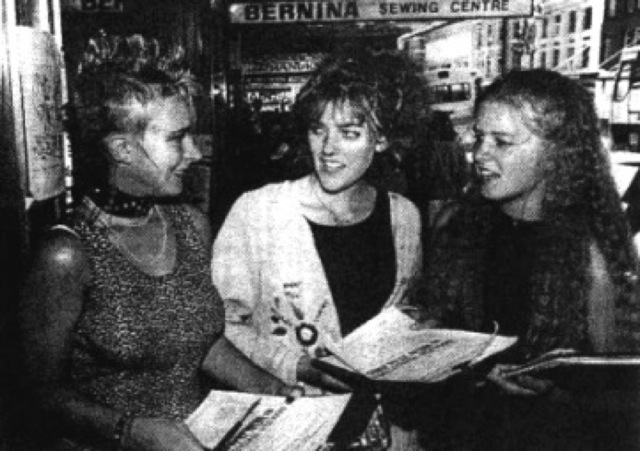 Petitions against animal testing, "Stop Animal Experiments", "Stop LD50 Poisoning Tests" animal rights stalls in Aotea Square.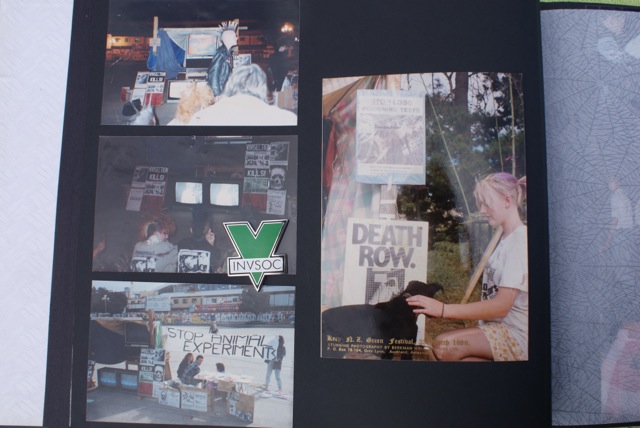 Using our beloved coloured chalk we left INVSOC's mark :-) Spotting organisers in high visibility vests and brandishing clipboards, we asked permission to write a "Go Vegan" message.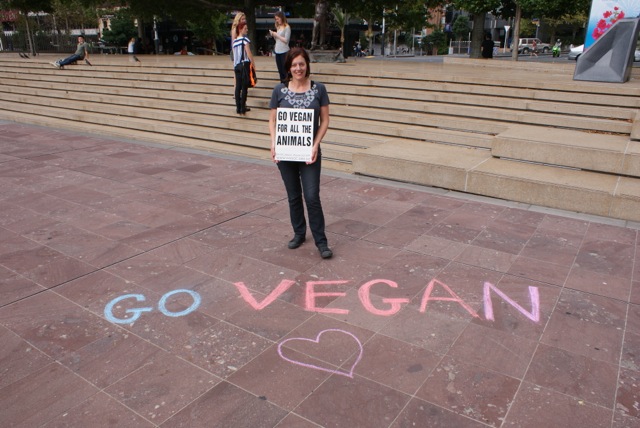 We went ahead, before being caught by security.  A guard packing a walkie talkie came up to us, telling of how "the boys picked us up on the cameras".  We promised to be spotlessly good for the rest of our supercity stay.
Gelato!
Among the many celebrities we met during our Auckland visit, master of banana bread Jay! (behind sign).  We love sharing his superb recipe with people on our website and have demonstrated  it as banana chocolate chip muffins at the Southland Eco Show.  Great to see you Jay :-)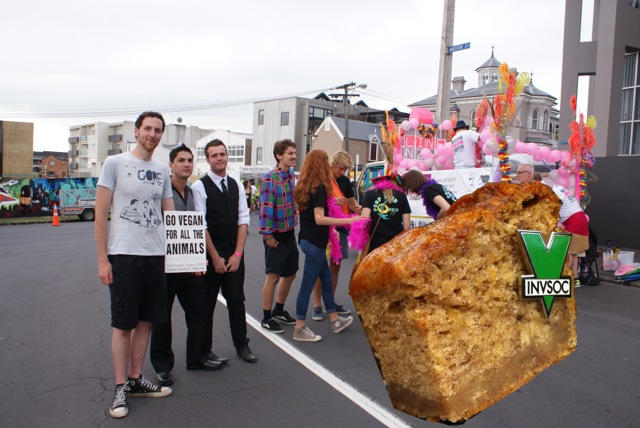 Auckland Vegans potluck!  We were very excited to attend to attend our second North Island potluck.  Our friends Hannah and Aaron hosted an amazing Wellington event after the Aotearoa Animal Rights Conference 2013.  Likewise, Auckland Vegans definitely know how to potluck party!   Will Tuttle also presented a workshop.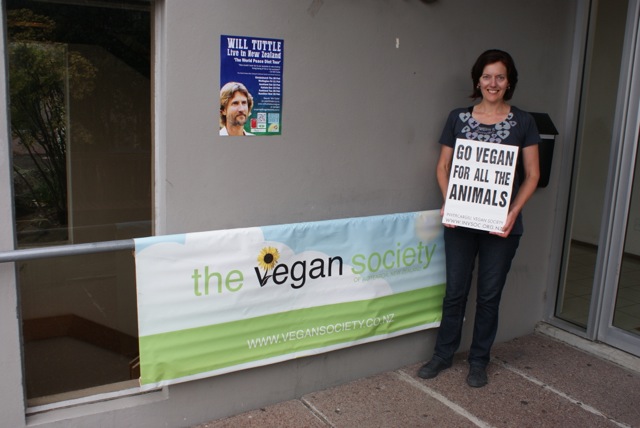 Theres a Lamborghini dealership (also selling a Ferrari, a couple Aston Martins and a HOLDEN!) just a few numbers down from the Auckland Vegans potluck venue.  Very fancy!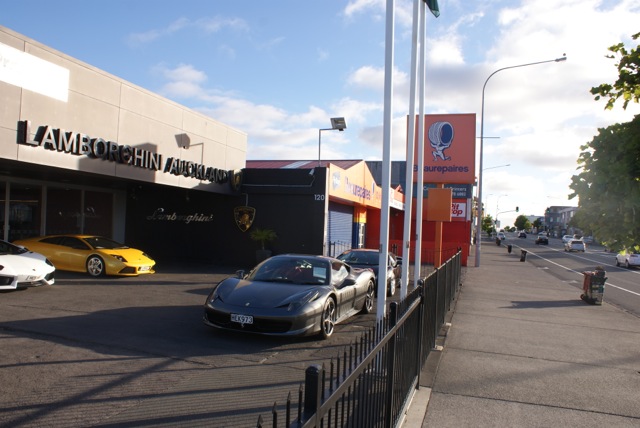 Julie Gunn demonstrates the vegan variety :-)   Will and Madeline Tuttle visible on the right :-)
Auckland Vegans know how to potluck!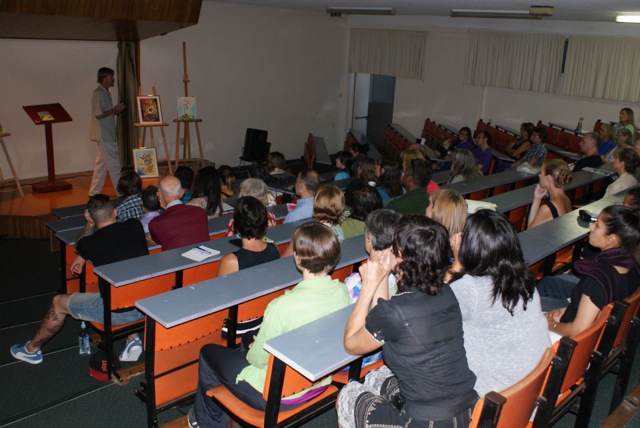 Author of "The World Peace Diet", Will Tuttle spoke about Veganism as a lifestyle extending compassion for all.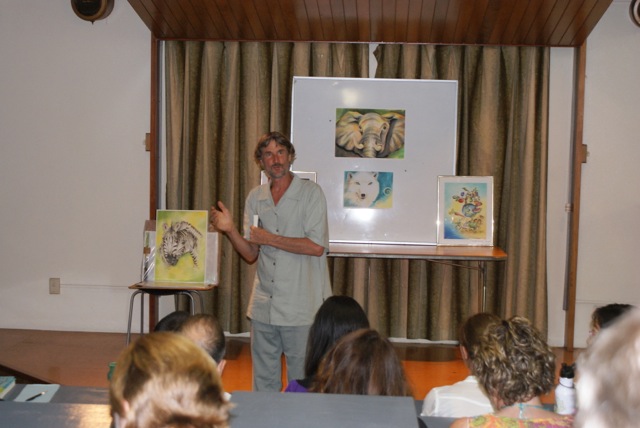 Madeline, Will Tuttle, Jordan and Jen :-)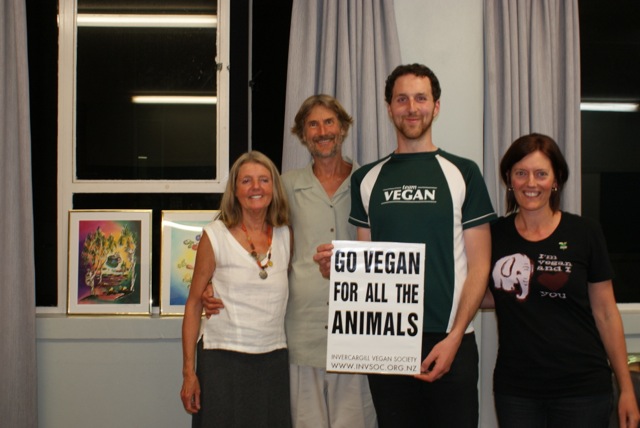 NZ Vegan Society  "Vegan" magazine editor Jessica Parsons, Invercargill Vegan Society founder and principle post-potluck dishwasher Jordan.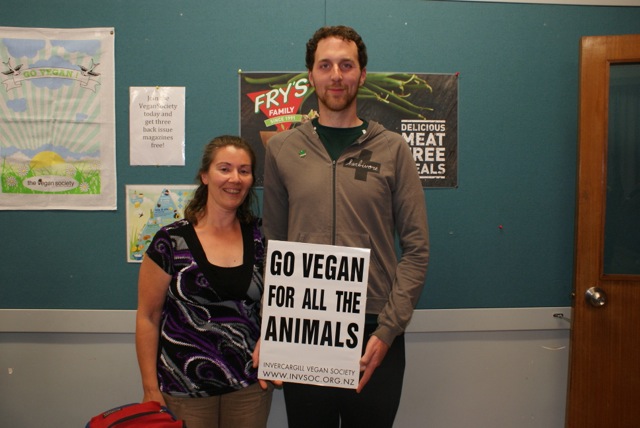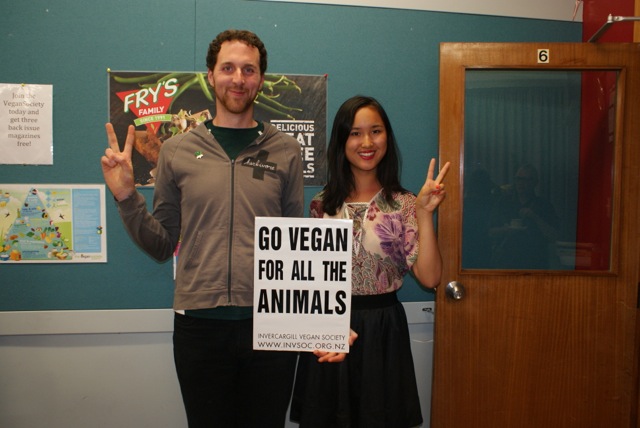 We were lucky enough to spend time with Jessie during our trip.  She is absolutely sensational, a dynamo working for a Vegan world.

We were grateful to meet Melanie "in the tofu"! :-)

Thank you everyone for a lovely potluck and the Will Tuttle workshop.
We visited the "Wise Cicada" superstore.
A variety of salads, including sea vegetables.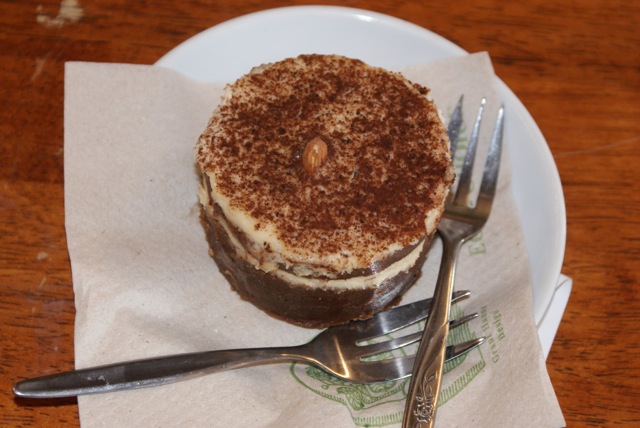 Hen rescuers Kath and Bill run an animal sanctuary at their home north of Auckland.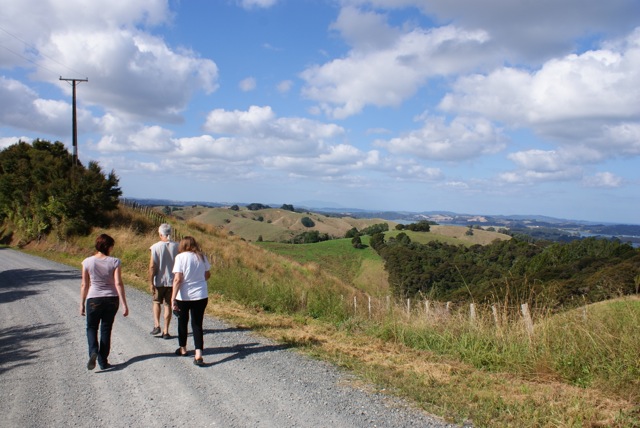 We are thankful for the chance to spend time with two such inspiring people, who care for such a wide variety of animals.  Unwanted roosters live in separate structures throughout the bush, some visiting inside their three story home!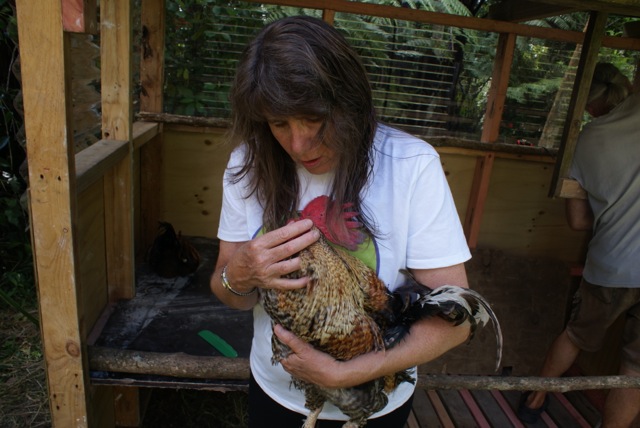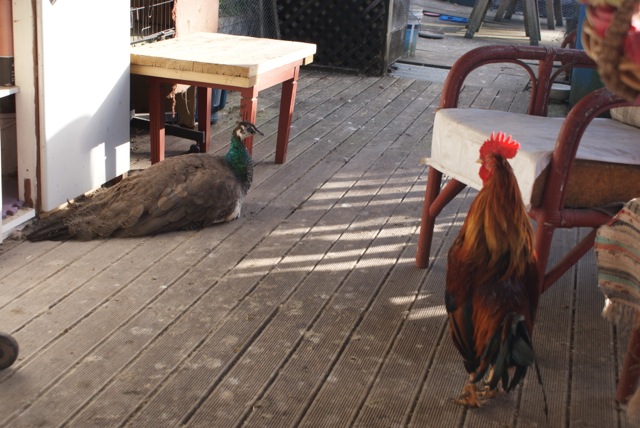 Chicken homes, the female hens live far away from the male roosters.  They all have housing to call their own, it's lovely!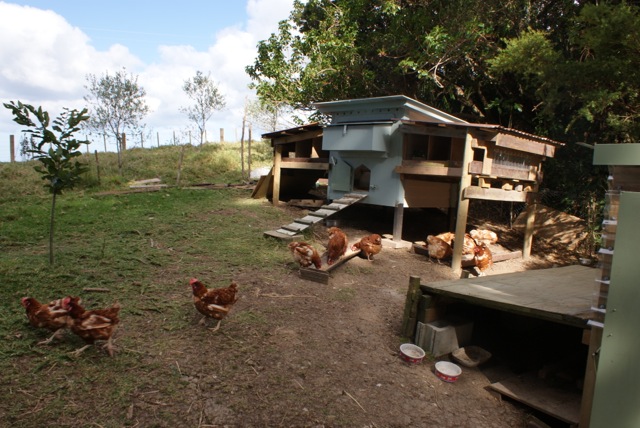 Alpaca friends make happy hen neighbours.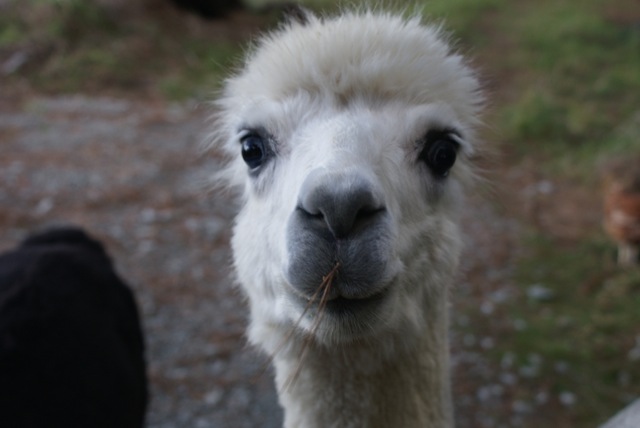 Vegans offering wild refuge, Kath and Bill are an asset to the animal movement.  They're not half bad companions on a walk either!

The inaugural dinner meeting of the Chicken Appreciators Group!  Kath, Bill, Susan, Romina, Jen and Jordan, new members always welcome! :-)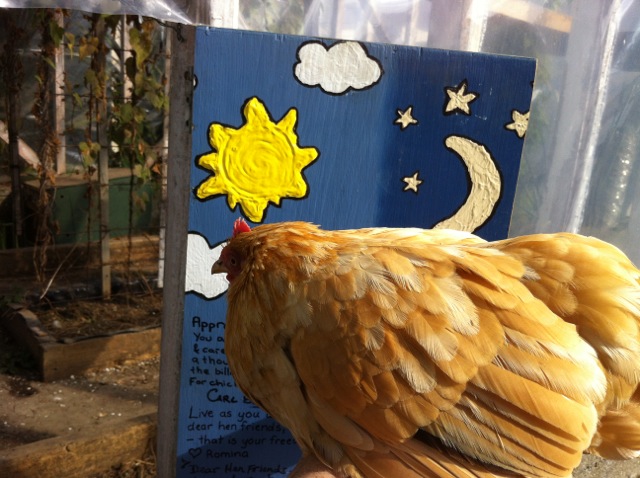 Chicken Appreciators Group potluck dinner.

Pip the rooster often lives inside.  He is very gentle, and appreciates being around humans.

We loved spending time with our fellow Chicken Appreciators :-)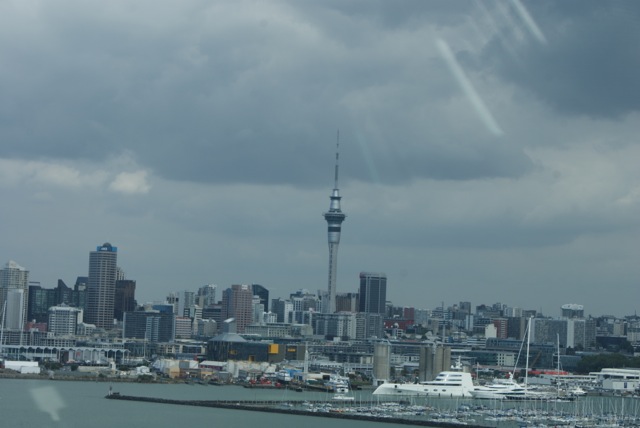 Our friend Kathrine visited Invercargill last year, we showed her around the Otepuni Gardens, Dee/Don streets and Pita Pit.  In turn, she showed us her apartment in the shadow of the Sky Tower :-)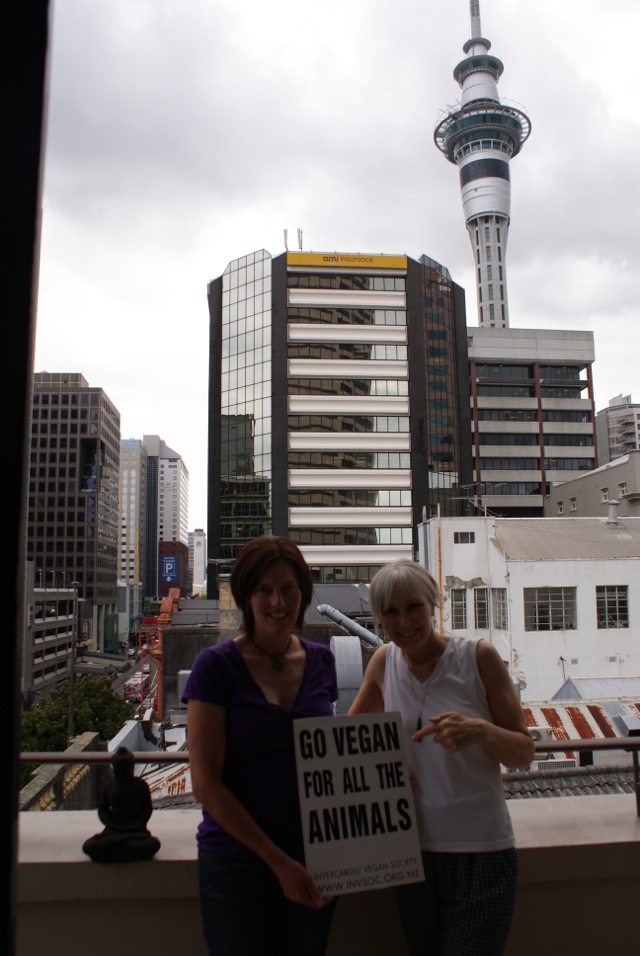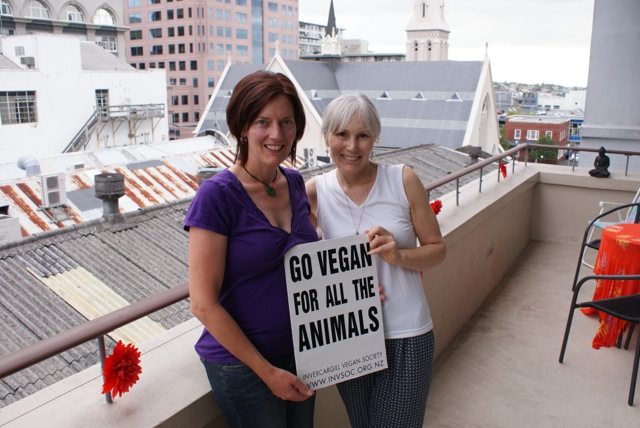 Pigeons in the park :-)  Our dove friends back home would happily coo hello to all the wonderful animals we met on our Auckland trip.

Jordan and Jen had a lovely trip representing the Invercargill Vegan Society.  We enjoyed Will Tuttle's talks, the Vegan scene, meeting online friends and learning how to help animals from true heroes.  We hope to visit you again soon, and to reciprocate the kindness when you next visit Invercargill :-)
Beautiful skies flying home, almost as though we were flying through the planets atmosphere!  (Well you know, more so than usual ;-) )
We arrived back at INVSOC HQ to find Nurse Dan had both cared for our Hen/Dove Friends well, but also baked a welcome home gift!
Truly, we are blessed to know so many incredible vegans across New Zealand.  Thank you for all that you do!