On December 30th 2013, "The Southland Times" newspaper featured a Vegan opinion piece!  Invercargill Vegan Society members Jordan and Steph shared how new years resolutions led them to be vegan animal advocates.
Thank you very much to The Southland Times for featuring a pro-animal message :-)  We hope readers will consider going vegan for the animals in 2014.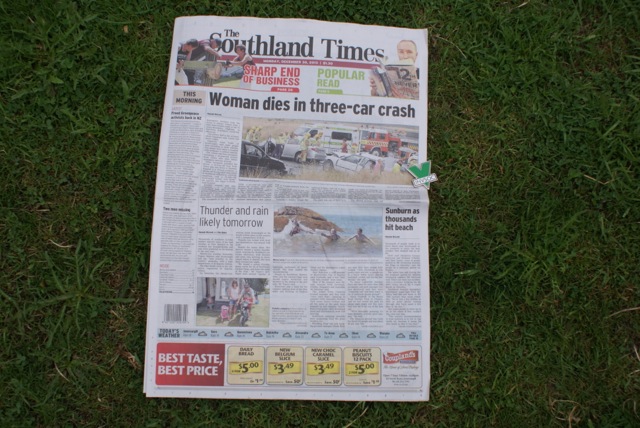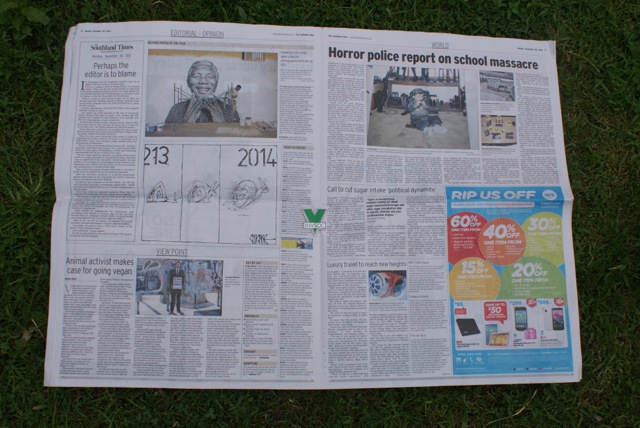 Mr Dove with our published pro animal piece.
Geiger, Rosa and Anne Hen absorb a vegan message! :-)

We also rang into Radio Live, to talk with host Timothy Giles about "going vegan for the animals in 2014" :-)

Full text:
"Veganism is a social justice movement, people living without eating or using other animals. Vegans recognise that we are all sentient life, we are all animals, and that we are all equal. We can easily wean our adult selves off cows breast milk, leave birds eggs to the birds and let animals live out their natural lives in peace. Southland's primary industries have cruelly killed seals, whales, sheep and cows. Signs atop Bluff Hill show "seal gangs at work", men wearing top hats as they club cornered seals. "Within a few decades, seals had been slaughtered to the brink of extinction and the sealers' attention turned to whaling". Farming land animals is equally unsustainable, boom and bust animal agriculture is New Zealand's worst source of pollution. When we can live long, healthy, energetic lives without causing suffering, why would we knowingly choose to harm animals?
Bluff's Stirling Point was named after a whale killer, yet today we look upon the killing of whales as deeply wrong. Last weekend I attended a Project Jonah training course to help stranded whales and dolphins. What would William Stirling have thought? New Zealanders killed whales right until the end of 1964. It was June 21st that year when The Beatles landed at Wellington Airport. Without strict quarantine procedures, the nation caught Beatlemania and has never been the same since. December 21st that year we last caught and harpooned a whale to their death. John Lennon would be right to claim "we're more popular than [whaling]", New Zealanders have forgotten about our whale killing past, but we're still hooked on The Beatles. As Paul McCartney said, "if slaughterhouses had glass walls, everyone would be a vegetarian." There will come a day when we will look at harming cows in the dairy industry as we look back at our shameful whaling industry.
My vegan journey began with a 2007 New Years Resolution. I watched "The Silence of the Lambs" as protagonist Clarice Starling is haunted by childhood memories of screaming sheep being slaughtered. She has entered the FBI to save lives, while still haunted by the lambs of her childhood. The infamous Hannibal Lecter asks if her nightmares have ended, if there were a "silence of the lambs". It made me feel guilty for the animals I ate. I was disgusted as the dark movie shone a light on wearing animal skin "leather". I made a New Years Resolution in 2007 to be an animal rights activist working to help animals in New Zealand.
Invercargill Vegan Society (INVSOC) members have shared our journeys towards veganism online,www.invsoc.org.nz/vegan-faq/ As you will read, many of us remember childhood animals fondly, and made the vegan connection in our adult lives. A horror movie influenced my New Years Resolution, but for my friend Steph it was children's movie "Charlottes Web" shown in the days after Christmas 2010:
"My dad wandered into the living room around the same time that adorable little Wilbur was figuring out that he was going to be eaten. I was outraged, because this pig had feelings, and he was cute, and what right did they have to eat him, really, when they didn't need to? He told me I was being a hypocrite, since I was part of the system, and had been creating a market for the practice my whole life. I ate animals, and therefore my argument was hollow. He was right, and I hated that I had no ground to stand on. I declared, on that sofa, still digesting ham, with Wilbur running around on the screen in front of me, that I was going to go vegetarian."
"I felt incredibly guilty, and suddenly, the taste of meat or cheese or a chocolate milkshake didn't matter anymore. My resolve to prove my father wrong out of stubbornness was replaced with this incredible drive to be a better person. It was in my power to do so, and I decided to actually become the change I wished to see in the world. I became a vegan at the stroke of midnight on New Years' Eve, going cold tofurkey from my previous meat-loving existence. Now nearly three years on, my life has changed in the most wonderfully unexpected ways. I am in tune with my body in ways I didn't know existed, I have met the most incredibly inspiring people, and the joy and peace I now feel with the natural world makes me wish this lifestyle had been thrust upon me from birth."
For 2014, please consider the animals around you, the animals in farms, the animals you can help. Every vegan product you buy and the vegan food you eat is a vote for a world without animal cruelty. It's fun and easy to be vegan as you'll see during our monthly potluck events www.invsoc.org.nz/potluck Join the Invercargill Vegan Society in 2014.
Help animals today:
* Go Vegan! Check out www.invsoc.org.nz for recipes and photos of our fantastic monthly potluck events, www.govegan.org.nz to be sent a free vegan starter kit!
* Adopt animals from an animal shelter, not a breeder. Whoever you can care for, a bird, cat or dog, they all need a "forever home".
* Be an active animal advocate! Give away vegan Santa chocolates on Esk Street, ring into talkback radio for a vegan chat, visit the Invercargill Vegan Society monthly potluck. Every bit helps the animals. The warm, generous, kind people of The Southland Times love publishing Vegan letters"