Jenny and Jordan are looking forward to the National Animal Rights Conference 2013, held in Wellington this July.  We are staying three days, and then spending a week in Auckland.
This post relives Jordans experience at the 2011 National Animal Rights Conference, hosted in Auckland.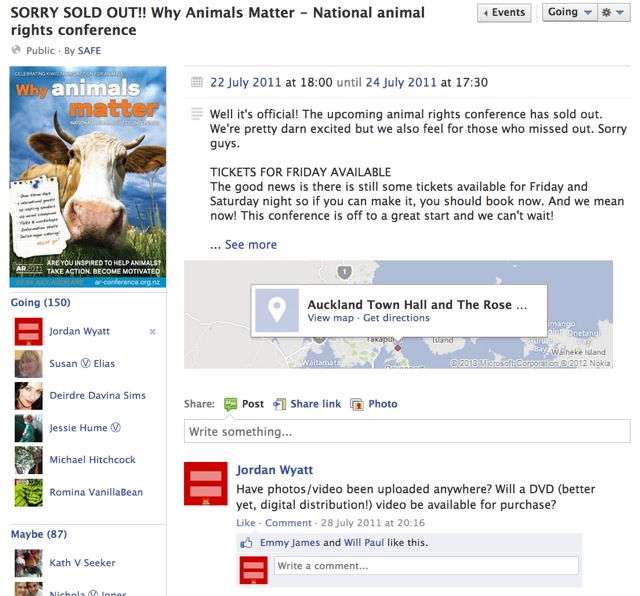 Flying out from world renowned (sarcasm!) Invercargill Airport.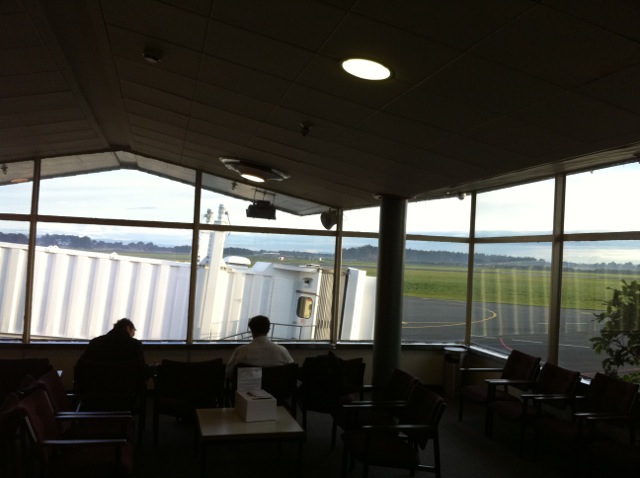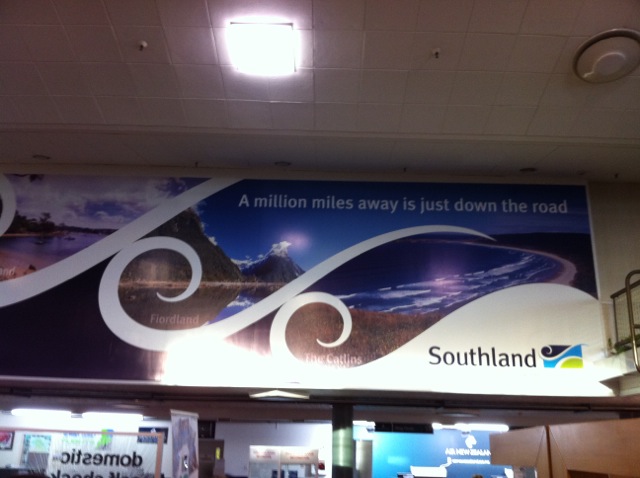 Internet Explorer AND "e-mail" access, in 2011?  The sign talks a big game, but can it make good on such boasts???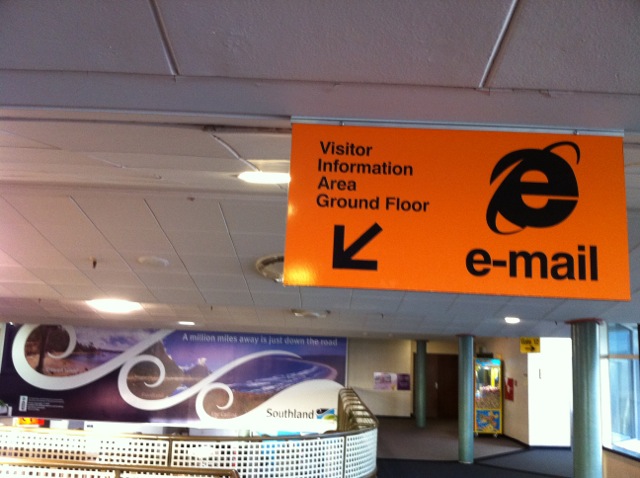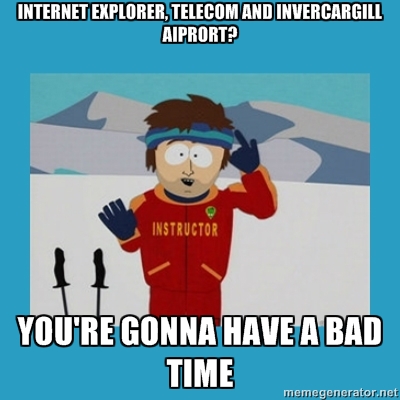 The one computer available!  This extension corded monstrosity probably runs on 5 cent coins!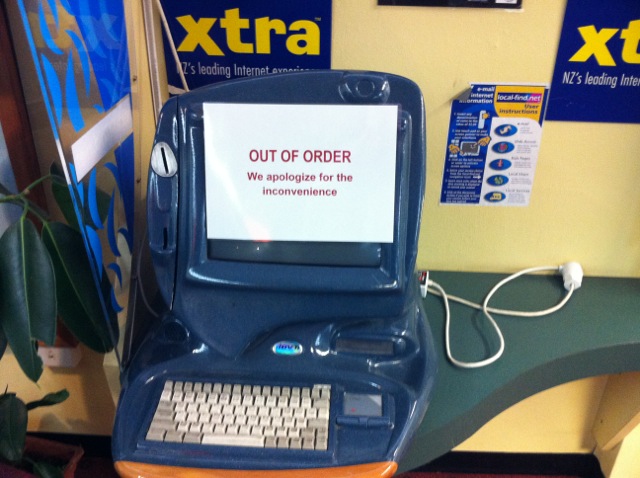 I opted to listen to Michael Jackson/Vegan podcasts while staring at Breakfast TV like everyone else :-)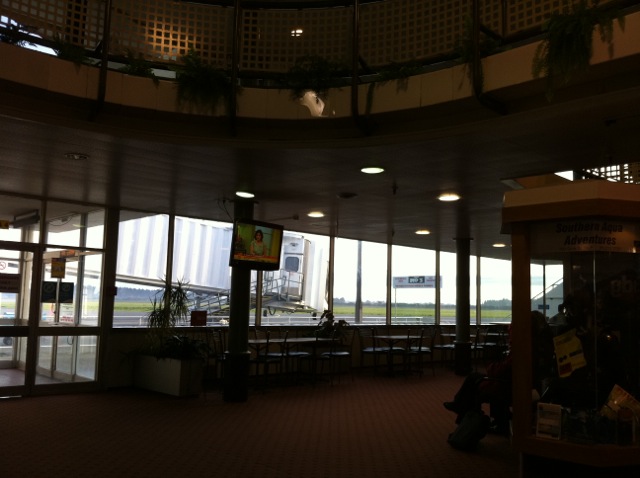 My chariot of fire awaits!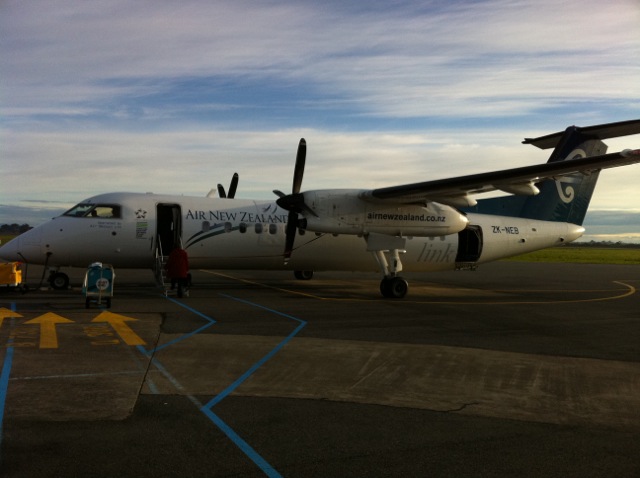 Mountains :-)  Notice the propellor distortions, the Rolling Shutter effect is visible from my camera?
Landing Gear :-)
Landing at Christchurch International Airport!
From Christchurch, Auckland was just a Boeing 737 away!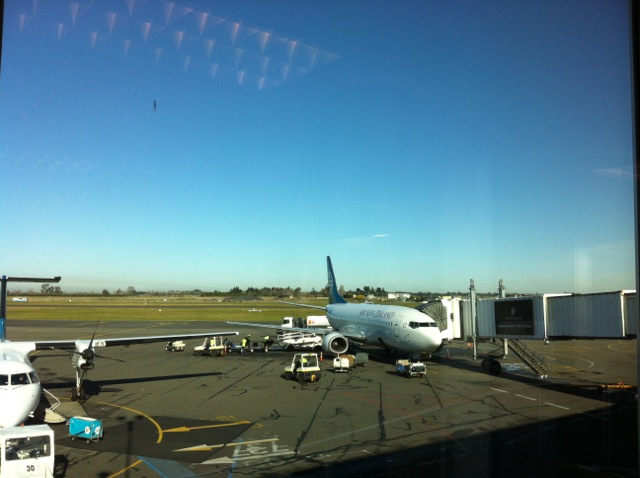 Liftoff :-)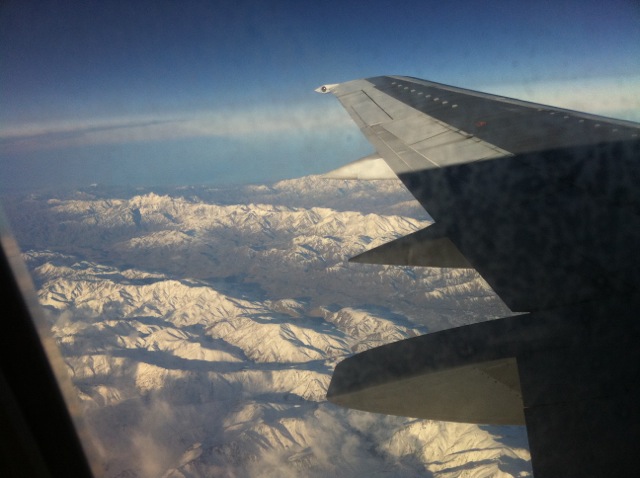 Landing at Auckland Airport :-)
But the inflight magazine promising $9900 chairs made from Animal Skin proved misleading.  Arrival in Auckland and my dreams of cruising Mayoral Drive in a droptop Rolls Royce were dashed!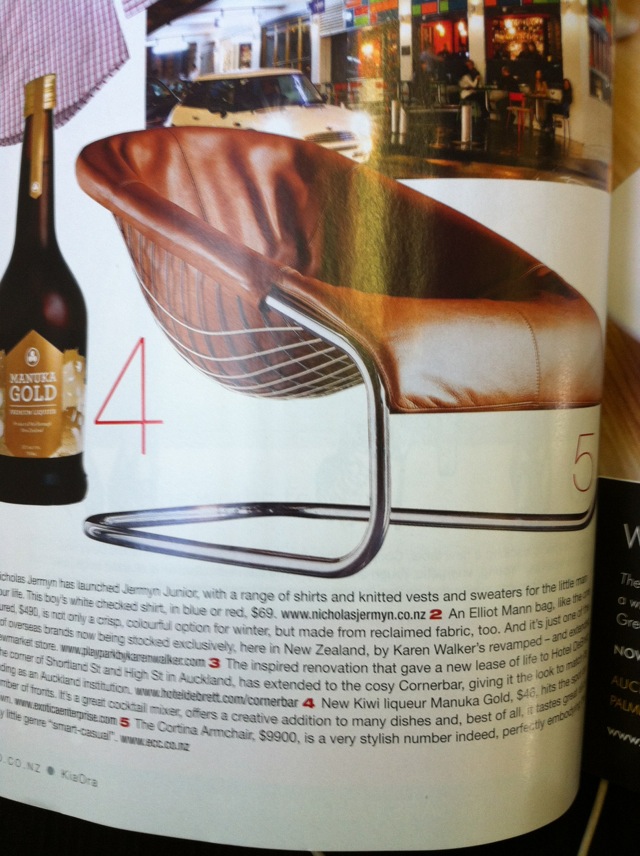 Auckland is a city of "socio-economic disparity".  Or as we say in Invercargill, there are the "haves" and the "have nots"!  A city where an Aston Martin will speed past a homeless guy with a cardboard sign begging for change (no exaggeration!) …..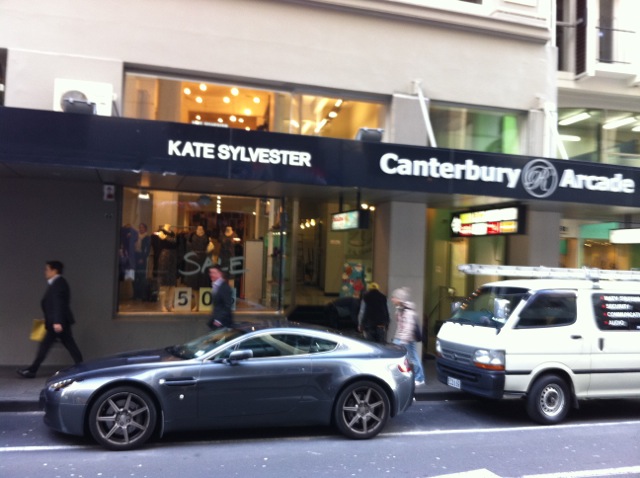 ….and the people without a few million bucks in the bank?  Based on the hotel room I was given, many of Aucklands 1.3 million people live in lime green, screaming purple and searing white dungeons!
The shared bathroom had mould in the sink and a shower that clogged with the hair of countless other working poor!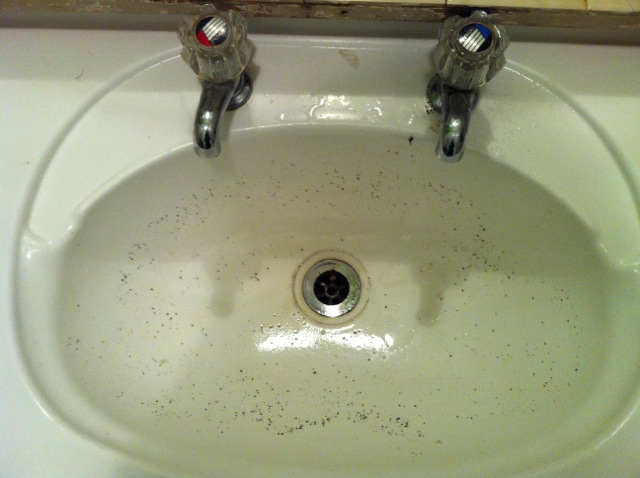 Jokes on me, I asked for "a room with a view".  I guess I didn't tip large enough!  Technically, the visiting sparrows were a form of entertainment, and the dripping moss served as a white noise generator.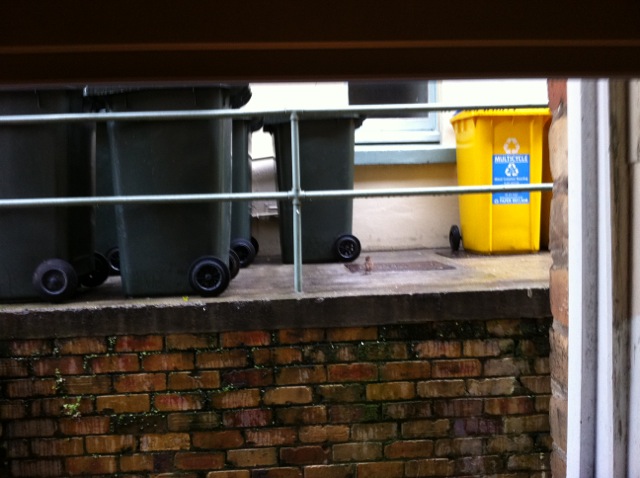 But the people of Auckland proved they can rise above their slumlike surroundings!  My friends Elizabeth, William and Emmy came to my aid!  A whirlwind tour took me from being appalled to awestruck of Auckland's architecture!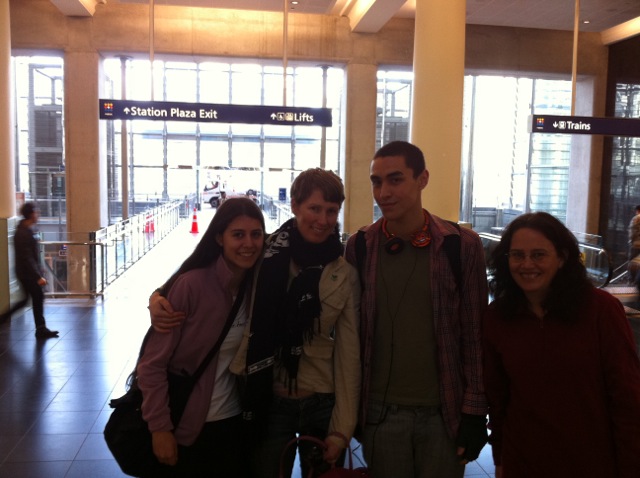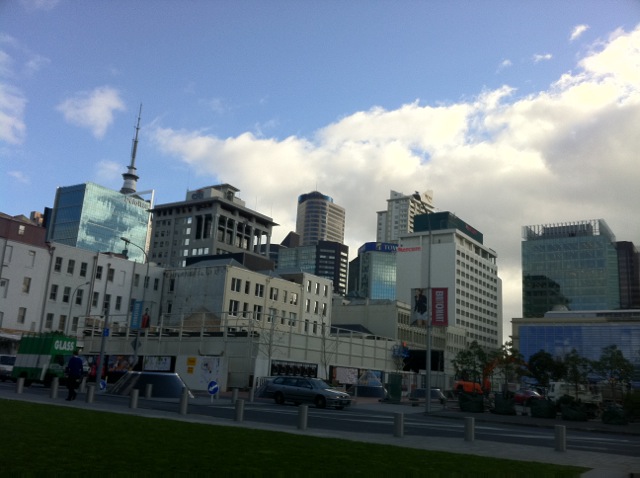 Britomart Station, public transportation in Auckland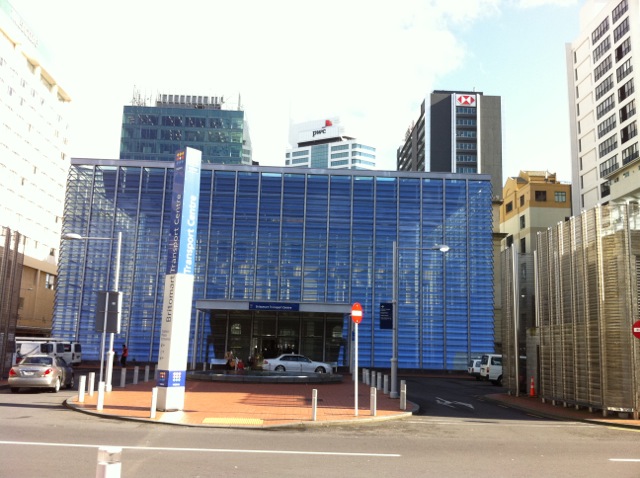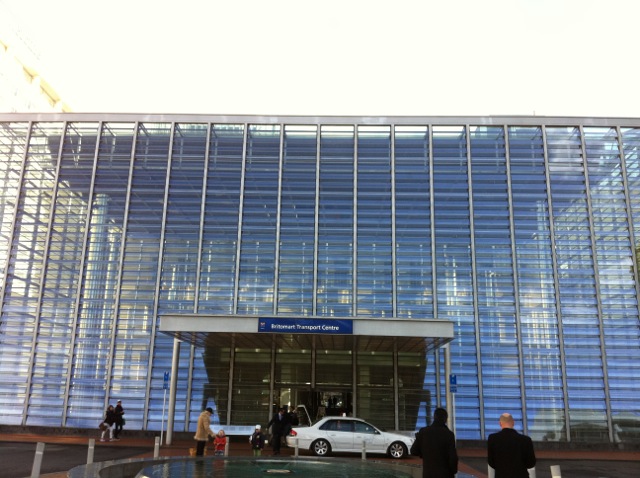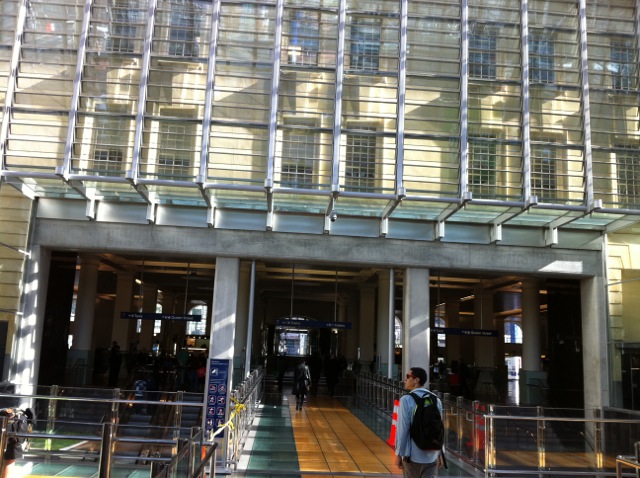 You had me at underground trains :-)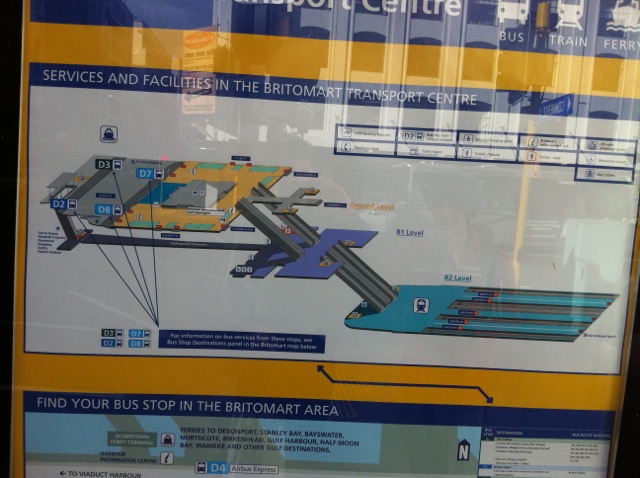 Bottom level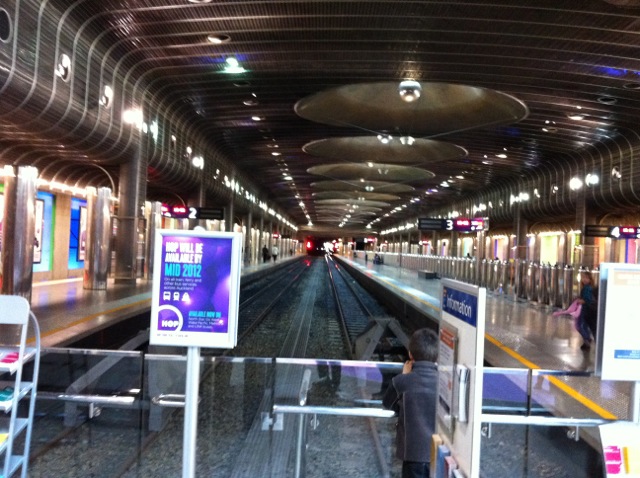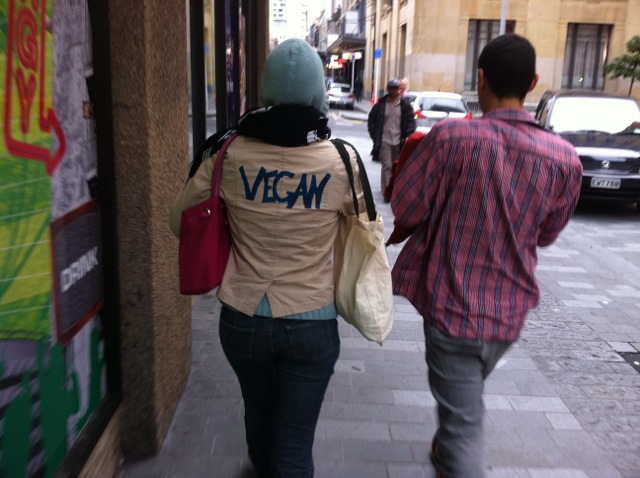 And the Vegan food options, in the words of the chick from "Fifty Shades Of Grey", oh my!
"Revive" is a small Vegetarian chain, with many great Vegan options!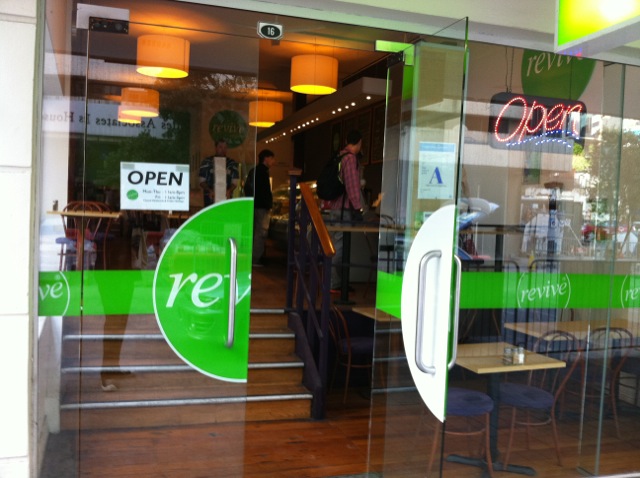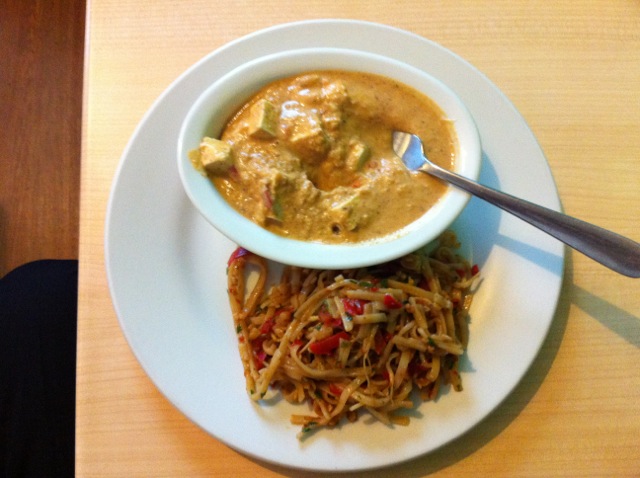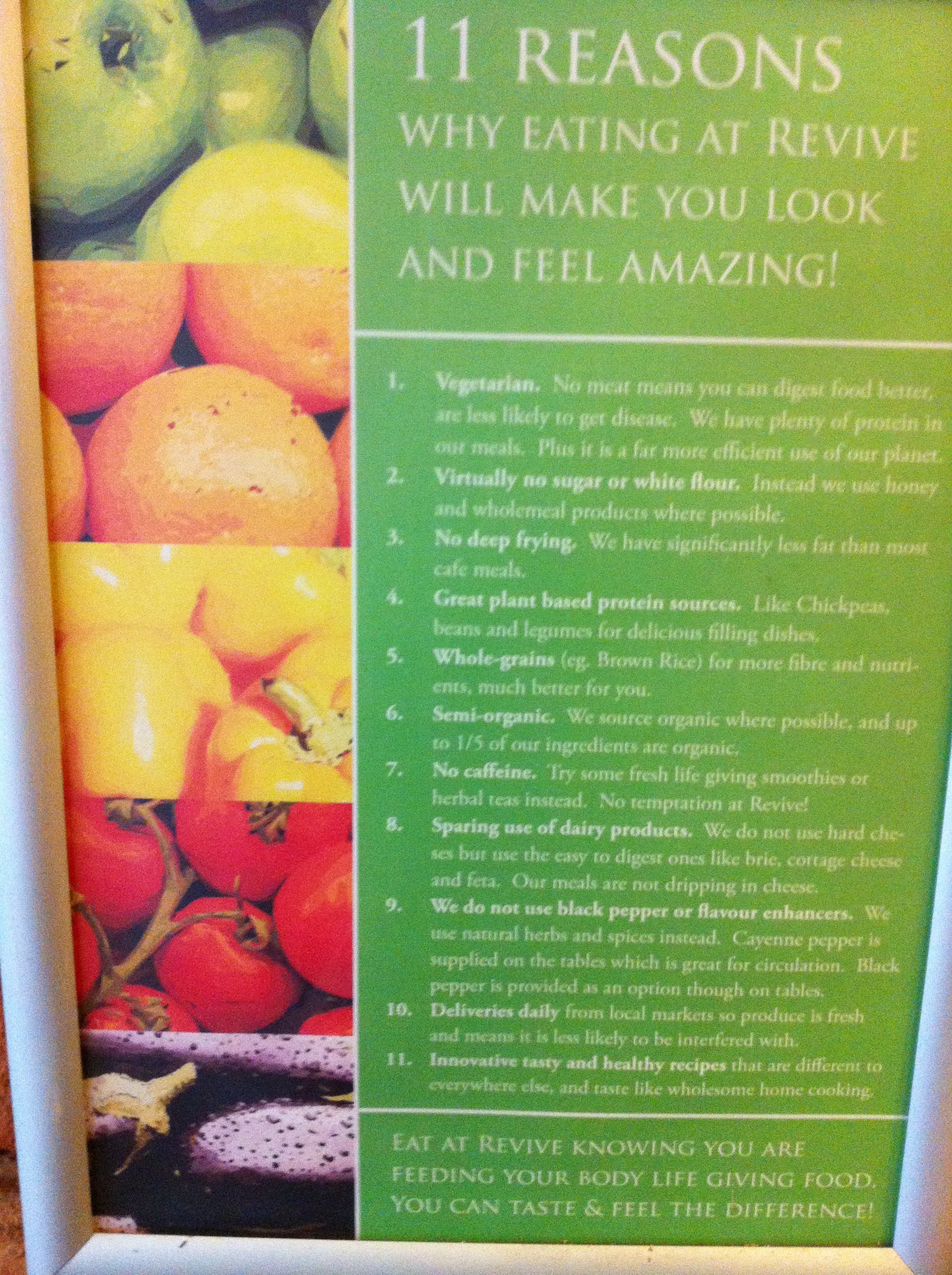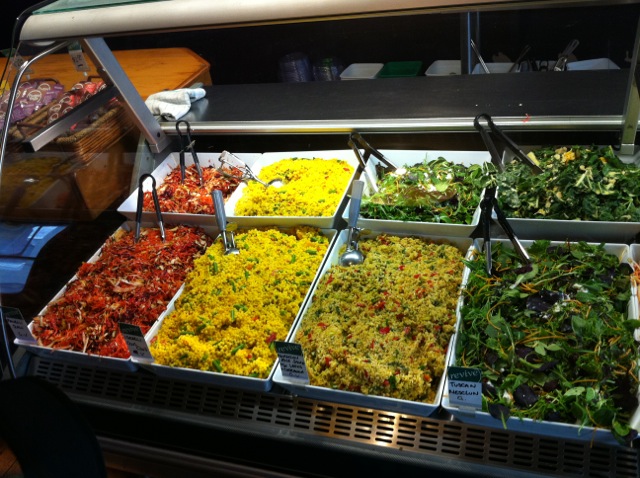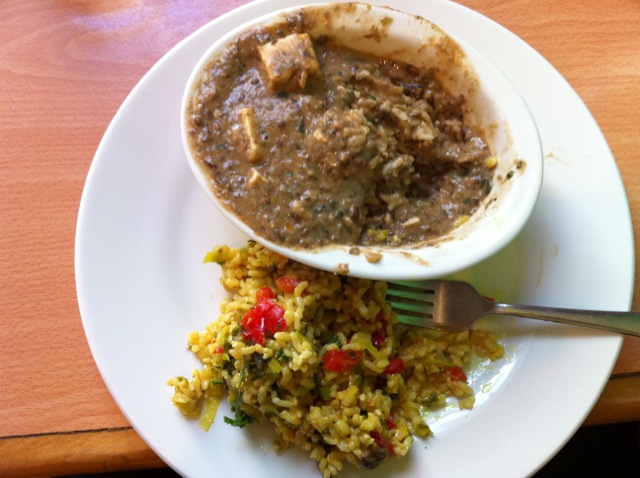 Auckland's "Loving Hut" restaurant, run by the Supreme Master movement.  A great location too, right outside the Skytower!  When I visited, it was called "Golden Age".  EVERYTHING on the menu is Vegan!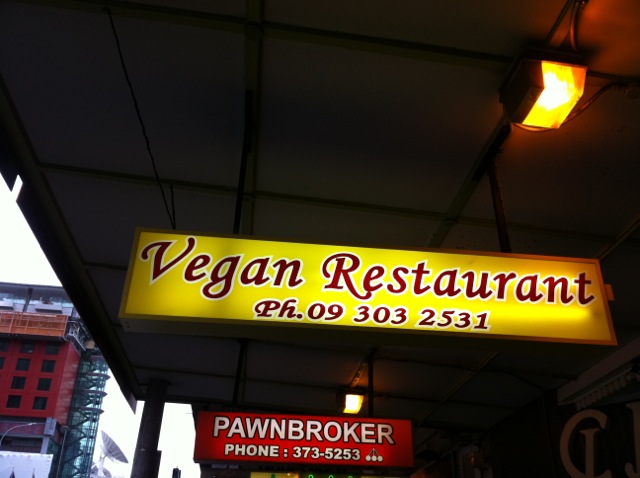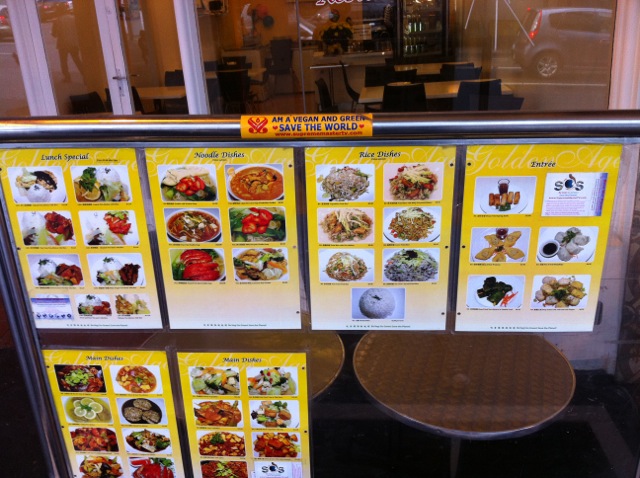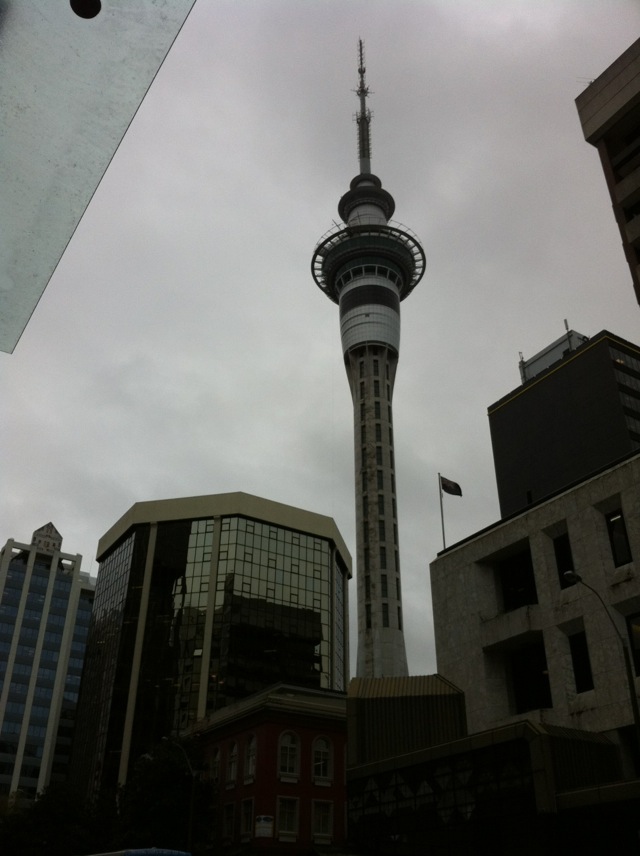 Inside the Skytower, the requisite tourist pose :-)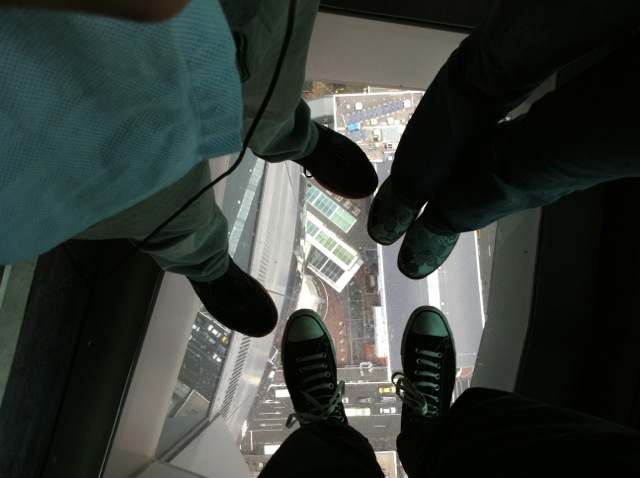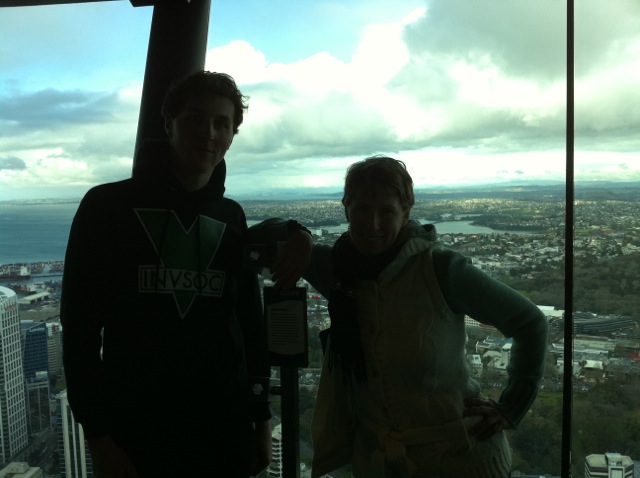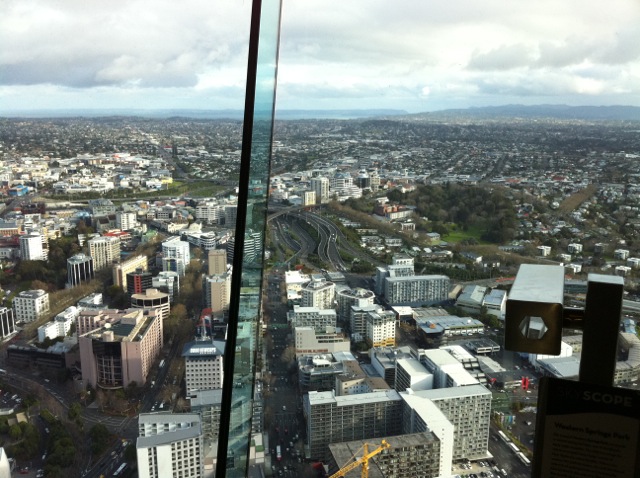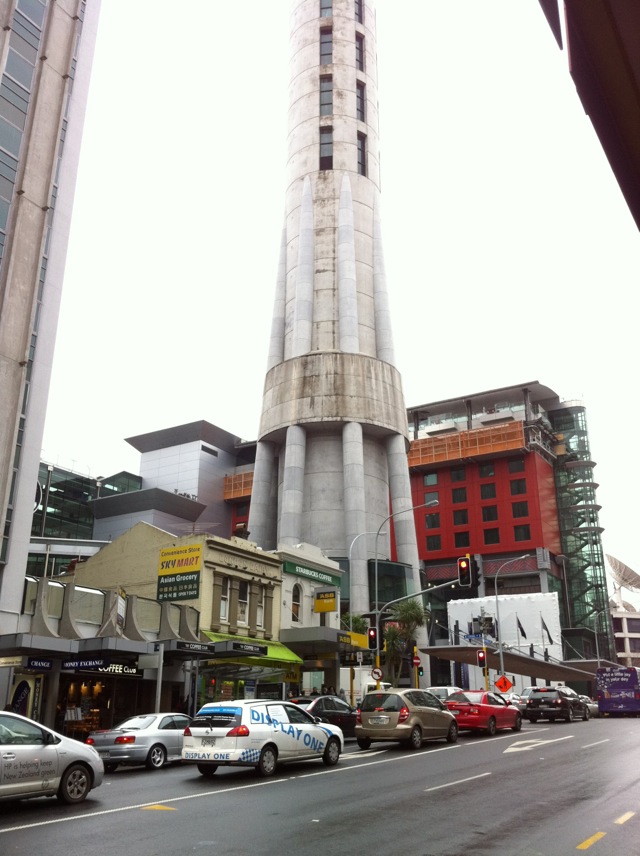 "Loving Hut" located just underneath the Skytower is all Vegan!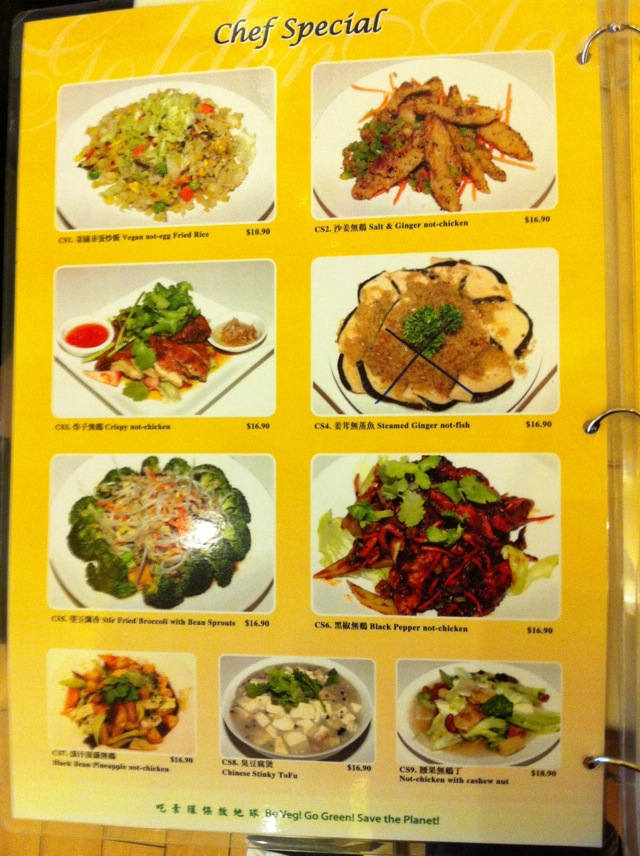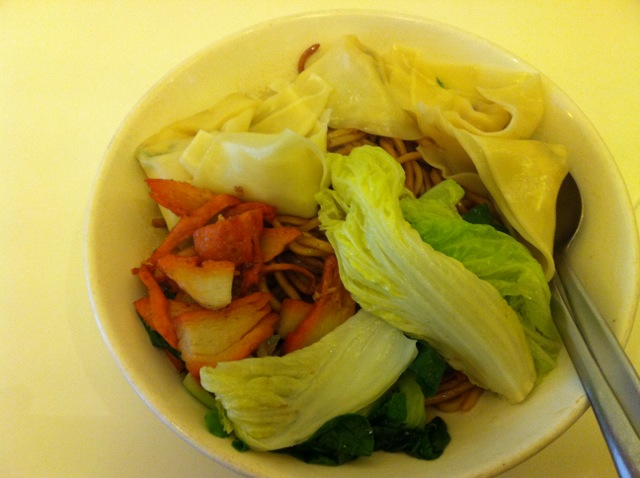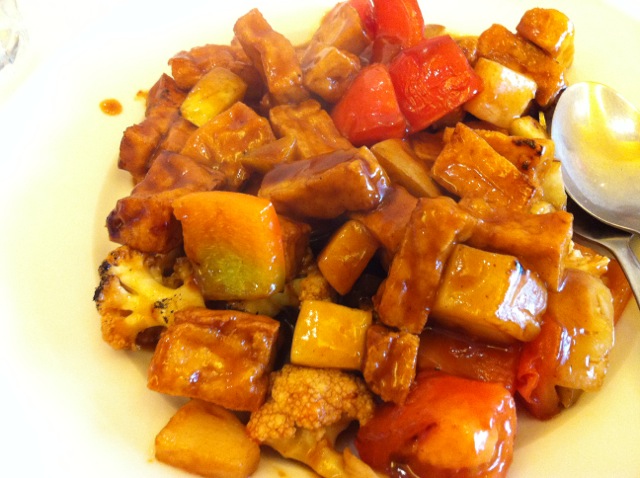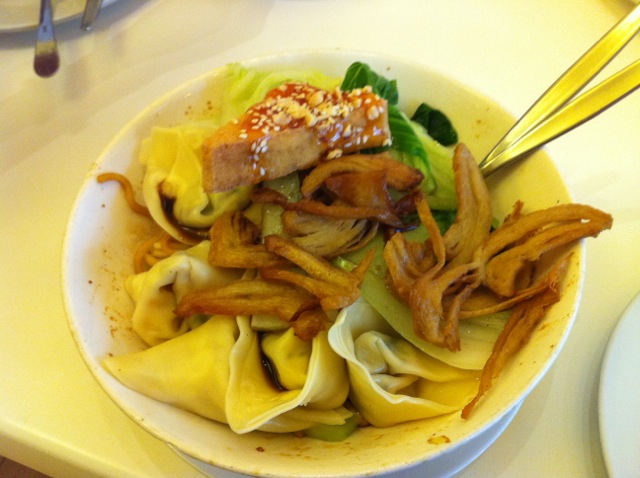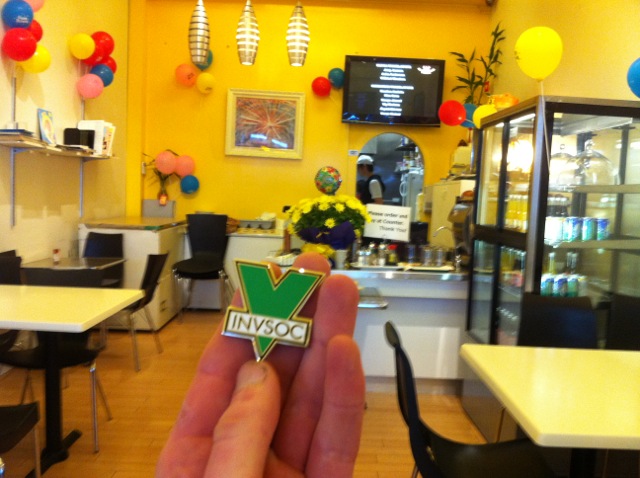 William and Elizabeth with an INVSOC badge :-)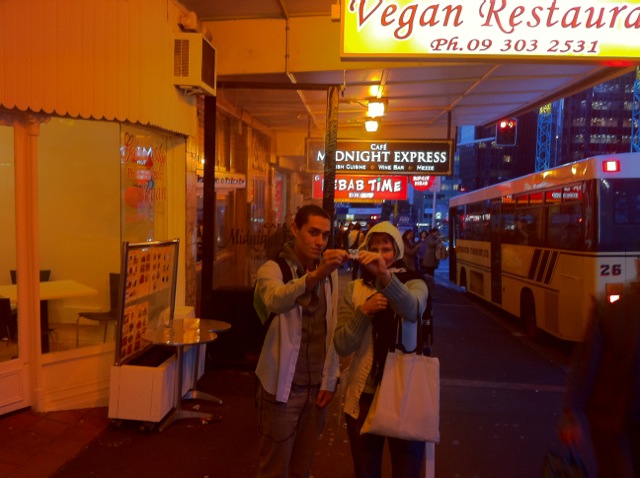 Aotea Square, where the Abolitionists promote Veganism.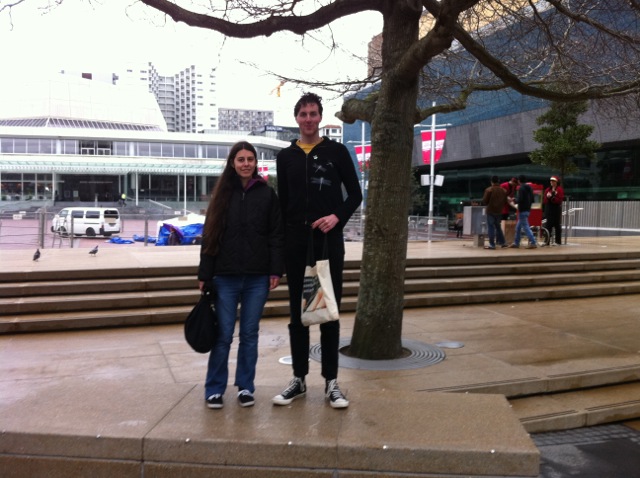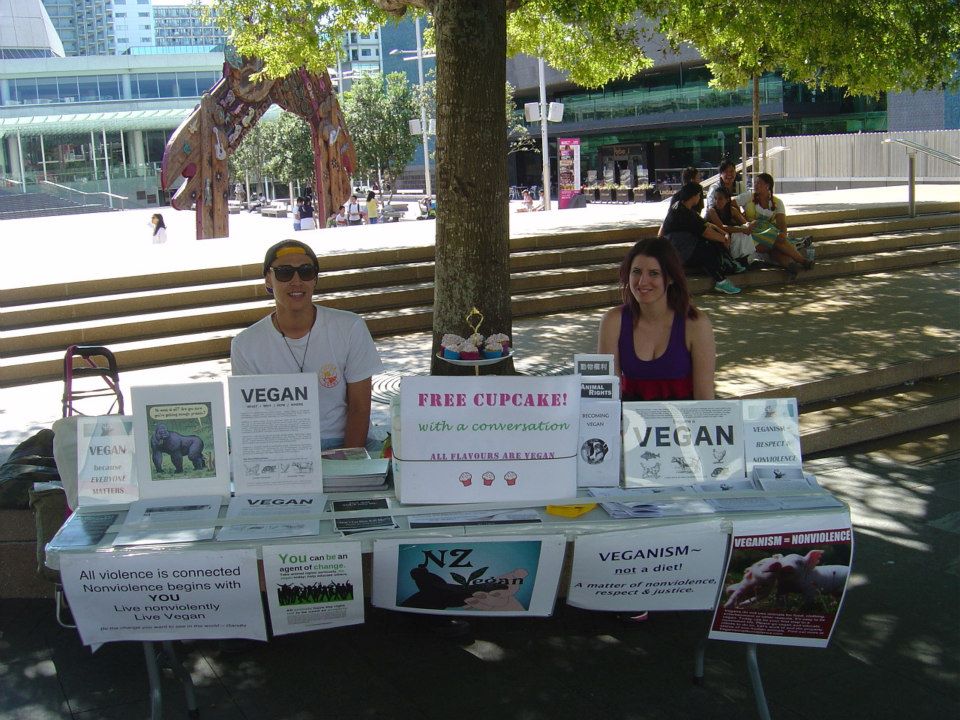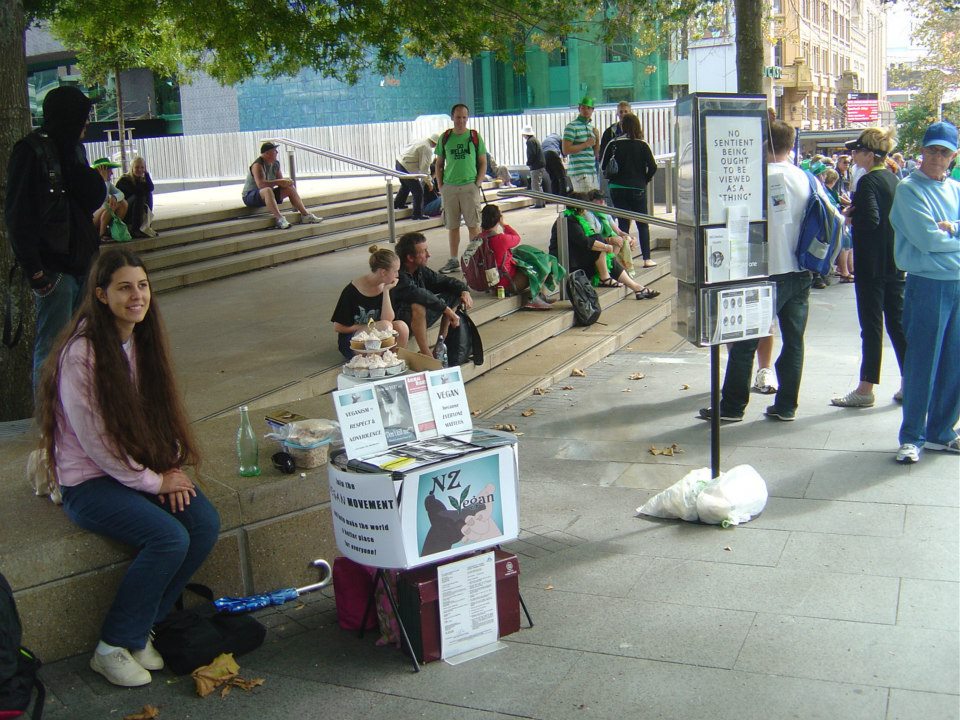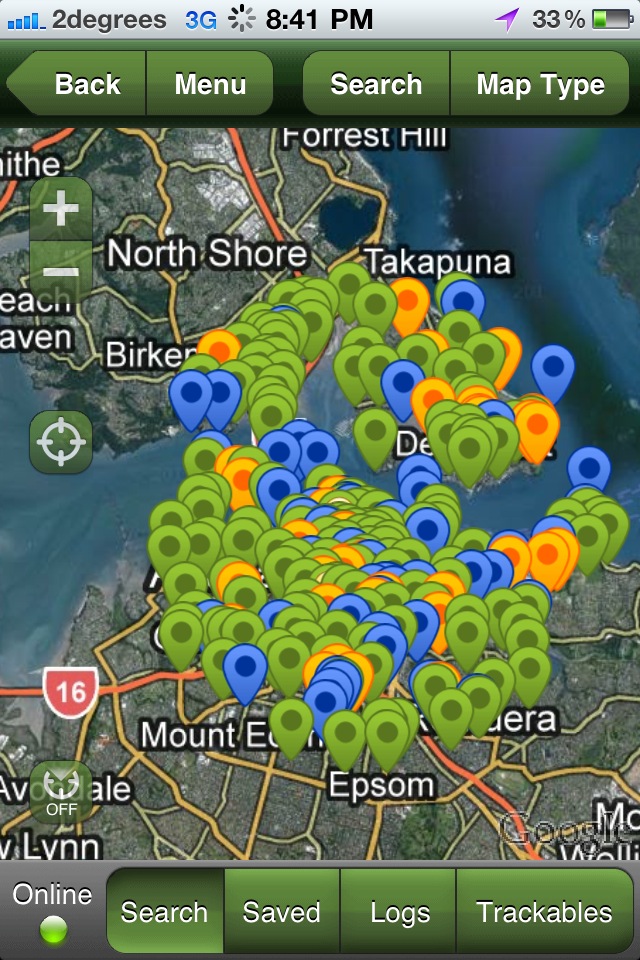 The National Animal Rights Conference 2011!
Photos taken by SAFE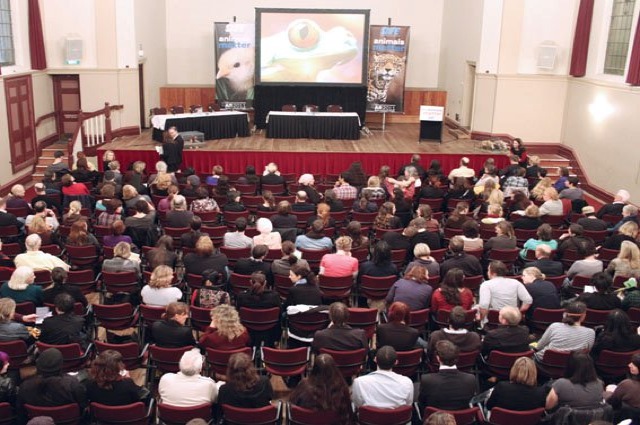 Look at that good looking fellow, back row, fourth from the right :-)
"SAFE is proud to have been the organiser and host of the 2011 Animal Rights Conference, held in Auckland over the weekend of the 22-24 July, which by all measures was a huge success.
Hundreds of animal advocates, activists, campaigners and new converts gathered together to network, listen to top international speakers eat great vegan food, and get inspired to tackle the injustices being inflicted on animals. Over 300 people attended the high-profile presentation on Friday night at the Auckland Town Hall that included a night of speakers, debaters and information stalls.
The highlights
While it is agreed that animals definitely matter, the question was asked by radio and television presenter Wallace Chapman who MC'd Friday evening, 'Do Kiwis really love animals?' The answer was unfortunately 'No'. Why would animals be caged, factory-farmed and treated like objects, if we really loved them?"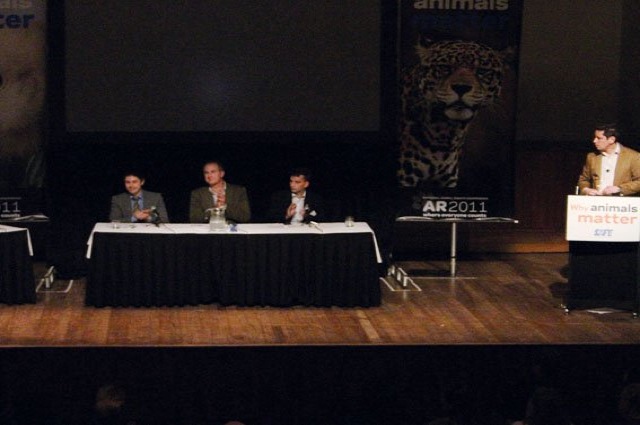 Political debate about Animal Welfare.  Greens (well received), Labour (boos, lack of commitment) and ACT (! "We believe in the free market setting standards" etc)
"Green MP Gareth Hughes, Labour MP Phil Twyford and Act Party candidate David Seymour, kindly agreed to attend and participate in the political debate but were placed in the difficult position of having to comment on what commitment their party would make. The Greens were the only party that could make such a commitment. While Phil Twyford was supportive, he could not reveal any Labour Party policy initiatives whereas Act's David Seymour argued that animal welfare initiatives should not come from legislation but be left to consumers. This prompted boos and a resounding 'no' from the audience.
Lyn White of Animals Australia took a break from her relentless campaigning against live animal exports to fly to New Zealand to share her personal story of her transition from policewoman to Australia's leading animal cruelty investigator. She has been the driving force behind raising public outrage that has led to intense political lobbying to end the horrific mistreatment and abuse of Australian cattle being exported to Indonesia.
Lyn held the room transfixed from the moment she began to speak. She shared how an article about bear bile farming opened her eyes and changed her life forever to humankind's shortcomings in its guardianship of other species. She also made convincing arguments as to why we all have an obligation to speak up and take action for animals before receiving a well-deserved standing ovation. Wallace remarked afterwards, "Perhaps in 200 years that's how everyone will speak!"
Also inspiring over the weekend were contributions from other social change movements, involving Greenpeace activists, Amnesty International and Unite union campaigners. Unite's John Minto, for example, shared a lifetime's worth of campaign experience in battling for the hearts and minds of New Zealanders.
Lauren Ornelas from the US-based Food Empowerment Project group gave excellent examples of campaign successes, showing the power of grassroots activism in achieving change. A further selection of international speakers gave presentations by video and a live Skype link-up."
Speakers Lynn White (Animals Australia), Hans Kriek, Carl Scott, Lauren Ornelas (Food EmpowermentProject)
"Inspiring local speakers included SAFE's own Hans Kriek, Carl Scott (Man in a cage), and Yolanda Soryl from the Christchurch Vegetarian Society. Topics covered were in-depth presentations on how the law lets the to animals down by Auckland law student Vernon Tava, communication skills (Marianne MacDonald), leadership skills (Shawn Bishop) and media strategist and former TV3 journalist Sonja de Friez gave an insightful and helpful look at how to use the media to our best advantage.
The successes
Feedback from those in attendance reflected the real sense of community that the conference achieved. The calibre of speakers was very high and it followed on from the successful 2009 conference by raising the bar even higher. In the words of one participant 'Taking the movement to a new level'. The conference encouraged some people to become vegan and inspired others to take action in their area. Here is a sample of some the feedback received:
Great speakers, lovely people. I am now in complete awe of Lyn White…What a wonderful and brave person.
Really inspiring and motivating.
It was a fantastic conference. I learnt so much and had the opportunity to meet one of my AR heroes.
It was a brilliant showcase of the amazing people we share this movement with. Well done to SAFE for organising such a motivational, educational and inclusive event. Really enjoyed it.
I absolutely loved the conference! A brilliant event. I am so inspired to make more of an effort now to improve the lives of animals. I made my first fully vegan dinner tonight and it was delicious! I didn't miss the dairy products at all. Thank you SAFE for being such an inspiration!
Thank you for all the hard work put into this wonderful and inspiring event! Great speakers, excellent organisation, motivating and great food! Awesome to be a room with so many vegans!
It was brilliant guys. The SAFE team did a fantastic job. Everyone I've spoken to said the whole thing was awesomeness on toast.
Such a great buzz!! THANKS to everyone for their time and effort. As for Lyn's talk , I haven't cried so much since ET. WOW. Very moving!!
I had a great time at the conference and met so many good and inspiring people. I have just finished the first week of my vegan trial. :-)
Special thanks goes to Cosset Café, the fantastic vegan caterers, the volunteers who helped make it happen, stallholders and organisations, all the attendees, and everyone who supported the event in different ways. SAFE would like to make a special thanks to Eliot, Siobhan, Amanda and Anthony for their awesome work bringing it together and making it the professional success that it was."
Friday events at the Town Hall.
Lunch with Deirdre and Carl :-)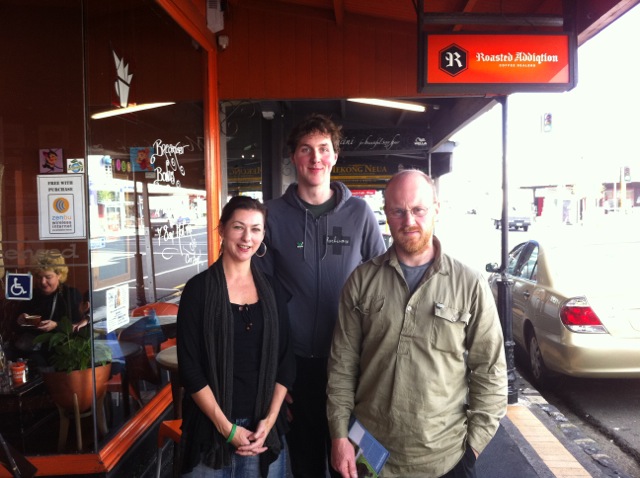 The Saturday and Sunday events were held on the North Shore, over the water from central Auckland.
Looking back at the CBD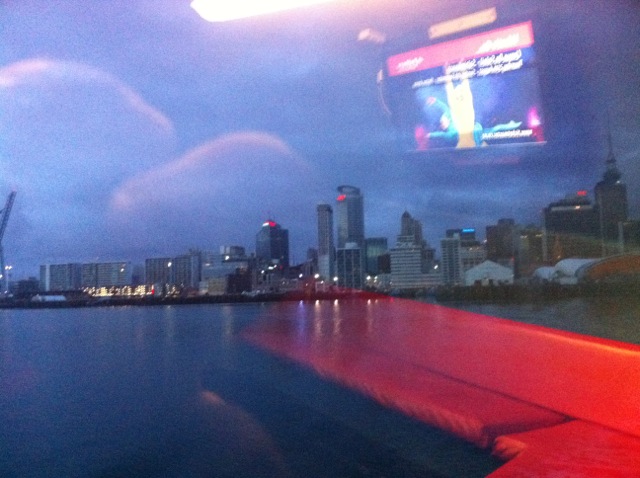 Gazing back at the CBD from the shores of the North Shore :-)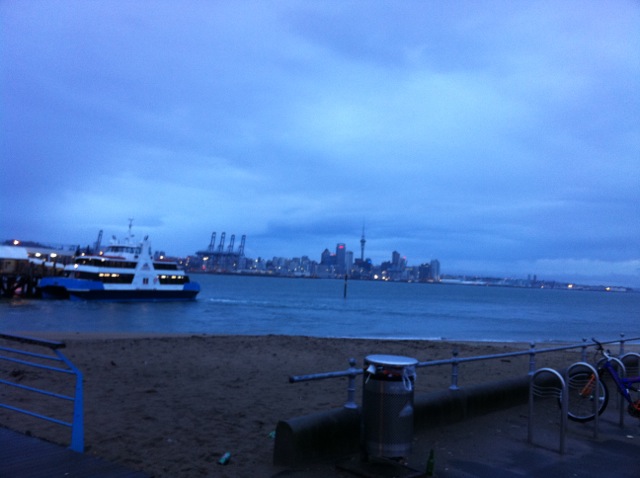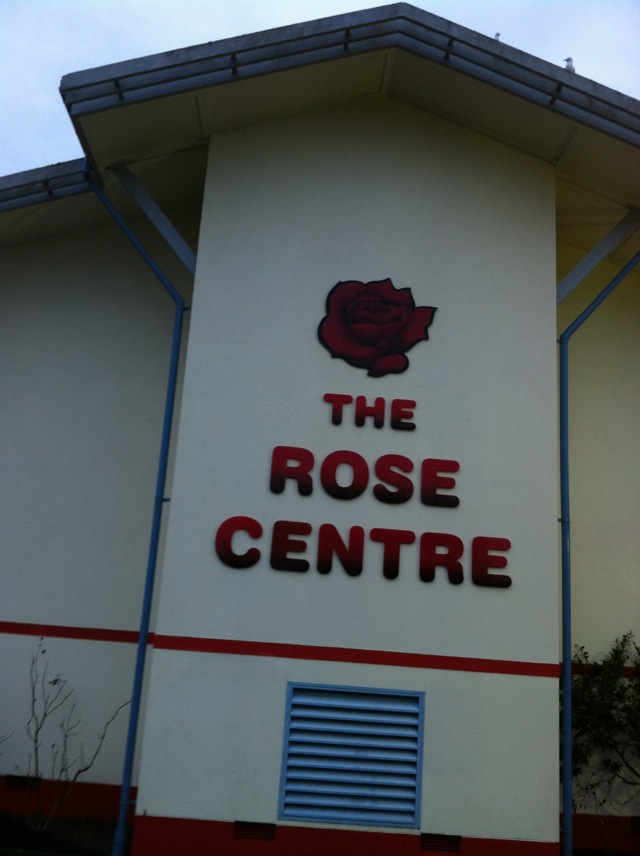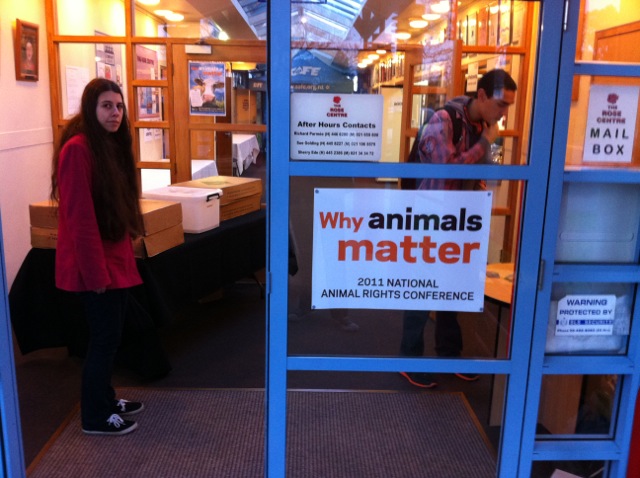 All Vegan catering at the National Animal Rights Conference :-)
Photos taken by SAFE
Denise and Michael :-)
Carl Scott
Deirdre Sims
Margret Jones, New Zealand Anti Vivisection Society and keen organic gardener!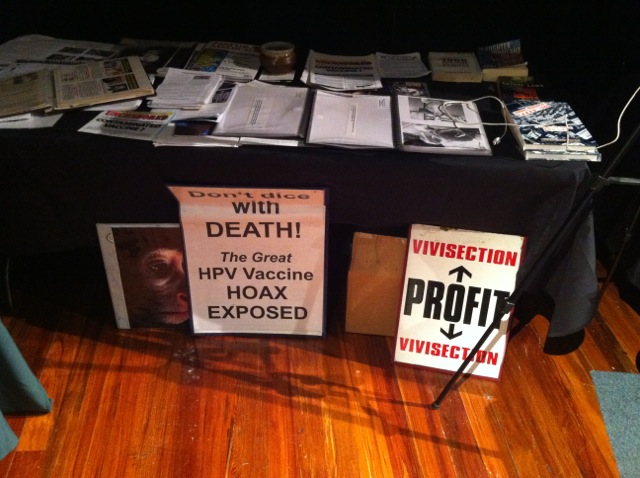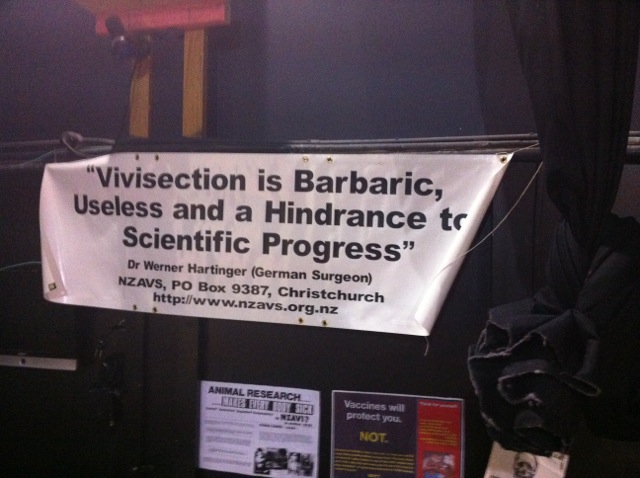 Jordan and Ignatz Ziller:-)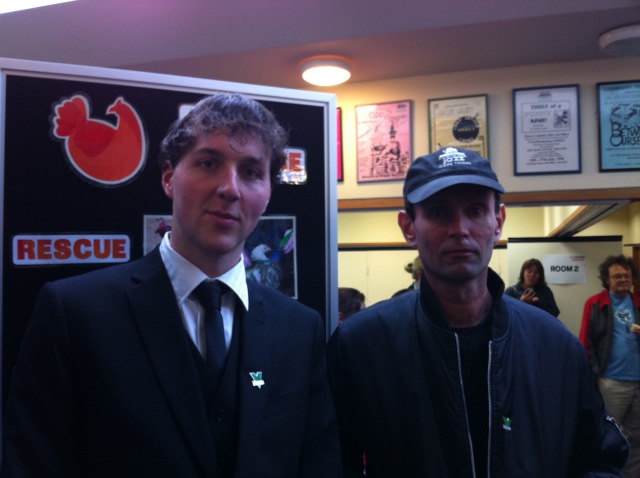 Jordan and Chris, great guy from a small North Island town :-)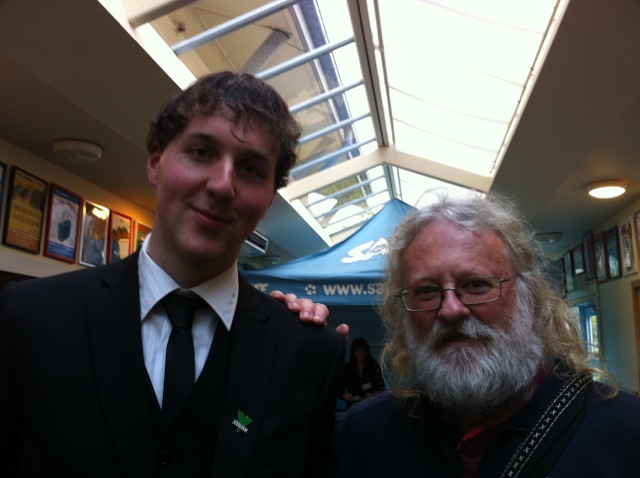 Jordan and Colin Sky :-)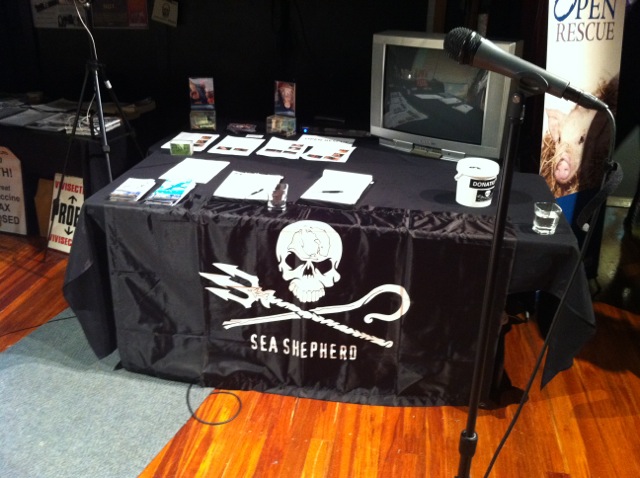 Jordan and Debra Ashton :-)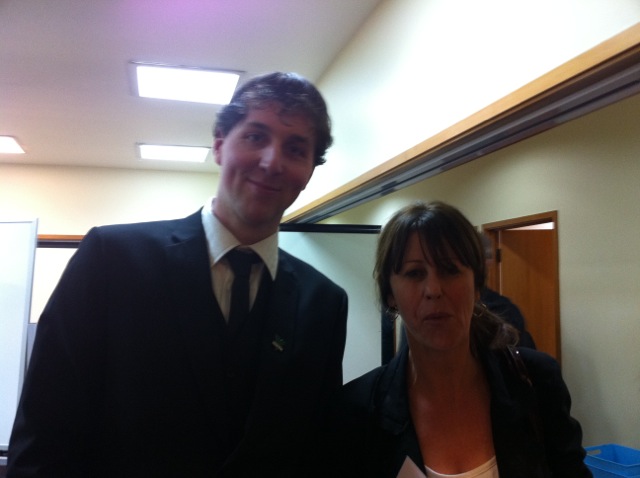 A lovely woman, Amanda will always have a Southland accent :-)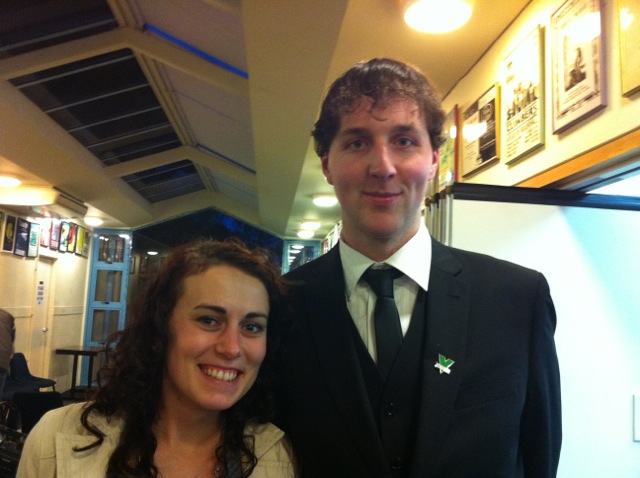 Chris Noaro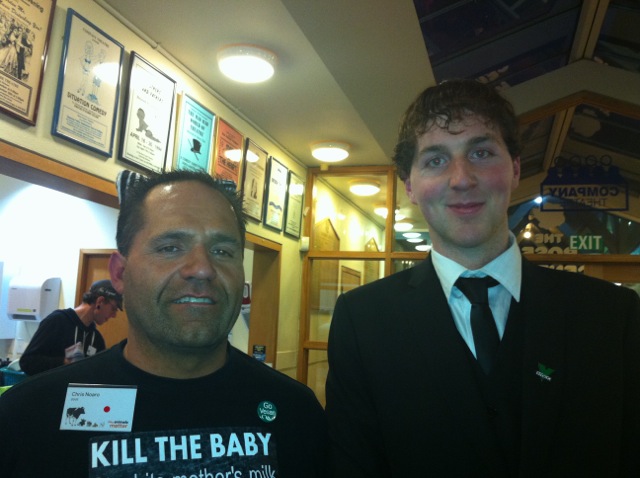 Jordan and the incomparable (and short) Jessie!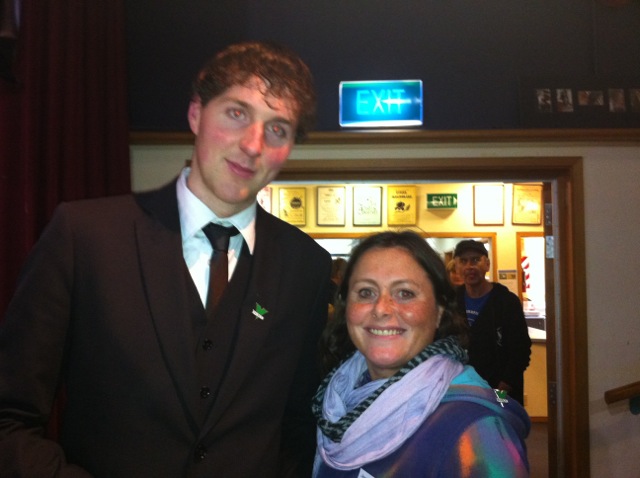 Human Friends forever, Susan Elias and Jordan :-)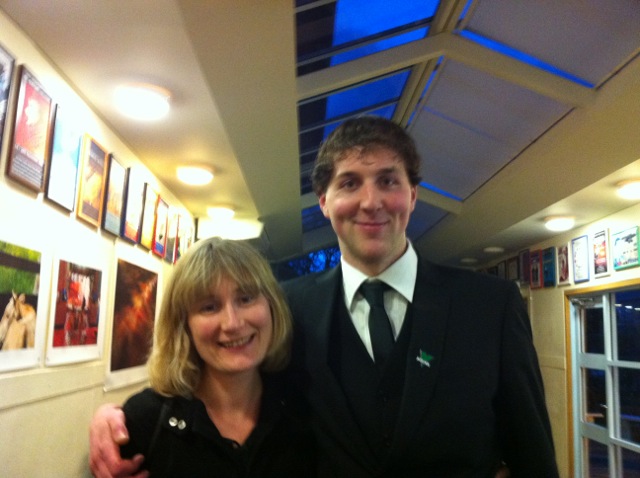 Green Party pamphlet, with mention of the Abolitionist Approach founder Gary Francione.
Carl Scott :-)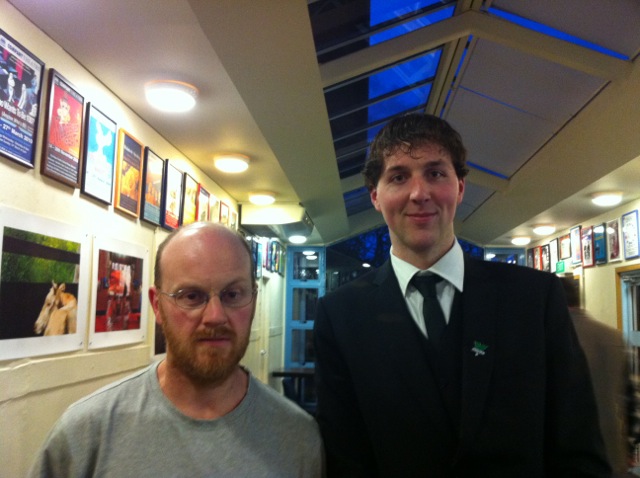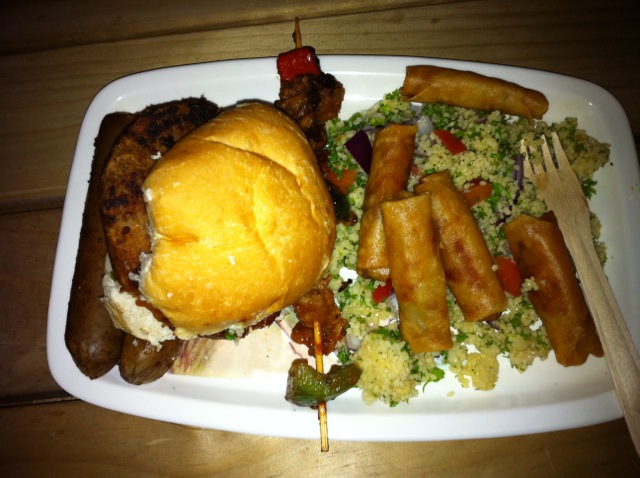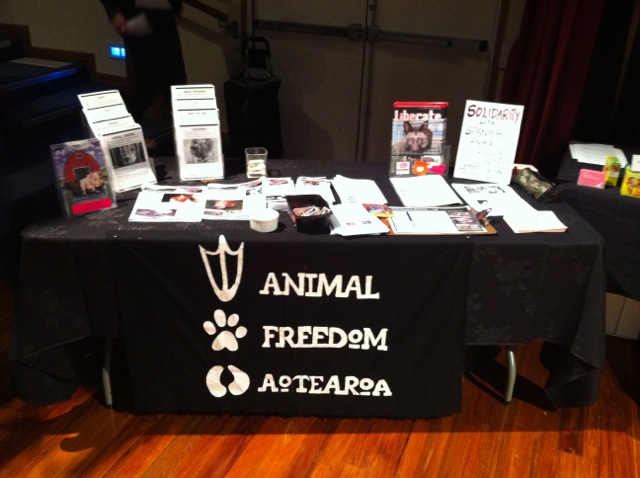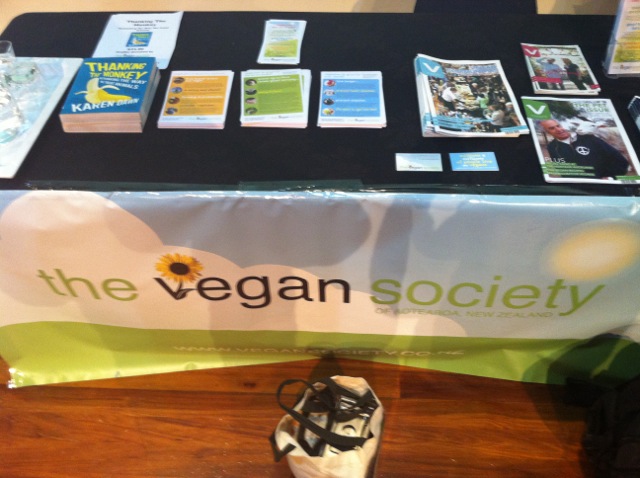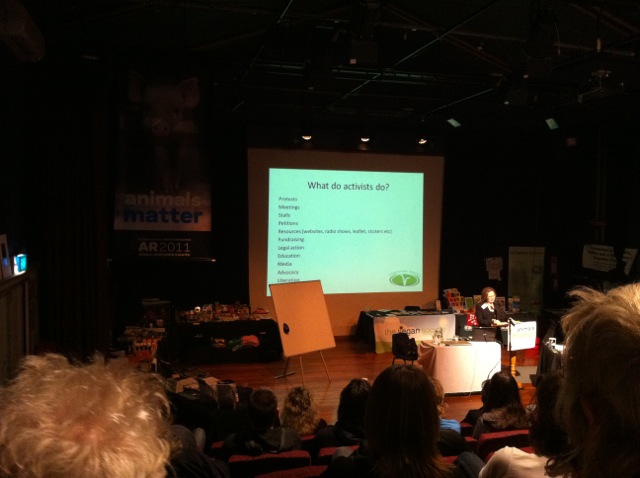 My favourite speech of the National Animal Rights Conference 2011 wasnt actually played at the event.  Patty Mark of Animal Liberation Victoria gave a brilliant talk explaining how we shouldnt be afraid to be "openly" Vegan.  ALV shared the video online afterwards, we were told at the conference that there had been a technical problem and that it could not be played.
Jenny and Jordan are looking forward to the National Animal Rights Conference 2013, held in Wellington this July.  We are staying three days, and then spending a week in Auckland.
Just wait North Island…….from the shadows of the South Island…..the Invercargill Vegan Society returns! :-)