Devil Burger: "Invercargill's first and only gourmet Burger Bar" is located at 16 Don Street.  Try the "Bad Girl" falafel burger, just make sure you tell them NO aioli (contains bird's eggs).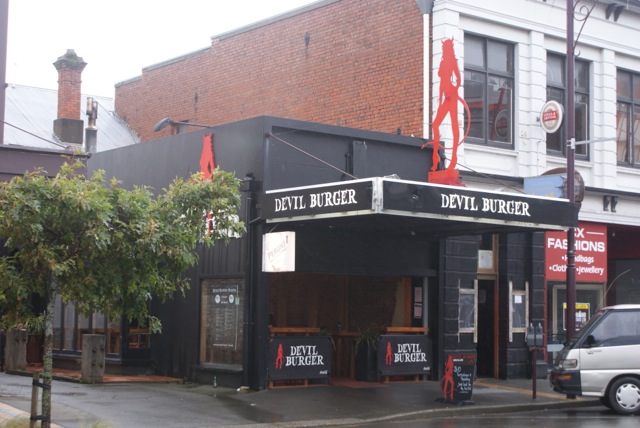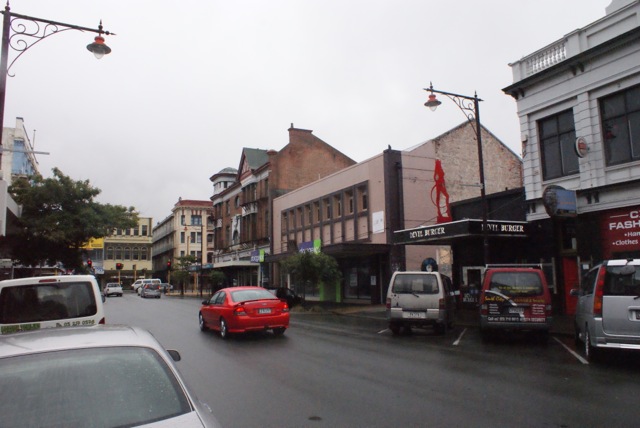 With absolutely giant "Devil Burgers" on order, the "Bad Girl" features "falafel, fresh avocado, fancy lettuce, tomato, cucumber, red onion and plum relish".  Remember, say that you're vegan, that you DON'T want aioli :-)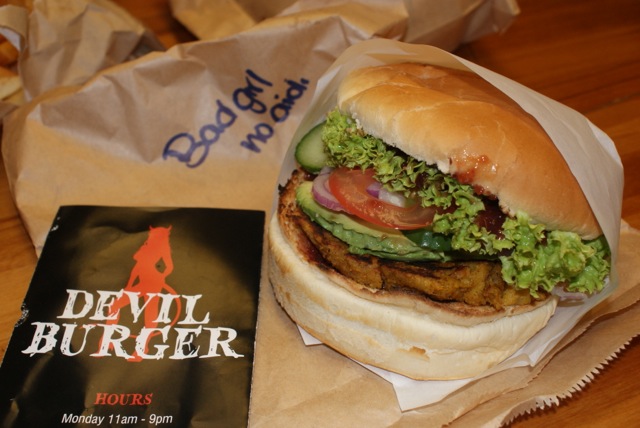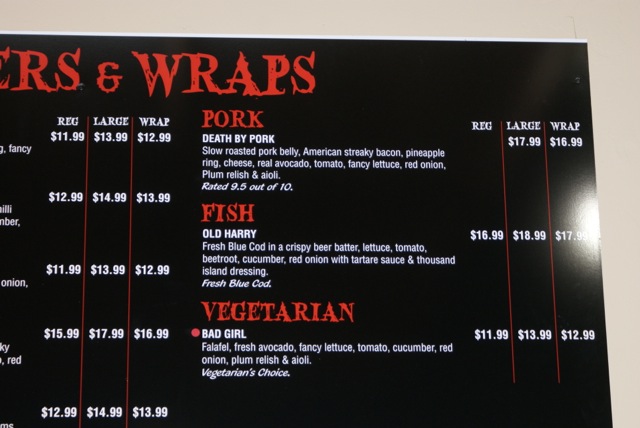 HUGE, and the "Vegetarian's Choice".

All day tuesday and thursday, you can get a vegan "Bad Girl" for just $10 :-)  Brunch, lunch, dinner: Devil Burger is open between 11am- 9pm each day.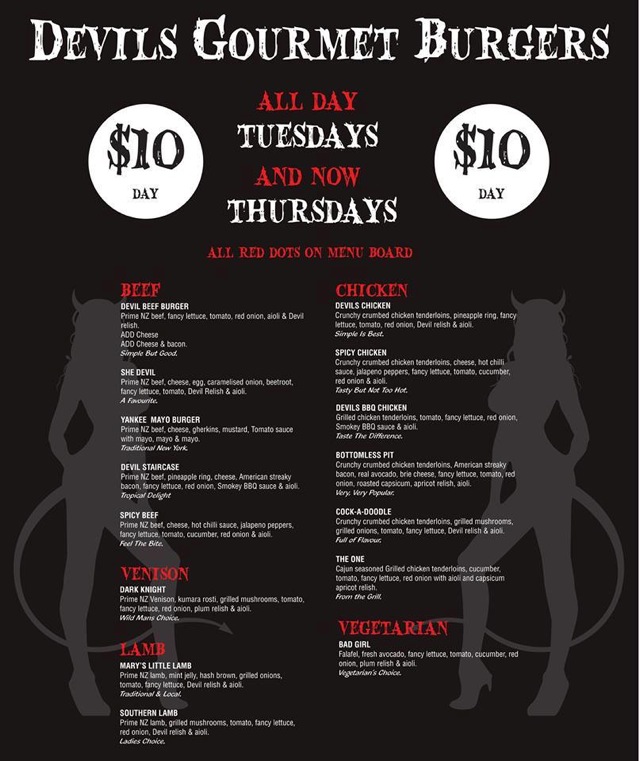 Devil Burger Invercargill is located at 16 Don Street.  It's an interesting location, with Tillermans nightclub and the Vinyl Bar also at the same address.  You'll find the other attractions down the back alley, or through Devil Burger's rear doors.



Fittingly as he's vegetarian, Cat Stevens' track "Wild World" recommends Devil Burger's "Bad Girl" through reverse psychology?
"You know I've seen a lot of what the world can do
And it's breakin' my heart in two
Because I never wanna see you a sad, girl, don't be a bad girl
But if you wanna leave, take good care
Hope you make a lot of nice friends out there
But just remember there's a lot of bad and beware, beware"
It's well worth dining in at Devil Burger, just to marvel at all the TEXTURES on display, its a feast for the senses!   Lacquered brick and carved wood, retro lights, giant "Steampunk" style fans, pressed metal ceiling plate…..
A roaring fire on cold winter nights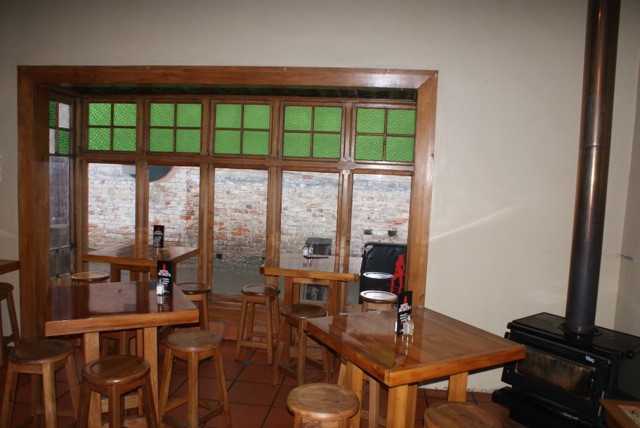 Cracked plaster reveals brick like a Terminator's damage-exposed endoskeleton!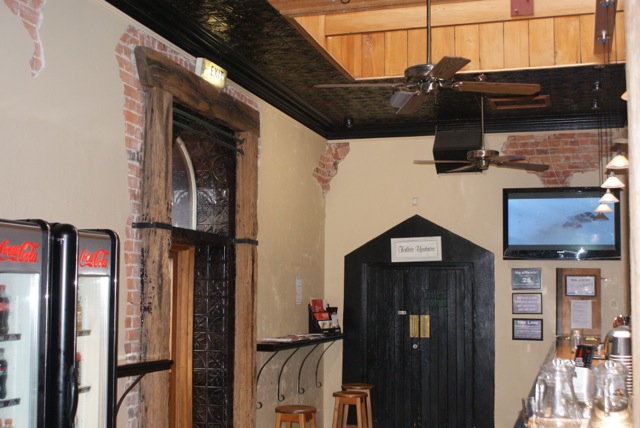 Head out the big black doors (with a bang!), and you'll find the bathrooms up this large staircase.  Yet MORE interesting patterns and textures on offer!


The entire facilities of 16 Don Street burst with texture and intrigue.  You'll never know what you'll find next – even the bathroom window has a pointed view.


We enjoyed two "Bad Girl" falafel burgers, made vegan with NO AIOLI (contains bird's eggs).  Just $10 each Tuesday and Thursday, at Devil Burger.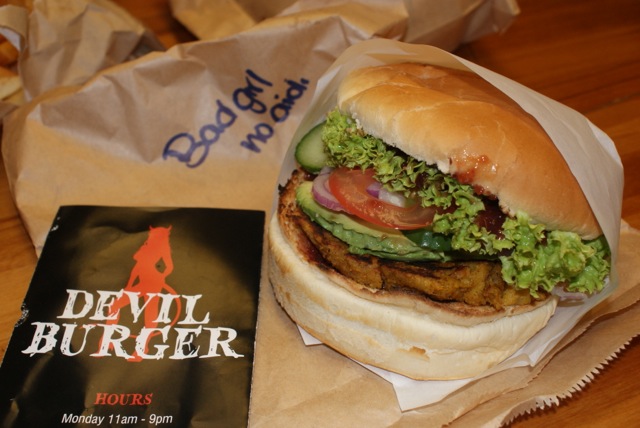 Devil Burger Invercargill, 16 Don Street, open 11am-9pm each night.  $10 burger specials each Tuesday and Thursday :-)