Want to be really fancy at the next potluck?   "hey guys, I'm bringing Mexican food, from Mexico!"
Or would you simply like a quick, tasty meal?  Either way, Textured Vegetable Protein (TVP) Bean Burritos are here to help. As seen on our INVSOC HQ homewarming page.

Ingredients
– Tortilla bread, available both in the "Mexican Section", or with Pita Bread etc.  Pita Bread can be used to make little pizzas, as shown in this colourful vegan recipe :-)
– Chilli beans, mild, medium or "hot", the choice is yours :-)
–  Vegetables such as tomato (dont go there!) for the colour red, red onion un-intuitively for purple, and celery for green, with the extra crunch being thrown in free.
– TVP, Textured Vegetable Protein, available at most supermarkets in the dry "health food" section.  Here I've used the Lotus brand from Pak n Save, but you theres also TVP at the Priya spice store .  *UPDATE*  Bin Inn now has plain TVP for HALF supermarket cost!  Buy your TVP at Bin Inn in bulk :-)
Utensils
–  a medium sized pot
– stirring spoon
– small sharp knife for vegetable slicing
– a drinking glass/bowl to commence TVP rehydration procedure #AE35

 Add the chilli beans and diced vegetables to a pot

Cook at a medium heat.
Now commences high tech Textured Vegetable Protein redhydration procedure #AE35, wear your space suit :-)

 TVP, Textured Vegetable Protein is quite amazing.  Rock hard lumps of soy flour, which you add water to and a minute later, BOOM, soft chunks, very similar to "mince meat" animal flesh.  I much prefer TVP to the non Vegan item though!
Preparing TVP feels like the future, specifically, Back To The Future II and its "dehydrated pizza" :-)
Honestly, half a glass of martian rock sample TVP…


topped off with hot water…


…and a minute later, its floated to the top, soft!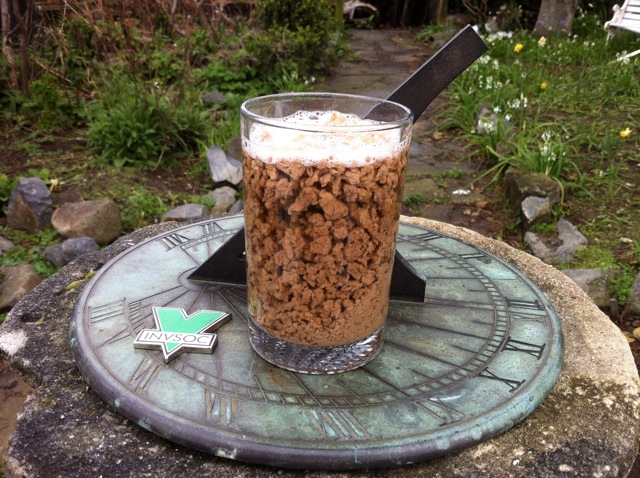 Strain the water out and you're left with some serious astronaut cuisine, "Food Of The Future" :-)

An "infinite shelf life", easily rehydrated marvel of economy, versus killing and grating the body of another animal, TVP FTW!
By now the beans and vegetables will be cooked

 Add the TVP to the rest of the burrito filling and stir


 With the Tortilla, follow instructions on the packet to heat, generally thirty seconds or so in a microwave works well.  Tortilla's on the right have been cooked, they look the same, but are much crispier.  If you overcook, they become hard and brittle, unwilling to bend, they will simply snap into crunchy portions.

Add as much filling to the centre as you wish

 Fold the centre bottom up, covering the filling, then the left side over, then finally the right side over all else.  Or right side first, left side second, if you want to rebel against these written instructions :-)
Leaving them initially upside down, folded seam underneath will make them sort of "stick together" better, from the heat of the filling making the tortilla seal.

By now your Hen Friends should be cleaning one another's feathers nicely :-)

Because of how Chickens digestion differs from our own (having effectively two stomachs) its generally best to leave them to enjoy rolled oats, grain, bread, clean water and plants.
They can certainly look nice posing with other food though :-)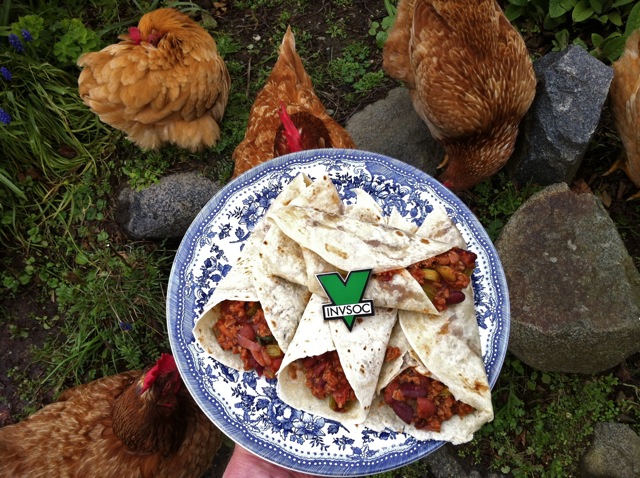 Enjoy with your friends