In January 2015, Invercargill Vegan Society members Jordan and Jen helped promote the "Leading the Charge" electric roadtrip.
Enthusiasts Carl Barlev, Steve West, and Nick Smith drove two imported Tesla Model S electric cars across New Zealand, over 2000km from Cape Reinga down to Bluff.

 

We were intrigued by the technology and of how they would speed New Zealand into an environmentally sustainable new era.  We met up with "Leading the Charge" in Invercargill.
Here is our experience with the electric Tesla Model S, sustainable super car of the future.
It all began as my partner Jen and I watched  The Verge review the Tesla Model S.  The video blew our minds.  It seemed such an unbelievable, futuristic machine, worlds away from current combustion cars.
But just a few months later we had one charging outside our home!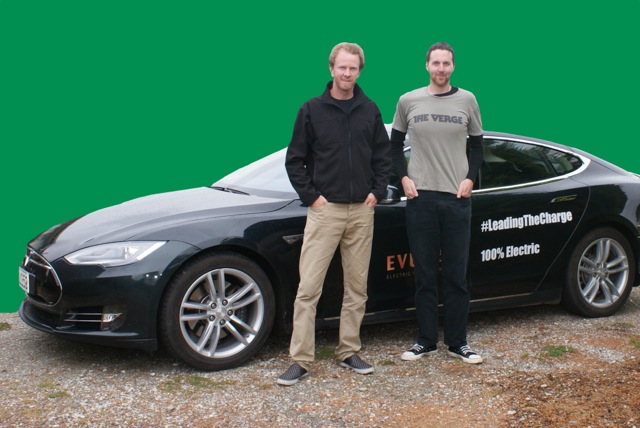 When Jen and I heard about the "Leading the Charge" New Zealand road trip, we couldn't wait to help.

 

At first, we…..I……thought I'd ingratiate myself to the team.

 

We vegans know you don't make friends with salad.  At least, not your everyday salad, something special….maybe.  I figured the drivers would be hungry and they'd be dazzled by the bright lights of Invercargill.  They needed something with cinnamon, something served by the slab.  Using Pak n Save's finest fair trade produce, I baked Banana Bread!

We helped set a time and location for the Invercargill meeting, picking the Burt Munro statue outside Queens Park.

 

We reckon Burt would have appreciated the car's engineering prowess :-)
Not only did we get to see the cars, but we touched them, sat in them, got photos with them, helped clean them, drove all around the city day/night, drove to Bluff, recorded the finish line videos, had one charge overnight at our house, took the Mayor's somewhat drunk neighbours zipping around Invercargill on a Saturday night……it's been crazy!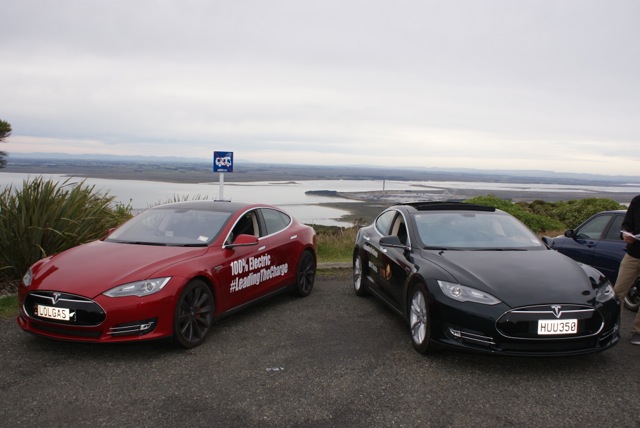 It was great meeting the team. Steve West owns the red Tesla,

 

I recognised the name.   He created Serato, a tool that all good DJ's use.   

I only

dabble

in audio myself,

 dreaming up Invercargill's next club banger hits in the shower!

Carl Barlev with the dark green car, lives in a Waiheke Island eco village.

 

 

Carl has worked with electric vehicles all across the world, and strongly advocates that they are the future, our very near-future.

Steve, Nick, Carl, myself and my partner Jen. 

"LOLGAS" plates, because you'll laugh while driving electric cars?  They laugh *at* fossil fuelled old dinosaurs?  They have the performance of cars on NOS? :-)


The Model S is simply the best.  Everyone who saw the cars was amazed.  The Model S is an incredible piece of technology that seems absolutely lightyears ahead of our everyday cars.  There are countless examples, from how you can control the car from your smartphone, how it's "always on" whenever the keyfob is within range and there is a persons weight in the drivers seat, how the doorhandles automatically retract flush while in motion (popping out with the slightest touch of human skin on their metal surface)…….how it's a quiet electric supercar!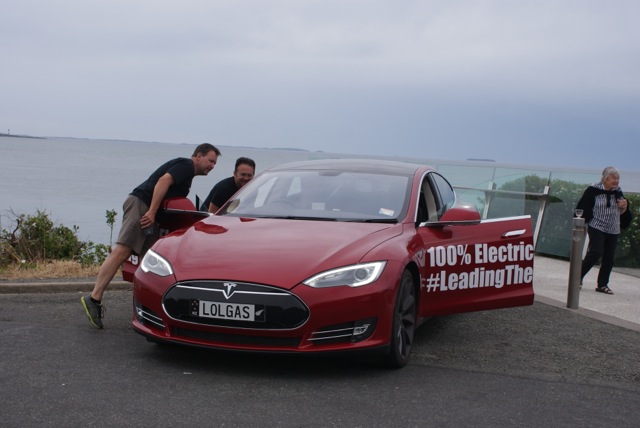 That's what I loved about our time with the cars most, just HOW much better they stack up, especially at intersections.  It's not the outright speed around town, but how silently and efficiently they move.  I ride my beloved old bicycle around our flat, wide streets.  I know what it's like to be at an intersection, trying to avoid exhaust fumes, listening to the vibrating thu
ds of idling engines.  The Tesla just stops, and sits.  There is no sign that it is "on", it's playing dead.  You hear the cars around you vibrate and whine, the Tesla is perfectly still.  The light goes green……touch the accelerator and you're up to the legal speed limit in a couple sec

onds.  It's THAT simple.
 The acceleration is fantastic, hurling you back into your seat.  Carl's green "85" zips from 0-100kph in 5.4 seconds.  Steve's red "P85", zaps it in 4.2 seconds. The very latest, all-wheel drive model blasts through in just 3.2 seconds.


Driving around Invercargill, we saw only one car that could have challenged the electrics.  A 2013 Shelby Mustang GT500, apparently 0-100 in 3.5 seconds, a whole half second quicker than the red Tesla.  It would have been fun to race – a hundred years of Ford history straining, huge V8 bellowing to stay ahead, the 2014 Tesla Motor Cars electric mostly keeping up with barely a sound!  The current all-wheel drive four door Tesla would be .2 of a second quicker than the Mustang, with little apparent effort.
Electric cars are environmentally sustainable, and amazingly fast.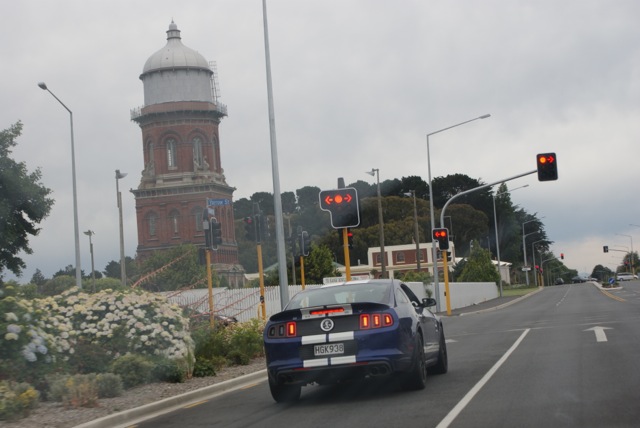 It all feels too easy, the engine normally *silent*, and full power producing only the quietest "spaceship hitting warp speed" sound effect.
It's as though the car is utterly competent at whatever you want it to do, confident and entirely efficient.  Literally, with most petrol (Internal Combustion Engine) cars being only ~30% efficient at best,  electric engines around ~90%.  The Tesla doesn't seem to muck around with noise, gears, oil, vibration or exhaust fumes.  They use practically every watt of power cleanly, quickly, quietly.
Electric cars seem a simple choice.

 

They are likely quicker, cooler, environmentally sustainable and have lower operating costs than fossil fuel vehicles.  The most obvious downside is the range. These Model S cars have very large batteries, 85kWh, and can go over 400 kilometres on a charge.  This means 200 kilometres to a location, then likely using the other half to return home. Electric car range will only improve overtime, and there are more and more fast chargers being installed each day.  With Tesla's own fast "Superchargers" installed throughout the world, you can easily drive for the full 400km + range, then have your car charge right back up to full while you eat lunch!  
The best electric car, the Tesla Model S is priced over $100,000 NZD, but more affordable models are trickle charging into our market every year.
 

This Tesla easily competes with Mercedes, BMWs, Audis…..of the same price tag.

 

Steve mentioned how they own a Nissan Leaf, and how they cost only ~$20,000 NZD secondhand.

 

It won't be long before good electric cars can be bought used for $10-$15,000 dollars.

 

Carl will be surprised if petrol cars are still sold in a decades time.

 

Electric cars are here to stay.
 The actual engine is between the rear wheels, surrounded by batteries.  Lift the bonnet to find…..a "Frunk" (front trunk) perfect for storing charger cables :-)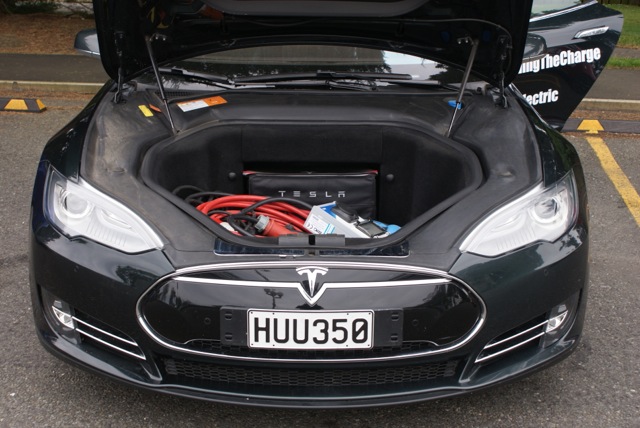 And the rear, you can request an additional two harness seats for your children!  A luxury electric sedan that seats seven people total.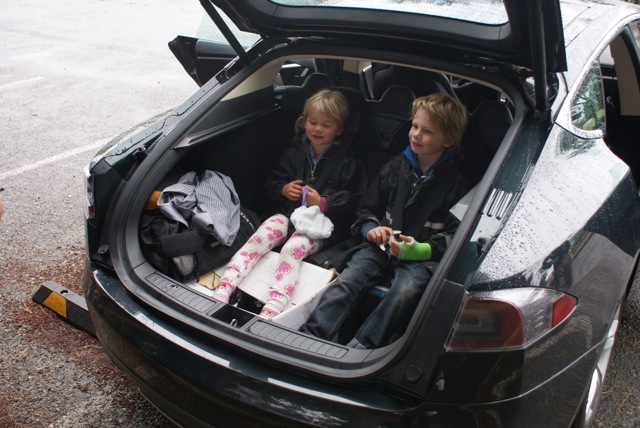 Our good friend Craig from Green Drinks Invercargill  takes Carl's car for a 14,000 RPM spin!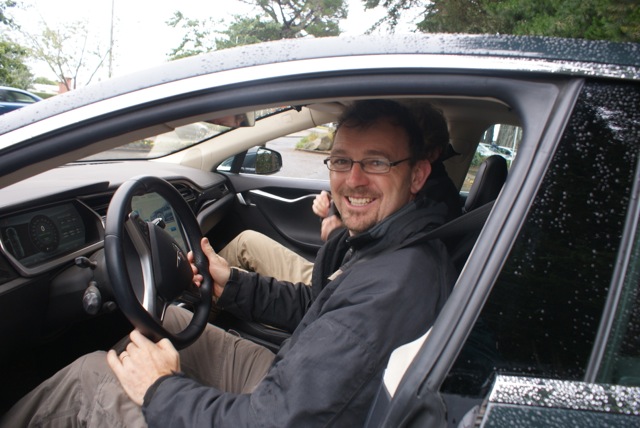 Tesla Model S instrument cluster, when stationary.


As for New Zealand…..our nearest Supercharger station is in……..Sydney.  Carl has helped install Superchargers, and is keen to see New Zealand catch up to European electric vehicle adoption levels.
 
As Vegans, people who want to live without harming animals, Jen and I try to support any environmental protection efforts we can.  We enjoyed contacting people with an interest in electric vehicles, so they could have the opportunity of a lifetime in a Tesla.
One such electric vehicle  fan was Graeme of the Southern Farmers Market.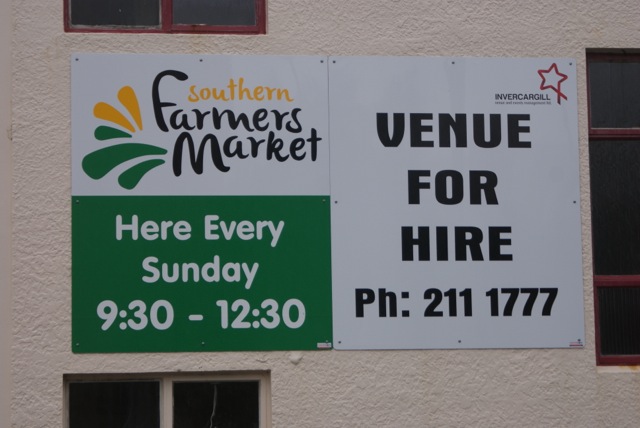 Jen rung Graeme, who was absolutely blown away at the chance to meet a Tesla Model S, as we say, "in the tofu."

He couldn't praise Carl and Jen enough, and has already spoke to several people about the amazing Model S.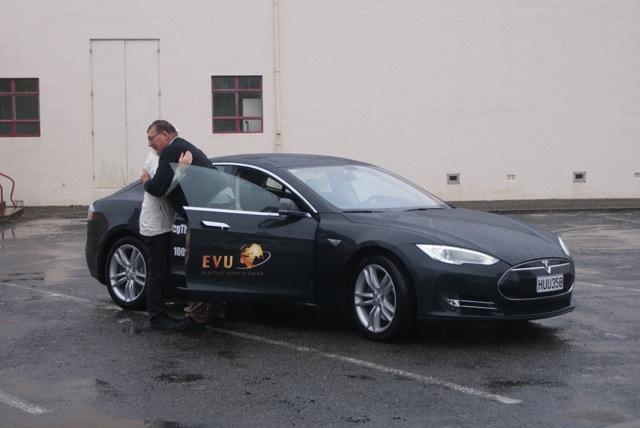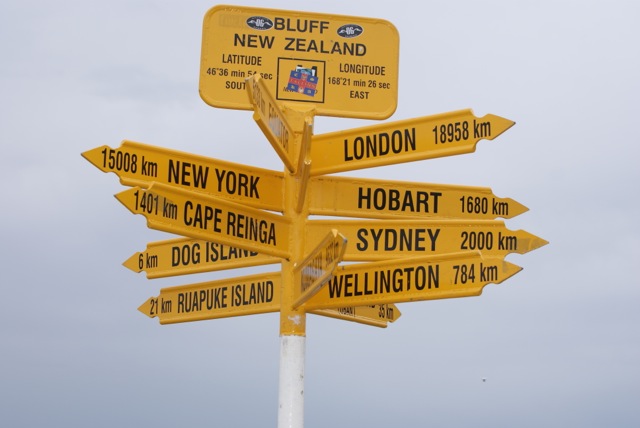 Our journey south made us think about why we're vegan.
 The new Subaru WRX STI "goes like a vegan out of a steakhouse"?  The electric Tesla goes like greased lightning!

Heading to Bluff, we passed "Open Country" dairy factory (left) and the gruesome "South Pacific Meats" slaughterhouse (bottom right).  Both industries are rather a no-no for vegans.  For myself, it was thinking about wearing animal skin (leather) that led me to veganism.  Many expensive cars have cow's skin seats, but Tesla, as always, seem to have an answer.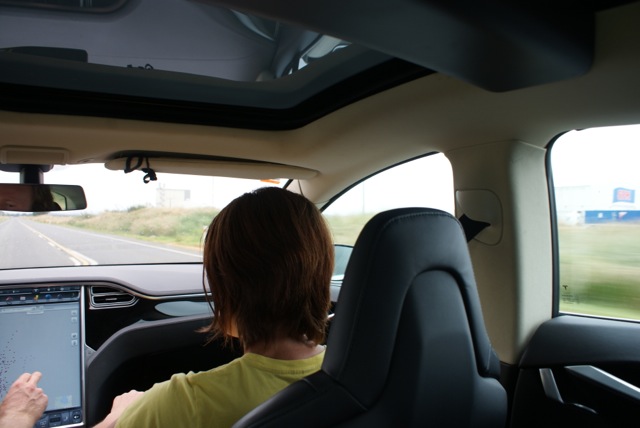 Tesla are really good for vegan customers, it's easy to get their cars without animal skin, leather.  Race car driver Leilani Munter has a Model S as her personal car.  She married in New Zealand, recharges her supercar from solar panels, promotes Animal Rights documentaries and living a vegan lifestyle.   As Tesla made her vehicle, they specifically labelled it was for a VEGAN customer. How nice is that?   It's just like ordering Bombay Palace takeaways :-)

 The Teslas arrived at Stirling Point, Bluff just as a cargo ship came into port. 
Steve, Nick and Carl had a great time demonstrating the benefits of electric vehicles to the many tourists visiting The Sign.  The cargo ship snuck past.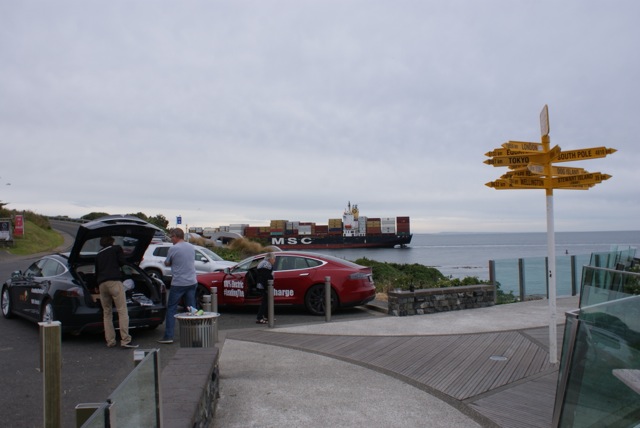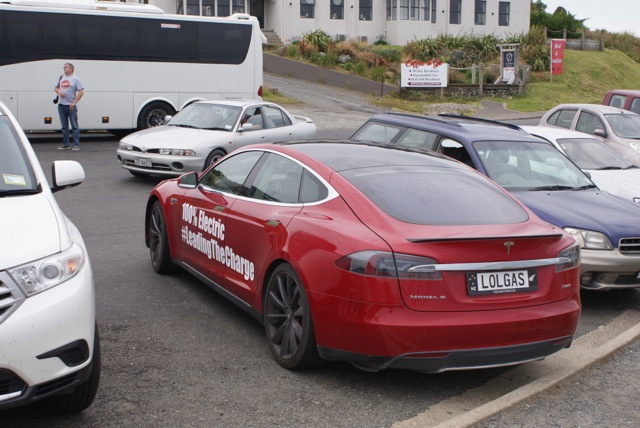 I recorded the Bluff finishline "Leading the Charge" video, using Steve's iPhone.  Over 2000 kilometres, including the ferry between the North and South Islands.  What a momentous occasion, to celebrate with champagne.
Jen and I don't drink, we're not sure about the seagulls!  You'll notice in the uncorking video, a "Space X" projectile blasting off into orbit.  It landed over my head, quickly found by squawking gulls!  As they tried to wolf it down, I picked the cork up and placed it on a nearby rubbish bin.


Carl keeps charging cables in the green cars front trunk.  Steve?Well, Steve keeps a drone!

Complete with a stabilised Go Pro camera, it even sends video back to the remote controller.  He can see what the camera sees, while recording :-)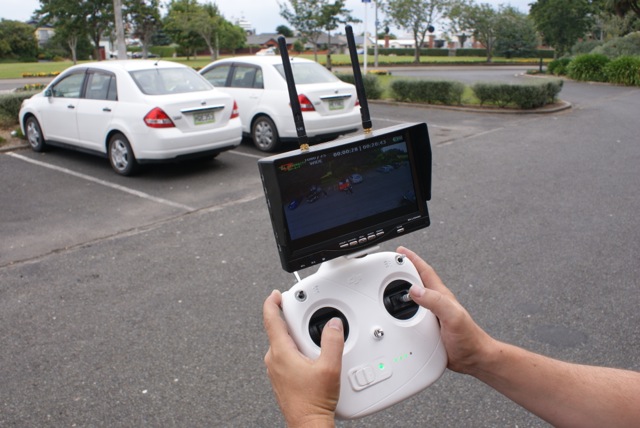 Steve and Nick got great aerial video of the two cars, while impressing  Bluff tourists!


For one last stop on the journey, the charge was led up Bluff Hill. 

We drove home with Carl, following the red Tesla Model S P85 down Bluff Hill.  Carl explained regenerative braking, how the car actually reclaims much of it's own energy as you brake!  You will notice in the full size photo that the instrument gauge is green, reclaiming energy.  When the Model S is accelerating, using electricity, the gauge heads upwards and is orange.     
By driving down Bluff Hill and braking, Carl actually "put" electricity back into the car's battery.  It's one of the many neat tricks that the Model S has.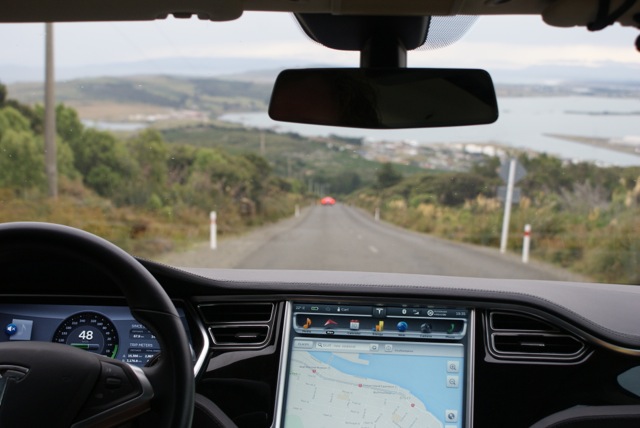 But if theres one criticism that I could have of the Model S, other than I can't afford one…….it's the doors.  Yeah, the window glass is all sharply raked and sleek and all.  But, they open like NORMAL doors.  I get it, Tesla want the Model S to be like a "regular" really nice luxury, probably German made car.  It's not neon pink, it doesn't have three wheels, it's made to be directly comparable to BMW, Mercedes or Audi.  In some ways, it's physical design is conservative.
If we want Gullwing doors, we have to ask our Bluff seagull friends for help.
Or, our vegan friend Miranda who lives in Christchurch.  The "Leading the Charge" team met up with her as they drove north.
But they certainly look cool!
Jen and I loved trying to help out with the "Leading the Charge" Tesla roadtrip across the length of New Zealand.  It was absolutely incredible to hang out with such cool, passionate and inspiring people.  Carl, who's travelled the world in his green electric supercar, installing Superchargers and inspiring the masses.
Steve, who taught the DJ world to scratch, in perfect-pitch harmony.  Nick, good natured and quick with a joke.  Dee who we briefly met, so very warm and friendly to we non-electric luddites.  We – and every single person who met the team – had their horizons expanded.  There is such potential in electric vehicles, with prices set to drop quickly.  We're inspired by these lovely people, who taught the people of Southland to dream of a sustainable future.
Oh gawd, listen to me, I'm sucking up worse than with the banana bread!  We just really really hope they'll visit the south again :-)
But.
I haven't even gotten to the most wild story of our time with these renewable supercars.  Everything else is positively bland in comparison, to our un-announced trip to Mayor Tim Shadbolt's house.  One of the most colourful human beings on the planet, Mayor Shadbolt is fantastic!  The Invercargill Vegan Society has reached out to the Invercargill mayor before, we've pestered the hell out of his poor assistant with regular invites to our Vegan potluck.
Mayor Shadbolt was even kind enough to appear in this video talking up the Invercargill Vegan Society.  I typed out a hyperbolic script, and pinned it to my chest with an INVSOC badge.  He read the exclamations of how beloved vegans are in Invercargill, and even provided a citation for our future Wikipedia entry! :-)
Carl had the idea of visiting Invercargill mayor Tim Shadbolt's house that night.  He wanted to promote electric vehicles for the council, and to encourage charging infrastructure across Invercargill.  Heck, we'd be all for that!  We thought about ringing Mayor Shadbolt's number.  We know our friend Yolanda often talked to the mayor, he even rang her during our last INVSOC potluck!  But Yolanda is currently in China, caring for her family.  We sent her a Facebook message while in Bluff, asking if she could put us in touch with the Mayor.  But it can be very difficult to reply to Facebook from within China.  She saw our message but couldn't respond directly.  She txt a New Zealand friend who explained the situation to us.
The Tesla sped by the closed Ocean Beach slaughterhouse, just outside Bluff.  Jen used the inbuilt 17 inch display to look up the White Pages for mayor Tim Shadbolt's phone number.

No results found, he has an unlisted number.  We decided to visit the Mayor's home, driving Carl's electric miracle around to say hi.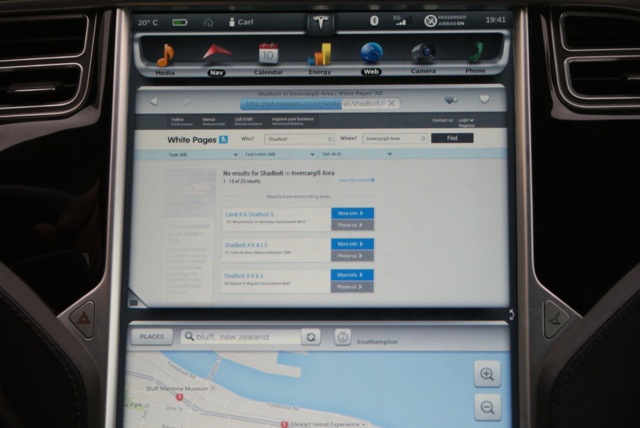 We knew where Mayor Shadbolt lived, from when we asked him to marry us on World Vegan Day.  At least, we had an online listing saying where the mayor lived….we decided to check it out!
This is where the whole Tesla roadcar trip story gets pretty crazy! Like all tall tales, it's better without photographic evidence, let your mind imagine….
We weren't sure we had the right Mayoral house, the letterbox numbers are written in black marker pen?  Nobody seemed to be home.  There were cars parked everywhere, for a big party.  I went back to the electric car, as you do.
Carl knocked on neighbourhood doors asking if they knew "Tim".   Imagine the situation:  8pm on a lovely summer day as the sun slowly sets, and you get a knock on your front door.  It's a man claiming to have the coolest car in the world parked outside, to have installed "Superchargers" throughout Europe, who wants to take the Mayor for a ride with a local vegan extremist. You're his neighbour, do you have his personal cellphone number?
I'm watching the car, thinking what to do if someone a bit drunk comes over to smash it in or something.  I stood over the back, where the tailpipe would be on a normal car.  No big deal, I'm just leaning against a car on a busy street full of other cars, right?
Carl comes out to his car with a couple young guys, holding Corona (?) bottles of beer each with a lemon wedge.  He's been telling them all about his amazing car, probably seeming like Willy Wonka and his magic elevator.  The three of them walk over to the car, and Carl explains just what a Tesla Model S can do.
As he talks, every point blows them away.   I explain how the doorhandles retract, Carl makes them pop out……they look at each other and go "WOAH!"  Carl shows the large touchscreen, and they're blown away!  They took a few pictures of themselves inside the car, including of all the controls and options it has.  Carl shows them on the map where he's taken this car, how the Prince of Monaco has been in this car (!)  They say "WOAH!", and we ask if mayor Tim Shadbolt really lives just down the street from them.
They agree that he does, and that he's probably gone off to Queenstown.  They don't know his phone number, so we decide he's escaped our unannounced mid-summers night electric vehicle advocacy.  Carl explains to the neighbours more about how his car works, and takes them for a testdrive.  I think about how to put this delicately, and suggest they "take a big gulp of their drinks" so they don't spill.  "It's got REALLY fast acceleration".  They do so, then leave the bottles outside on the street kerb.  Carl shows them how powerful electric cars are, blasting us back into our seats as the world smooths into a blur and they cheer together "WOAH!!!" :-)
We drive from around Mayor Tim Shadbolt's neighbourhood, to around Queens Park, down Tay Street, through Richmond……we impress the heck out of his slightly drunk neighbours!  We drop them back at the party…..by driving right up their driveway, right among the celebrations!  Imagine it, there are vinyl gazebos set up, people everywhere.  And suddenly this giant SILENT car with LED headlights blazing slides right up to the garage!
One of the guys with us, it's his father's 50th birthday party and there are somewhat drunk people all around the car.
Carl jumps out, leaving his key (so the car would actually start if anyone put their weight in the drivers seat!).  He vanishes into the party somewhere, either asking about the mayor or looking for the birthday boy to take a ride!  I answer the questions of all the partygoers from the backseat, as they lean in from all sides, take photos and marvel at this electric supercar!  There were about ten people, all hanging in the car and leaning on it and stumbling over….it was pretty weird!
I find out that one guy has a Mercedes E class that's worth probably about the same amount as the Tesla.  He tells me he is impressed as hell, and that he'll SERIOUSLY consider getting a Tesla for his next car!  It's interesting, that I could use the Tesla as an example of being *really cool, really powerful* and that it would open up men to talking about how they actually care for the environment.  Once it was established that the Tesla is absolutely as fast as their big V8 fossil fuel cars, it was ok to admit it was so much better for the planet.  They were particularly taken with the idea of New Zealand being energy independent, that we could truly have our own electric power, for our personal electric cars.  No more oil imports, and a good ol' dose of patriotism.
The crowd loved the car!  The father turning 50 was located, and Carl took him and a couple mates for another testride.  I'm sitting in the back with a couple guys asking the range (400km), how fast (0-100 in 5 seconds) and the price (about 100,000 NZD, although they are currently imported from other countries, New Zealanders have no direct "legal" way to buy the car in New Zealand).
After wowing the crowds, we drove back to INVSOC HQ where Jen had made curry with samosa.  I shook my head with amazement of the nights adventures.
 I wonder what the hungover crowd will have remembered in the morning?  How this spaceship descended from the heavens,  and there was this huge iPad on the dashboard.  The pilot readily took bunches of them for silent, ground level flights around Invercargill…
It made me realise that my time with this marvellous machine would end too.  I think I stayed awake all night, trying to comprehend that a freaking Tesla Model S was literally charging from our hallway powersocket.  An extension cord was hanging out the spare bedroom window to the electric car from The Verge video.  Right here in Invercargill, right outside our house, just a few metres away from my head.  Do androids dream of electric cars?  Was I too imagining this whole adventure?

I've been re-listening to Stephen King's Dark Tower series.  I love audiobooks, and Roland's world is vast.  The character Jake feels unstuck in time, unsure what's real.  Later, we find that Roland misses his slain friend's "Horn of Eld".  He regrets not collecting it, as a memory.
I'd taken this advice to heart, to make the most of life's opportunities, to not leave regrets.  "You missed 100% of the shots you didn't take", as the saying goes.
Back at Bluff, as the "Leading the Charge" team celebrated reaching the finish with champagne, the cork flew away to the seagulls.  I had picked it up so they wouldn't choke on it, and placed it on top of the full Stirling Point Sign rubbish bin.

But….I had also thought about what would happen to the cork.  The overflowing rubbish bin would eventually be collected, and then what?  This reminder of the Tesla roadtrip, this piece of progressive history would be thrown away.  Crushed, like when GM "killed the electric car".   Treated like fossil fuels, and buried in the ground.
I'd put the cork in the bin…..then collected it back and put it in my pocket for safekeeping.
Mayor Shadbolt's neighbours might not accurately remember their spin in a luxury electric car, they'd been drinking at the time.
But now when I think about the Tesla that stayed over at our house, I can look at the cork.  When I remember looking out our window and seeing the sleek Model S charge, I've got the cork to convince me it really happened.
I'll be a "Champagne Socialist", dreaming of the day when all New Zealanders can have an affordable, environmentally sustainable electric car outside their family home.
Soon…