The largest Invercargill Vegan Society potluck yet, 40 guests!

2014 has been a fantastic year for the Invercargill Vegan Society, and we can't wait to grow larger in 2015.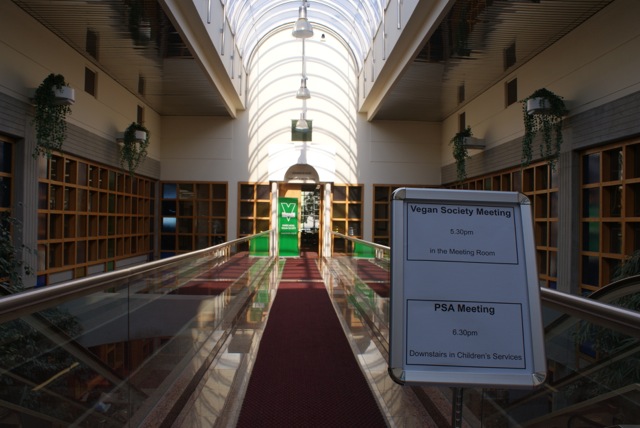 At our December 2014 potluck we were joined by one of New Zealand's greatest animal rights activists Mr Carl Scott!  Carl spoke about his work with Farmwatch, and of vegan activism across New Zealand.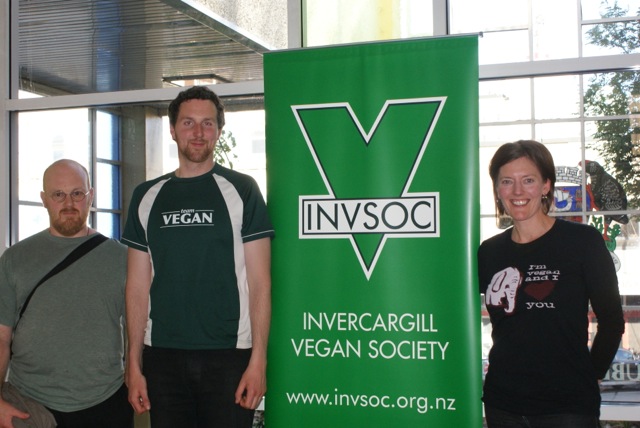 Vegan activist Hannah Lobb produced a brilliant video, featuring Carl's introduction speech and how she produced her fantastic Mediterranean Pizza :-)

INVSOC member Nikki lives in Coopers Creek, a small settlement beside "Whalers Bay" in Sandy Point.  Whalers Bay was homebase to whale killing…..and now vegans live there!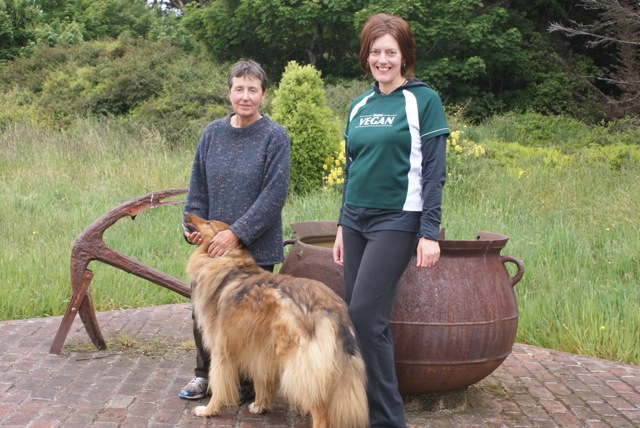 INVSOC members Nikki, Oakley the dog and Jen beside a Whalers Bay "whale pot" used to boil whale flesh/fat.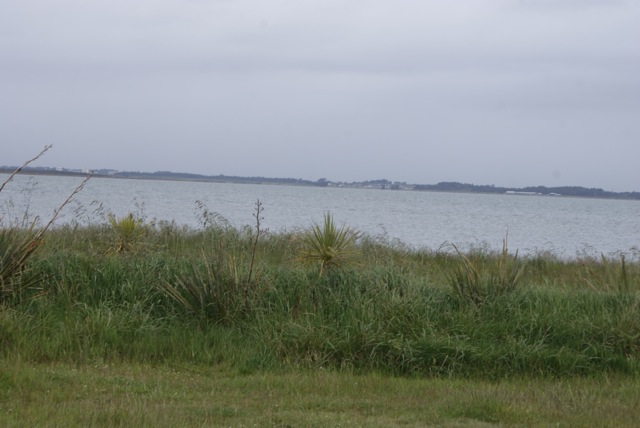 Whalers Bay shows how far New Zealand has progressed already -how long until we look back at the dairy industry with horror?  "Yeah, back in the 00's we lived under Fonterror,  fear of economic collapse if the milk solids payment crapped out…"  Seal killing, whale killing, sheep flesh and wool…..The Golden Cash Cow may one day soon join them in unprofitability.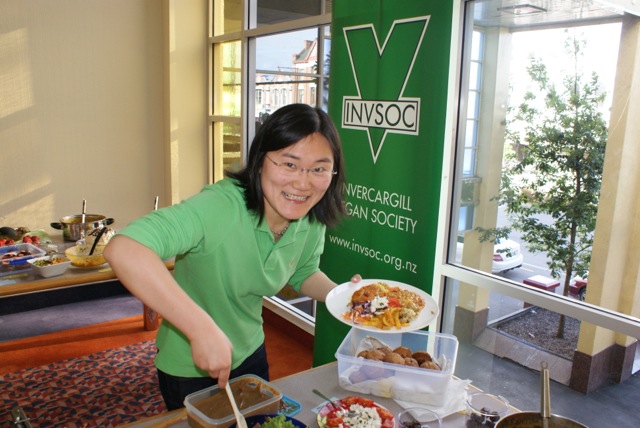 Pictured here "digging in" to a vegan feast, Dan won a ceramic artwork illustrating how cruel the New Zealand dairy industry is towards animals.  Dan has kindly donated this actual size ceramic cow's milk bottle for Invercargill Vegan Society displays.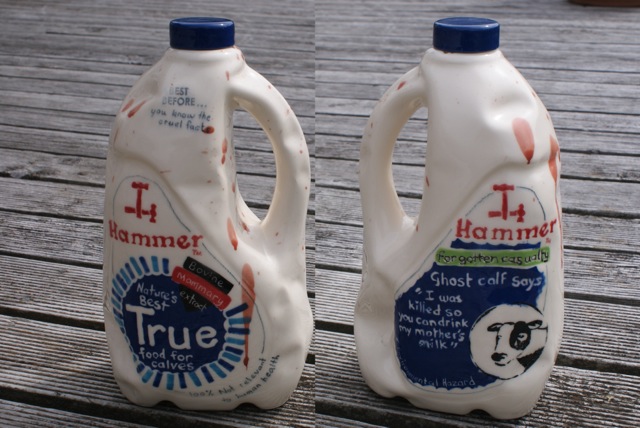 "Best Before you know the cruel facts, Nature's best true food for calves, 100% not relevant to human health".  "Hammer, forgotten casualty Ghost calf says "I was killed so you can drink my mother's milk".  The Starfish Project rescues these sweet baby animals, and advocates veganism as a practical solution to respecting animals.
Thanks to our generous sponsors, we had giveaway prizes for potluck attendees

 Oh, and the food at the potluck?

Well, we had tofu masala, lemon cookies, udon korma, kumara courgette and chickpea curry, Mediterranean pizza with basil and hummus (pictured)…
 ….apple crumble, sweet tahini salad, banana chocolate chip cupcakes (pictured)……….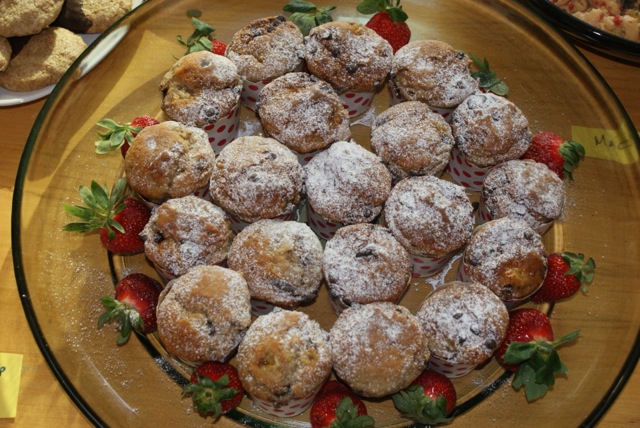 ….Vietnamese curry with tofu, Carl's Curry, Pizza risoni pasta (pictured)….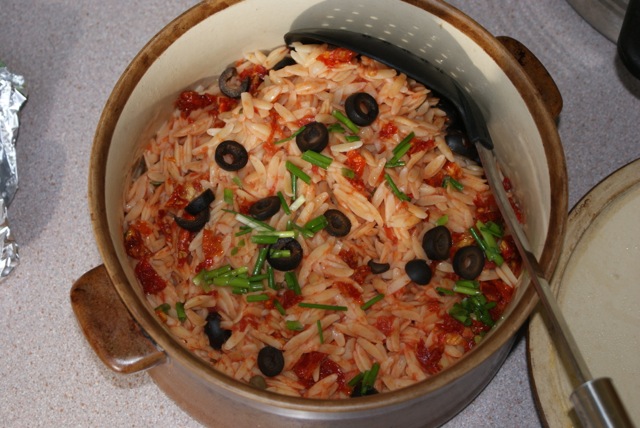 ….macaroni Cheese, Super Quinoa Burgers, roast vegetables, filled chocolates with vegan jellybeans……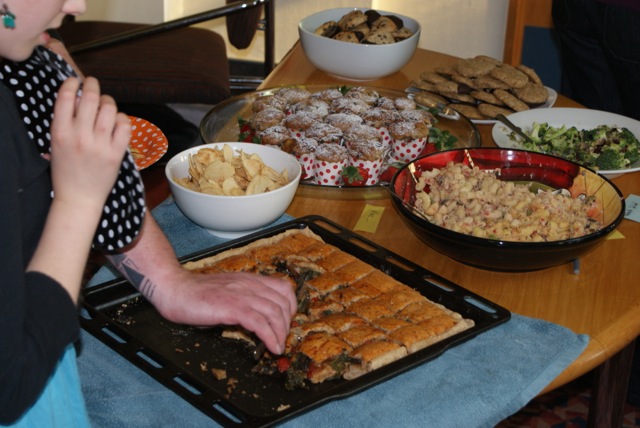 ….Seedy Slaw, chocolate fruit and nut cookies, Dal with tomato, Stuffed double crust pizza with Angel Food vegan mozzarella (pictured)….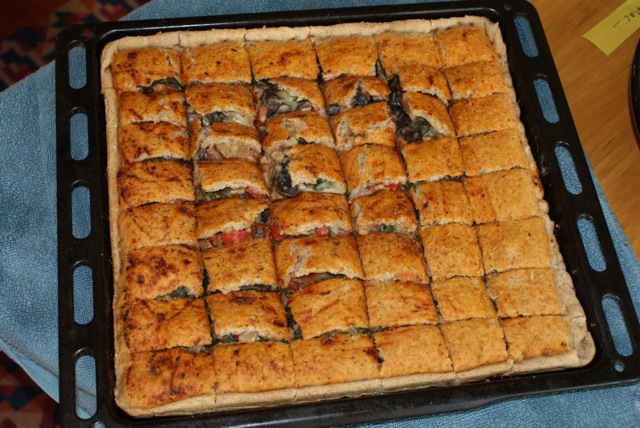 Avocado chocolate pudding, chocolate dipped strawberries, chocolate soy ganache, chocolate avocado mousse……broccoli salad….probably more things with chocolate?…….the list keeps going!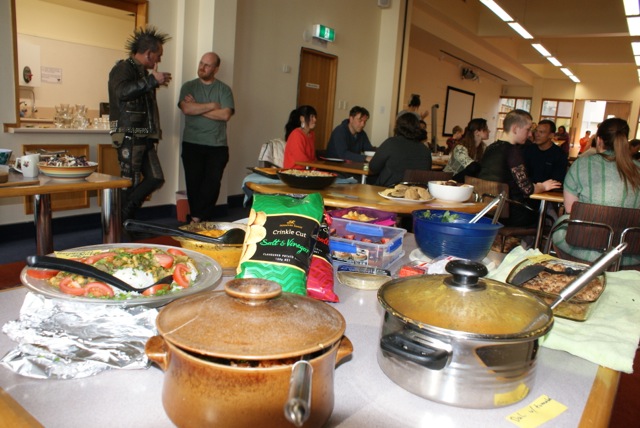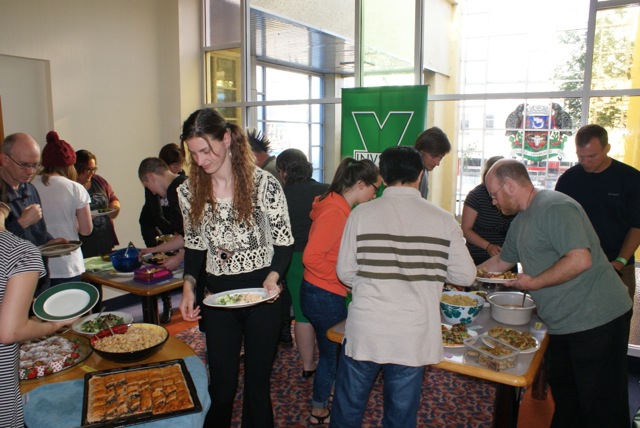 Here's an average plate from our December 2014 INVSOC potluck:
Double stuffed pizza, chickpea curry, Seedy Slaw coleslaw, Super Quinoa Burger, Tofu Masala, Pizza Risoni Pasta…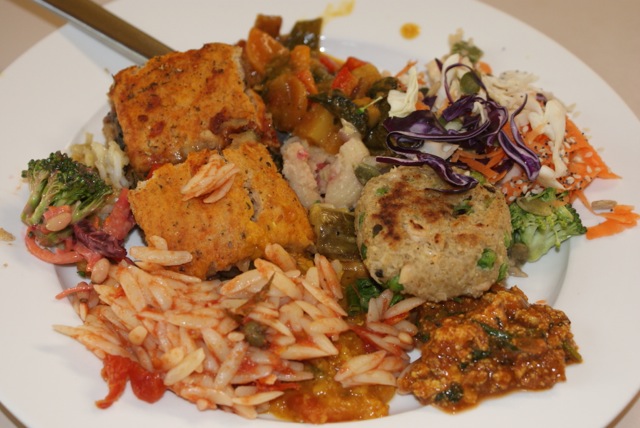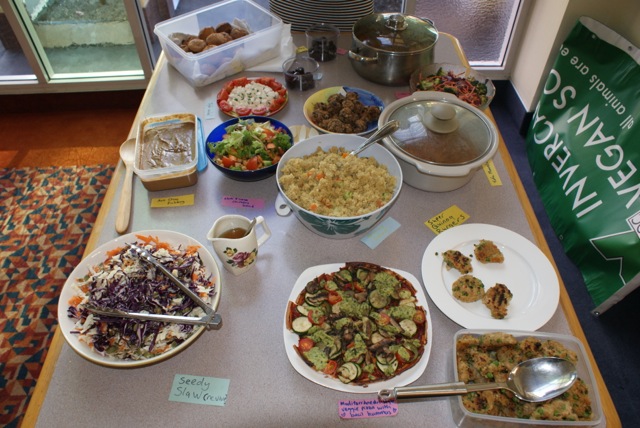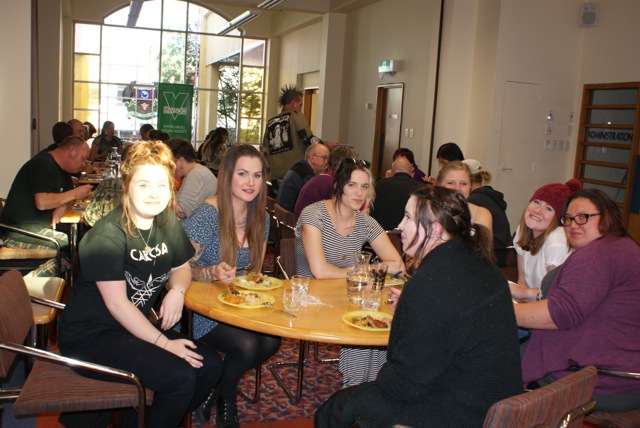 Dessert: Apple crumble, vegan chocolate, chocolate cake, banana chocolate chip muffins, cookies….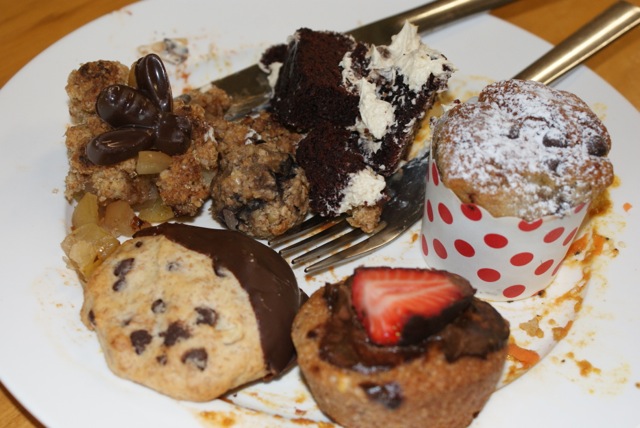 It was one HECK of a potluck to top off one heck of a years vegan activism.  Our friend Yolanda even got a personal phone call from Invercargill mayor Tim Shadbolt halfway through!
We also had the beginnings of a plan.  Potluck guest John would like to open a Vietnamese vegetarian restaurant in Invercargill…
Jamie – would like to sell vegan food at farmers markets…..
Lori, Mark, Russell, Noelle and Martin have all worked as chefs…..
Jordan has a recurring dream about running a vegan cafe named "Fat Pablo's"…..
with our powers combined…we might eventually open a vegan restaurant in Invercargill….watch this space :-)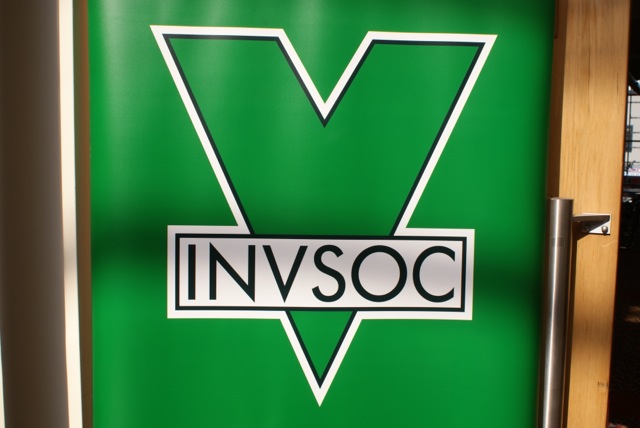 Thank you very much to everyone who has helped the Invercargill Vegan Society in 2014.  Thank you for joining us in the Santa Parade, on World Vegan Day, street activism downtown, at potlucks, writing letters to The Southland Times…..and dreaming of a vegan world.