Invercargill Vegan Society (INVSOC) members Jordan, Jen, Erin, Lizzie, Charlotte, Yolanda and Hannah had a great time in the 2014 Southland Santa Parade!
Honestly, last years Santa Parade was such fun, we could hardly sleep waiting for this years Christmas celebration!  Over 20,000 people attended, and we noticed many vegan and vegetarian friends in the crowds :-)  Our theme was the "animals of christmas", of Santa and the magic reindeer.  We hope our fashionable reindeer ears make the connection, humans are animals, bipedal mammals.  On December 25th and year round, vegans would like animals to be treated with respect and friendship.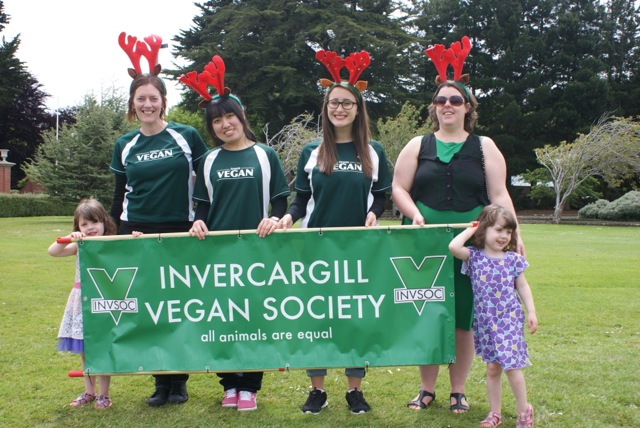 The Santa Parade was scheduled for Saturday 23rd November, but was rain delayed until sunday.  And boy did the day live up to its name, with blue skies and 21 degrees!
Unfortunately, not everyone could attend on Sunday.  Our gold medalist vegan bodybuilder friend Jasmine ("Plant Based Booty") had to return home to Queenstown.
But even with half our vegan numbers, we covered more special interest groups than the Labour party!
Identical twin 4 year old vegans (with their favourite "Frozen" stars)….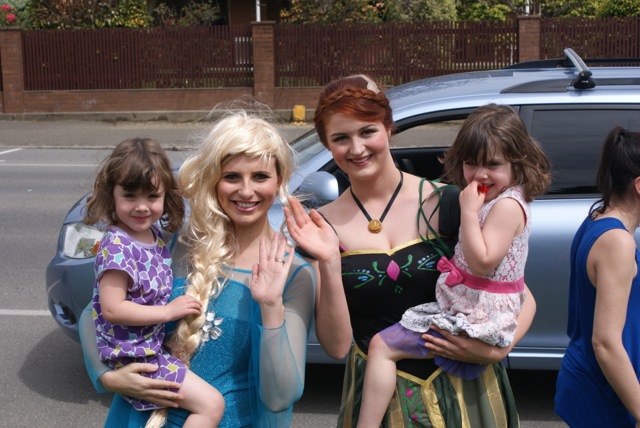 and even a male vegan was represented :-)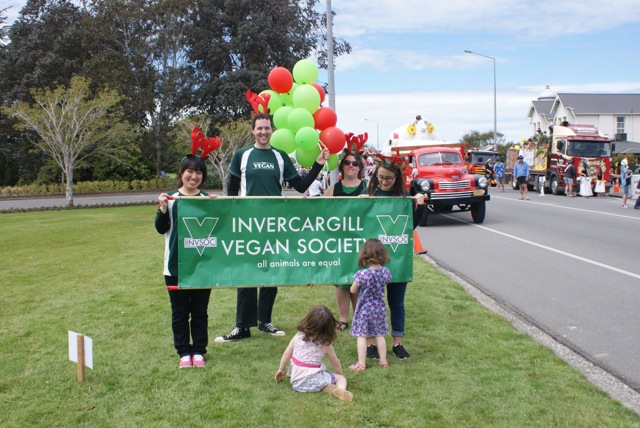 We can't thank the Southland Santa Parade organisers enough, what a great effort volunteer effort.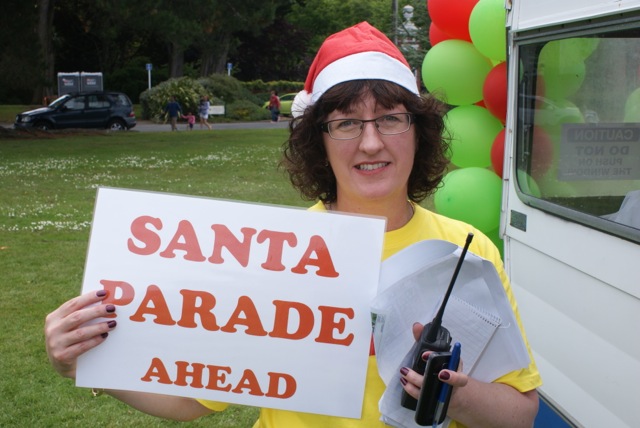 Always lovely to see our name on the guestlist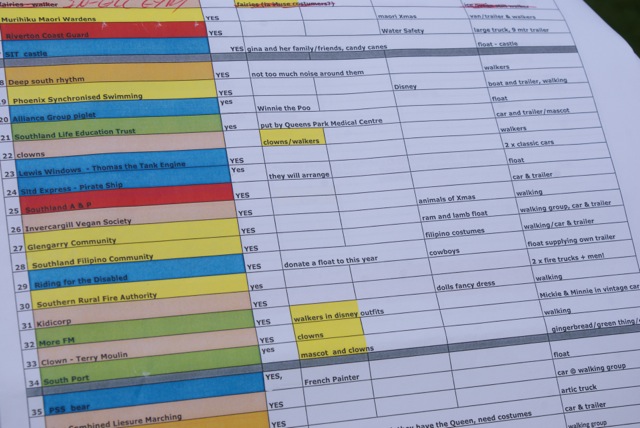 Entry #26 Invercargill Vegan Society as the "animals of christmas"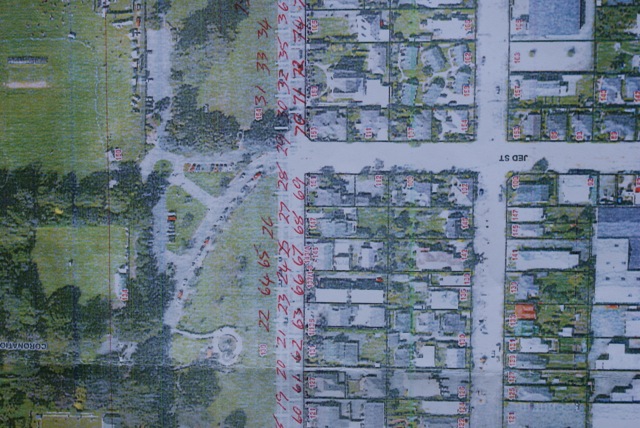 One last thank you, to our dear friend Yolanda (left) who will be visiting her grandparents in China soon.  We hope she'll come back to visit us in Invercargill, Yolanda is the most positive person we've ever met!  She inspires us with her upbeat approach to life and compassion for others.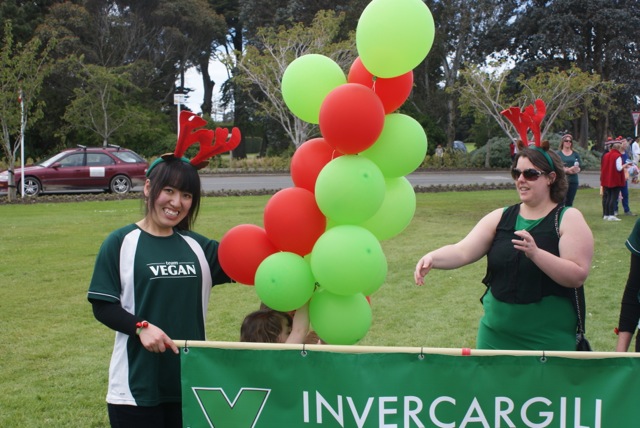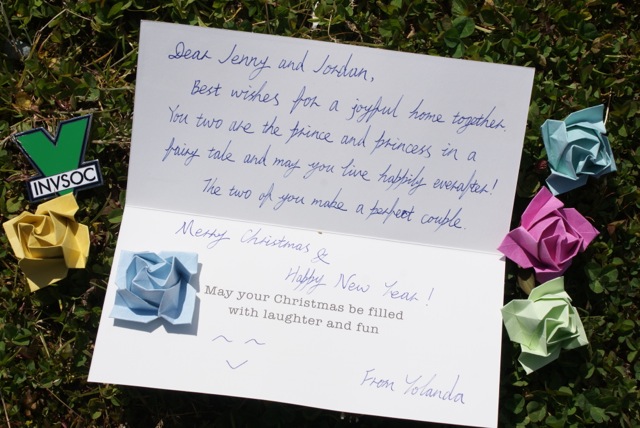 The parade starts!  Behind the Southland Express newspaper Pirate Ship!  The hazy smog is from the coal powered traction engine.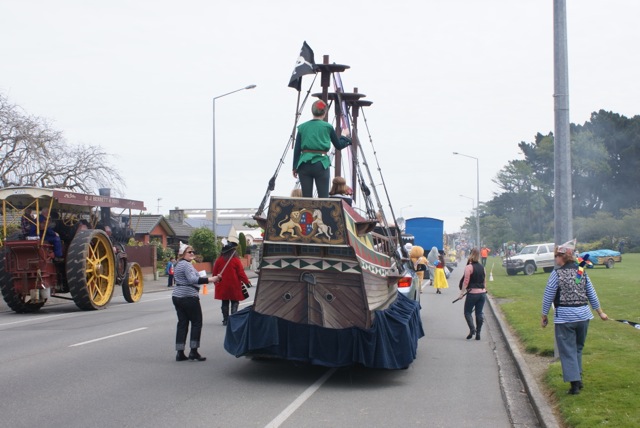 Grab your reindeer ears, it's go time!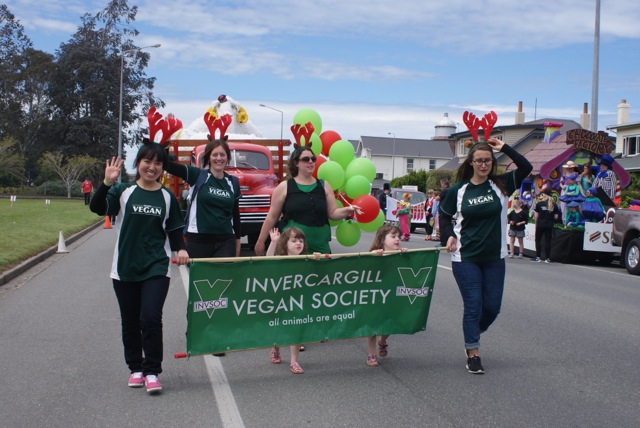 Marching the wrong-way down Dee Street, past the Grand Hotel.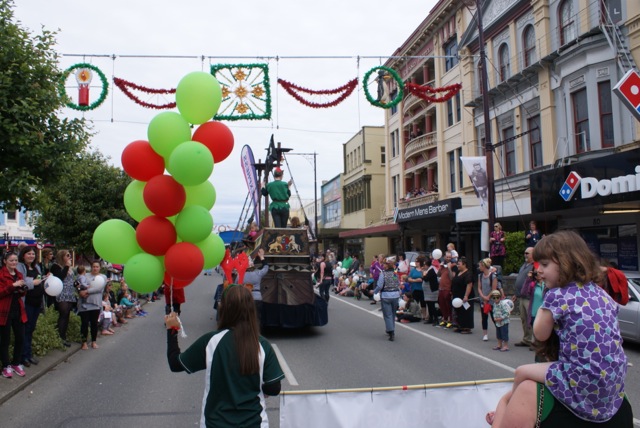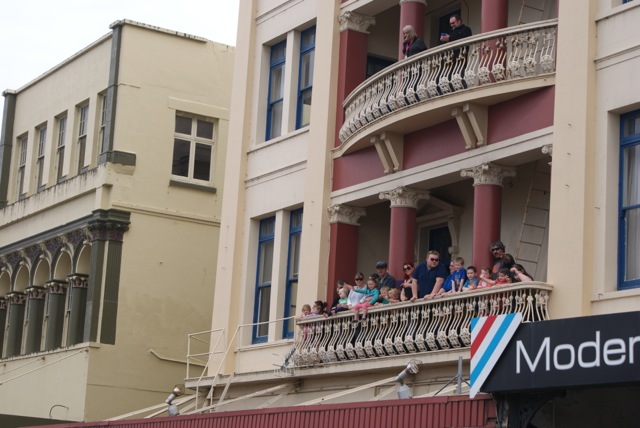 Total crowd figures are yet to be released, but past Southland Santa Parades have had over 20,000 people!  It's certainly busy, with children wanting us to slap their hands as paraders walk past. We felt like reindeer-ear-ed celebrities!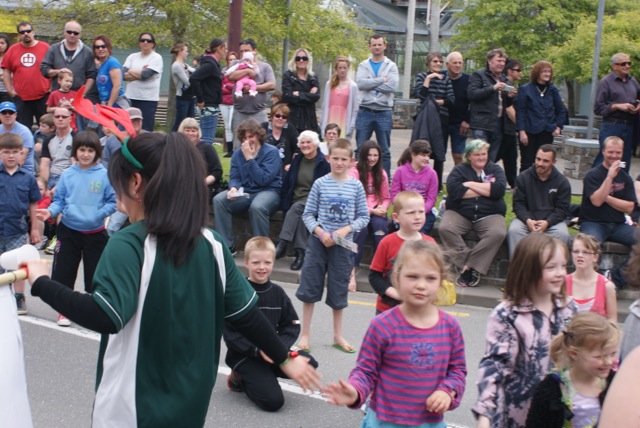 Spotted in the crowd, our friends Peter and his wife.  They helped us rescue the lives of over 465 hens from a Mosgiel egg farm.  They care very much for these hens, and Peter actually drove to the farm himself to save more from their deaths!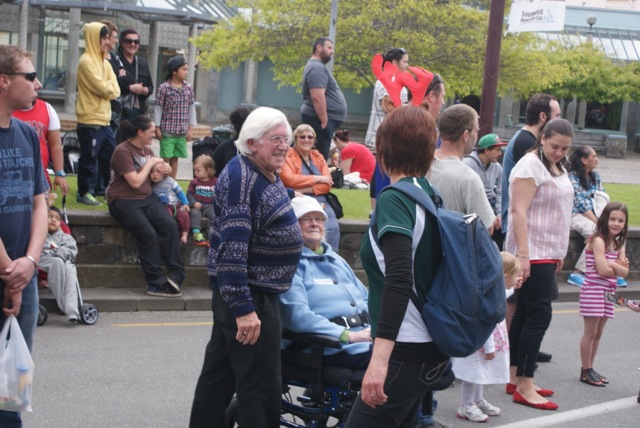 Tay Street
 Kelvin Street, the H&J's clocktower reported 21 degrees.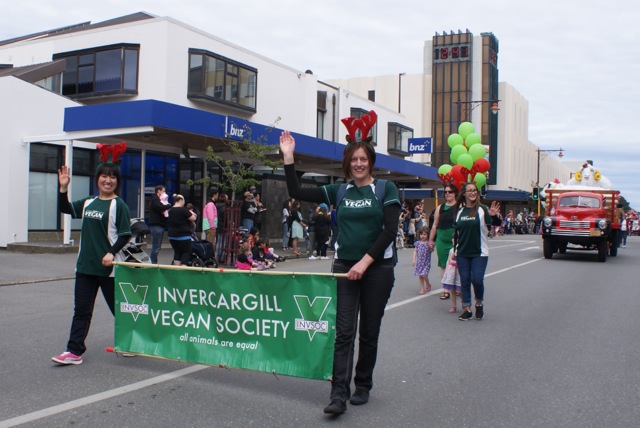 Hannah waving with Lizzie and mother Erin.

Hannah, Yolanda, Jen by the Feldwick Gates, Queens Park.

The 2014 Southland Santa Parade was absolutely fantastic!  While rain delayed until the next day, it was well worth the long wait for GREAT weather!   We'll take an overcast/blue sky 21 degrees over ~11 degrees of horizontal rain anyday :-)
Thank you to all the Southland Santa Parade volunteers who made this happen!