Invercargill Vegan Society members travelled to Dunedin in June 2014, to meet Dr Jane Goodall and help rescue hundreds of hens!

Fantastic timing allowed us to meet established legend Goodall, but also up-and-coming leader of the vegan movement Tayla O'Driscoll.  It was a fantastic weekend, we had a great time in Otago!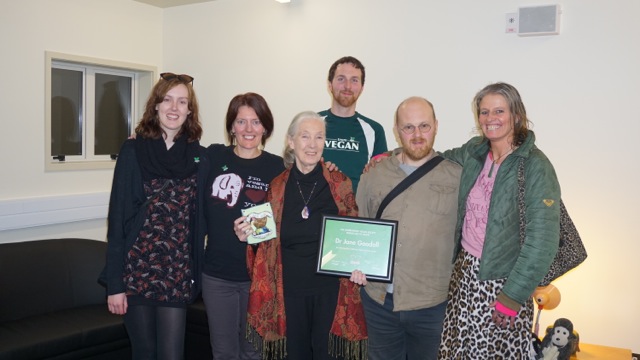 For INVSOC member Jen, Dr Jane Goodall has long been an inspiration.  Jen has travelled through Tanzania to visit Gombe Stream National Park where Goodall studied chimpanzees.  To meet the great scientist "in the tofu" was a dream come true.
We helped Dunedin vegan Tayla O'Driscoll organise her great hen rescue of 2014.  In total, Tayla saved the lives of over 600 hens from an "egg farm" closing down.  She was absolutely tireless in finding hen adopters, who would truly save these birds lives from scheduled death.  We have long been motivated by Dr Jane Goodall, meeting Tayla O'Driscoll proved to be equally invigorating.  We are are fortunate indeed to have such talented person working for veganism.
Heading to Dunedin in a rental truck.  We brought home 114 banana boxes loaded with 342 rescue hens to Invercargill.  Two additional journeys saved a total of over 465 hens, going to Invercargill homes.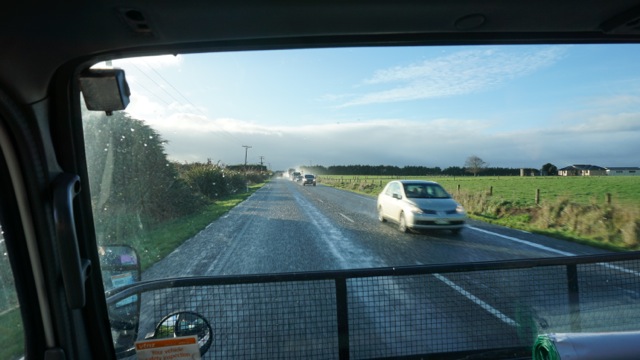 View from the Kingsgate Hotel in central Dunedin.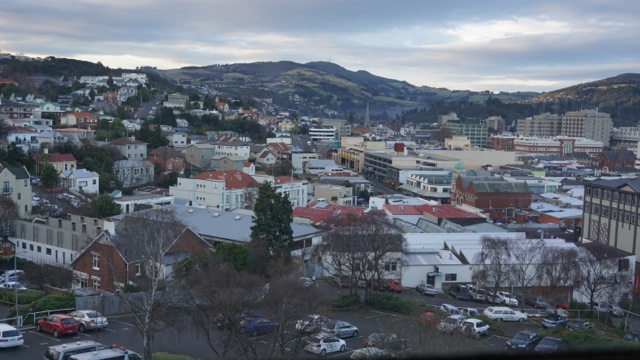 We spoke with Goodall's wonderful friend Mary and local tour organiser Professor Dr Phil Bishop to steal time from Dr Goodall's busy schedule.  We are terribly thankful to them all for their generosity.  The Invercargill Vegan Society (INVSOC), Chicken Appreciators Group and Dunedin Animal Rights Collective (DARC) presented Dr Jane Goodall with an award:
"The Invercargill Vegan Society would like to thank Dr Jane Goodall for showing the world how Other Animals Matter."
Signed by Jordan, Dan, Carl, Tayla and Jen.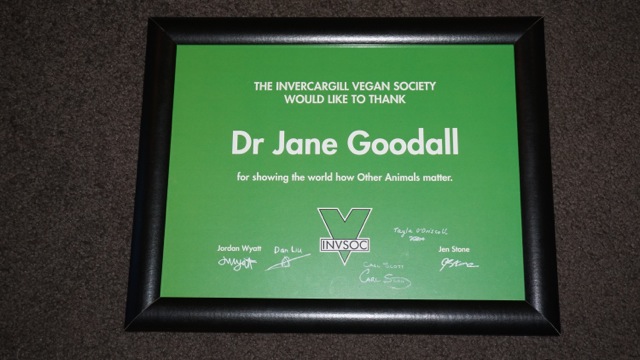 Carl, Jen and Tayla with our award for Dr Goodall.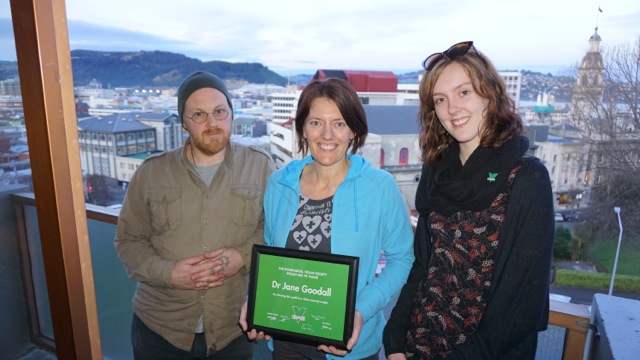 We met Dr Goodall's friend Professor Phil Bishop at the top of the Regent Theatre stairs.  He led us through a maze of secret catacomb passages beneath the venue, descending in an elevator to the performers lounges.

Waiting for us alone in a dimly lit room sat Dr Jane Goodall!  We were very intimidated, it felt like stepping into the famous Steve Jobs photo: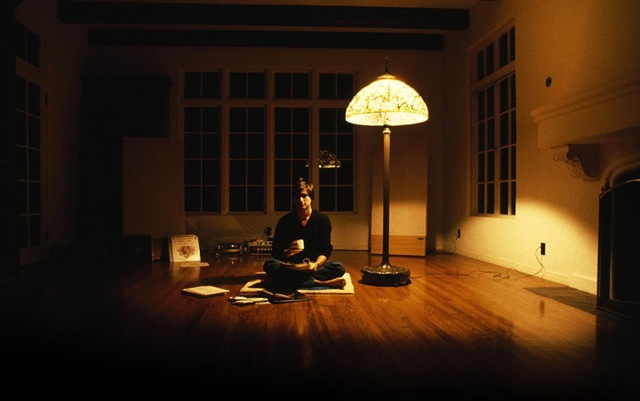 As Dr Jane Goodall cares for ex farmed hens too, we told her how Tayla was helping so many hundreds of gentle birds escape death.  Dr Goodall shook all our hands and hugged us, very glad to hear of a happy hen outcome :-)  Jen shared how she crossed Lake Tanganyika to visit Gombe's chimpanzee population, where Dr Goodall had studied so many decades before.  Turning the lights on, she invited us to take photos with her.
Tayla, Jen, Dr Jane Goodall, Jordan, Carl, Haley
On behalf of the Chicken Appreciators Group, we awarded Dr Goodall with an original Romina Marinkovich piece.  As she cares for hens, we hope it may hang on their hen home :-)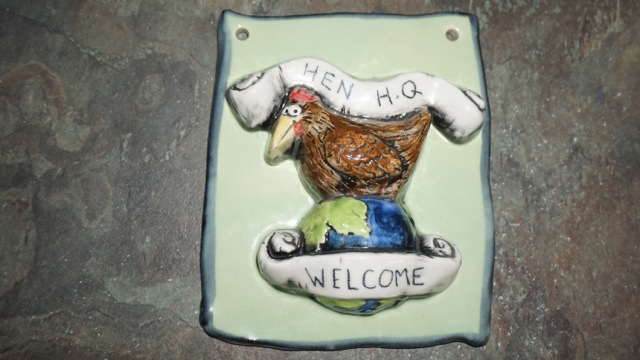 Dr Jane Goodall travels the world with her soft toy friends "Mr H" (monkey) and "Cow".  Both have been touched by millions of people around the world, with Cow representing neglected animals trapped on farms.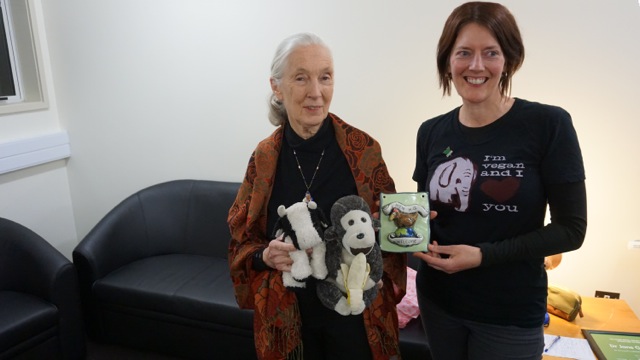 Dr Jane Goodall, Cow, Mr H, Hen Friend, Jen :-)
We thanked Dr Goodall profusely for her precious time, for the hope she inspires in the world.  We told her how we loved how she showed Other Animals matter, how they have personalities, feelings and worth just as we humans.  A longtime vegetarian, Dr Goodall was interested in our veganism and encouraged us to get involved in our communities.  "Think globally, act locally"
We left the theatre underworld in a rush so the show could start on time, absolutely buzzing from meeting such a great lover of animals.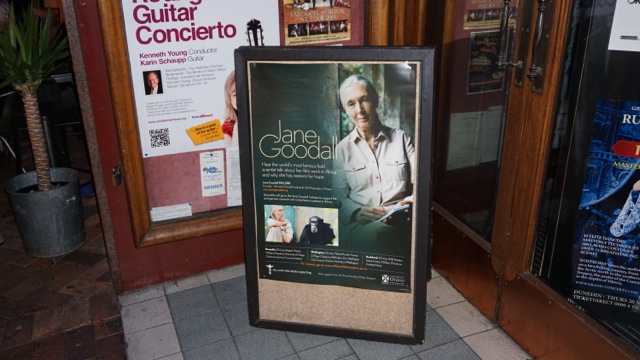 Dinner at Circadian Rhythm.  The owner Sue is very kind, and we love having a cafe menu with mostly Vegan options!  Katie and Nathan Parker met us, as did "Rewoo Tootoski", man of mystery!  We spoke about vegan activism in Dunedin over great meals.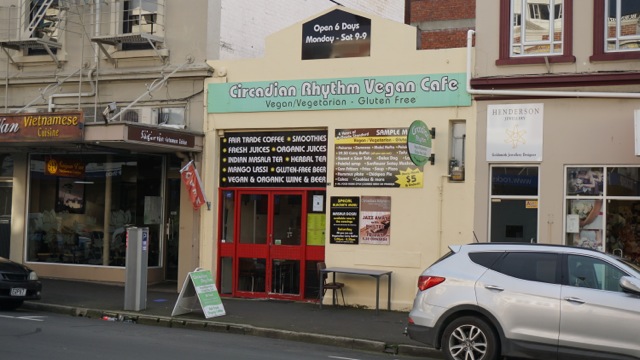 Jen – "I'm Vegan and I love you" :-)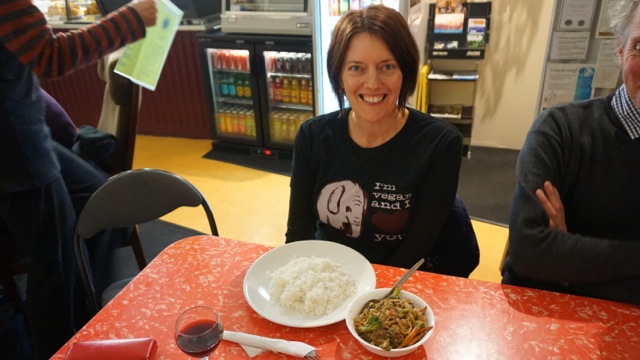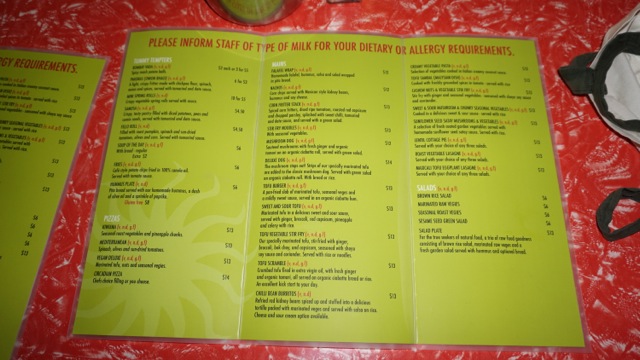 Tayla had a lasagne made with tofu :-)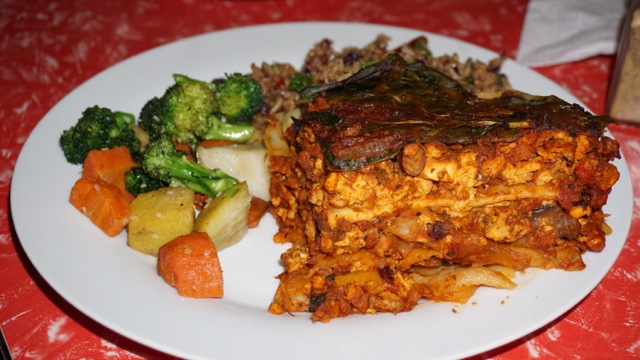 Jordan ordered his Circadian Rhythm favourite "Tofu Burger"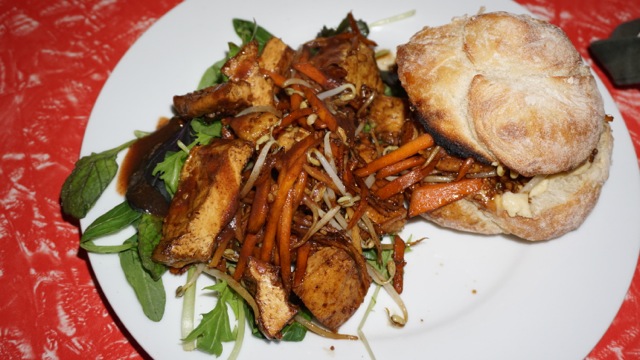 The next morning, we had brunch at Modaks Cafe which has plenty of Vegan options.  With a similar "secondhand retro" theme, Modaks and Circadian share the same red Formica tables!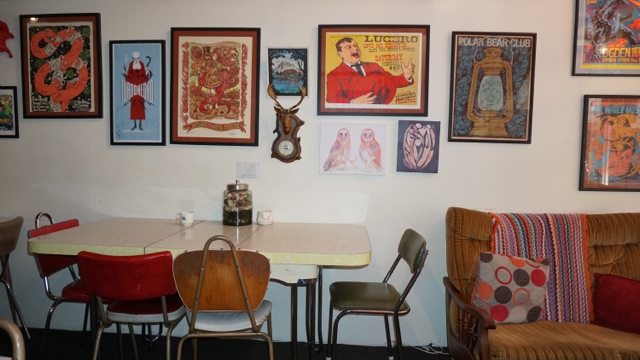 We were met by local Dunedin vegan activist Michelle Blair and Invercargill Vegan Society members Katharine and Steph.  We had all loved Dr Goodall's fantastic talk.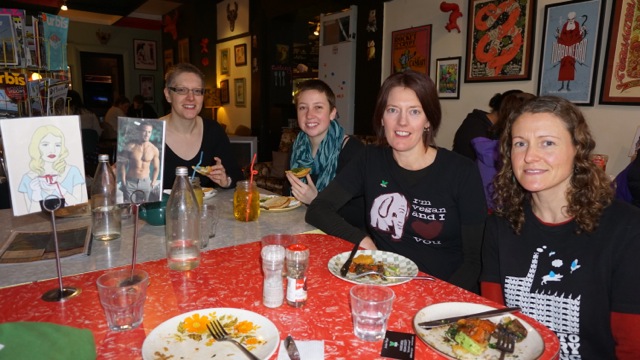 Katharine, Steph, Jen, Michelle.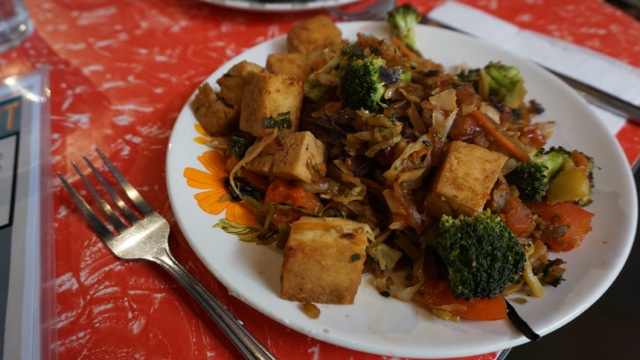 "Totally Tofu: tofu, veggies, herbs and spices cooked in tomato sauce served on our potato cake"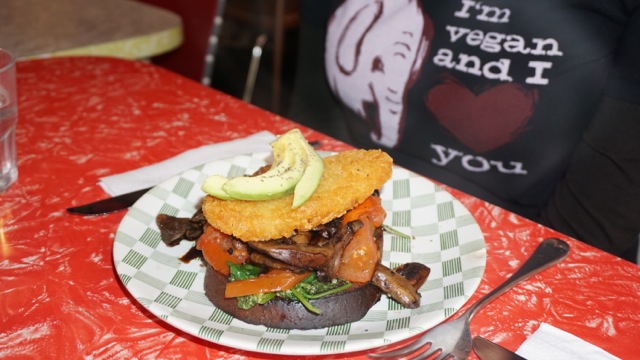 "Veg Out Vegan: rye toast with pesto, avocado, hash, spinach, grilled tomato, topped with mushrooms and balsamic glaze"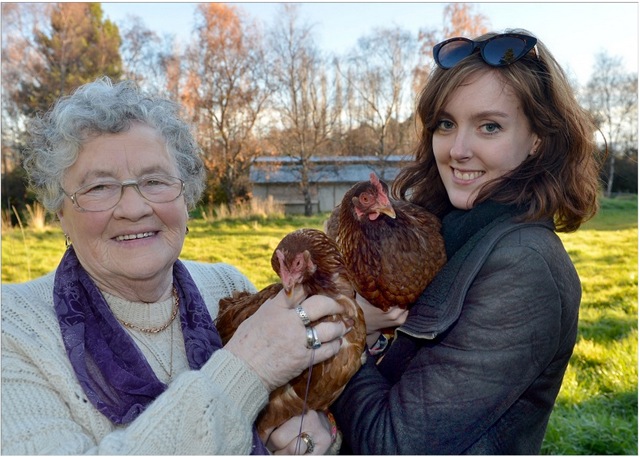 Farm owner Chris, and Tayla (photo credit Otago Daily Times)  Notice how the purple scarf is caught in Chris' jewellery, one hen certainly has!
Farm worker Gerald loaded our banana boxes with three hens placed in each.  We took orders for Invercargill adopters, asking for donations towards our hen rescue transport costs.  CUE TV was kind enough to cover the project :-)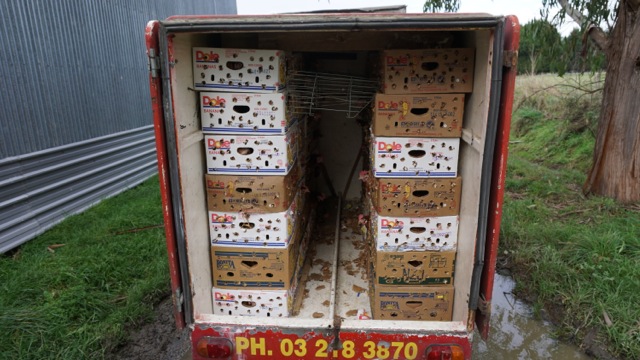 For these hens, airholes provided their first glimpse of the world outside the two story metal shed pictured above.  We wish it could have been more inspiring than a world of fibreglass trailers and cardboard boxes collected from local Invercargill supermarkets.  But compared to their metal cages, it must have seemed like a terrifyingly strange new level of freedom.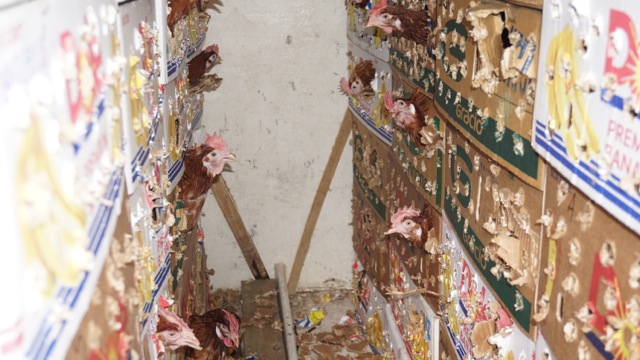 We drove back to Invercargill, stopping every 30 minutes to open the doors, to circulate air and check the hens.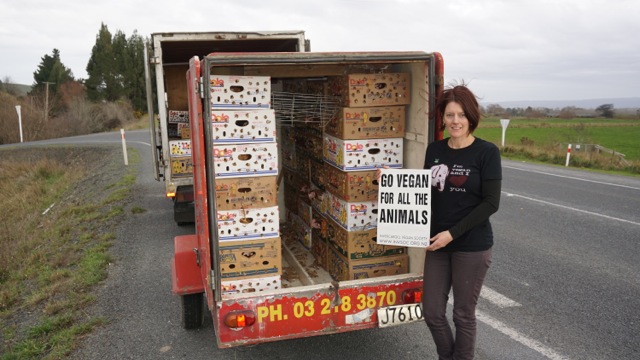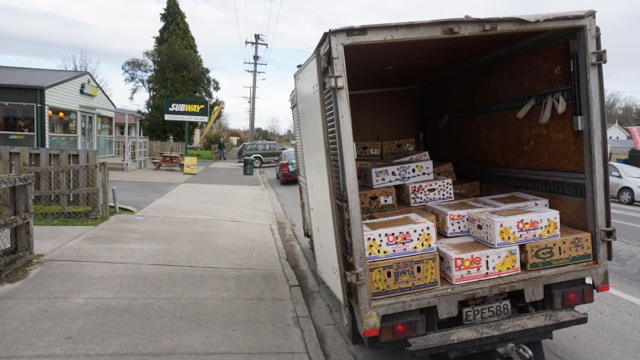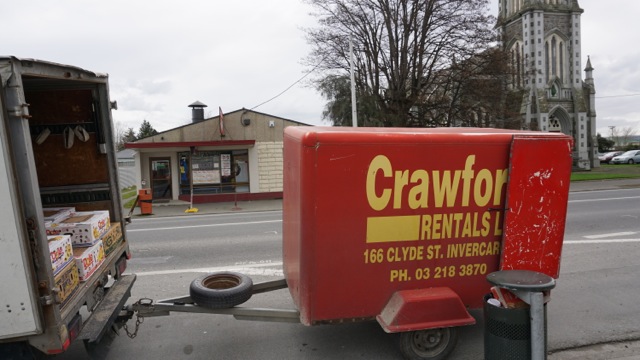 Our vehicles attracted attention.  "Whats that you've got there?"  "Oh, just taking the box collection for a Saturday drive, as you do".  Inevitably the hens were noticed, and we'd tell the truth! Miltonians had often read about the farm closing down, and thanked Tayla for rescuing as many as possible.
"Subway" staff came out to check Jen's story was true.  Yup, we WERE taking the boxes for a spin 'round Southland :-)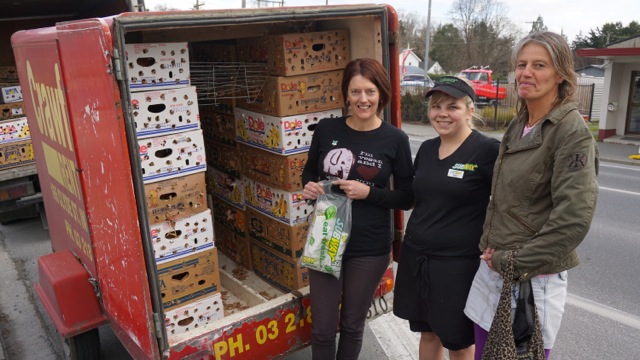 Always a great chance to talk about veganism, we chatted about rescuing animals.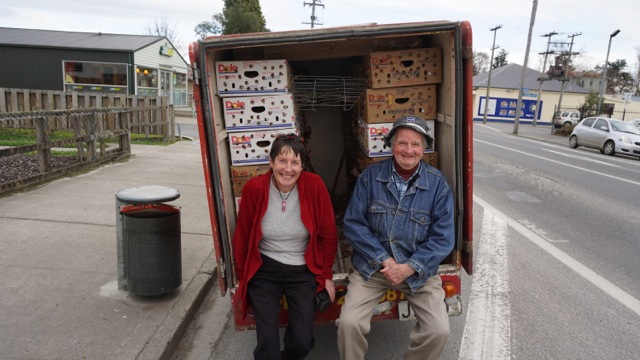 Back on the road again…. , our first hen adopters meeting was in Gore by The Giant Fish :-)  We thanked the three groups of hen caretakers, and headed home.

CUE TV covered our arrival in Invercargill:
We were met on Forth Street by over 30 hen adopters.  With our dear friend Pat helping with boxes, we loaded hens into waiting cars.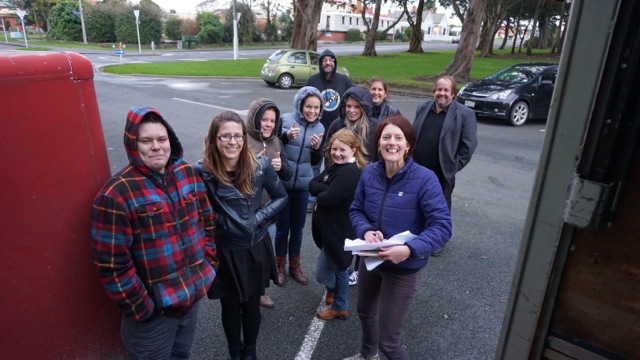 Between two INVSOC trips and our friend Michelle driving extras to freedom in her car, over 465 hens were saved!  46 Invercargill adopters will love these hens dearly, for the rest of their natural lives.
Can you imagine how grateful these hens are for freedom?  To hopefully never again be regarded as a "thing", but as someone, as a female bird, as a hen.  While many of them currently look like the living dead, they WILL recover within a few months, from what animal agriculture has done to them.  Feathers will regrow upon bald skin, flesh will redden, their legs turn to a healthy bright yellow.  As human animals, we cannot apologise enough to these birds for what humans have done to them.  But we will certainly try our best to be kind to Other Animals from this point on.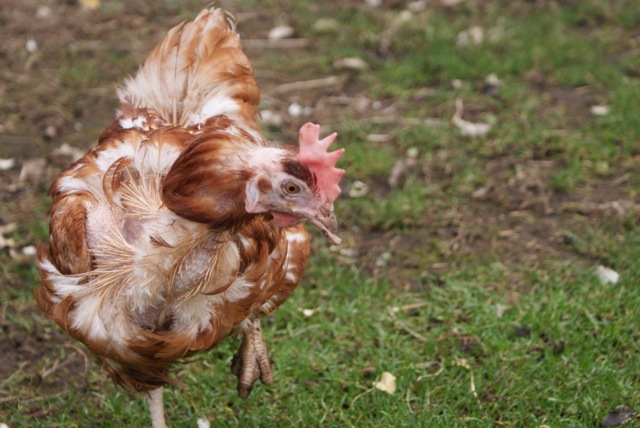 Jordan and Jen adopted ten rescued hens.  This (currently unnamed) hen in particular is VERY friendly.  She sits on our lap and will soon eat from our hands.  Her beak is overgrown at the bottom (from the debeaking process farms put chicks through).  We look forward to seeing her grow, heal and finally live in peace.
We love these hens very much :-)
UPDATE: Dr Goodall emailed us to ask how the rescued hens are recovering :-)