My grandmother always used to say, Jordan, nobody wants to see your terrible photos.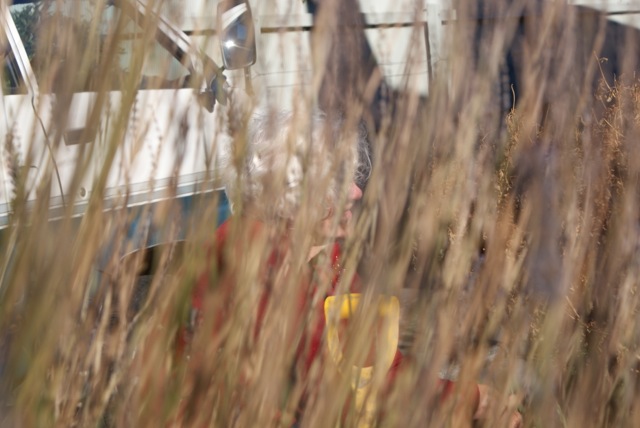 Nah, not really, she was….IS a feminist pescetarian who told me as a little boy to smash the windows of parked cars, if I saw a dog inside suffering heat exhaustion!
 

My grandmother is pretty amazing, and so is Christchurch, the undisputed vegetarian capital of New Zealand.

 

It's frankly incredible what they've got in CHCH.

 

You name it –

 

DeLoreans, intersectional activists, shiny new bicycles, the force of nature that we call Yolanda Soryl….they've got it!

 

Jen had a vivisection blast from the past and we rescued hedgehogs and butterflies in peril.

 

And, a block of polystyrene I fished….OOPS, I mean "TOFU-ed", out of an Ashburton creek with my grandmother's walking stick!
These far-too-many photos fall short of fully praising Christchurch.
 

Our "Garden City"!

 

The Vegetarian capital!

 

The birthplace of democracy and enabler of dreams!

 

But dammit, I've tried to do Grand-ma-ma proud.

 

To put it bluntly, Christchurch rocks.
This is just a small account of Invercargill Vegan Society coordinators Jordan and Jen in one of New Zealand's greatest cities.  It's not Invercargill – nothing quite compares to home – but Christchurch is *pretty* darn lovely :-)
Flying to Christchurch from the mighty Invercargill Airport

Oooh look, we're color co-ordinated, the plane and I! :-)  Mr Key, call off the $25 million dollar new flag, just hoist the rear half of an Air New Zealand plane up the flagpole! :-)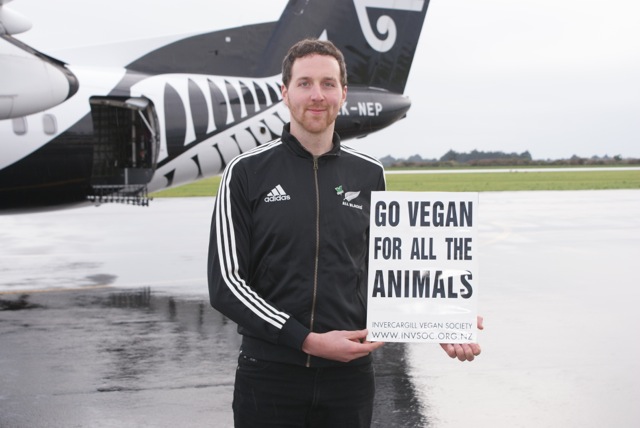 Arriving in Christchurch, we noticed the earthquake struck buildings, and closed off streets everywhere.  But this is a positive, breathless post about just how amazing our "Garden City" is right now.  And Christchurch is only getting better, as she regains her feet.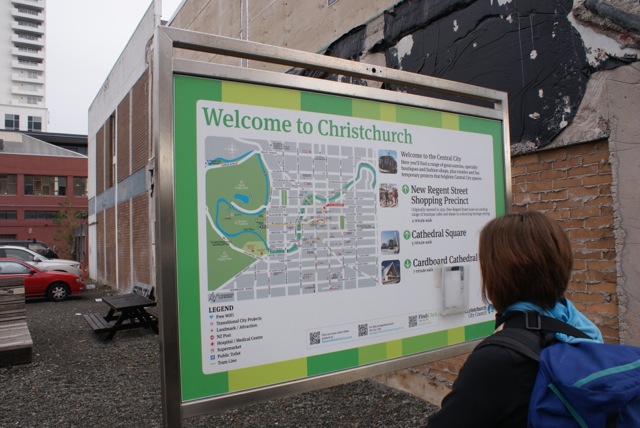 Pulling an identical paper map out, we worked out where we HAD to visit!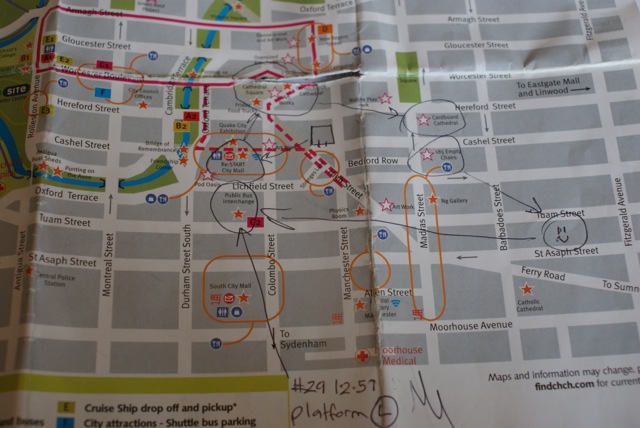 This photo sums up a lot of Christchurch: closed buildings, with parked Porsches and pop culture stuck along the walls.  It's simultaneously shutdown, and brimming with artistic vibrancy, EVERYWHERE!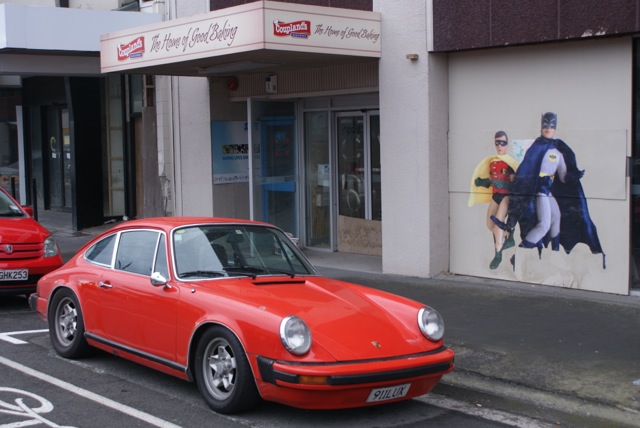 The icon, the Christchurch Cathedral.  When you say "Christchurch", it's this building that springs to mind.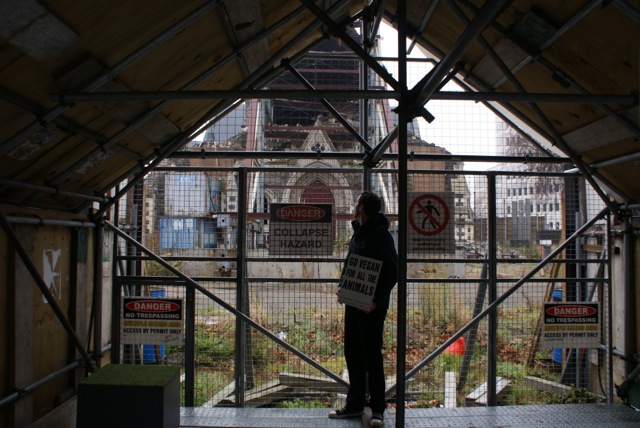 Jen and I hope she is rebuilt, as she was and ever SHOULD be.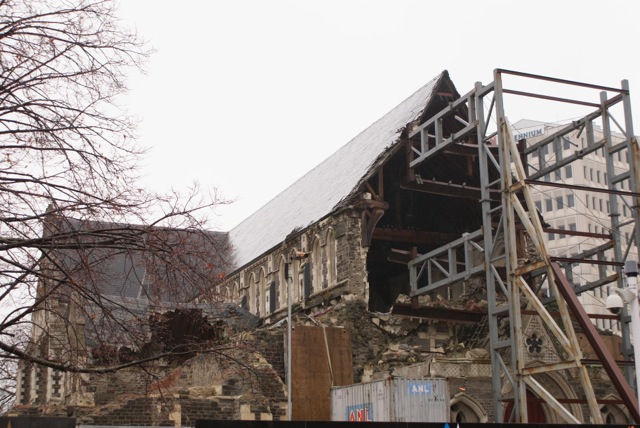 Do you know what's best about your grandmother growing Feijoa and Quince trees?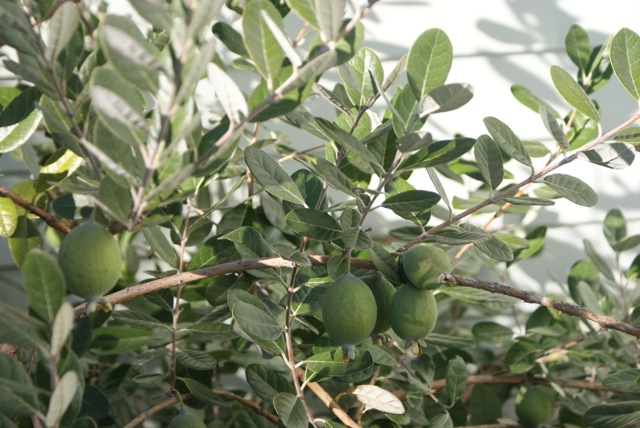 You can make your/her very own Feijoa and Quince crumble dessert!  Absolutely fantastic, served with a little soymilk.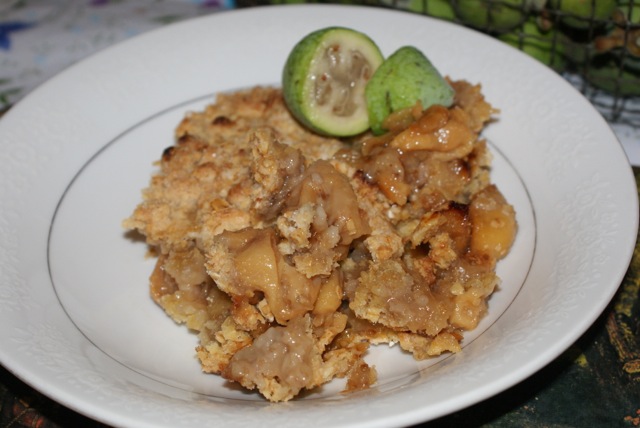 A hammock chair, Jen looks encased in a string coccoon of her own making.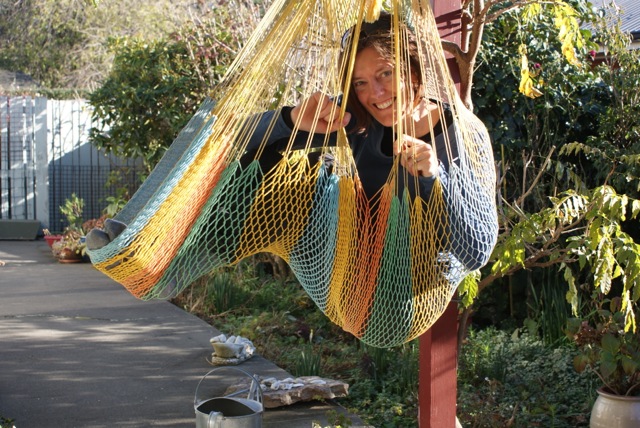 And speaking of really-forced comparisons!  What's with all the monarch butterflies around Ashburton?

Butterflies are everywhere throughout the Ashburton Domain (think Queens Park), and we found many resting on the grass.  On the first day of Winter, they were too tired, to cold to fly?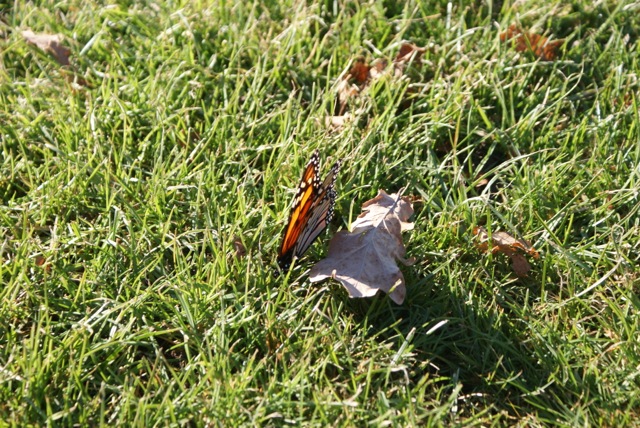 Worried about them being stood upon, we offered a hand up, a finger-up to any we saw stuck in the shadows.  We both had to be careful – the humans not to damage the butterflies wings, and the whole fact that Monarch Butterflies are poisonous :-)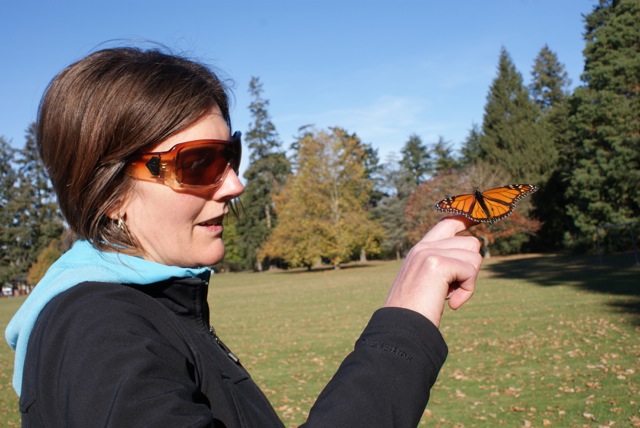 Out of the shadows, into the warmth, the butterflies could then flutter away safely.
Somewhat like polystyrene getting blown into a creek!  Using the handy utensil that is my grandmother's walking stick for added reach…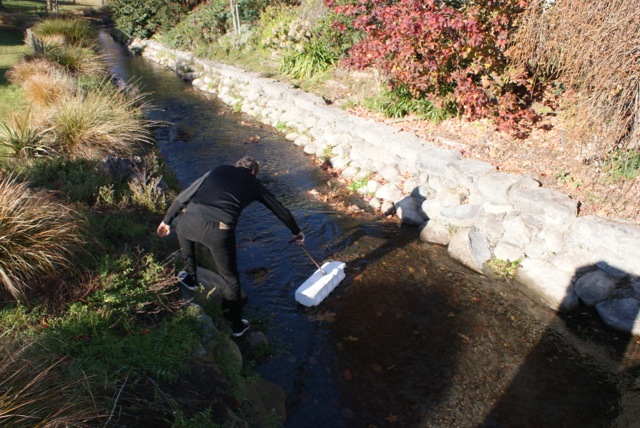 Ta-da!  Victory was ours on the day :-)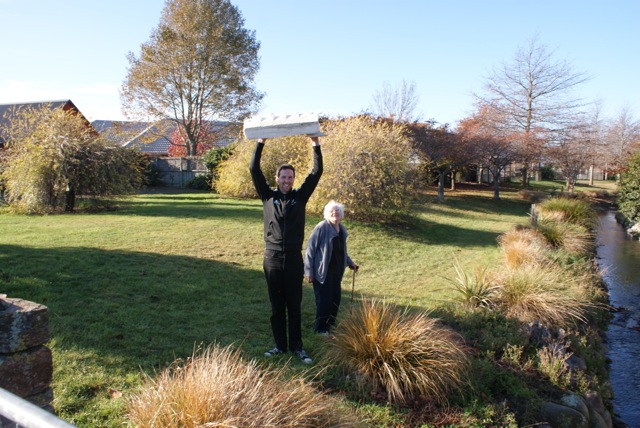 My grandmothers campervan, which always appears to be smiling!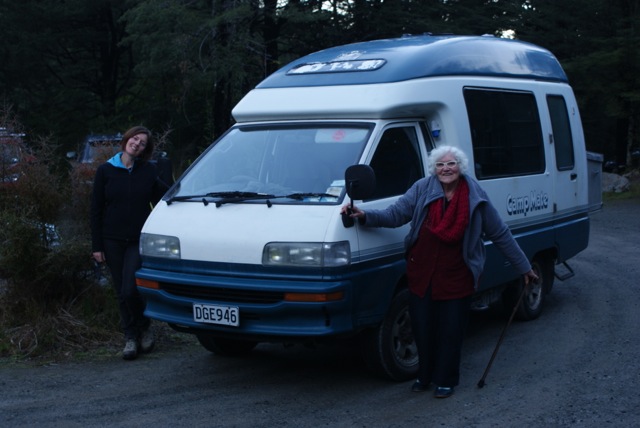 With room for my grandmother and Jen up front, I claimed the bed!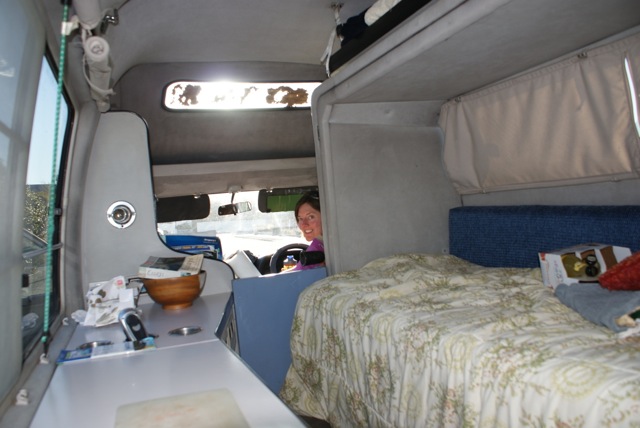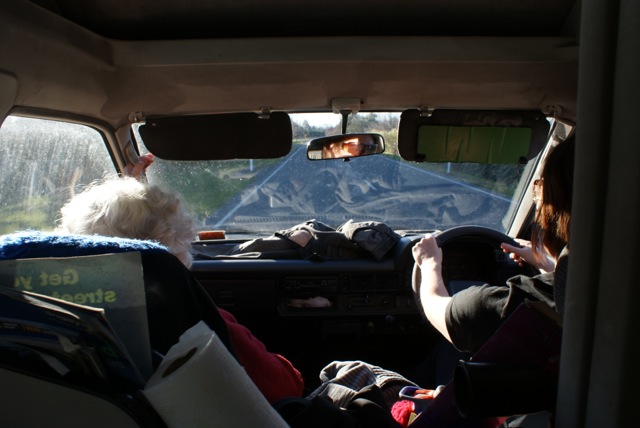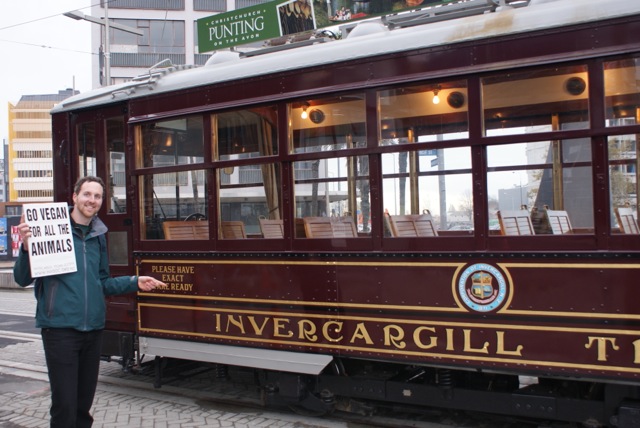 A city passionate about cycling, we visited the great bikeshops of Christchurch.  I'd love a new carbon roadbike!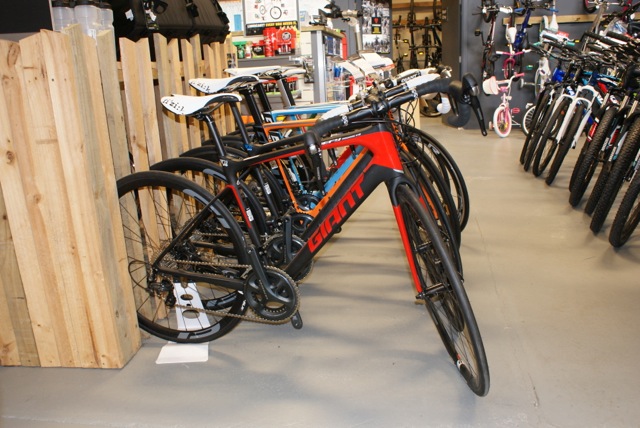 As cyclists, we pay attention to the condition of roads.  Broken glass is a big no-no for bicycle tyres.  And so we were all quite surprised to be driving about Canterbury, past your ordinary Bentley/Rolls Royce-service -workshop-in-the-middle-of-nowhere…….and suddenly we noticed a strange spiky creature in the middle of the highway!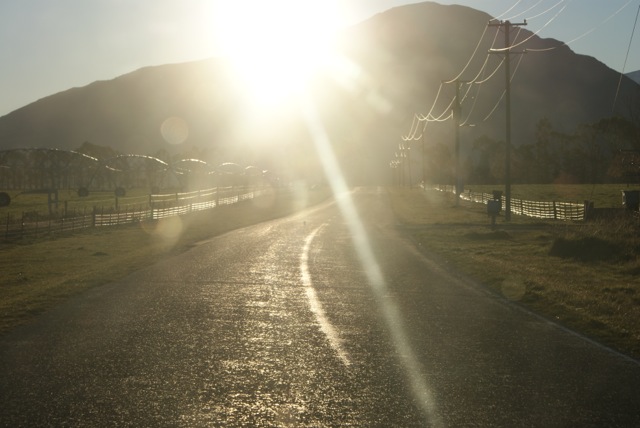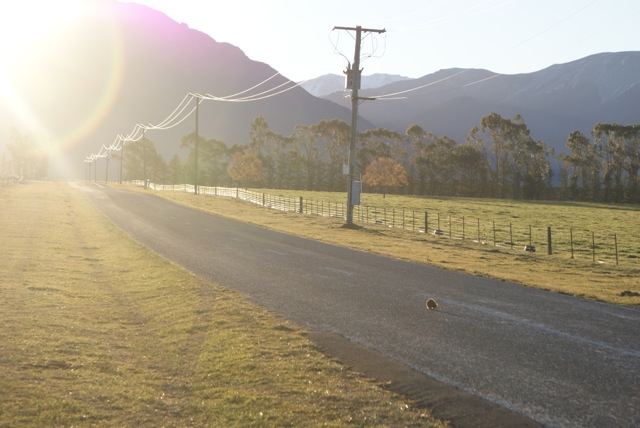 A hedgehog!!!  Now, our little friends here, have a marvellous defence system against birds and mammals.  Who would eat a hedgehog?  How could you get past those spikes?  If "Duck and Cover" worked against Cold War nuclear bombs, surely a hedgehog could resist humans being jerks?
Unfortunately we humans put a spanner in evolution's works when we came up motor vehicles.  Fully loaded up with two vegans and a pescetarian, spike wouldn't save our buddy here.
But quick reflexes did!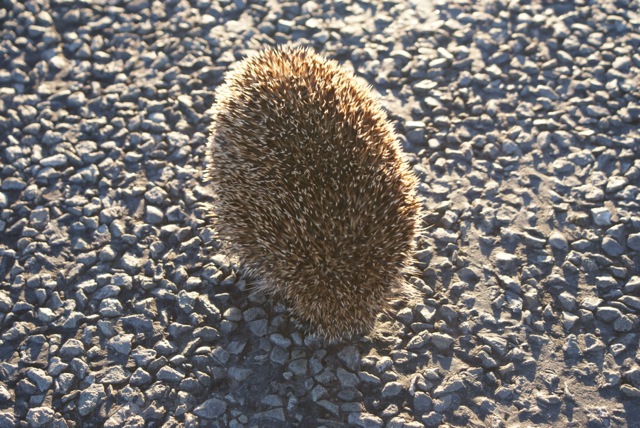 We deployed an ancient animal rights rescue technique, known as "the old towel laying about in back of the car"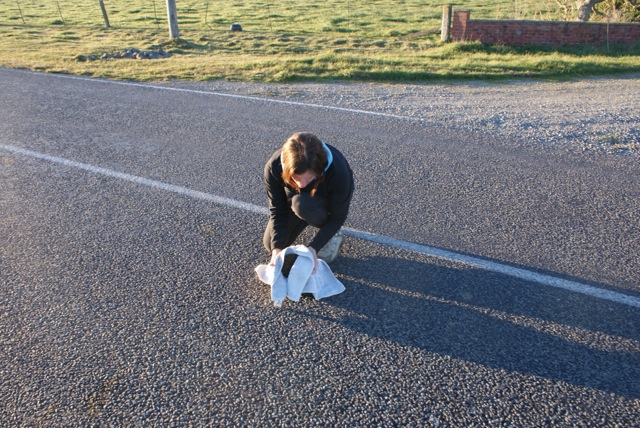 A daring dash onto the highway, Jen towel-ed Ms or Mr Hedgehog up to safety.  Checkout the stunning Canterbury mountain backdrop!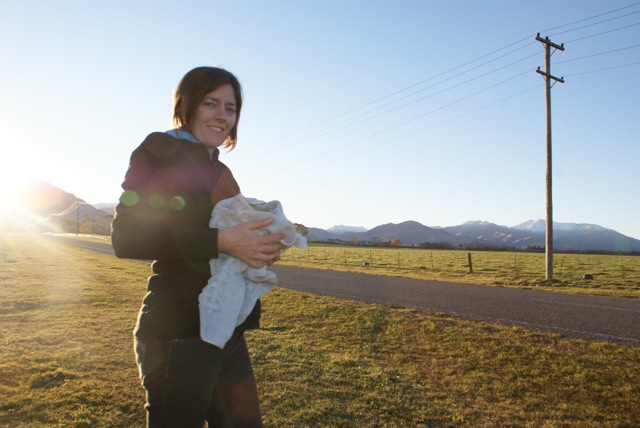 The hedgehog was released free into the long grass, and near a hedge.  They seemed mange free, but generally hedgehogs are nocturnal?  There was a dog at a nearby property, perhaps the hedgehog had been rudely interrupted with a nosey canine snout poking into their beauty sleep?  The hedgehog had decided to get away, by crossing the highway, at midday?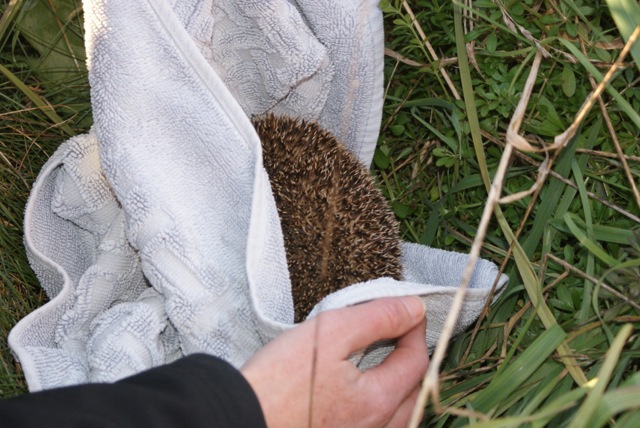 We may never know the answer to that old joke, "why did the hedgehog cross the road" :-)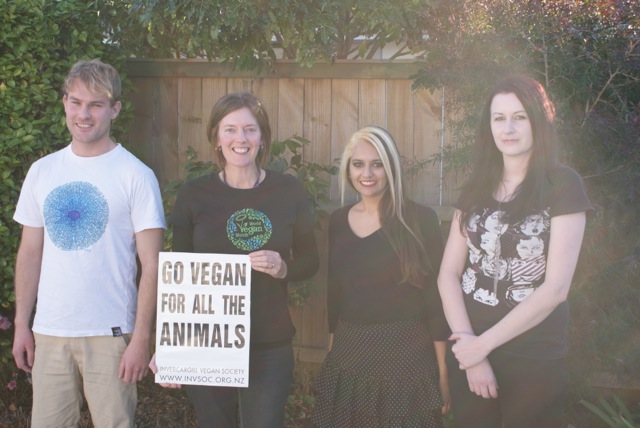 After we had just been looking a neat new roadbikes, Tom rode in on his magnificent bicycle.  We had a very special privilege, being able to meet online friends "in the tofu", it's wonderful :-)
Our discussions ranged from animal rights in New Zealand, to world politics, to what we can all do together to help those in need NOW.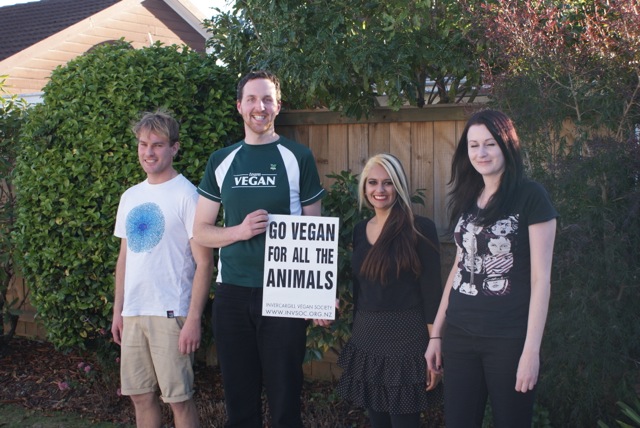 We look forward to seeing Tom, Karishma and Steph again soon :-)
We may never know "why did the hedgehog cross the road", and here is another of life's mysteries.   These photos show Yellow Hen pondering which came first, the chicken or the chicken's egg? :-)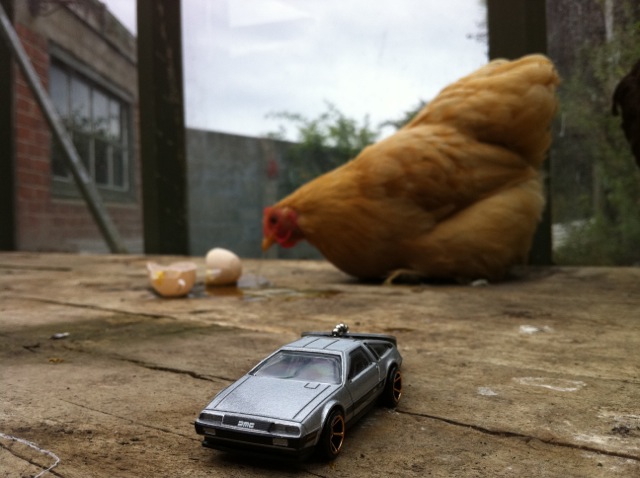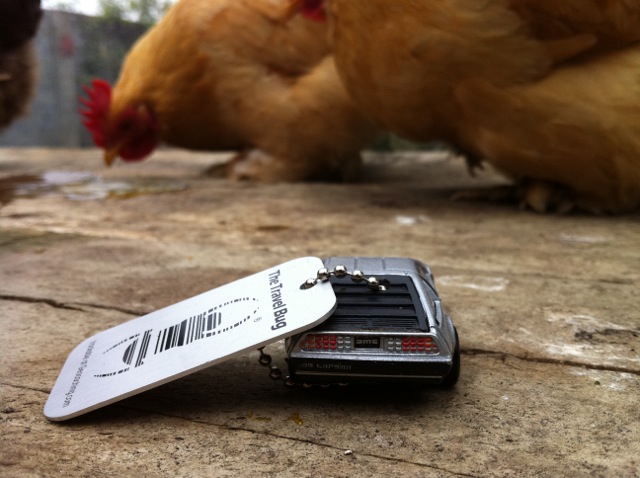 To force a joke (or "yolk"), which came first, the Delor-egg-an, or a mother Delor-e-HEN?   We're not sure, but check it out, an actual DeLorean DMC12!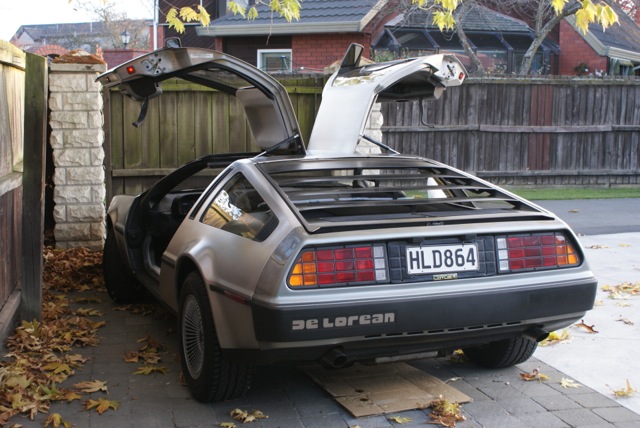 While in Christchurch, we met up with "The Vegan Kiwi", Miranda and Jono at their new home.  Together, they share information about veganism and environmental sustainability.  "The Vegan Kiwi" Facebook page became the first in New Zealand to cross over 4000 supporters, and Miranda and Jono organised an early screening of the documentary "Cowspiracy".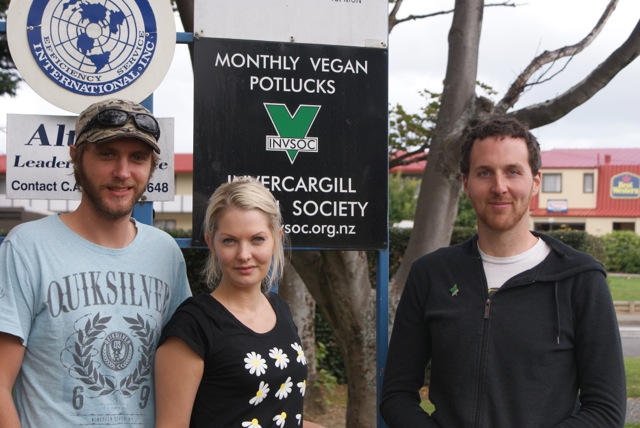 "Back to the Future" fans, Miranda and Jono were visiting our area as part of an American documentary on DeLorean owners.  "DeLorean: Living the Dream" will show them at the bottom of the South Island, perhaps with a voice over saying "….all around the world……" as the powerful RED camera pans across Bluff's famous AA street sign :-)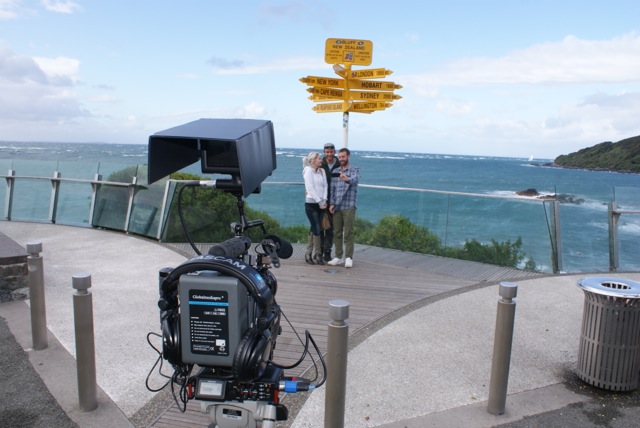 It was great to visit them on their home turf.  Their new, just purchased home turf.  So new in fact, it was going to be their first night sleeping in their first home, and we helped them move their beds upstairs! :-)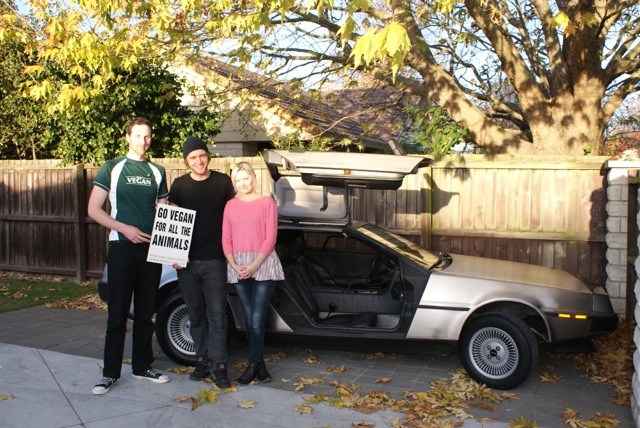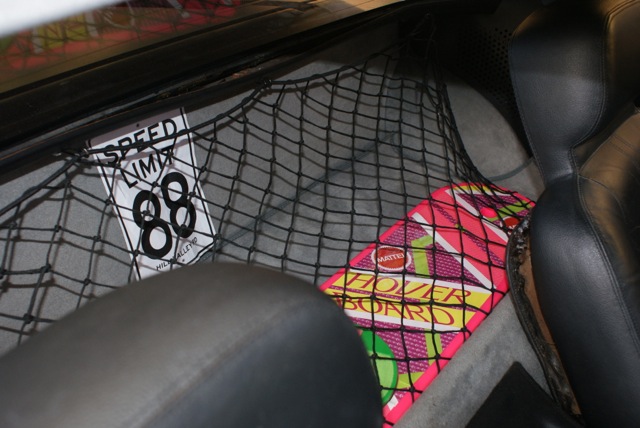 We loved seeing Miranda and Jono's new home, their DeLorean which they're restore-ian-g (sorry!) and to talk with them about vegan activism.  We're all wildly passionate about animal rights, about respecting Other Animals as their own sentient beings.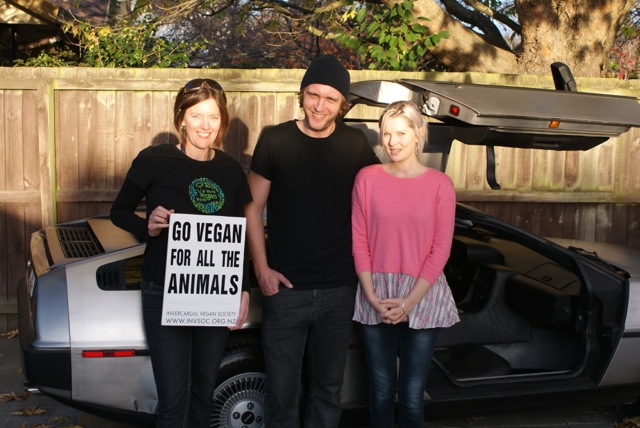 And their passion, our mutual shared respect for animals, and their classic 80's car combined…….The Vegan Kiwi + Invercargill Vegan Society have an announcement for this year's Southland Santa Parade.  In November 2015, barring terrorists in Volkswagen vans demanding their plutonium back, or the mechanical failure of a ~30 year old sportscar…….
We'll enter The Vegan Kiwi's DeLorean in the Southland Santa Parade :-)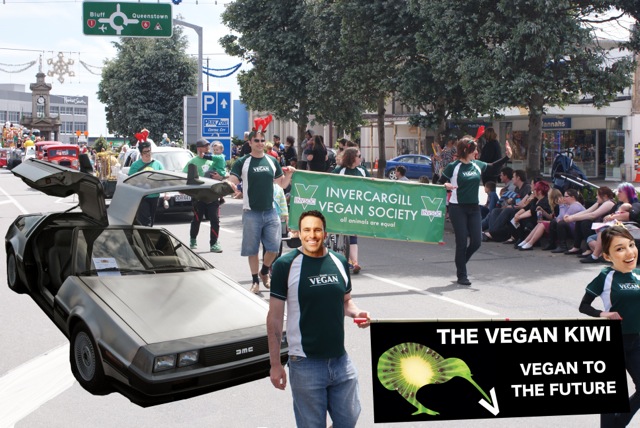 INVSOC enters the Santa Parade each year, with our theme of "the animals of christmas".  Of course we'll still wear our reindeer ears, but we'll also join in with a classic car, a "time machine" giving a second theme that veganism is a sustainable, animal friendly future :-)  We can't wait, it will be great fun to have Miranda and Jono joining in, as we represent Invercargill's thriving vegan community.
UPDATE: see also, our October 21 2015 "Back to the Future day" celebrations, including our opinion piece in "The Southland Times".  We encouraged readers to "brighten the future" for animals in need, to join us in working towards respect for other animals.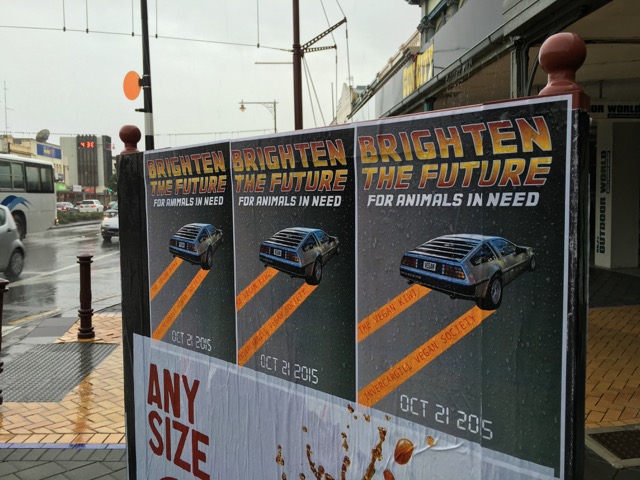 Here's another forced segue-way, and speaking of thriving communities, check out the "Christchurch Vegetarian Centre". Christchurch has long been the vegetarian capital of New Zealand, without question, there is more vegetarian activism and vegetarians per capita in Christchurch than anywhere else.
We were excited to join in with a monthly Christchurch Vegetarian Centre meeting, and to meet all the organisers in person.  They do such a fantastic job, Jen and I wanted to learn all we could!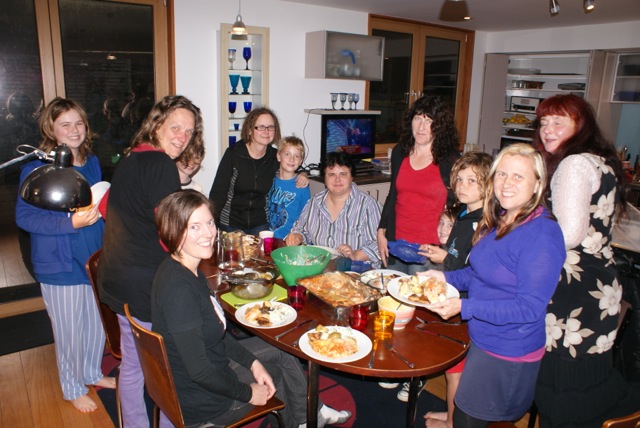 CVC President Yolanda Soryl invited us into her home, and even cooked a meal for all present!  Her children are all vegan, Yolanda is simply an activist with seemingly limitless er, limits.  A vegan force of nature, we asked what could be done to spread veganism in local communities across New Zealand.
One approach, would be to have local representation, volunteers in every city and town working for a vegan world, being active, and being organised.  Christchurch Vegetarian Centre meetings are very well run, and even the recorded minutes are fastidious in detail.
But there was no fasting when dinner came about!   Cannelloni,  salad, potatoes, marinated tofu…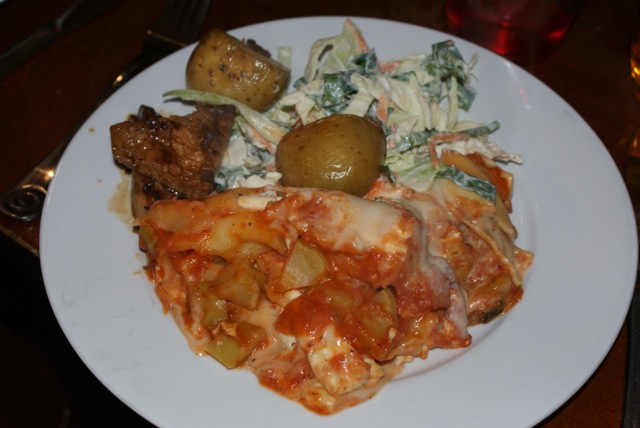 And further members brought different cakes, and coconut ice cream to share!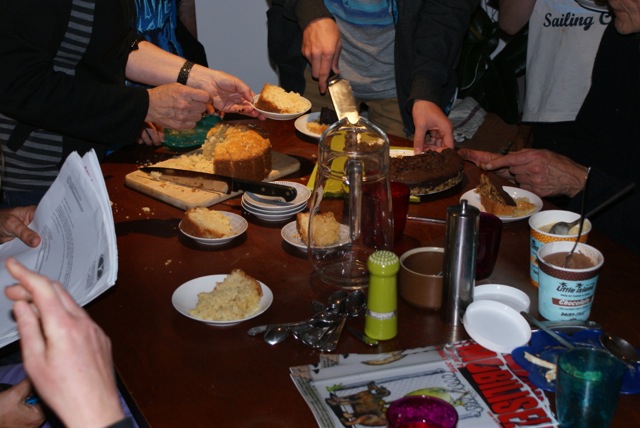 We've found out how Christchurch is such a hotbed of veganism, and it's not just from a hot oven, pouring out vegan food.  Every vegan activist in Christchurch seems driven to doing their best, in really making a difference for animals.  They are organised, they are committed, they work together and get results!  There are more vegetarian cafes in Christchurch per capita, than anywhere else in New Zealand.  They host the biggest vegan events, and have decades of vegetarian history, of leading the nation.
Invercargill Vegan Society, we've got them on a technicality as being – as CLAIMING – to be New Zealand's "vegan capital", veganism is our middle name, literally! :-)
But there's no doubt, Christchurch is New Zealand's vegetarian capital, and the activists of Canterbury deserve enormous respect for their tireless work through GENERATIONS of activism. They're bloody amazing, and animal lovers across New Zealand should aim to share the (work)load that Yolanda, Anna, and everyone involved with CVC take on.
Christchurch Vegetarian Centre, WOW!
While visiting the Vegetarian capital of New Zealand, we had to try out the vegan food available at all their cafes!  This beautiful, sign free building is "The Lotus Heart".  And boy, what a selection!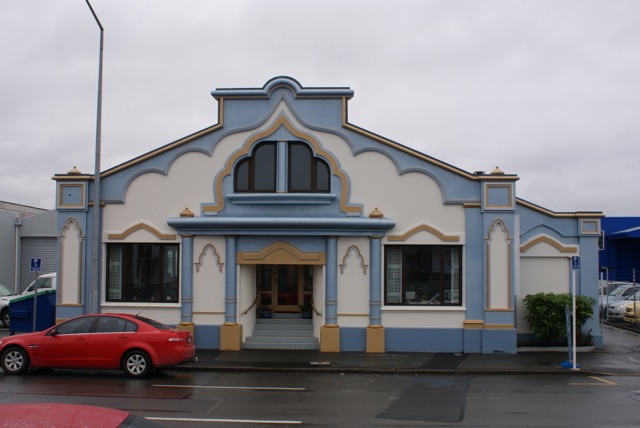 They even have "environmentally friendly LED" lightbulbs!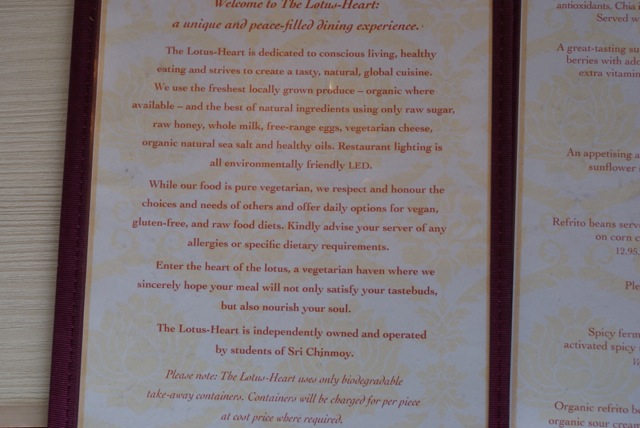 Breakfast, Mains, Indian and Burger subcategories.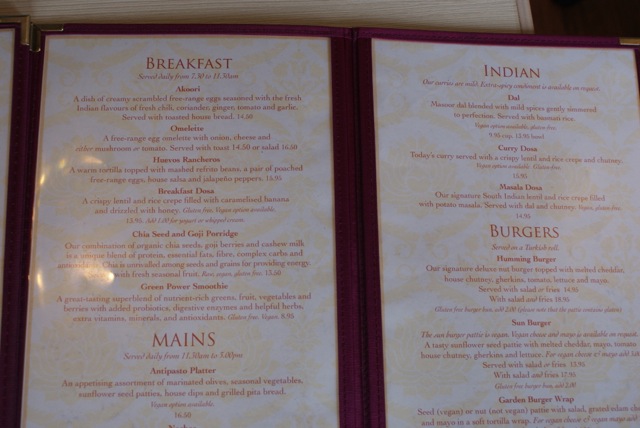 Side Orders, Desserts, Smoothies.  And on the right, that, my friends, is a TEA menu!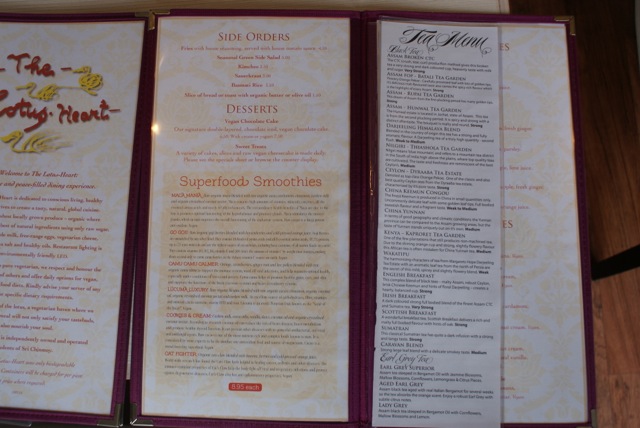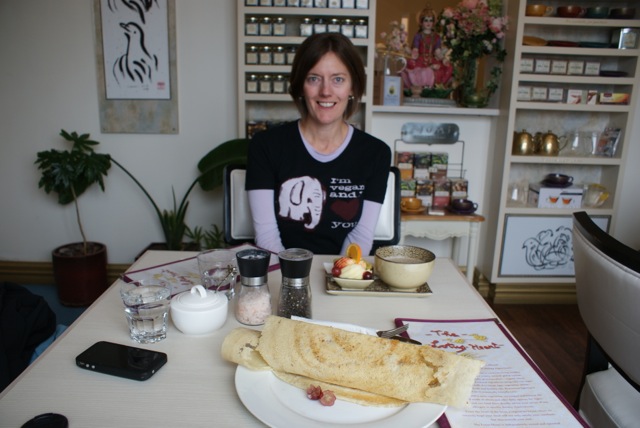 Fantastic!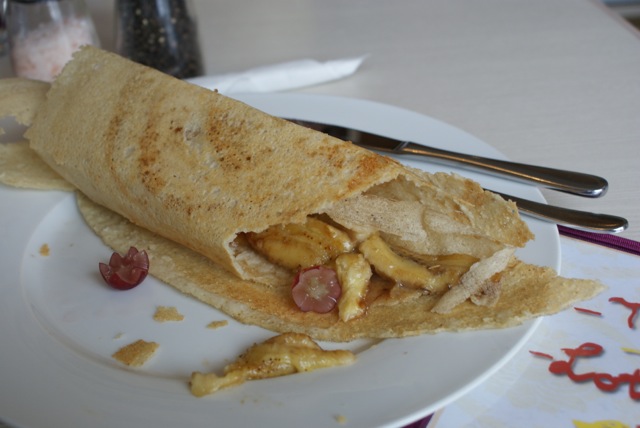 We had breakfast at "The Lotus Heart" cafe, but…..before we had to leave Christchurch….we had one last place to visit.  We rang a taxi, and went on a whirlwind, blast-from-the-past ride.
During the 1980's, Invercargill Vegan Society coordinator Jen Stone volunteered for the "New Zealand Anti Vivisection Society" (NZAVS) in Auckland.  A group of teenage friends organised weekly street stalls in Aotea Square, they did an amazing job of standing up for animal rights, and in particular, opposing animal experimentation.
During our 2015 trip to Christchurch, we visited the main NZAVS office.  Check out the paintjob!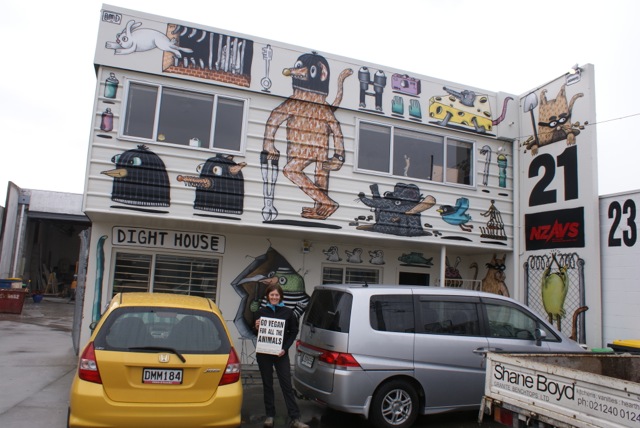 We asked the the taxi driver to stay please wait outside, "yo homes, smell ya later!".  Well, our actual words were more like, "please please please, don't leave, please please please, we'll be right back!" :-)
Rushing up the stairs, we knocked on the door and met…..Tara and Dave!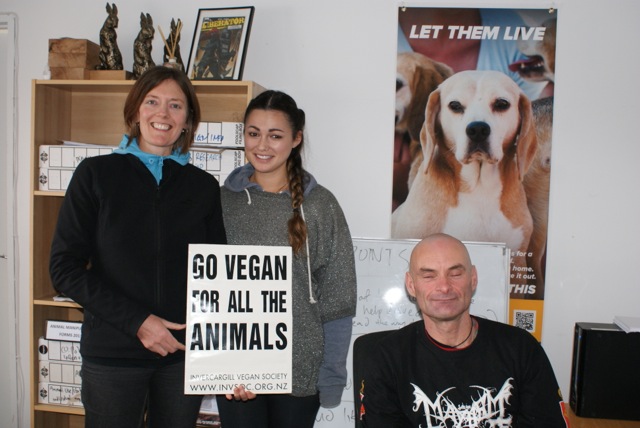 The New Zealand Anti Vivisection (NZAVS) office has a chart about numbers of animals killed in medical experiments.  In 2013, the numbers equate to over 200 animals killed each and every day.  In a vegan world, we can't wait until all animals are free from being hurt and killed.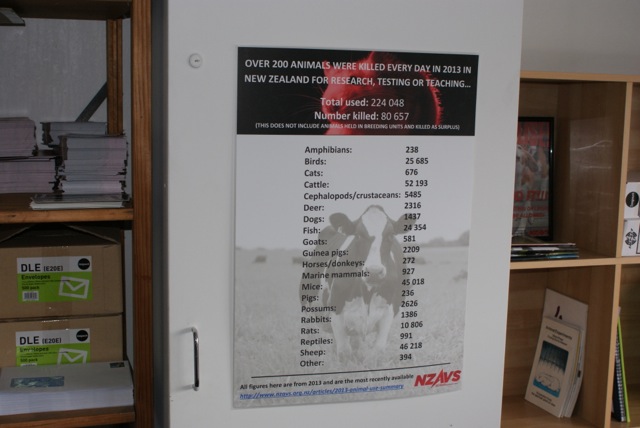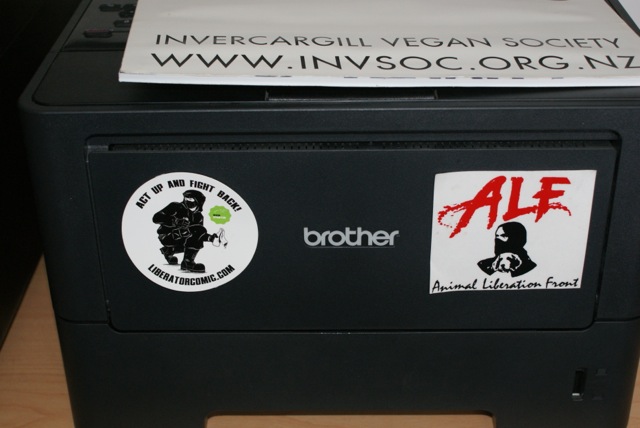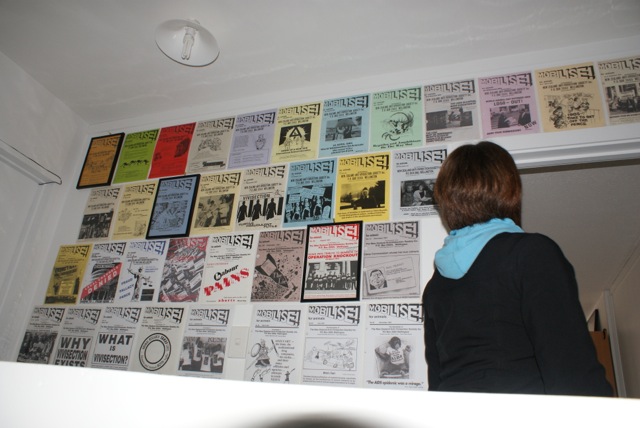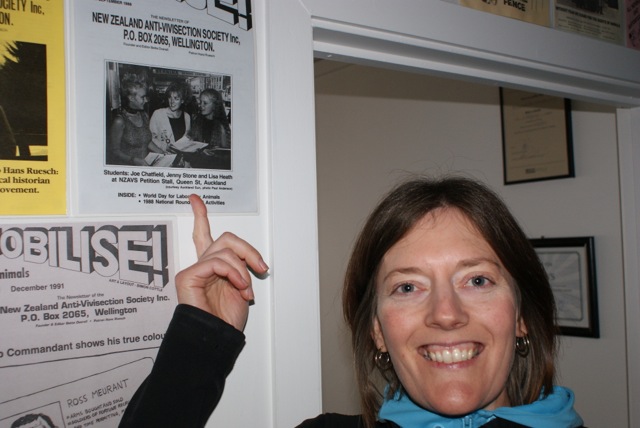 Ms Jenny Stone vegan activist 2015, meets Ms Jenny Stone Auckland animal rights activist circa 1988 :-)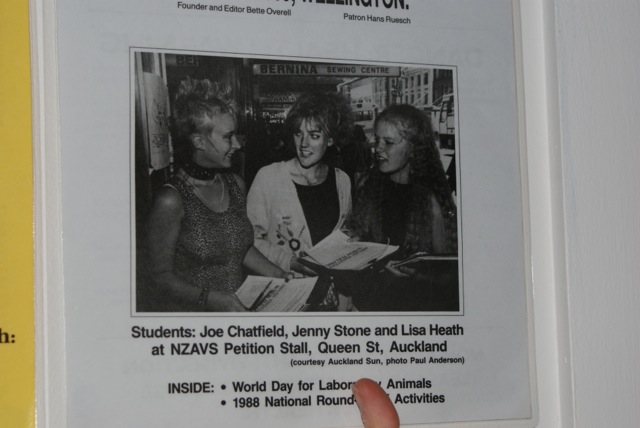 Thanking Tara and Dave for a trip back through memory lane…..we remembered the taxi!  Rushing back out to Christchurch 2015, we got back to "The Lotus Heart" for lunch, the second meal of the day, at the same cafe :-)
The total taxi fare, still under $30 dollars.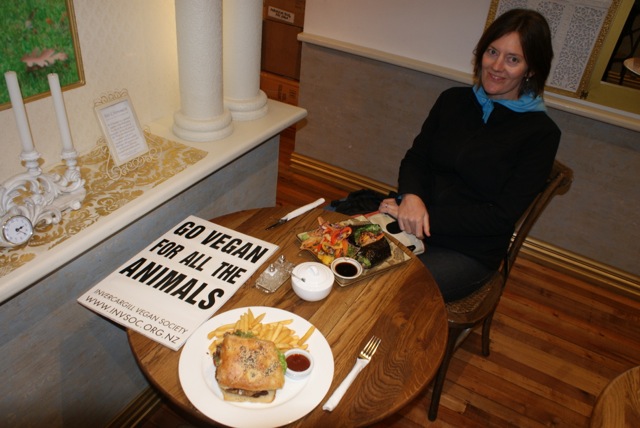 For lunch, right before we had to get a bus to the airport, we had Nori wraps: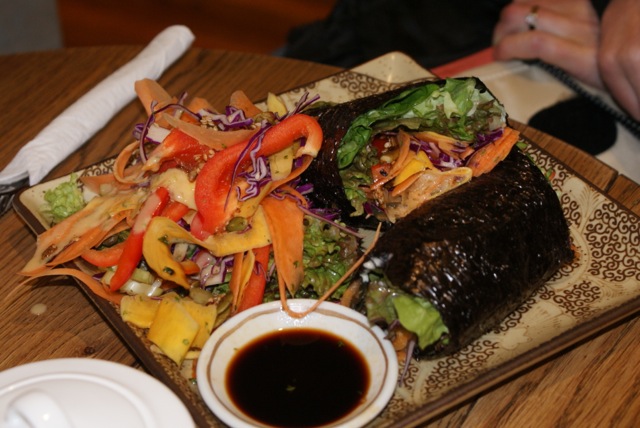 As well as a "Seed Burger" with cashew cheese, and chips :-)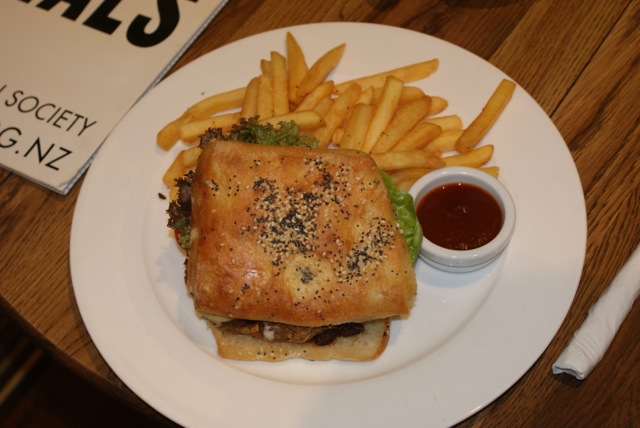 As we ate, a diner next to us noticed our "Go Vegan For All The Animals" sign, "Invercargill Vegan Society".  Turns out, Peter lives in Christchurch, first became interested in a plant based diet for health reasons……AND had heard some guy from Invercargill on talkback radio!  He'd been haunted all these months or years by a Southland accent promoting veganism.  Eating his lunch in "The Lotus Heart", seeing the sign….it all came back to him :-)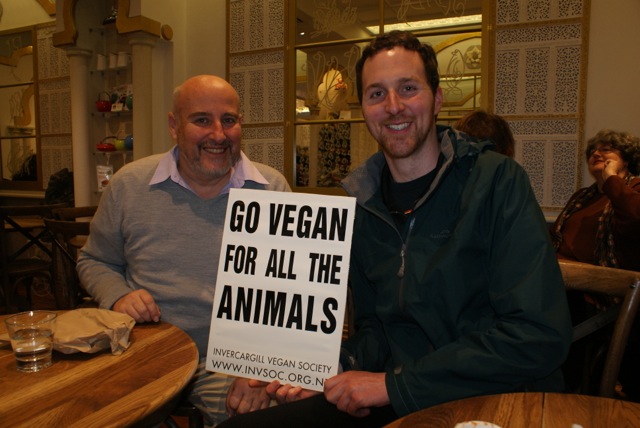 Peter was a really enthusiastic about not eating animals, for health, and out of basic respect.  He gave us a ride back to our hotel room, and we invited him to stay with us next time he's in Invercargill :-)
We flew home with an enormous respect for the vegan activists of Christchurch, and with a hug from my grandmother :-)  We look forward to the Southland Santa Parade 2015, with The Vegan Kiwi and their DeLorean time machine wishing everyone a sustainable vegan future.  Learning from Miranda, and Jono, and Karishma, and Steph, and Tom, and Dave, and Tara, and Yolanda, and Anna, and……….it had been a wild week in the vegetarian capital of New Zealand, Christchurch.
Thank you to everyone for your help.  We hope to see you again soon!
Jordan and Jen
Invercargill Vegan Society (INVSOC) Coordinators