The Southern Institute of Technology (SIT)'s 2015 Orientation Week Market Day (phew!) started with a bang!  Seriously, students whacked piñata for sugar, it was crazy.  Turning things up a notch were the Invercargill Vegan Society, on a gorgeous summer day the polar opposite of last years rained-in event.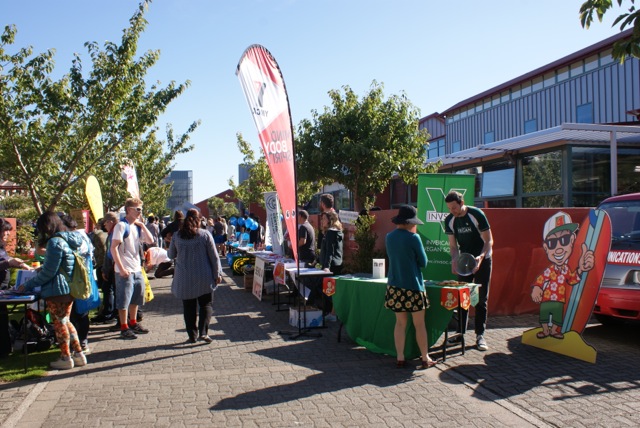 As part of Orientation Week, Market Day focuses on showing students what local groups, services and vegan societies are active in the region.  INVSOC was happy to join forces with SIT, alongside political parties, gyms and council departments.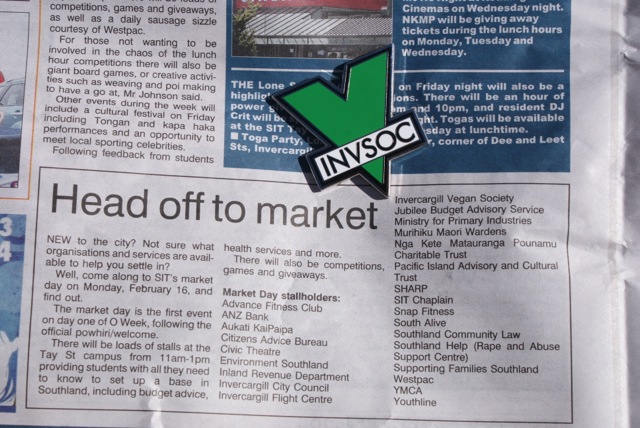 For such a wide reaching event, it would take a very special speaker to really kickstart SIT's Market Day 2015.  Behold, perhaps the greatest living New Zealander, Invercargill mayor Tim Shadbolt!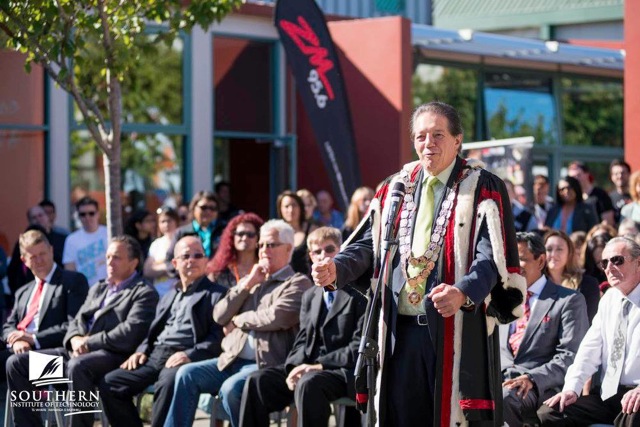 The Invercargill Vegan Society have had a long running admiration for mayor Shadbolt.  Recently we hung out with two Tesla Model S electric supercars.  We decided to stop by Mayor Tim Shadbolt's house unannounced.

"We weren't sure we had the right Mayoral house, the letterbox numbers are written in black marker pen?  Nobody seemed to be home.  There were cars parked everywhere, for a big party.  I went back to the electric car, as you do.
Carl knocked on neighbourhood doors asking if they knew "Tim".   Imagine the situation:  8pm on a lovely summer day as the sun slowly sets, and you get a knock on your front door.  It's a man claiming to have the coolest car in the world parked outside, to have installed "Superchargers" throughout Europe, who wants to take the Mayor for a ride with a local vegan extremist.  You're his neighbour, do you have his personal cellphone number?"
Invercargill mayor Tim Shadbolt has also worked with us for this great video promoting the Invercargill Vegan Society.  It was an honour to "wear my heart on my sleeve" – our mayor reading this grandiose script pinned to my sweatshirt!
SIT's 2015 Market Day had the theme of  "World famous in New Zealand", it's hard to imagine a better example than Invercargill mayor Tim Shadbolt.
But we tried to match the mayor….with the Four Square guy! Everyone's favourite supermarket mascot (by default?), "Cheeky Charlie" is always there to give you a thumbs up.  And for "world famous in New Zealand" Kiwiana pop culture on such a sunny day, surfs up!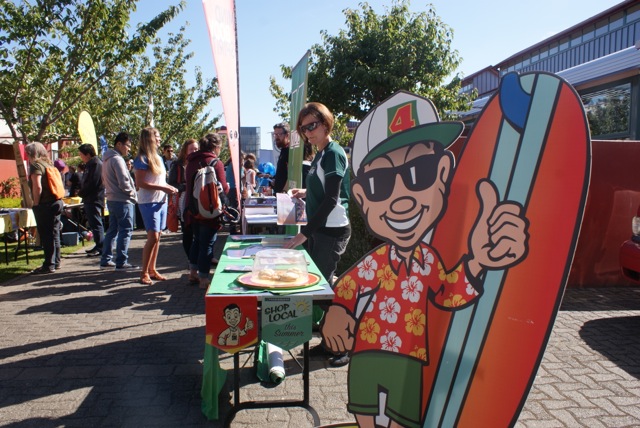 Students loved seeing "Cheeky Charlie" at SIT Market Day.  Thank you to Four Square Newfield for lending their mascot, Four Square Ascot for the flag pendent banners.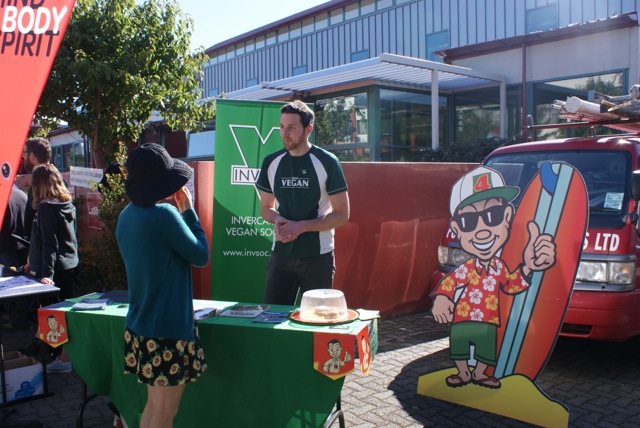 The Invercargill Vegan Society promote a vegan lifestyle without eating, wearing or harming animals.  Often the focus is on food, since people eat three times a day…..except at Market Day where every stall offers food samples!  INVSOC was no different, with our baked giveaways this year being…….
"Cowboy Cookies" baked by Noelle and Russell Masters.  With white vegan chocolate and a moist chewy texture.  They were brilliant and showing how fair trade chocolate can be *vegan*, and even "white" chocolate absolutely dairy free, without any cow's milk watering things down.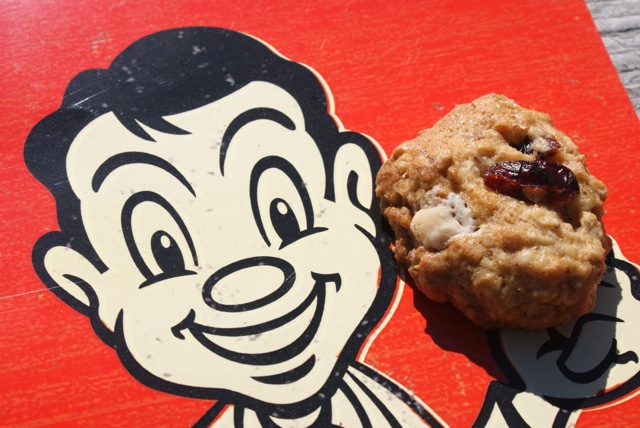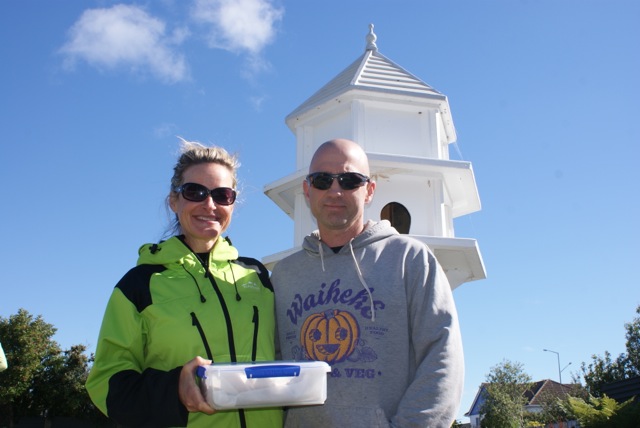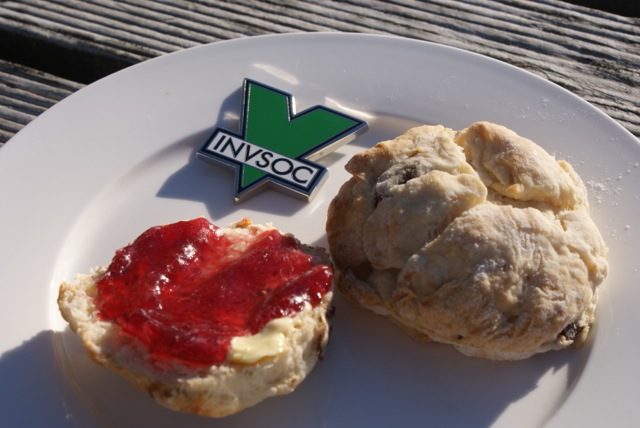 Have you heard how "first impressions last"?  Promoting veganism to SIT students, we certainly hope we made a positive impression, encouraging people to respect animals.  Our new friend Narnia *certainly* made a great first impression on us.  Narnia rode her tandem bicycle (!) to INVSOC HQ with one of her six children (!!), offering baked help for our Market Day giveaways (!!!)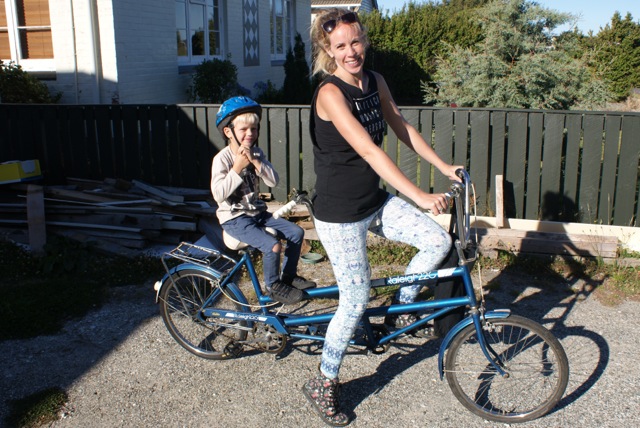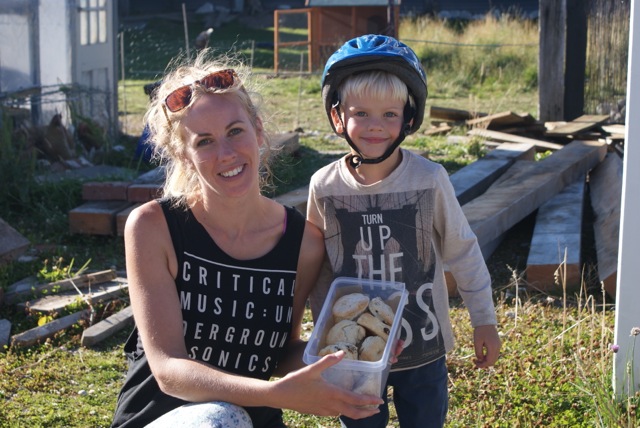 INVSOC members Jordan and Jen had a great day in the sun, talking about how to help animals in need, with a vegan lifestyle. We spoke about our rescued Hen Friends, meeting our animal lovers at monthly INVSOC potlucks and quick easy vegan meals.
We gave out DOZENS of INVSOC vegan information cards, perhaps 60 cookies and over a dozen date scones.  We met interesting people from all walks of life.  Several were vegan, vegetarian, or have long followed the adventures of the Invercargill Vegan Society online :-)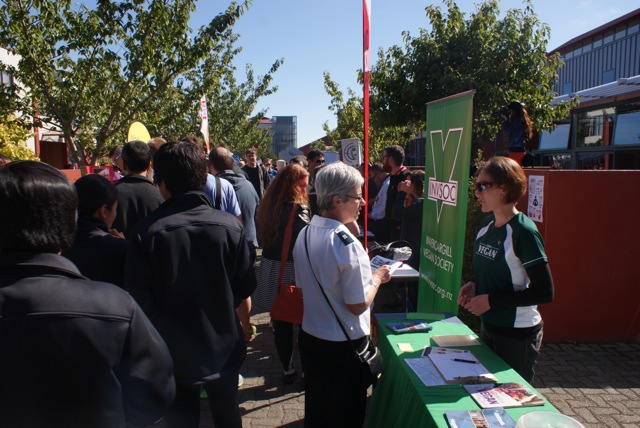 friends making claw hands,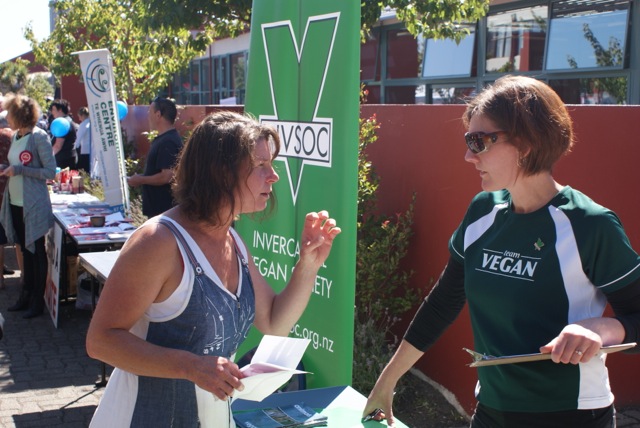 people interested in signing up for our monthly Invercargill Vegan Society potlucks,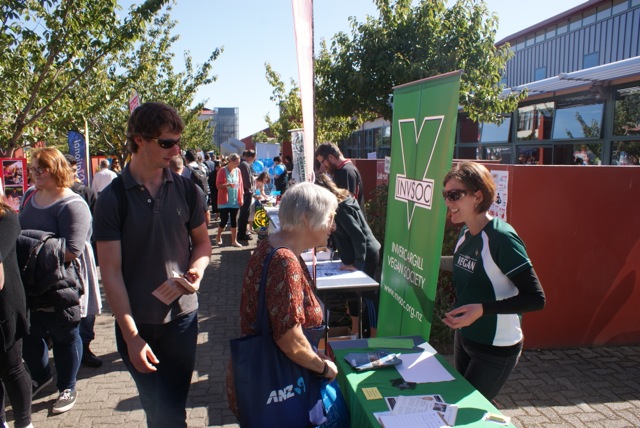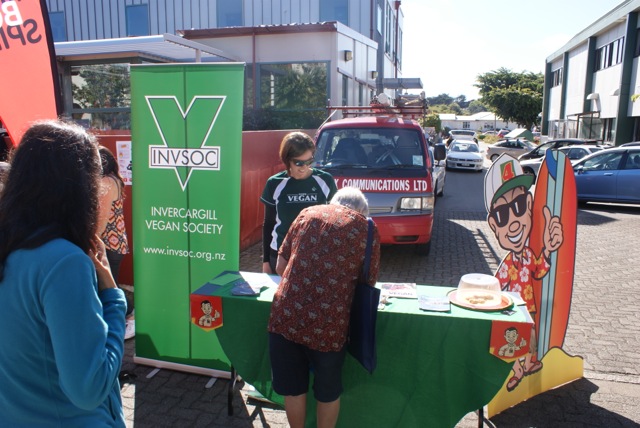 and New Vegans excited to learn about a local vegan organisation :-)  Tom decided to go vegan about two weeks ago, it was great meeting him at Market Day.

SIT Orientation Week Market Day 2015 was packed, and at times we had six or more people at the Invercargill Vegan Society stall.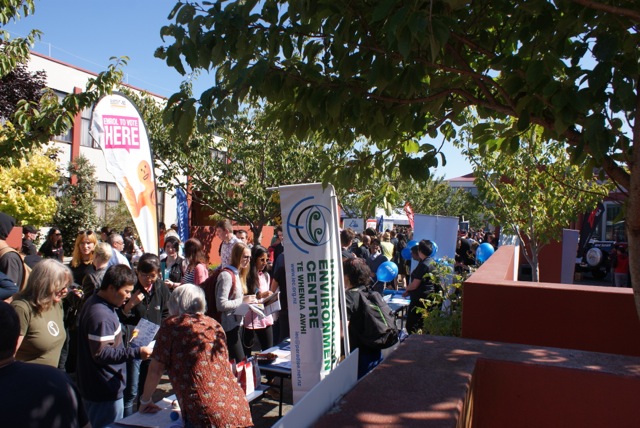 SIT Orientation Week Market Day 2015 was wonderful!  We look forward to next year….let's hope the great weather holds! :-)