The Dunedin Skillshare 2015 was excellent!  An opportunity for southern animal rights activists to come together, Invercargill Vegan Society (INVSOC) coordinators Jordan and Jen couldn't wait to learn more!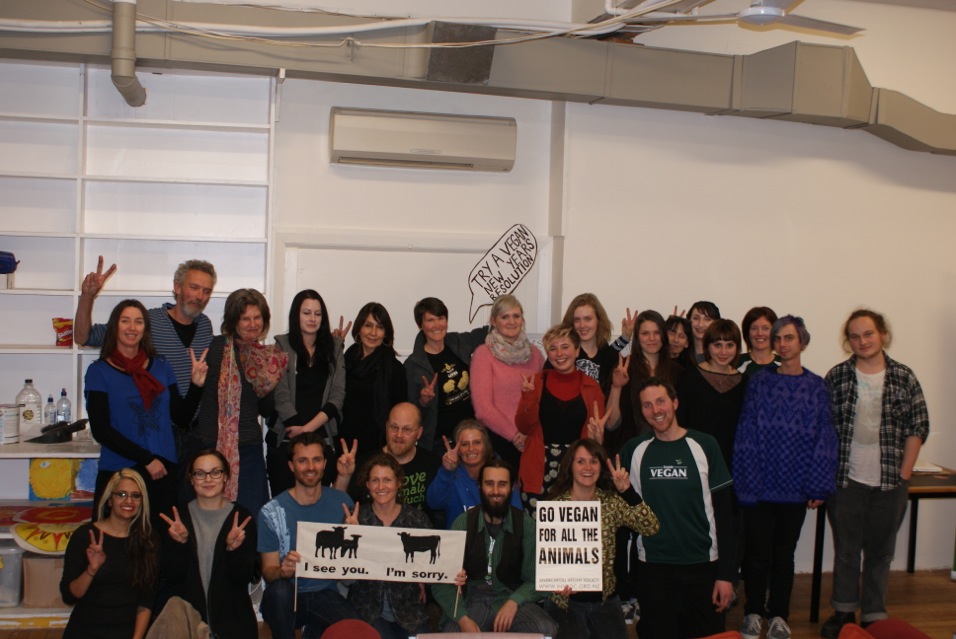 A variety of activists spoke at the Dunedin Skillshare.  We covered topics from media skills, to a general discussion of "where to from here".  Hint, onwards and upwards :-)

In the words of organiser and presenter Michelle: "The skillshare went really well.  We had around 30 people – 2 from Christchurch that attended the Christchurch skillshare and Jenny and Jordan from Invercargill who gave a very inspiring presentation on Vegan Advocacy."  Oh shucks :-)
"Carl was MC and he did a really good job, setting the scene for why we were there, and keeping things moving. I started the morning with your Media 101 presentation, which I really enjoyed doing, was good fun. Unfortunately our recording equipment was a bit poor in sound quality so that let things down a little, but otherwise it was successful."
Michelle pretended to be a reporter, using a handy hairbrush as a microphone!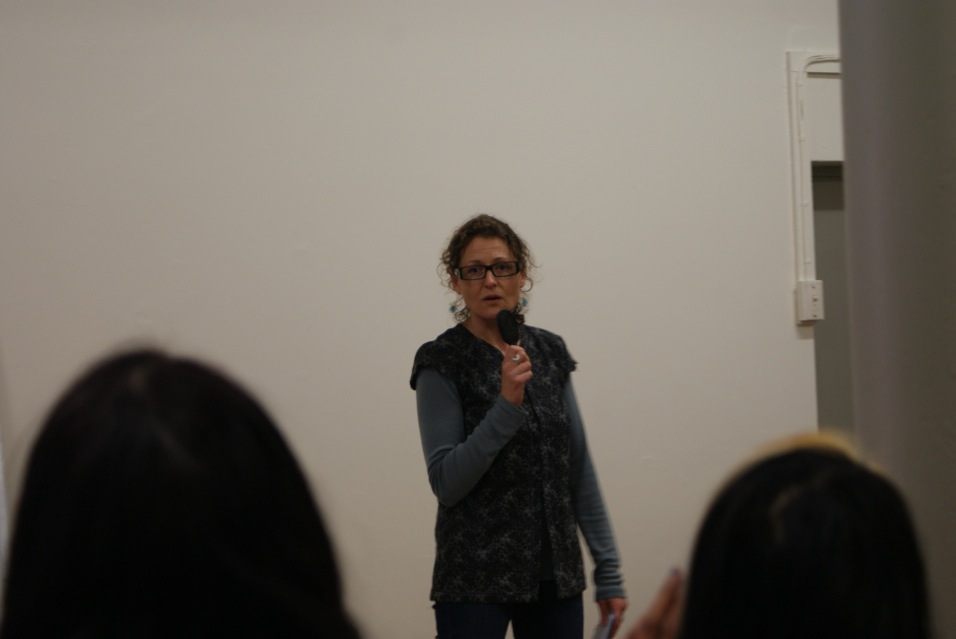 INVSOC co-ordinator Jen spoke to "the reporter" about life without cosmetics testing on animals :-)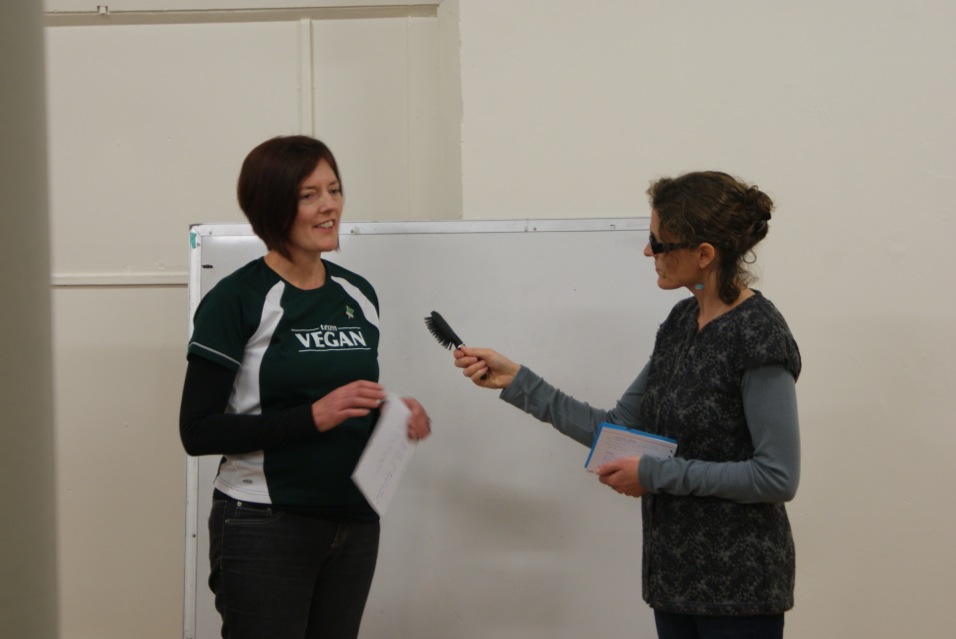 Back to Michelle's description.  "Erin followed with Marks Law 101 talk and did a really great job of it"

"After lunch Carl covered Campaign strategy and Lysandru followed it up with Direct Action. There was a lot of experience on these particular topics in the room and there was a lot of great input from others too."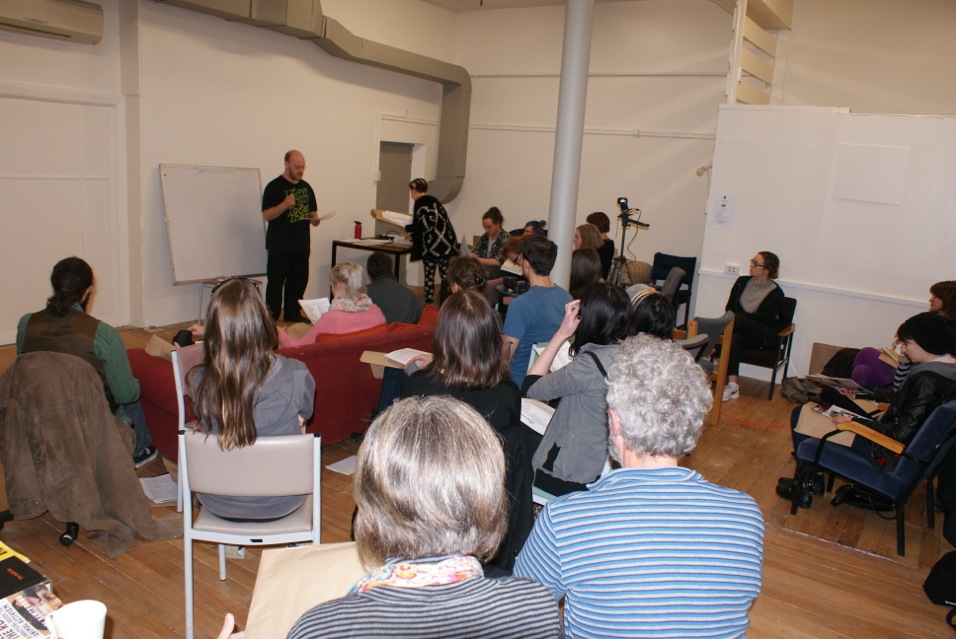 "We ended on the really positive note that was Jenny and Jordan's talk which left everyone feeling great and ready to go. A little talk about where to next followed but it was such a big day (all of that in one day) that not much of that was possible. A plan was made to have regular monthly Vegan potlucks which we can do more planning at however.
My sister, who is the Dunedin SAFE Coordinator and I catered the event with Vegan nachos and plenty of cakes etc. Given that food always wins Vegans or borderline Vegan's over, that was a good strategic move! Erin also did beautiful karikia's at the beginning, end and before lunch, and we lit a candle for the animals and left it lit all day.
The feedback was really positive. People got a lot out of it and were inspired to move forward for animals."
At the end of the workshop, we represented the Invercargill Vegan Society, and spoke about vegan advocacy.  Setting up early, we released The INVSOC-olith banner.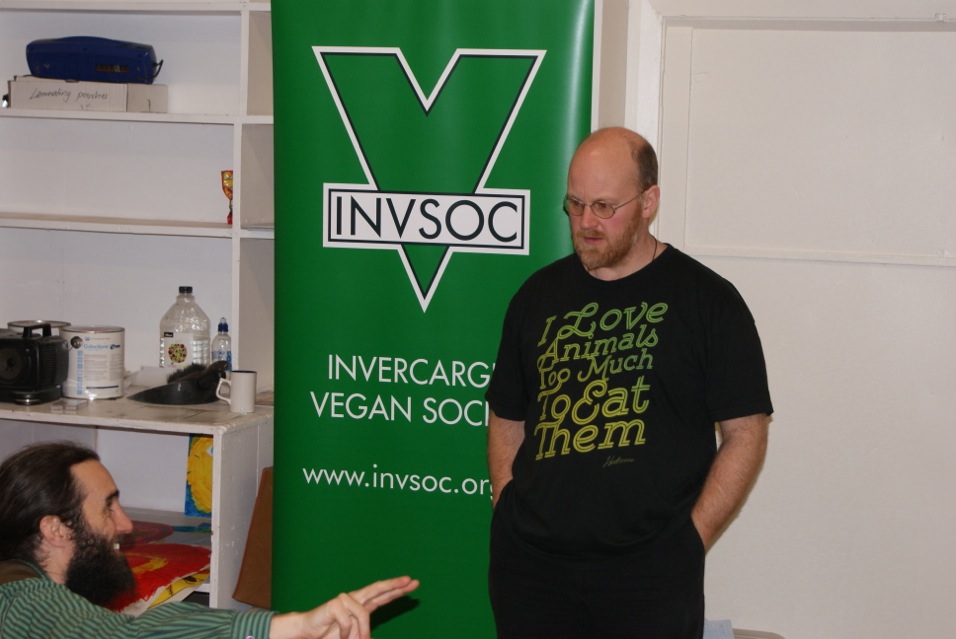 Our vegan workshop focused on brief introductions of ourselves, and a selection of vegan activism that we had found effective in Invercargill.  We suggested specific examples that would easily work in Dunedin.  Finally, our presentation ended on a roleplay of seizing everyday opportunities for vegan activism!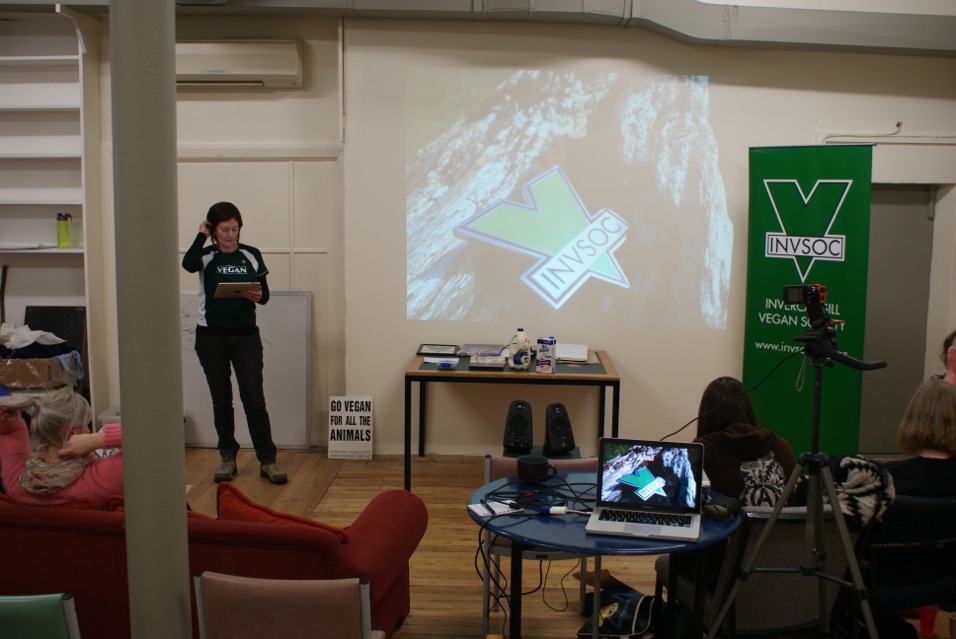 We have a partial recording of our talk.  The Skillshare video camera died halfway, unable to handle our Southland accents? :-)
Twenty two minutes of our 45 minute workshop can be seen here: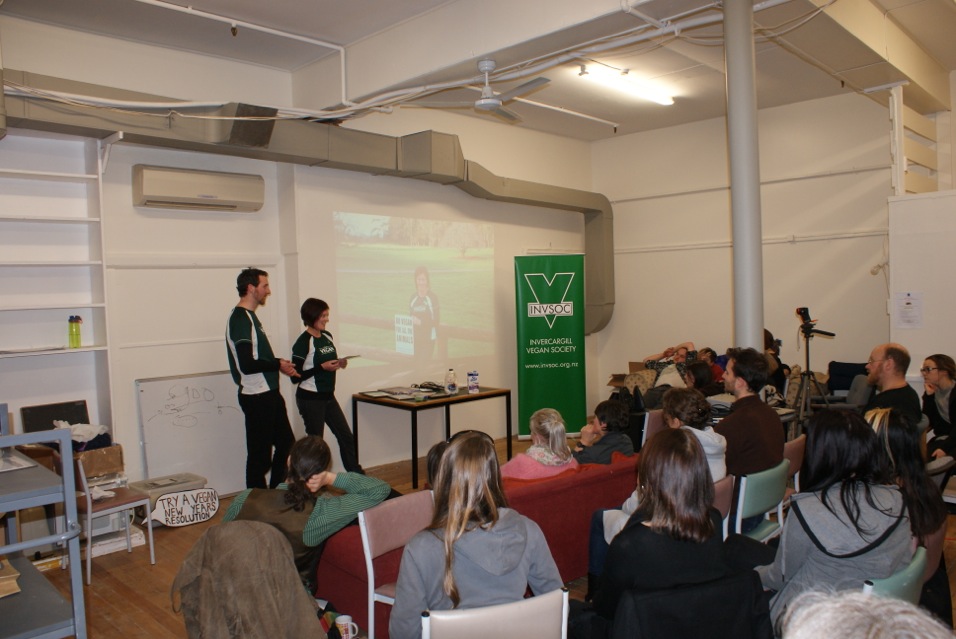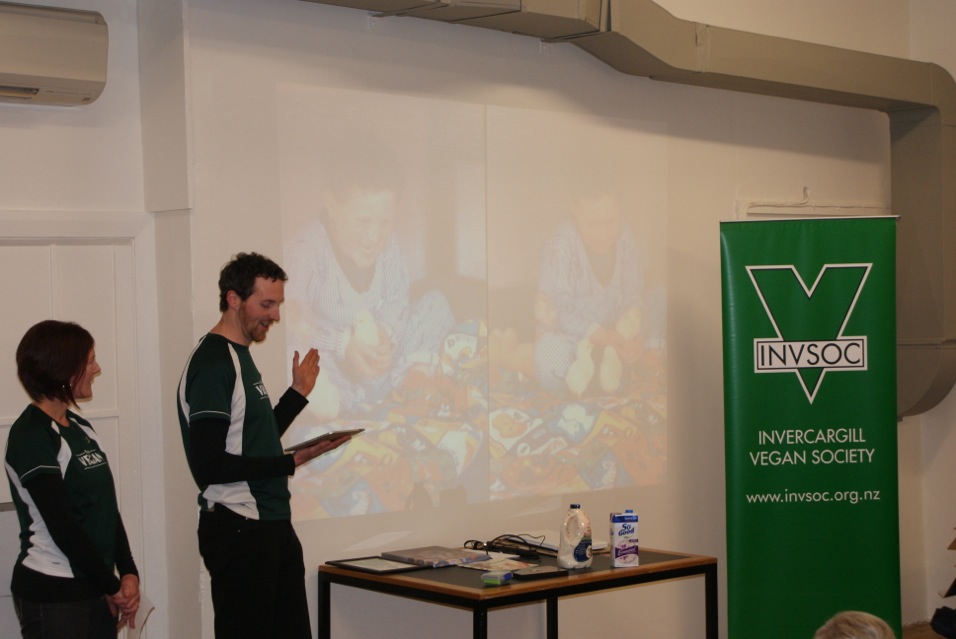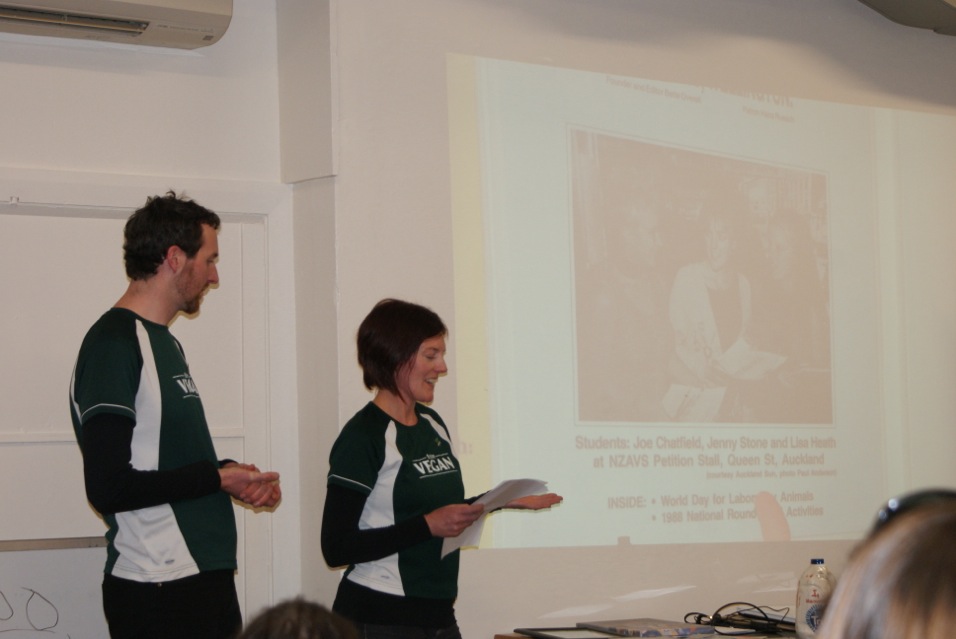 One of our key themes was of veganism being part of the peace movement, of kindness, respect and love.  As sappy, and dairy-free cheesy as that sounds, we asked if anyone in the room had been born vegan, if anyone had been vegan their entire life.  Of the ~30 people in the room, ALL of us had eaten, worn and used animals.  As such, we try to hold this in mind in talking with others about veganism – that we too ate KFC, and wore animal skin.  Everyone deserves a second chance….and a third, and fourth!
There are even, "The Slaughterhouse Redemption", Invercargill Vegan Society members who worked at freezing works, killing animals, and who now believe in veganism animal rights.  They made it, through a tunnel in their cell wall, scurrying through a sewage pipe, into the world of veganism, respect for animals :-)  As such, everyone deserves respect, and ANYONE can go vegan!
Nikki (left) and Phil (centre right) had both worked at Alliance Lorneville, a large sheep slaughterhouse.  Now, they're vegan, and filling their plates at Invercargill Vegan Society potlucks :-)
Nikki lives very close to Whalers Bay, at Sandy Point, where we formerly KILLED WHALES.
You'd never guess it based on the name Whalers Bay, but whale-killing was fully legal, and of great economic importance to New Zealand.

Totally barbaric of us to kill whales, right?  And judging on the cast iron whale pot and rusty anchor, it must have happened AGES ago……yeah?
As an example of fun, creative vegan activism, we covered topics from World Vegan Day celebrations…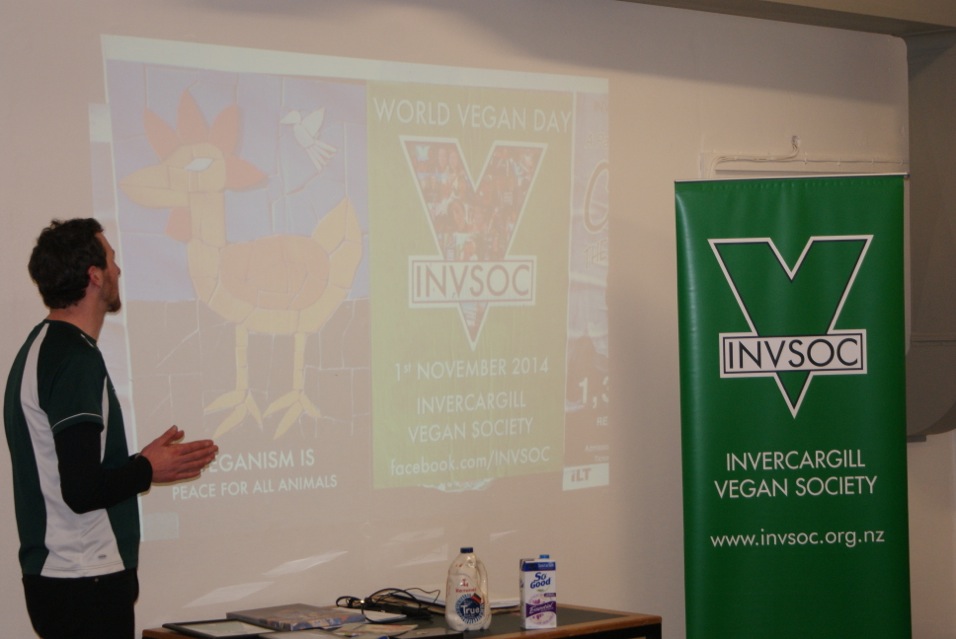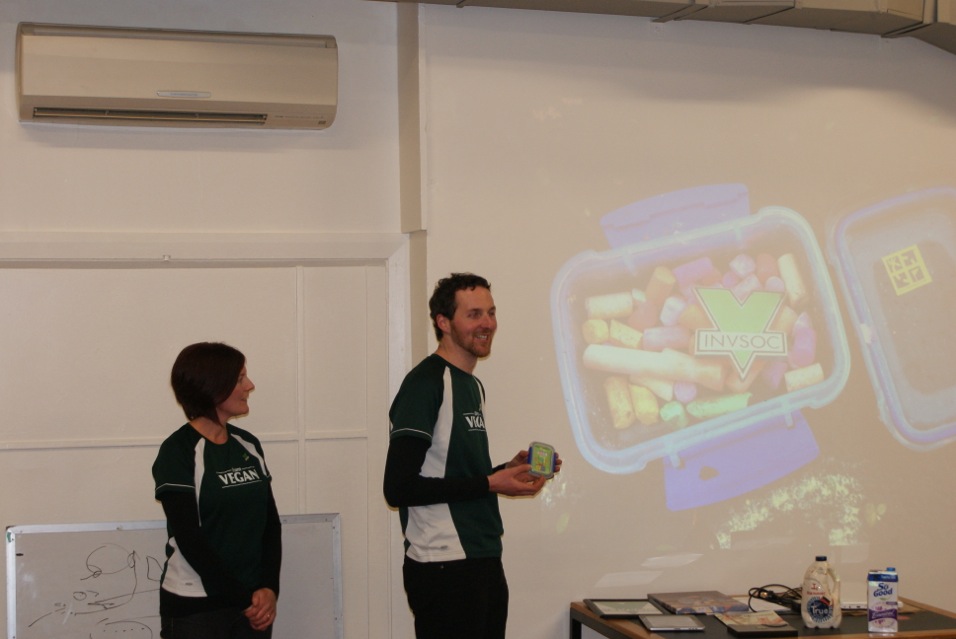 "Sometimes, you'll be chalking out a vegan message in a public space, when children will want to join in too.  We gave a group of pre-teen boys a stick of chalk…..and they *started* drawing a cow!  We had to add their eyes and nose, but the young boys had helpfully drawn the general outline for us to fill in."
Cow's milk is for calves, indeed :-)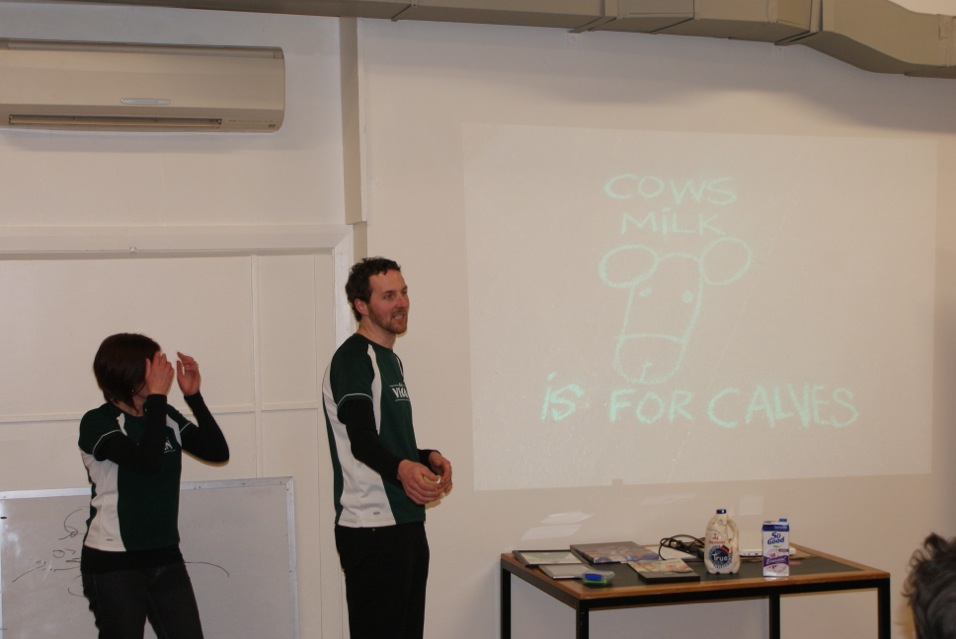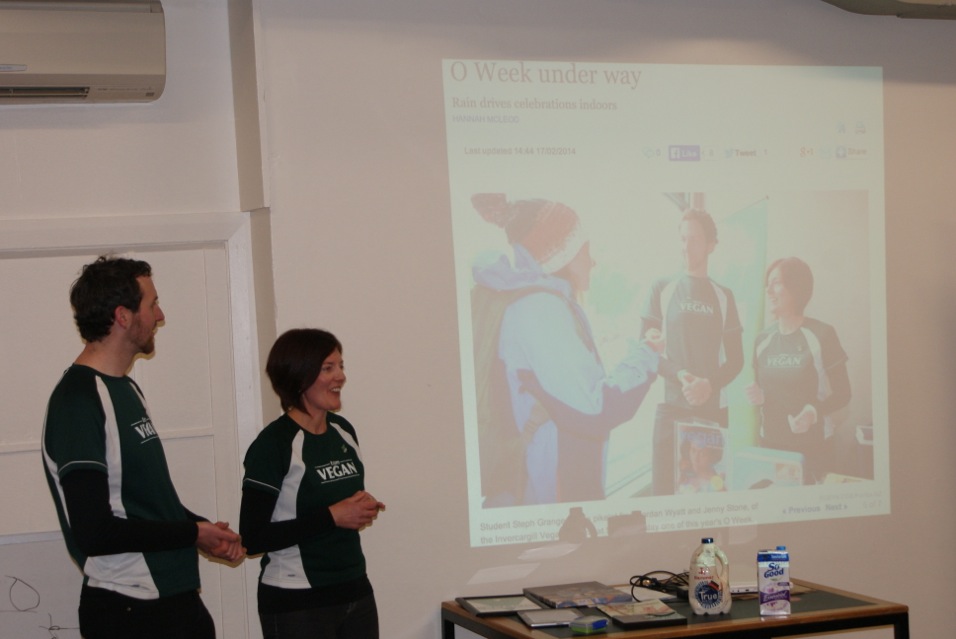 For the final section of our vegan advocacy workshop, we asked for volunteers from the skillshare audience to join us in pretend everyday activism.
Jordan played the role of a man looking to buy soymilk in a supermarket.  Shopping for a vegan relative coming to stay, his character was overloaded by the vast variety of vegan friendly plantmilks on offer!  How do you choose which one to buy?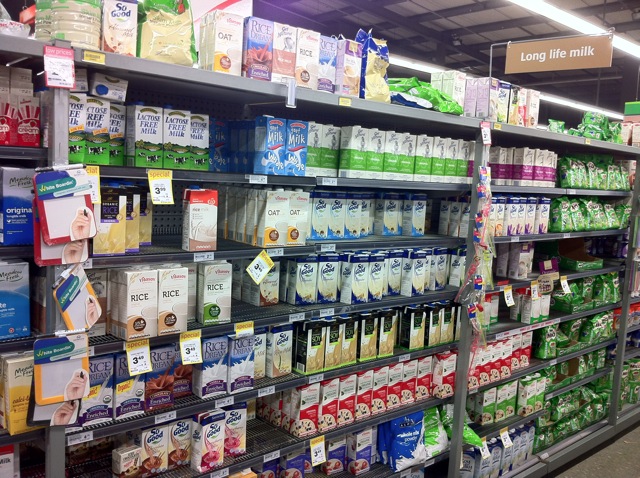 "The Helpful Vegan Activist" saw our confused citizen, and sprung into action.  She suggesting her favourite type (apparently So Good Essential), and briefly chatted to the man about veganism.
The Helpful Vegan Activist could even give him a card for more details, if he had any more questions about vegan products, step by step vegan meals or the vegan lifestyle :-)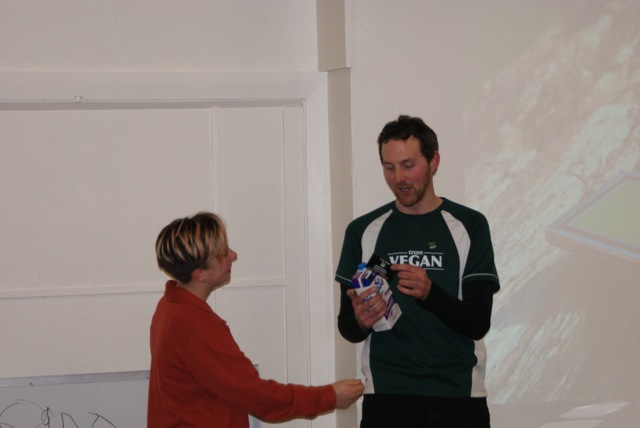 Invercargill Vegan Society co-ordinators Jordan and Jen had a great time at the Dunedin Animal Rights Skillshare 2015.  We learnt from many talented and passionate activists, and our journey of discovery never ceased.
Staying with Carl Scott, we found a famous banner in his shed.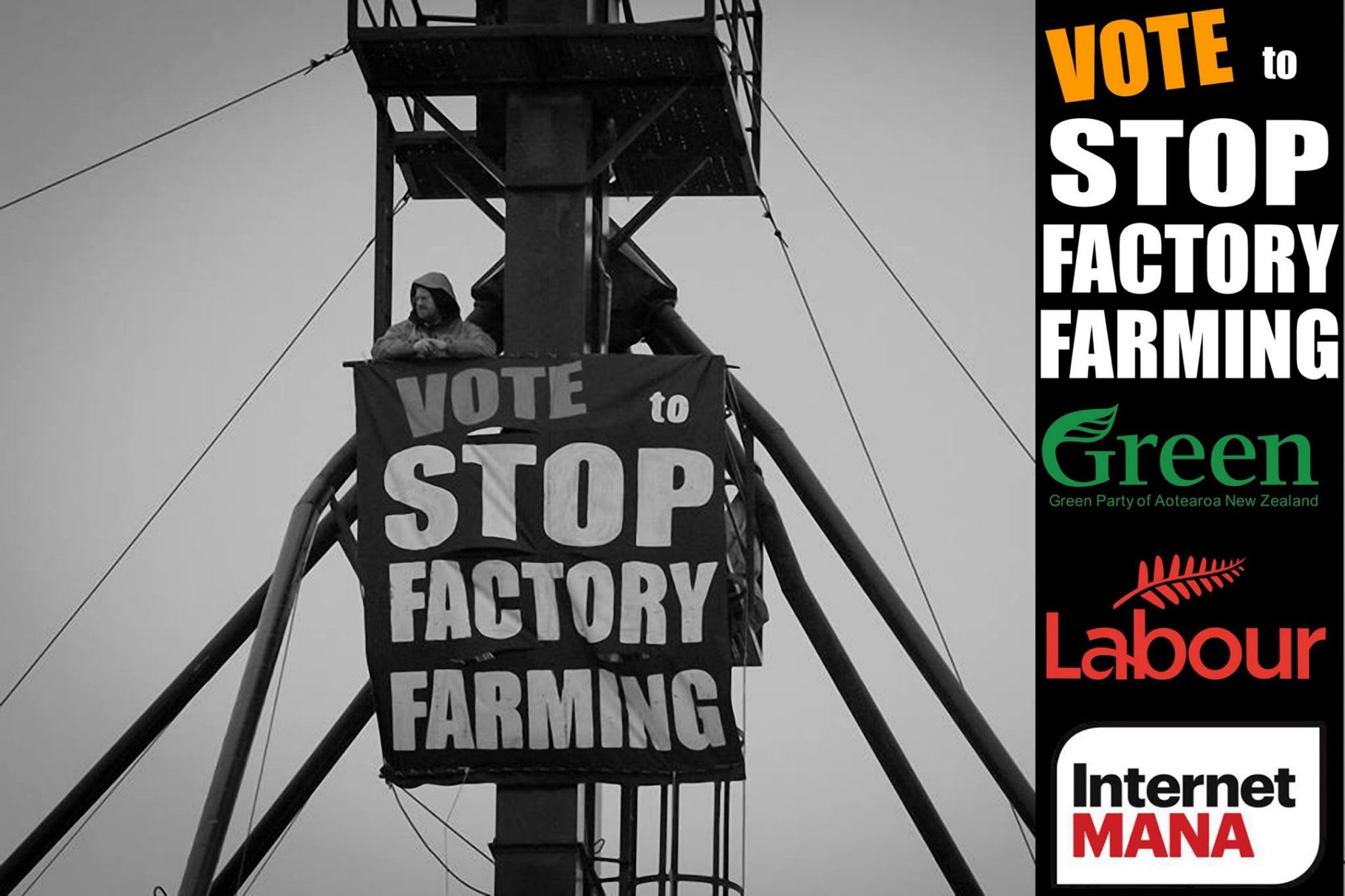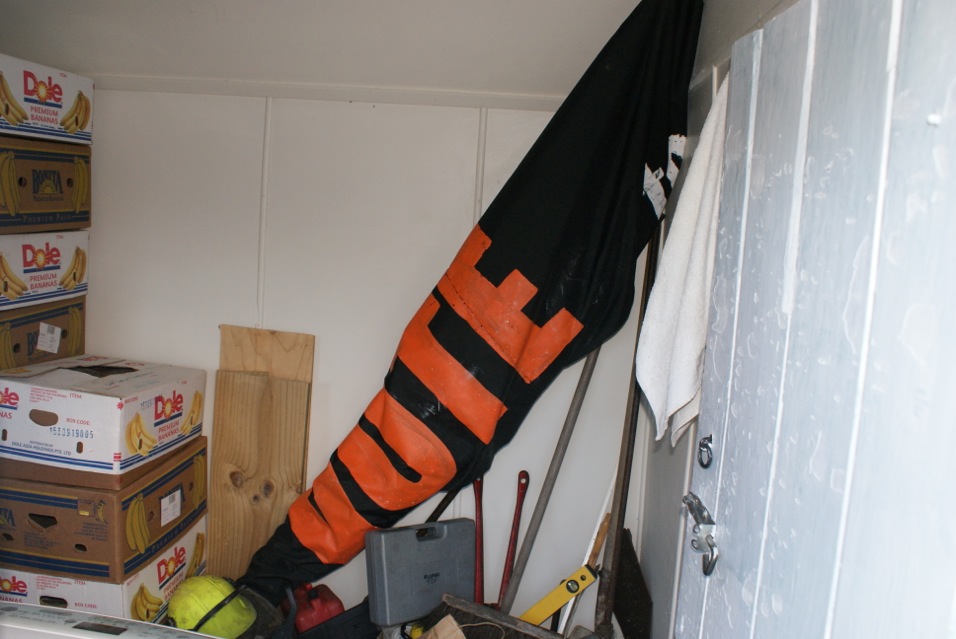 Remember Carl Scott a few years ago, when he stayed in a reproduction chicken cage for a month?  He rose awareness of the New Zealand egg industry, and spoke to the mainstream media about veganism.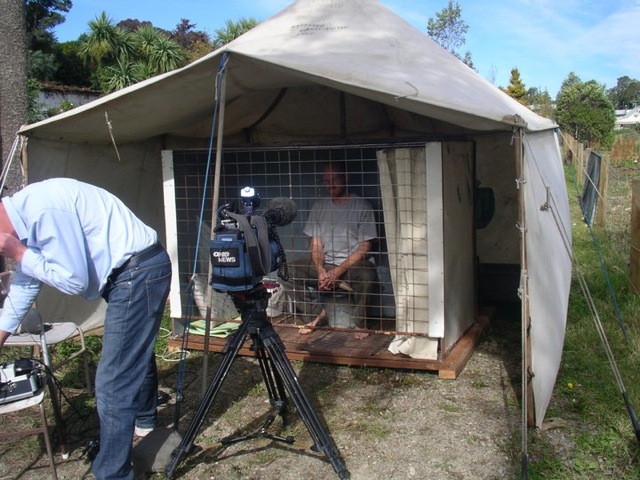 Now, this piece of national Animal Rights history sits in Dunedin, used….to store his firewood! :-)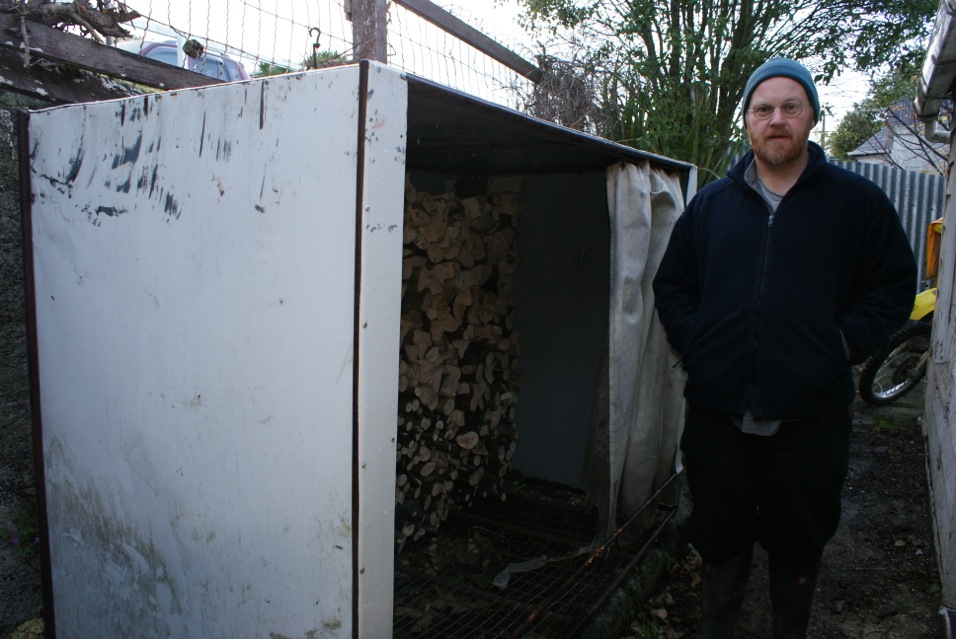 When we create the "New Zealand Museum of Animal Rights" here in Invercargill, we'll have to buy the cage as an exhibit!
In a stroke of sheer genius/coincidence, one room of Carl's house has a fantastic artwork painted across the ceiling.  A light blue sky, friendly clouds….it's simply marvellous.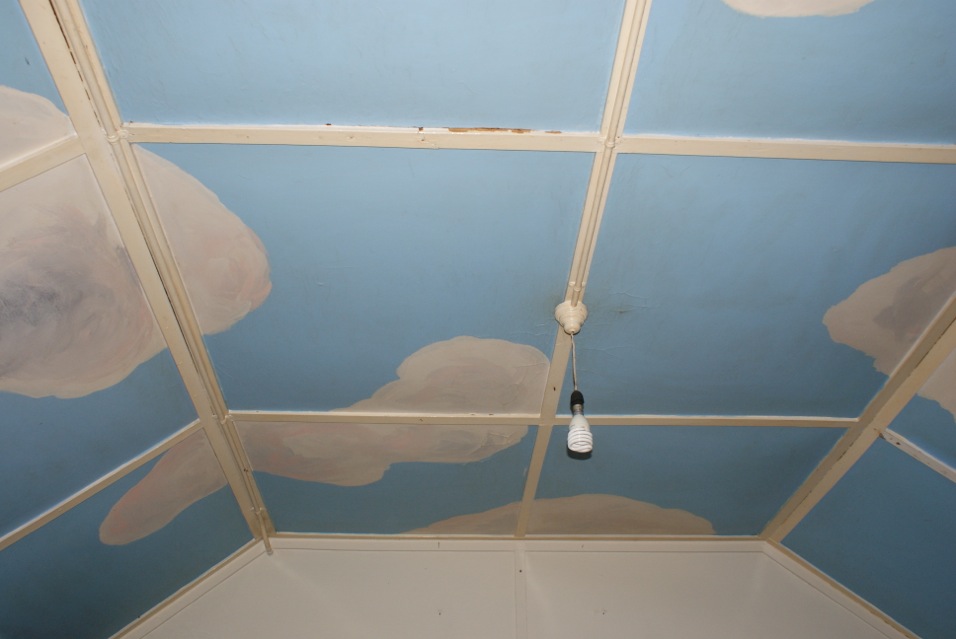 Funnily enough, Jordan has been wanting to paint the exterior of INVSOC HQ, skyblue!  Wouldn't it look optimistic, on our bleak winters days, to look at your house and think, "one day it'll be skyBLUE, one sweet summers day…"?  Carl has beaten us to it, with his lovely ceiling :-)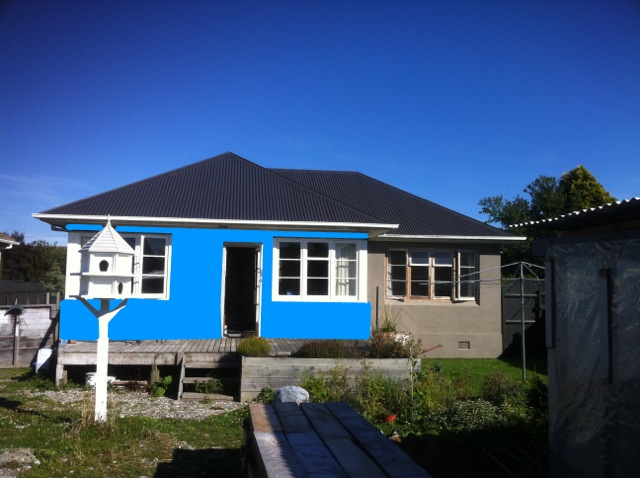 Dunedin also gave the inspiration for the three metre INVSOC HQ "Go Vegan" roof sign.  The "NZ Army" hall visible in South Dunedin gave Jordan the idea of rooftop advertising.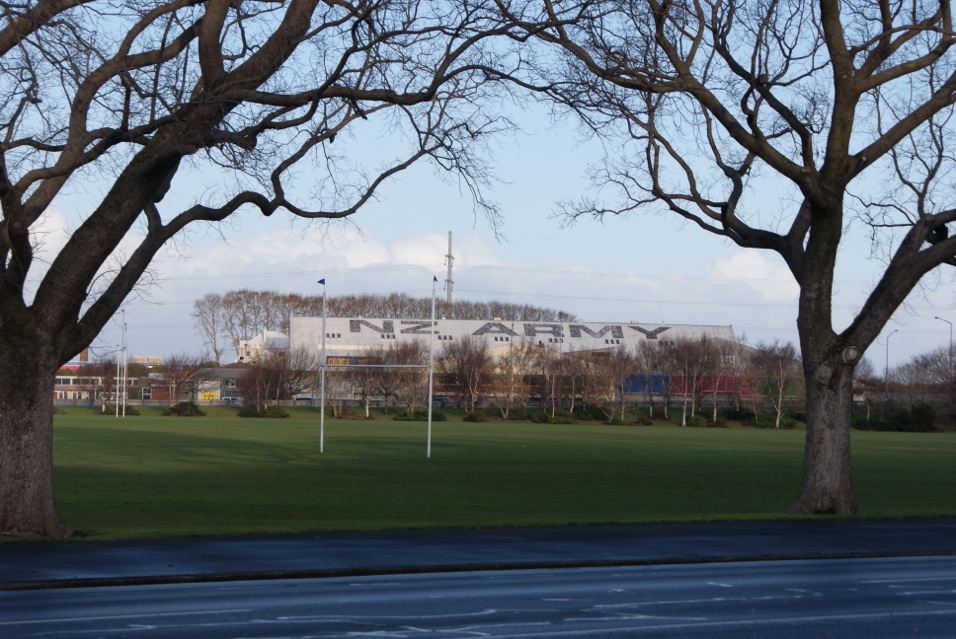 With a bit of high contrast white/dark green paint, he banged out a three metre high "GO VEGAN" message for the clouds/seagulls/Google Maps satellite view photographers above: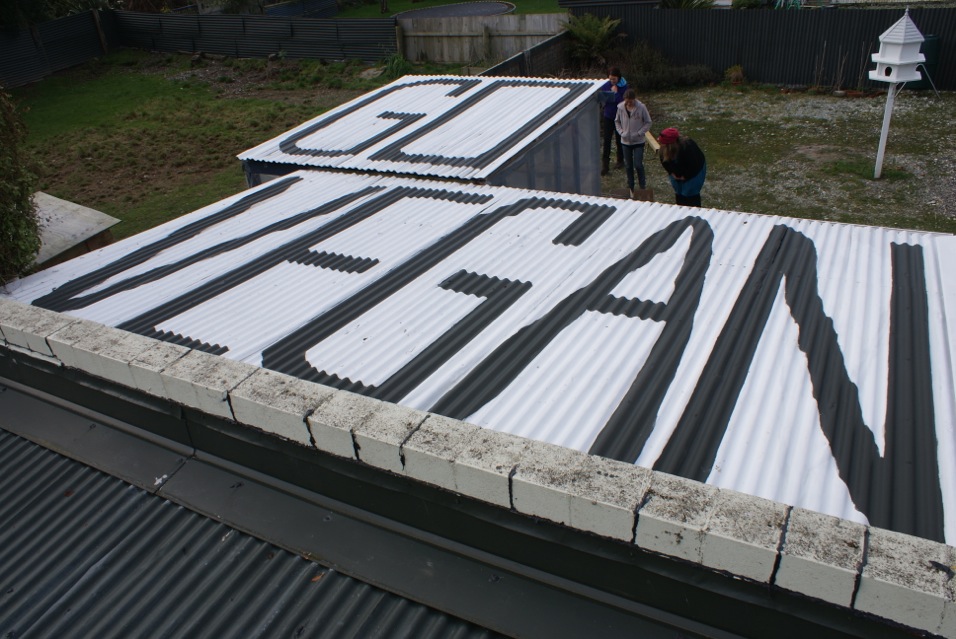 As seen by quadcopter :-)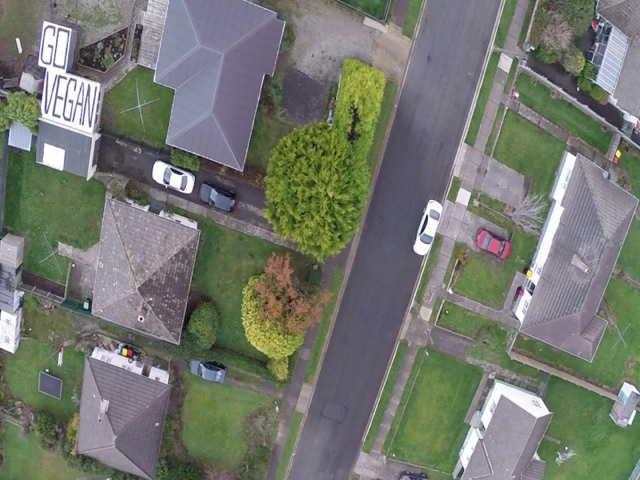 They're a progressive bunch in Dunedin, filled with passion, and are sure to spark inspiration/kleptomania in visiting Invercargillians.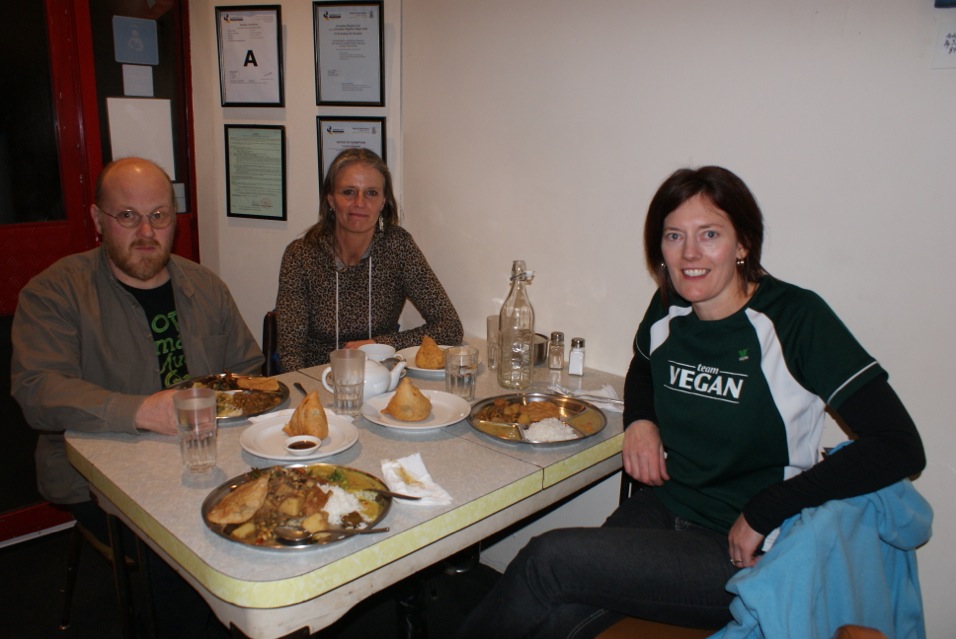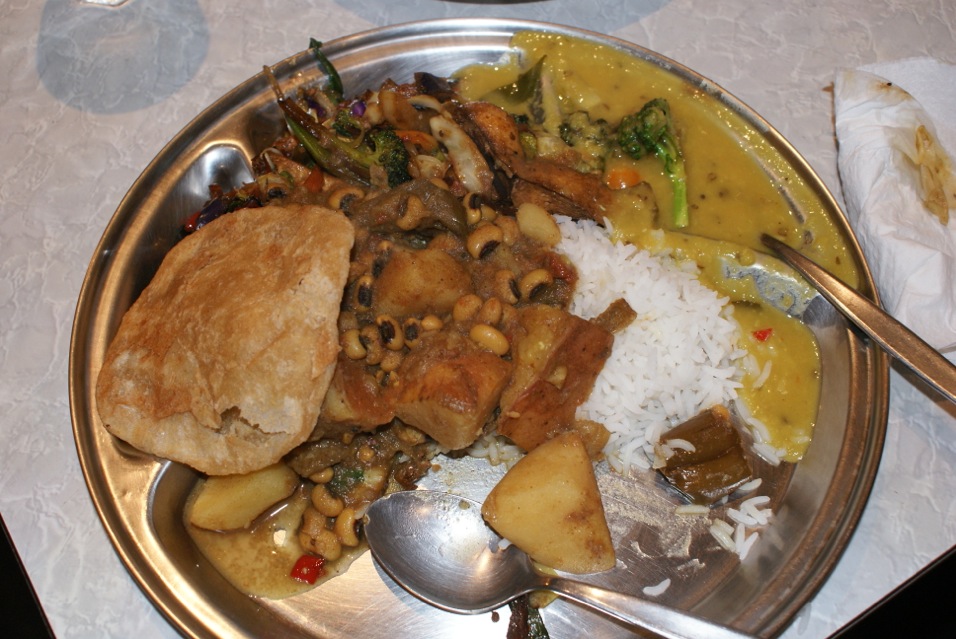 Thank you Dunedin, for a fantastic Animal Rights skillshare!