Formerly "Organica Living", ComplEat Wellness is a fantastic Windsor store which stocks….NICE CREAM!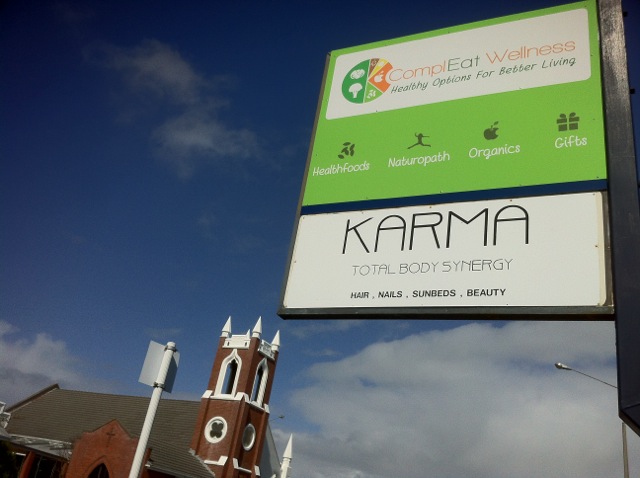 What a treasure for Invercargill Vegans, "ComplEat Wellness" stocks many proudly labelled Vegan products!  "Nice Cream" coconut icecream, "Nice Blocks" (iceblocks), coconut yoghurt, vegan chocolate made in Dunedin, tempeh, miso paste….. and even books about going vegan!

Check out the sign, advertising VEGAN options.  We love seeing "The V Word" :-)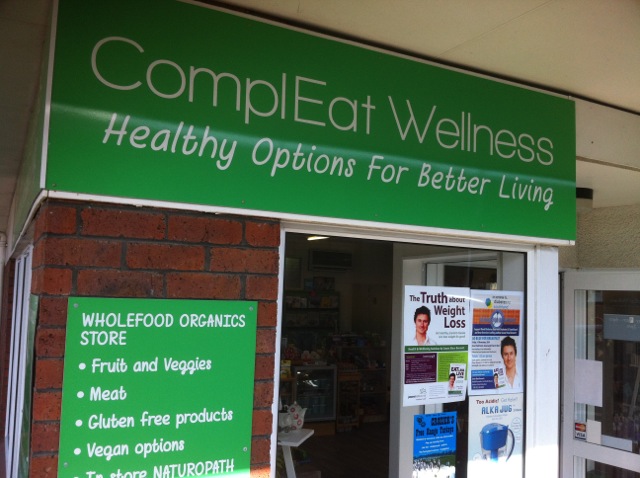 Invercargill's first stockist of "Little Island" (coconut icecream, originally called "Nice Cream") and "Nice Blocks" (really cool iceblocks).  Fair Trade, Vegan, bamboo iceblock sticks…..and they taste GREAT too :-)

We love ComplEat Wellness thiiiiiiis much for stocking "Little Island" vegan ice cream and their vegan sign…..we gave them a World Vegan Day 2014 award :-)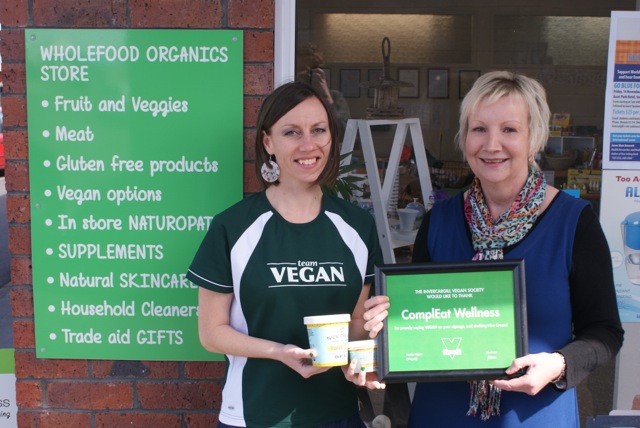 "Little Island/Nice Cream" may be the best ice cream you'll ever try.  Made with coconut cream, it's simply fantastic.   Mango, Vanilla Bean, Chocolate, Banana Bean and Mango flavours, $4 per 125ml single serve.  For taking home, theres also the larger $9 per 475ml option too.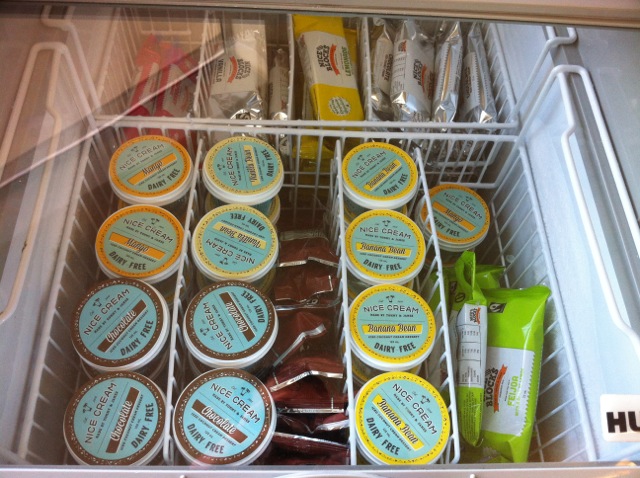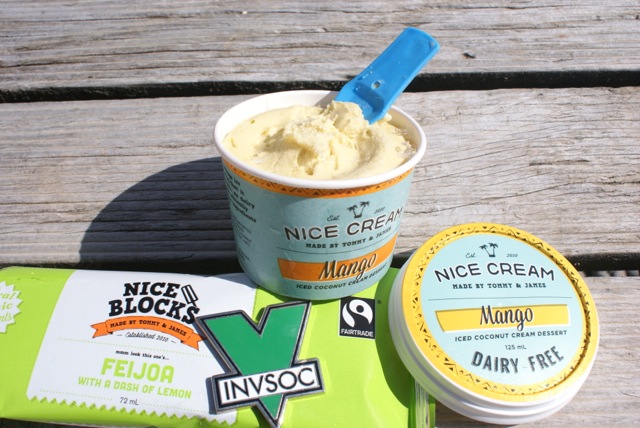 Nice Blocks – Feijoa, Vanilla Bean, Chocolate, Raspberry Lemonade, Lemonade Lime, Natural Cola flavours, $3.50
Also instore, "Bio Yoghurt Dairy Free", also made with coconut cream, ALSO proudly labelled vegan :-)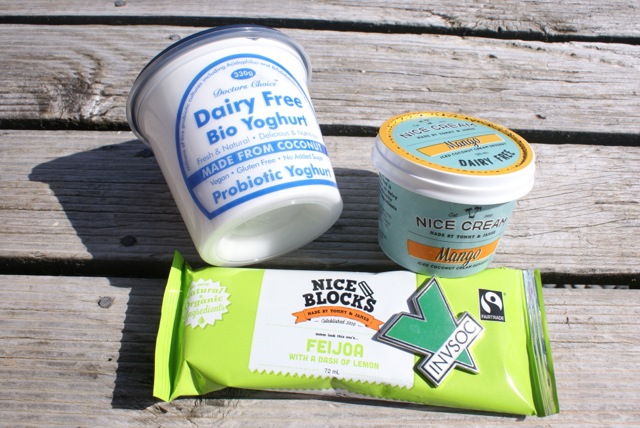 Tempeh (fermented soybeans, like a funkier Tofu) and Miso Paste too.  ComplEat Wellness really have a great selection.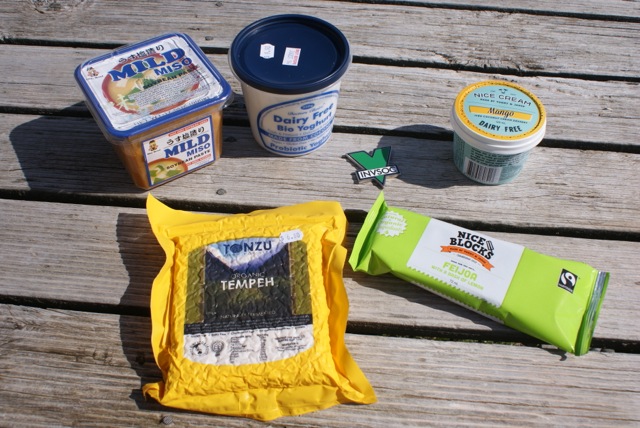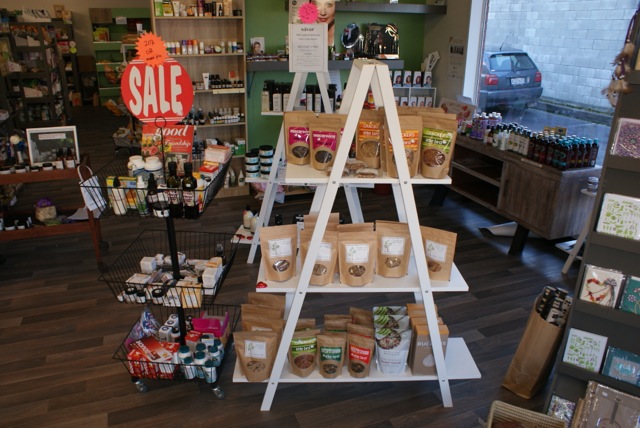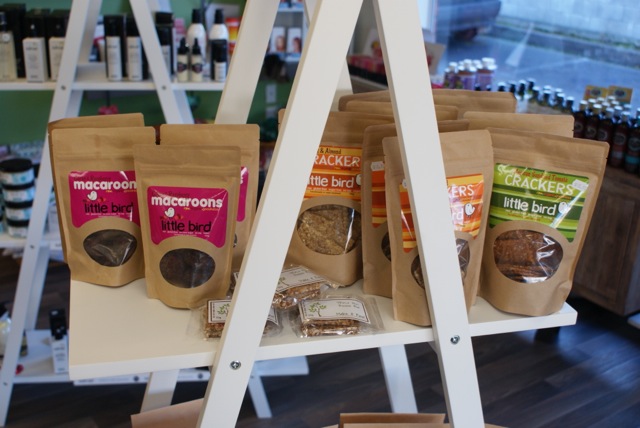 Try the "Cacao & Raspberry Macaroons", and also one of the smooth flowing "Chia" drinks.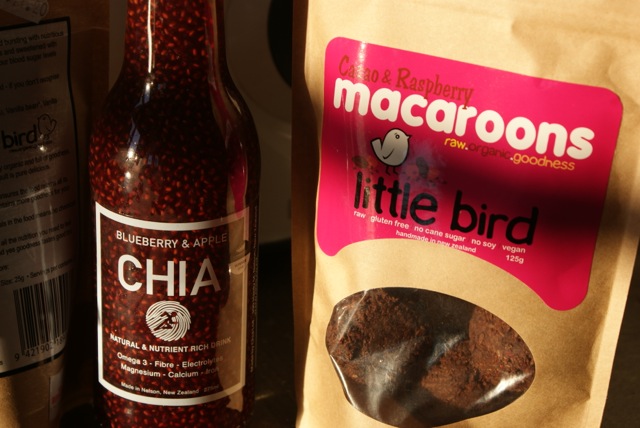 Check out the "Going Vegan" books :-)
Shelves full of great ingredients.


Dairy free chocolate!  Great for baking.  They also stock "Ocho" (Otago Chocolate), made in Dunedin!  The range is made with just two ingredients, cacao and sugar/stevia sweetner.  Try "Voodoo" 88% chocolate if you're brave!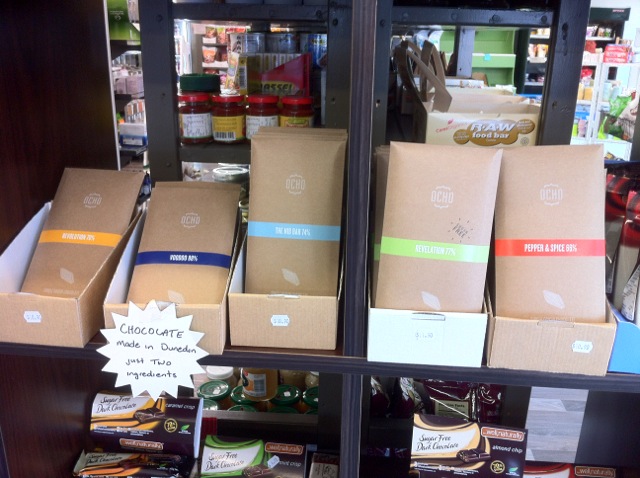 Trade Aid dark chocolate is Vegan, Fair Trade.

Bragg's "all purpose seasoning",  similar to soy sauce



Bragg's Apple Cider Vinegar, this raw variety is good for settling the stomachs of sick Hen Friends :-)  If they are feeling unwell, a little ACV helps to neutralise whatever is in their stomach and get things back in Nsync.

No Egg (sometimes used for replacing Hens eggs while baking specified Non Vegan recipes)

Ecostore cleaning products


"I'm not a guinea pig".  Hey Eco Store, neither are ACTUAL Guinea Pigs, at least in the "tested on animals" meaning :-)  Eco Store products are NOT tested on animals, and are Vegan friendly :-)

They are also stock All Good's softdrink brand, "Karma Cola"

ComplEat Wellness were even kind enough to let us leave Invercargill Vegan Society cards instore!

So, what might you buy at ComplEat Wellness?
A book on Veganism written for all ages, Apple Cider Vinegar for any future sick Hen Friends, fair trade soda and kale.  We also bought bamboo clothes pegs, and a scrubbing brush.  They were out of All Good fair trade bananas when we visited, but we've added a pair to our photos as they are usually in stock at ComplEat Wellness




"Go for the goal"  "You may find that a lot of your meals are already vegan…"
 
Featured in "Going Vegan" is The Cinnamon Snail food truck, a very cool business – just like ComplEat Wellness :-)

ComplEat Wellness, 24 Windsor Street, Windsor