On November 28 2015, Invercargill Vegan Society members Jordan and Jen joined the People's Climate March NZ 2015, standing up for the New Zealand government to do more to reduce our greenhouse gas emissions.
The Invercargill march had about 80 members.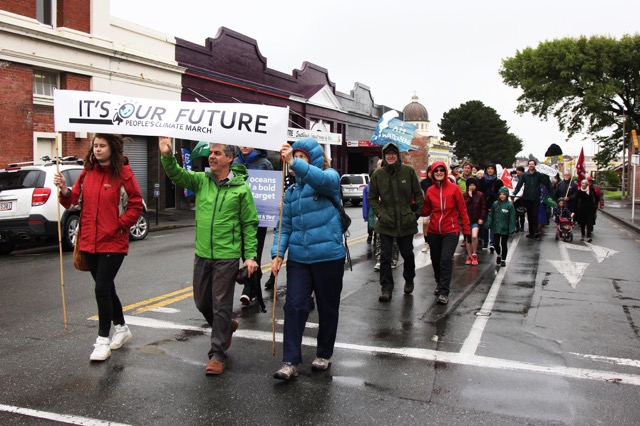 Including….a couple of vegans!  Invercargill Vegan Society coordinators Jordan and Jen jumped in with "Cowspiracy.com" and "Try a Vegan New Year's Resolution" speechbubbles!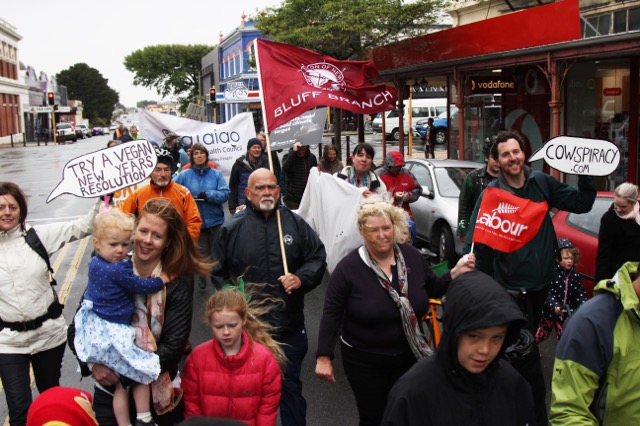 We're animal rights supporters, we agree all animals deserve respect and legal recognition that they belong to themselves.  We have deep feelings for our animal friends, and hate to know they're out there suffering human violence.
Alongside sheer ethical considerations for veganism, there's also the issue of greenhouse gases caused by animal agriculture.  All that "dairy effluent" (poop), all that methane, all that water use and subsequent pollution…
American documentary "Cowspiracy" investigates the environmental impact of farming >60 billion land animals each year.  It's kinda considerable : perhaps THE largest global source of greenhouse gases, outright.  Certainly in a nation like New Zealand, with dairy farms all over the place, agriculture is recognised by the government as our leading emitter (48%) of greenhouse gases. (page 9)
Agriculture (48%), largely animal agriculture, creates more greenhouse gases than Energy (22%) and Transport (17%) combined.  In a nutshell, the less animal agriculture, the more vegans, the more animal friendly vegan products…..the less animals bred and killed………..we'd have fewer greenhouse gases polluting our atmosphere.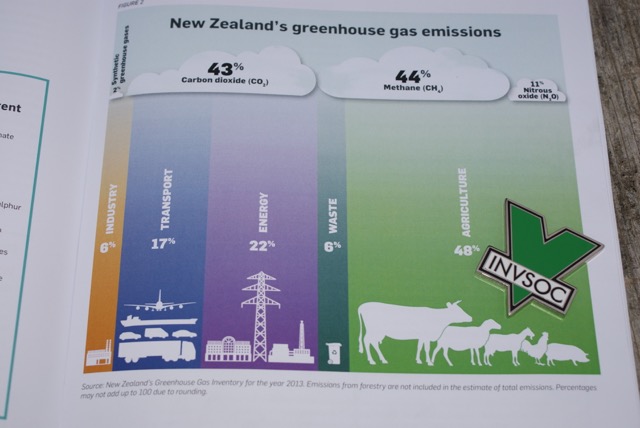 The Green Party decided to focus on this, when our National government announced that it would ignore the Agricultural sector from the Emissions Trading Scheme.  Our largest source of greenhouse gases, by far….we're going to ignore the (cows) in the room?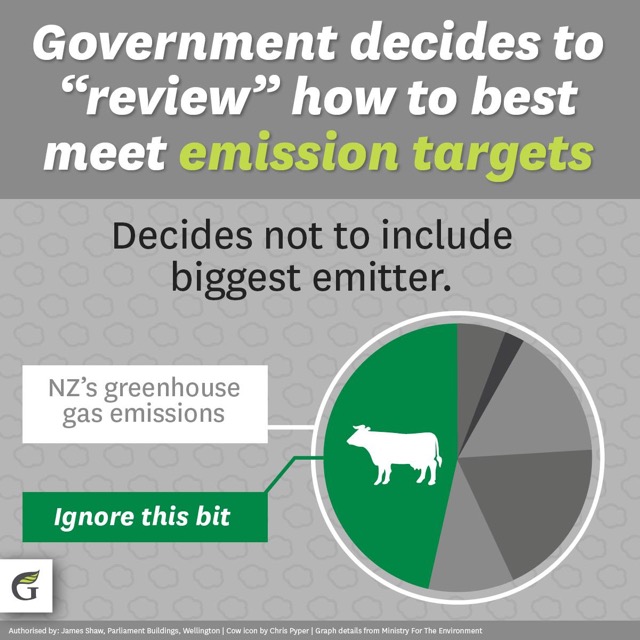 With veganism animal rights promoting respect for animals, for humans, for the environment, we're passionate about what we do :-)  We were so humbled to march alongside so many other people working to protect our planet, to respect one another.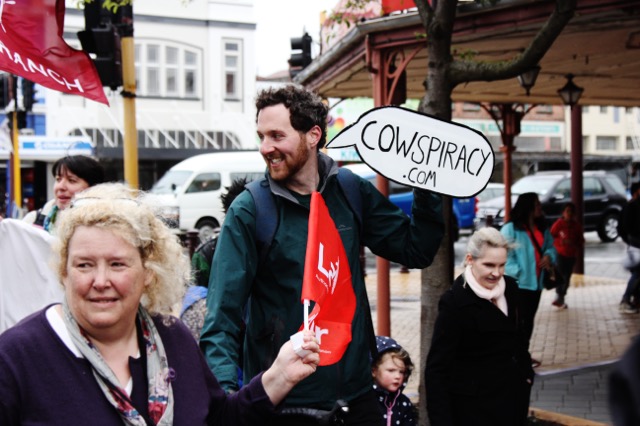 We love having the Invercargill Vegan Society as a vibrant part of our local community.  Getting involved with vegan activism, we meet such cool people!

In the bright blue jacket, Kathy, who we first met at the recent Eco Festival 2015.  Her story about animal rights, started at an early age growing up on a dairy farm.  When Kathy asked why the baby male calfs were being taken away from their mothers….to go to the slaughterhouse….her parents told her they were "going to Jesus".   Kathy immediately saw through this, and said, I'll censor this….if THAT'S what Jesus did to animals, she didn't like Jesus very much!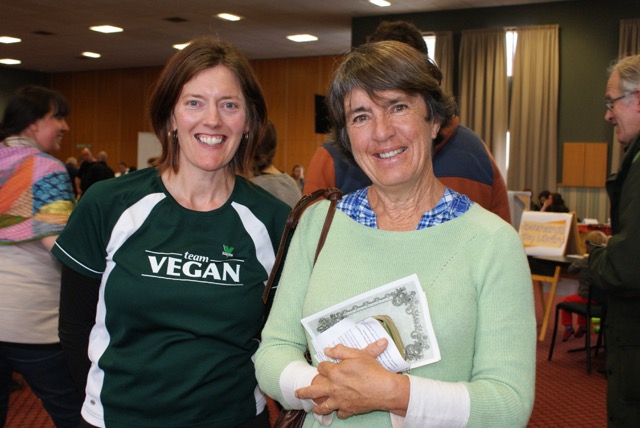 At every event we join, we meet such creative and interesting people.  At the Eco Festival, we met Kathy, and coincidentally, Jo, a vegan who works at Subway.  Taking a break from the event, Jen went to get lunch, and mentioned veganism to her sandwich artist.  Turns out, Jo had recently become vegan, deciding animal rights was something she totally supported!

Jo joined us in the Southland Santa Parade 2015, holding the INVSOC banner and wishing everyone a merry vegan christmas! For this years entry, we joined forces with The Vegan Kiwi to enter their 1983 DeLorean DMC12 sportscar, as featured in the "Back to the Future" trilogy.  The vegan's Santa Parade theme: that we can all "brighten the future" for animals in need.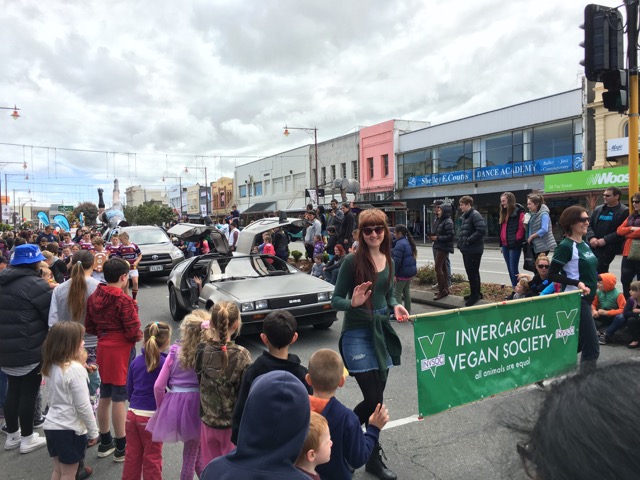 Creative animal rights activism seems a virtuous vegan circle, getting out there, you meet really fantastic people.  This in turn encourages you to enter more events, so you meet more animal rights supporters, so you enter more events….
As another example that helped today's Climate March, we met a very cool young man, for the first time in person.  Kawinwit had noticed photos on Facebook showing this year's santa parade.  One picture in particular caught his eye. A strange guy, marching behind a DeLorean "time machine", holding a bright pink hoverboard!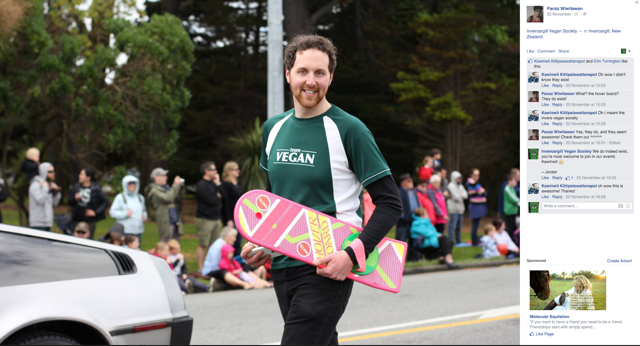 Kawinwit saw this, and said "Oh wow, I didn't know they exist".
The photographer commented, "What?  The hover board?  They do exist!"  Ha!
Kawinwit clarified, "Oh, I meant the invers vegan society"
"Yes, they do, and they seem awesome!  Check them out"
What an unexpected way to get into conversation about veganism animal rights, through the medium of a pink hoverboard spotted in the Southland Santa Parade :-)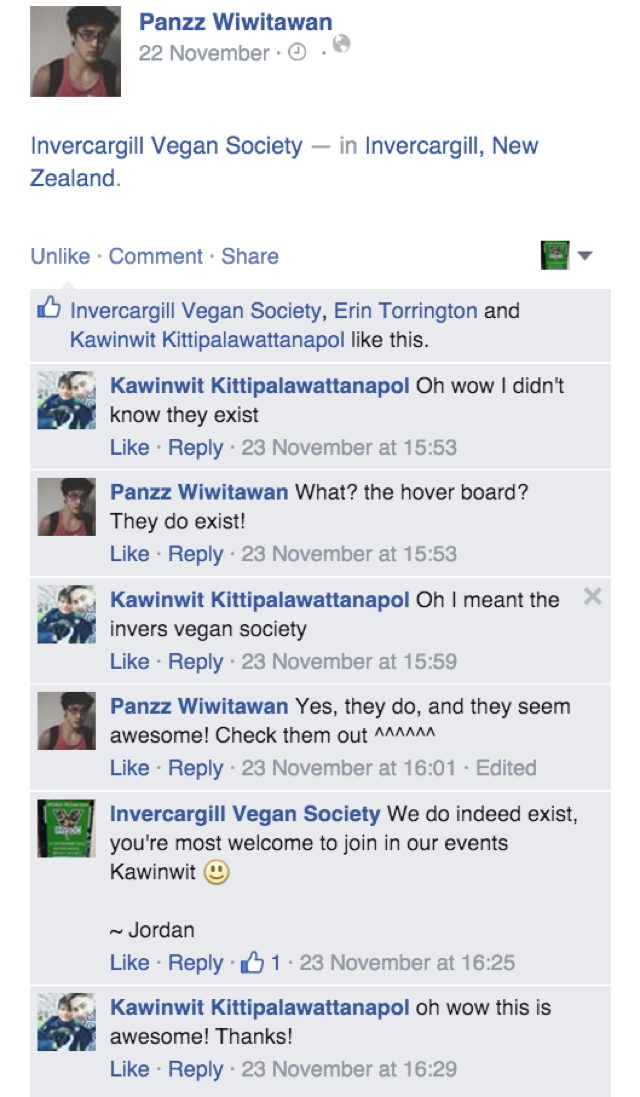 We reached out to Kawinwit, inviting him to our next Invercargill Vegan Society potluck.  He was also able to join…..the People's Climate March, we met in person :-)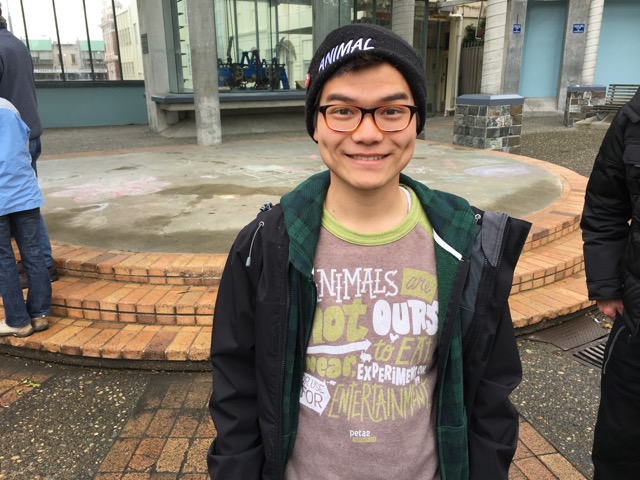 Kawinwit is an amazing person.  He volunteers for the SPCA animal shelter, and Bush Haven, helping endangered birds.  Kawinwit came to the march wearing an animal rights beanie, "No Fur" badge, and a great t shirt!  "Animals are not ours to wear, to eat, to experiment on, to use for entertainment".  As vegans, we absolutely agree.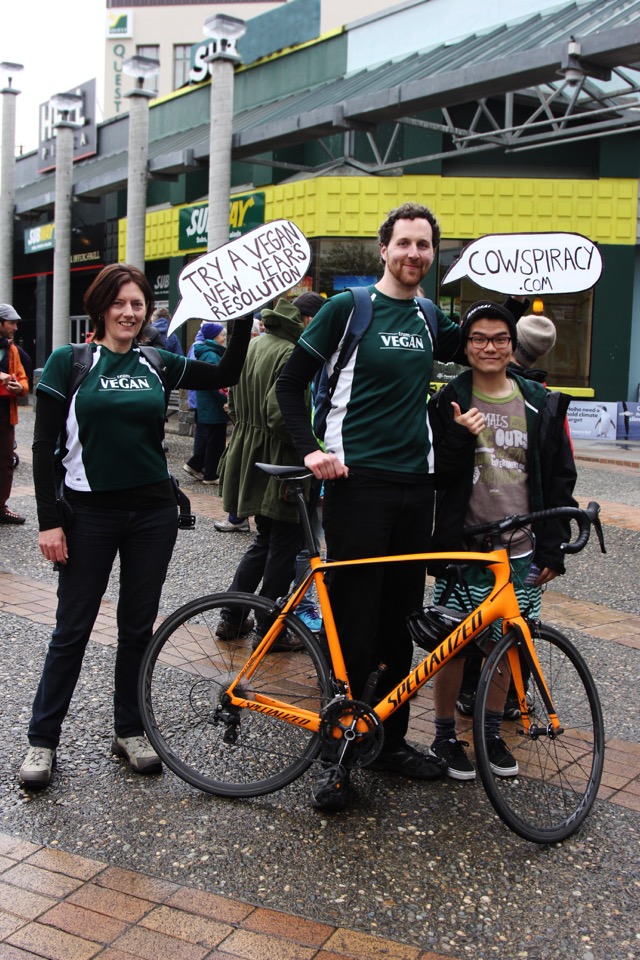 With all the amazing people we meet, who care about the environment, who care about saving animals, it's really shows the importance of being enthusiastic.   "The Importance of being Earnest" is all well and good, but it can be a little serious?  Being enthusiastic is more energetic, to take a brisker walk on the Oscar Wilde side :-)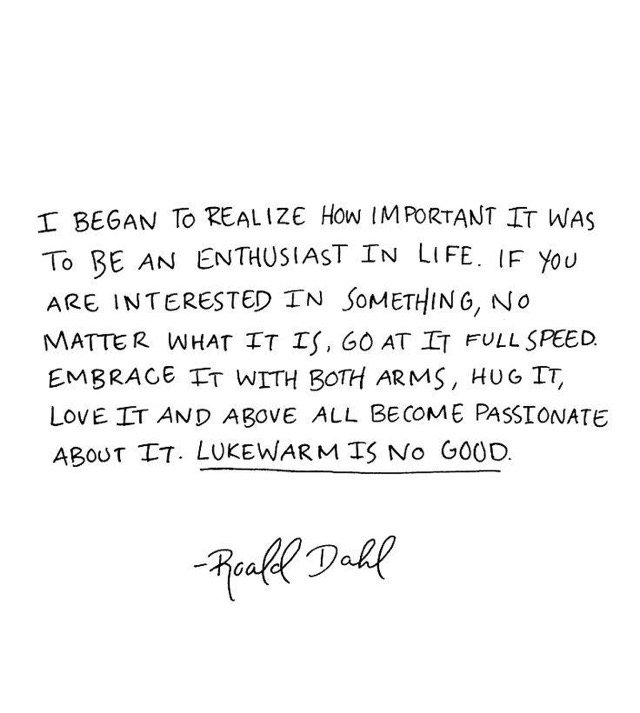 We love meeting so very many amazing, caring and compassionate people through local events.  Thank you to everyone who joined the People's Climate March 2015.  Thank you for working towards a better world :-)