The Invercargill Eco Festival 2015 was absolutely incredible!  We met wonderfully caring people, with AMAZING stories about how they relate to animal rights.  Honestly, it's touching to attend events throughout Southland, and see just how many people feel passionate about saving animals.
We met vegans at Subway, and people who stood up against their dairy farming parents, about to kill unwanted bobby calves.  People really do care about respecting animals.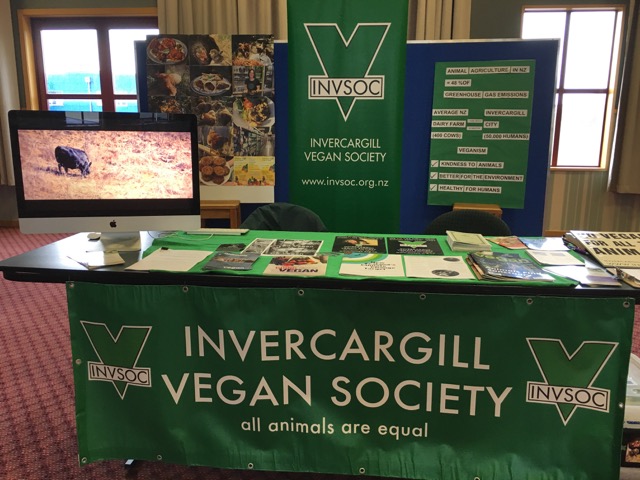 Thank you to everyone at the Invercargill Environment Centre for organising this year's Eco Festival.  Held at the Invercargill Workingmen's Club, Invercargill Vegan Society coordinators Jordan, Jen and Diana had a great time.  We met people who really care about making the world a better place.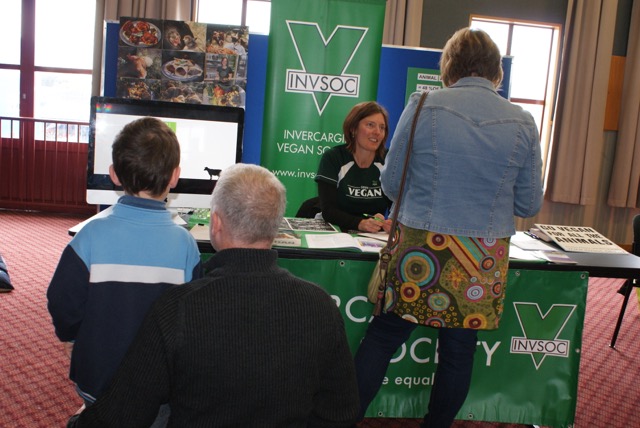 We screened environmental documentary "Cowspiracy", which focuses on how animal agriculture is so very damaging to our animal friends (!), and our planet.  From water pollution, land use, climate change emissions…New Zealand's farming industry is not exactly a love letter to a sustainable world.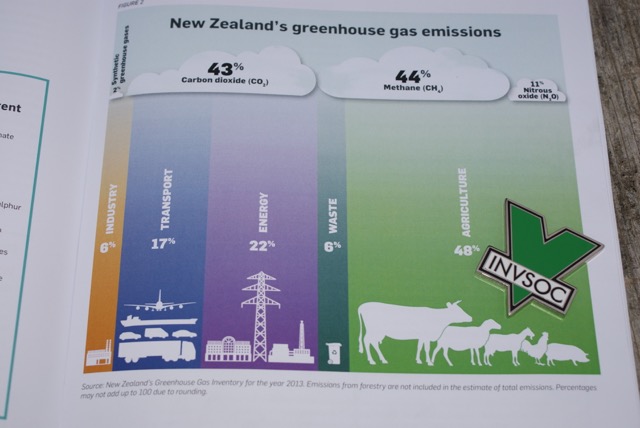 In particular, we placed emphasis on the governments Ministry for the Environment 2013 Greenhouse Gas Inventory.  In New Zealand, fully 48% of of our greenhouse gases are released by the Agricultural sector!  Farming is a larger source than the Energy (22%) and Transport (17%) emissions combined!
It's uh, to put it mildly, rather startling.  By being kind to animals, by not hurting, killing, farming or using them, we create fewer greenhouse gases.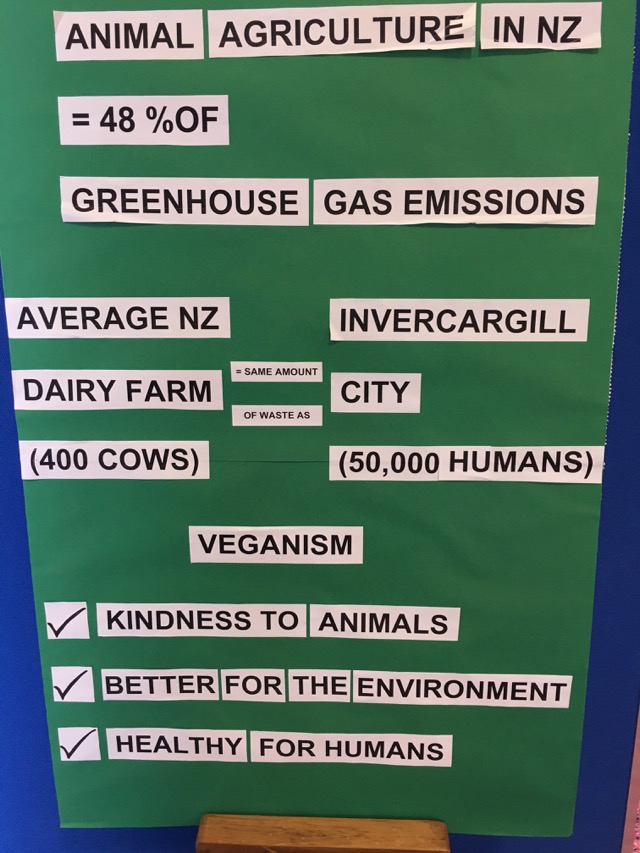 Getting Fonterra off coal would be much better for our environment.  But if we got Fonterra to quit dairy, to instead sell vegan plantmilk (perhaps oat milk made in Gore…), we'd have an even larger improvement!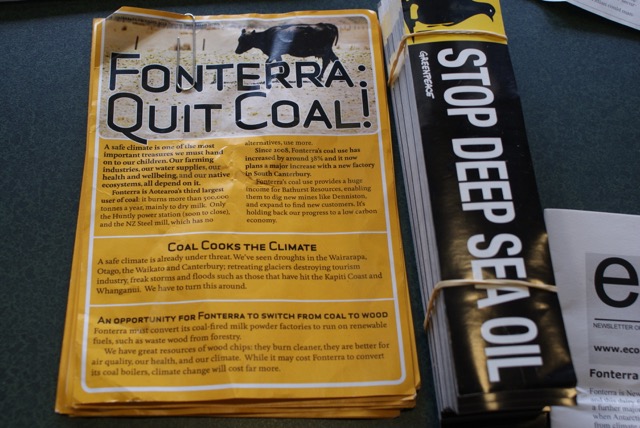 Our favourite part of running vegan animal rights information stalls, is the people we meet.  Everyone has their own history, and a story to share about how they feel about animals.  It gives us great pleasure to meet new people, and to learn what made them really start caring about helping animals.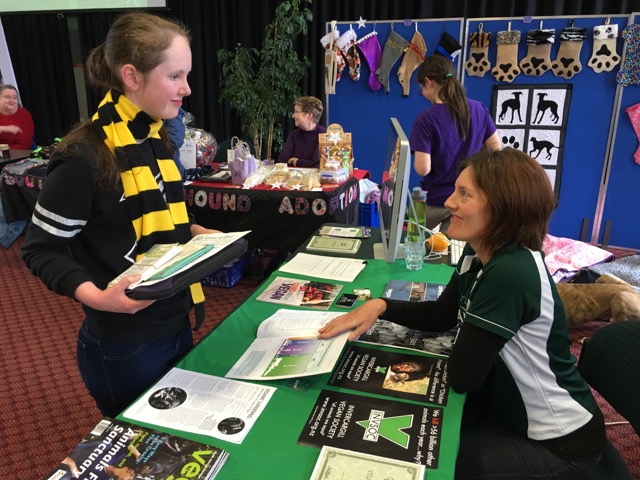 8 people signed up to our regular email list and for more information.  We gave out dozens of free Go Vegan starter kits.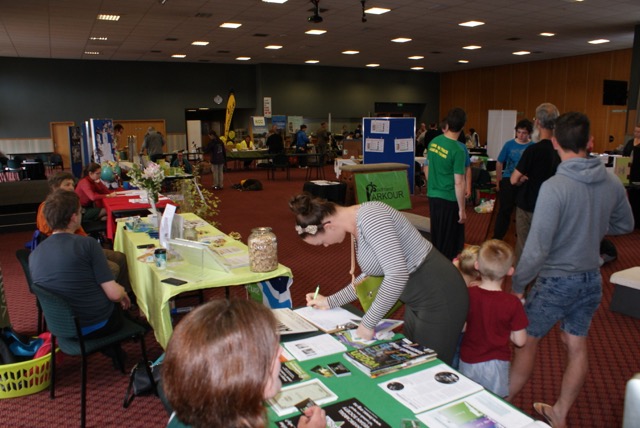 Their stories are AMAZING.  Kathy (pictured) walked straight up to our Invercargill Vegan Society stall.  It turns out, she had very recently found our World Vegan Day 2011 memorial tree planted in the Otepuni Gardens.  It was the first time her Scottish partner had seen a live ( albeit only 2 metre tall) Kauri tree since moving to New Zealand.  Kathy spotted our banners, recognised our name and logo….and felt it was an amazing coincidence.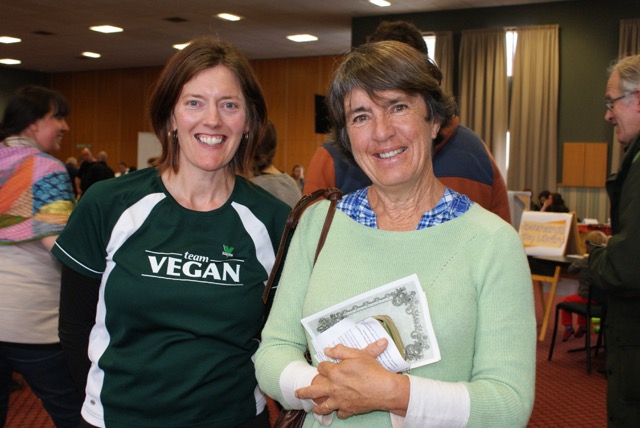 She told us how she cares deeply for animals, and wants to avoid animal suffering.
Kathy has been thinking about veganism for a long time, "before it even had a name".  In particular, she recalled growing up on a farm, and being VERY upset about animals being killed.  When Kathy asked what was happening to the bobby calves, the unloved males "useless" to the dairy industry, as they were taken away from their mothers.
She was told, "they're going to Jesus…"  Kathy was not very impressed.  She felt, if THAT'S what Jesus was going to do to animals, she didn't much care for him!  This account may have been censored, she may have used stronger language…
We gave Kathy a Go Vegan starter kit, and we hope to see her at future Invercargill Vegan Society events :-)
Sometimes it feels like half the population of Invercargill is vegan. While Jordan set up our Eco Festival stall, Jen went to Subway to get lunch.  It's hard to beat foot long Veggie Patties (even if they've sat in their wrappers for an hour or two by the time you get a break!)
At Subway, Jen talked to her sandwich artist about the Eco Festival, and our work representing the local vegan community. Turns out, on the other side of the counter, Jo (pictured) is also vegan!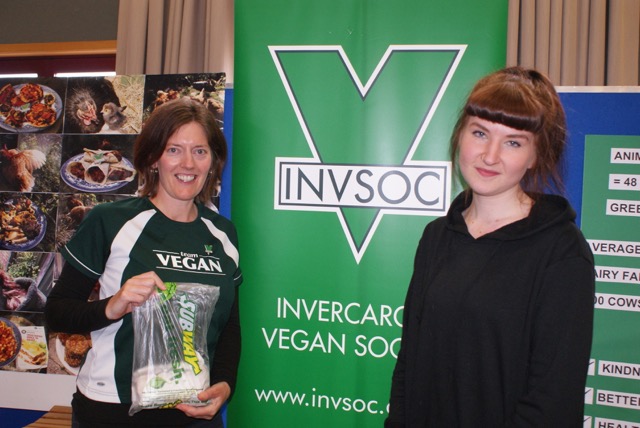 As soon as her shift was over, Jo came down to the Workingmen's Club to say hi :-)
Visiting from Dunedin, our legendary friend Rosemary Penwarden Anything to do with protecting the environment, you'll find Rosemary there, helping out with her wonderful smile.  She cheerfully posed with our vegan information.
It's lovely when everyone agrees, when we all see eye to eye.  But many of our most memorable conversations are with people who disagree with the idea of animal rights.  They might agree it's wrong to farm animals in a CRUEL matter, but totally support killing animals, if it's done nicely.
When everyone remains polite, we can have some really deep and interesting discussions.  Alan (pictured) is a good example.  He could admire and appreciate how much vegans care about respecting everyone, all animals, human and nonhuman alike.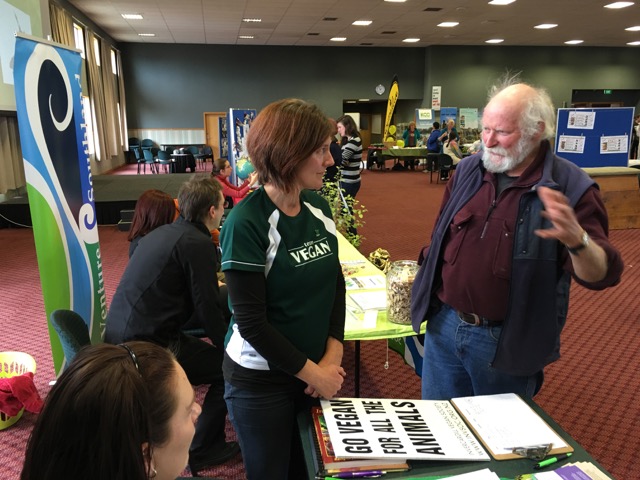 The disagreement was about where to draw the line, and in how some generations of people have farmed the land (and killed the animals upon it).  Alan listened well as Jen spoke about animal rights, and she repaid the courtesy when it was his time to talk.
After several minutes of conversation, Jen and Alan hugged.  Both had learnt more about the others point of view.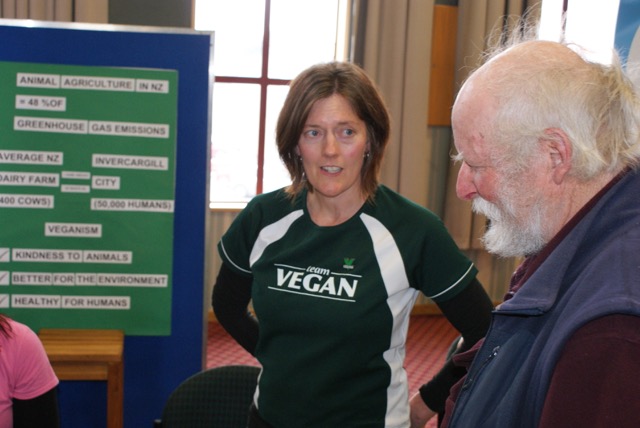 Alan hadn't been fully swayed that it was always cruel to kill someone who didn't want to die, to wear their skin, to take their eggs, to see them as just a commodity.  He felt that it was unrealistic to imagine we would ever move (gradually!) away from using other animals, and that it was more about treatment, about animal welfare that mattered, not animal rights set in law.
Before he left, Alan said how he really did appreciate how much we cared for animals.  He wrote on our signup sheet, "Thanks for your love for animals", it touched him to know someone out there really cared for animals in need :-)  We'll certainly remember Alan, and hope he'll continue thinking about a world where all animals are greatly respected.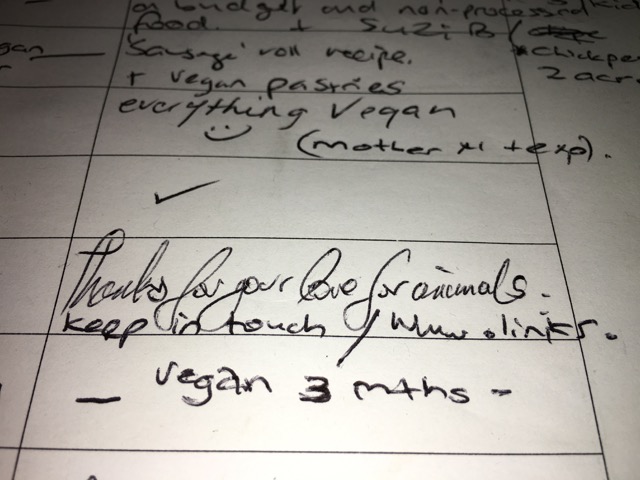 Other visitors to our Invercargill Vegan Society table, men with beards!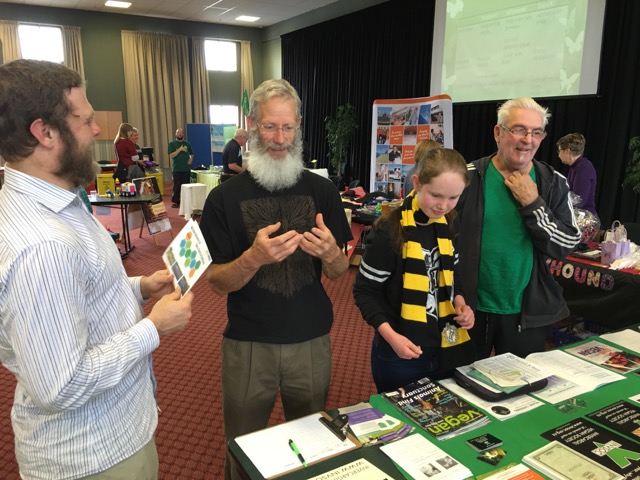 Many visitors were interested to discuss the impact of dairy farms on Southland's water quality.  We added in the considerable harm caused to animals, when they're kept pregnant to keep their milk flowing, when their babies are killed, when they THEMSELVES are killed….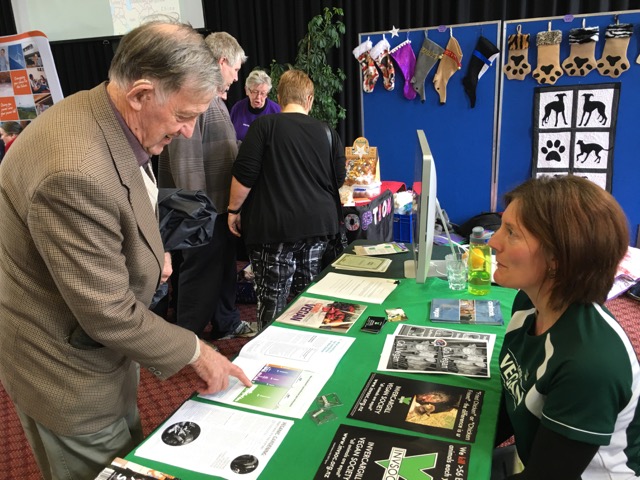 Jordan, Jenny and Diana had a great time talking to interested, and interesting people :-)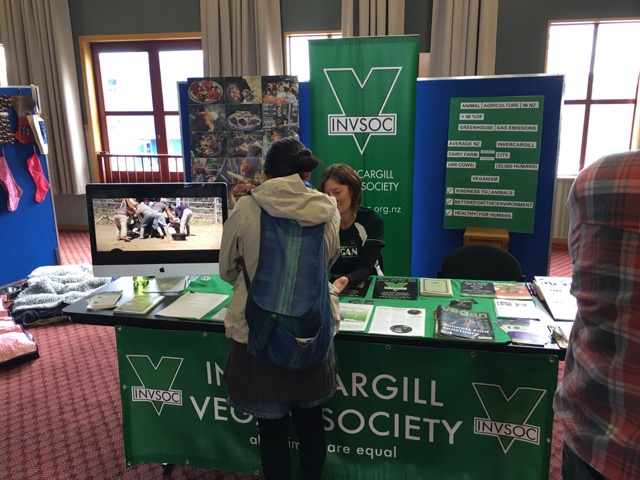 Other stalls at the Invercargill Eco Festival 2015 included the Green party, represented well by Gordon and Dave.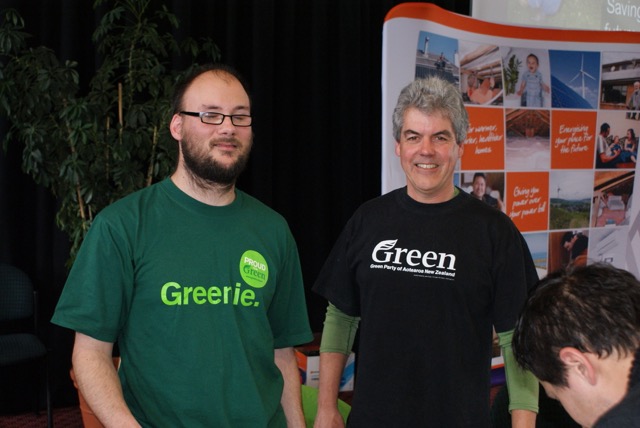 Always popular, Southland Greyhound Adoption, who place dogs exploited in dog racing, into safe forever homes.  It was fortunate having the two animal protection stalls together, animal rights alongside dog rescue.
Love Local provide fresh local produce, delivered right to your home.  They also like to share fruit!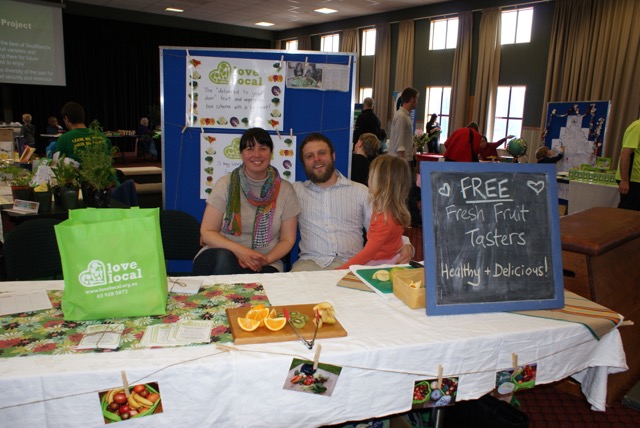 Photos from our Invercargill Vegan Society stall.  New Zealand Vegan Society magazines, Go Vegan material, and a signup sheet for ongoing information.

We really enjoyed representing respect for animals at the 2015 Invercargill Eco Festival.  Thank you to everyone who came down and who spoke with us, we loved learning your story.
We look forward to joining in next year.