Jordan and Jenny went on a trip to Dunedin, to meet vegans and eat vegan food!
Farewell sweet Invercargill, we'll return in a few days!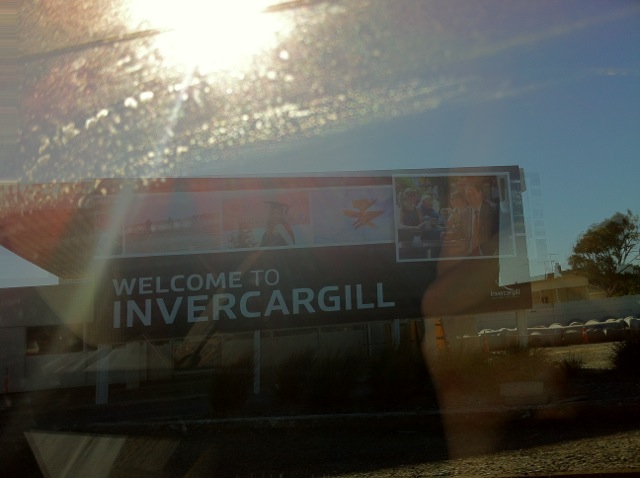 Making plans for our journey!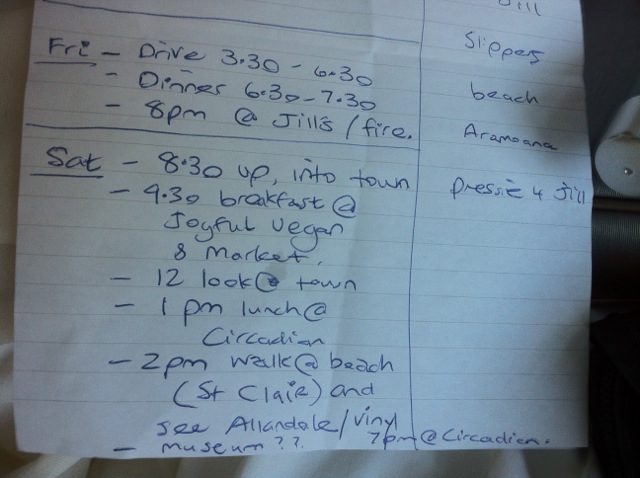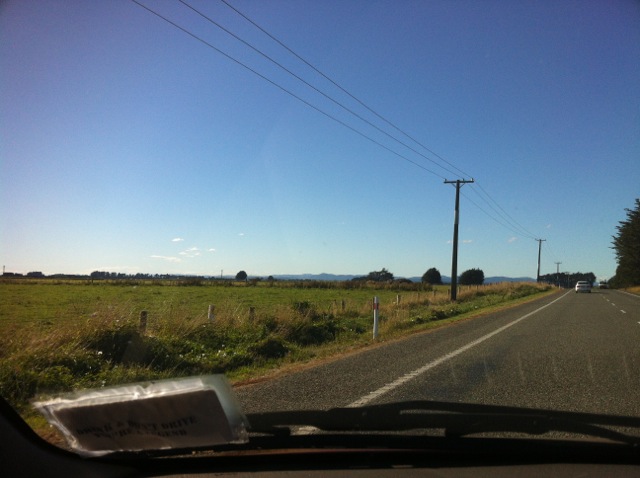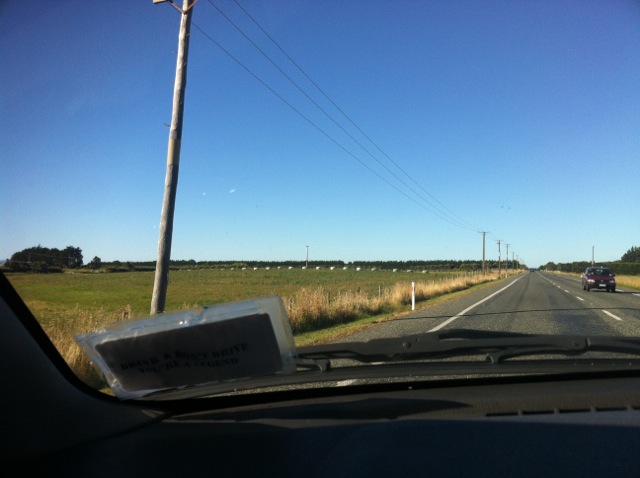 Hedge sculptures at Edendale!  Emu/Ostrich/Big Bird, Elephant and a Cat/Monkey (the smallest animal design has changed over time!)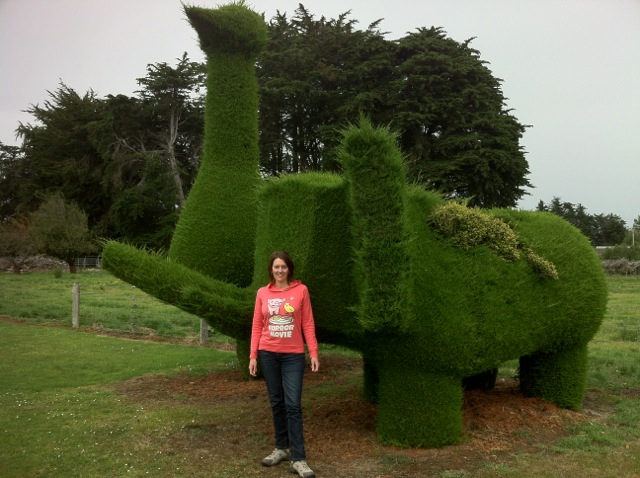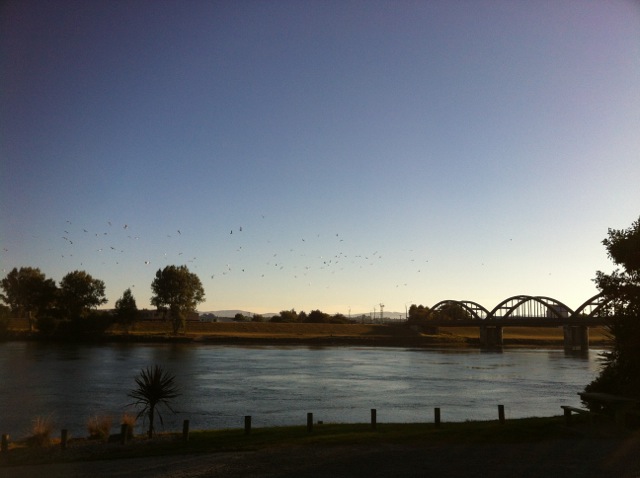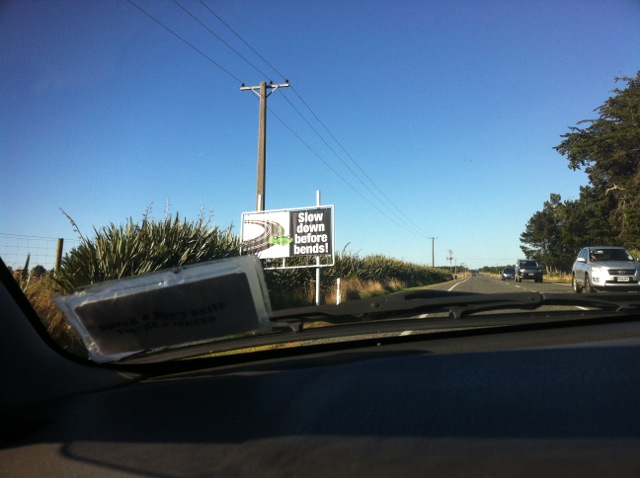 Arriving in Dunedin city!
Ok, the usual warnings apply.  Keep your arms within the car, avoid eye contact with the locals (it angers them) and try not to blow our cover by rolling your r's.
The folk of Dunedin town are incredibly body image conscious.  They demand "Oh My Bod Va Voom Cleavage" from their shopping malls, nothing less will do!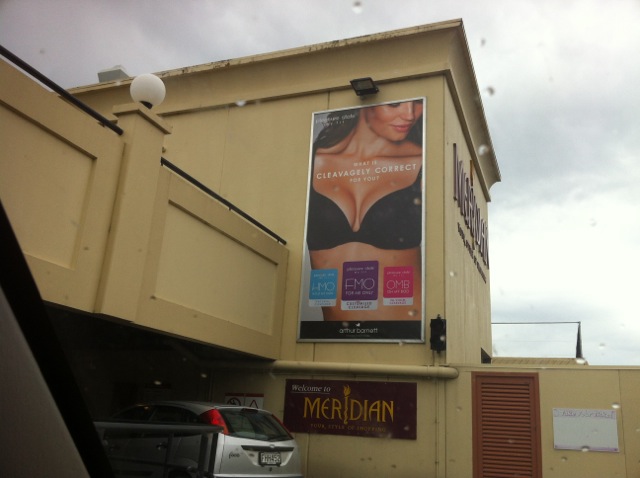 Buyer beware:  rock hard abs also bring about a hardened criminal underclass.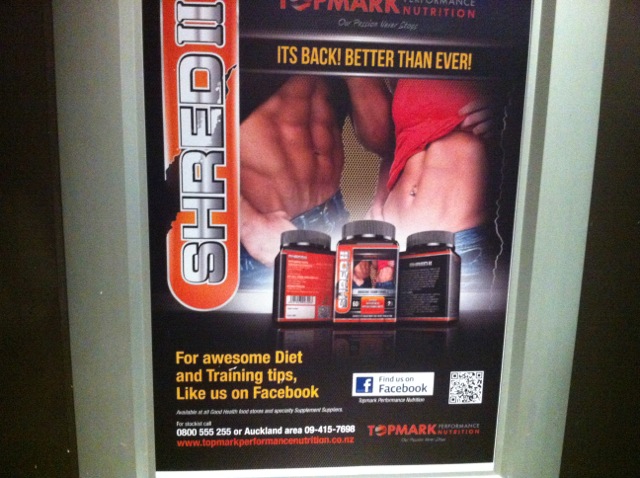 In lout-laden Dunners, even the supermarket shopping trolleys are lo-jacked!  Cross the yellow line while trying to steal a sweet steel shopping trolley for your "scarfy" flat, and the things BRAKE will automatically kick in!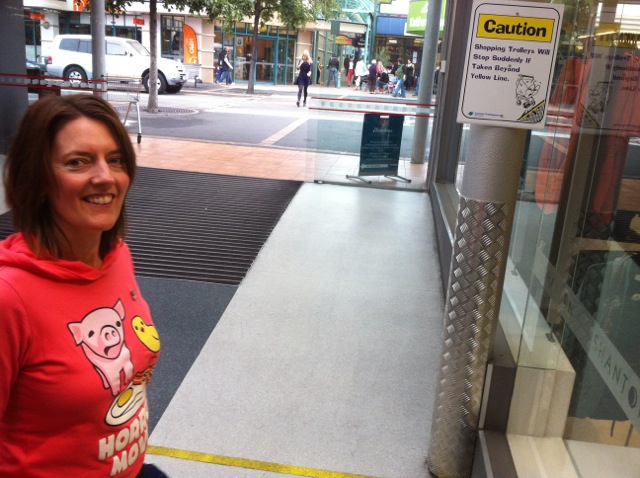 Also, to prevent hoarding, most supermarkets only allow a single unit of each item be bought per visit.

Sure, Dunedin has stolen all the best Vegan and Vegetarian restaurants/stalls for itself, but we people of Invercargill are still allowed to visit.
And visit we did :-)
Circadian Rhythm Vegan and Vegetarian cafe!

We were very excited to voyage to the world renowned Circadian Rhythm cafe, owned and operated by Jen's friend Sue :-)  She recalls being overseas and hearing fellow travellers talking about "that Circadian Rhythm restaurant in Dunedin"!  She didnt mention she was the owner to them :-)

Almost all the food here is Vegan!  Coming from somewhere without a Vegan restaurant and having to slum it with a potluck or two, its a miracle!  Vegan food is labelled "V ND", Vegetarian, Non Dairy.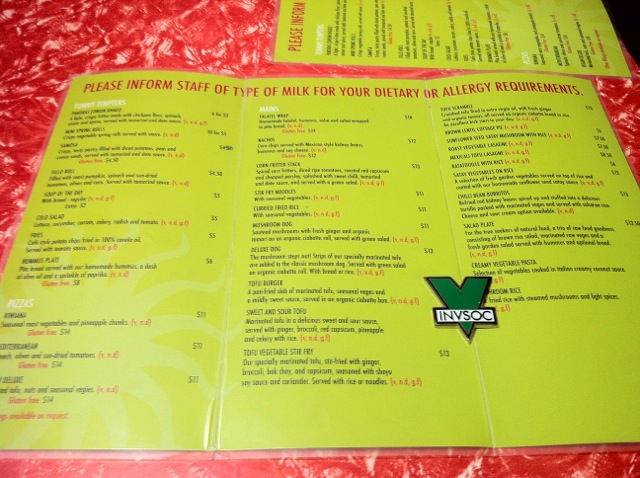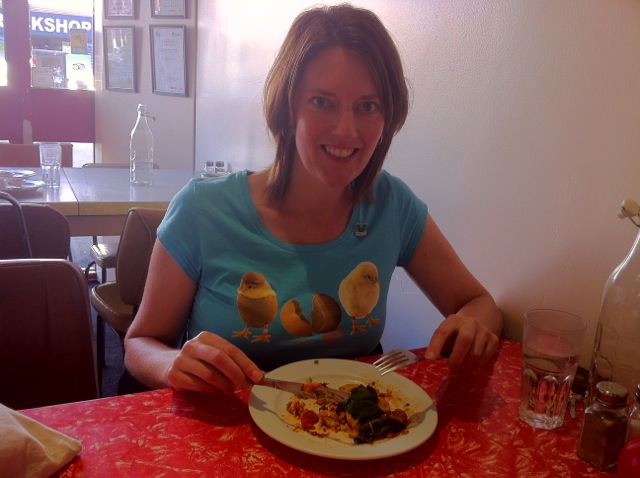 Tofu Burger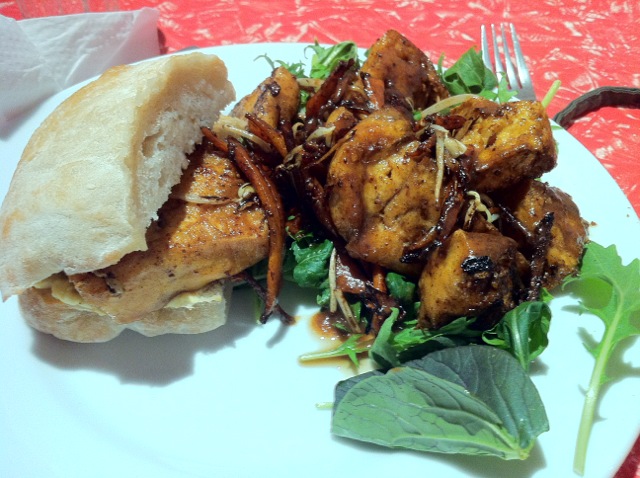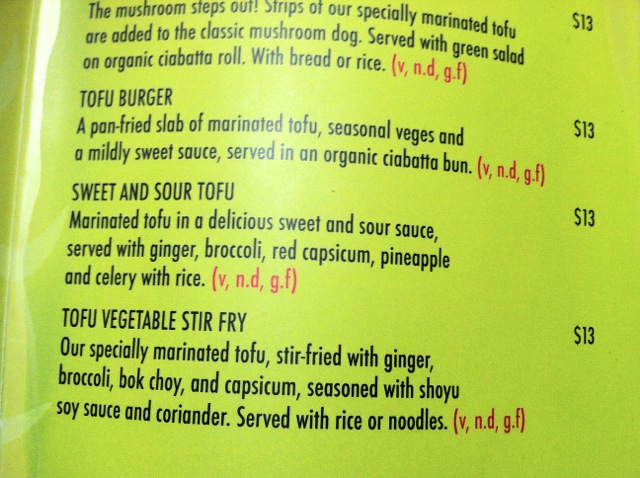 Sweet and Sour Tofu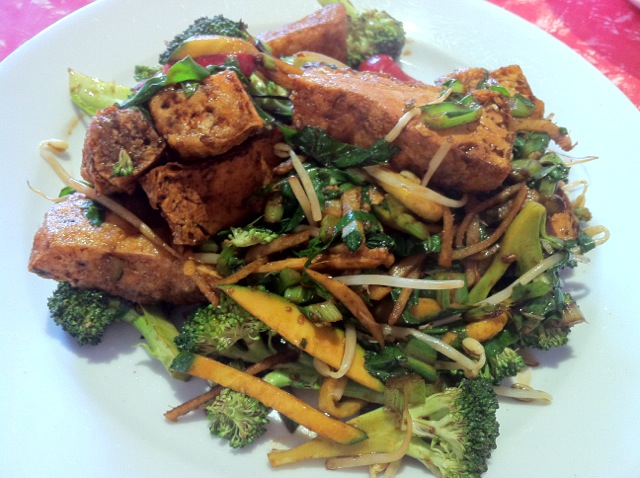 An example of Dunedins superb history, Circadian Rhythm has an excellent collection of Animal Rights/Welfare magazines.  From present day, right back to 2002!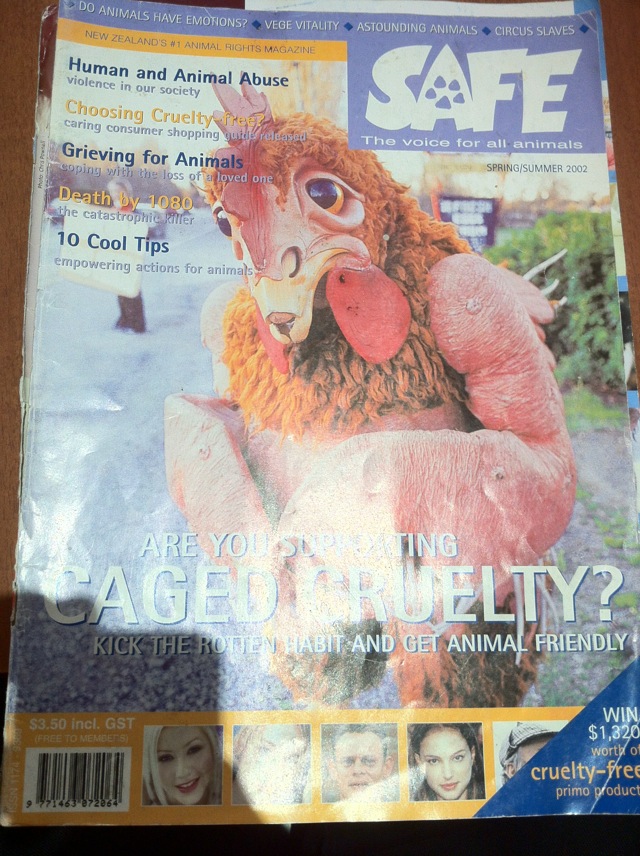 Sneaking vegan products into someone elses supermarket trolley?  "Hey, I dont remember putting this in here…..but it sure looks good!"  BRILLIANT idea!
"Keith is a magnificent, flamboyant free-range rooster who tells Tama of his vital relationship with the sun.
….He doesn't believe that chickens should be forced to live in cages, so Tama has the tricky job of explaining how humans treat his feathered friends in modern society"
"Free Range" is a marketing term, there are no real "Free Range" standards.  Roosters are killed on "Free Range" farms, as being male, Roosters do not lay eggs like female Hens.  When its so easy to be Vegan, why would anyone want to eat birds eggs?  Respect Chickens, make them a lovely Hen Home to live in your backyard, I'm sure Keith the rooster would prefer to live as his own Chicken, not on a "free-range" farm :-)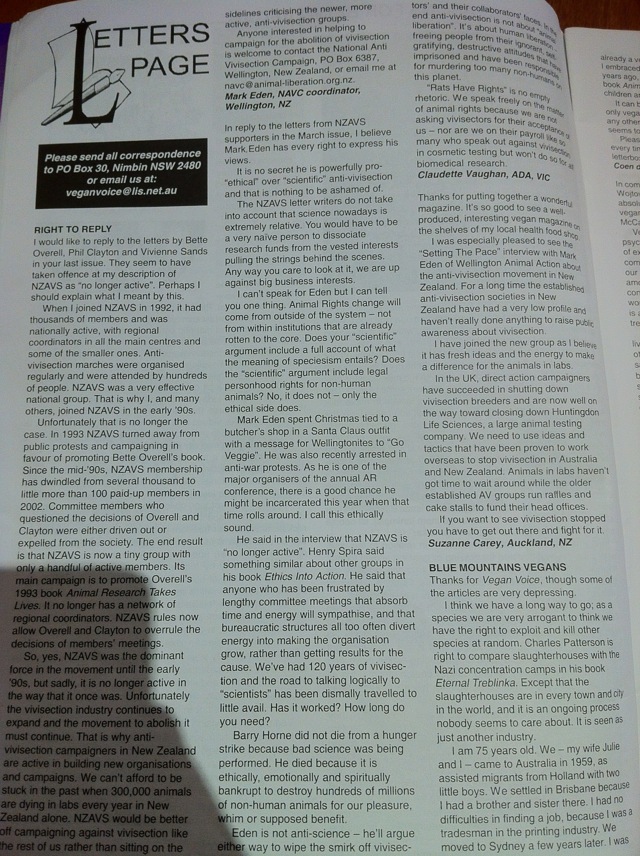 Corn Fritter Stack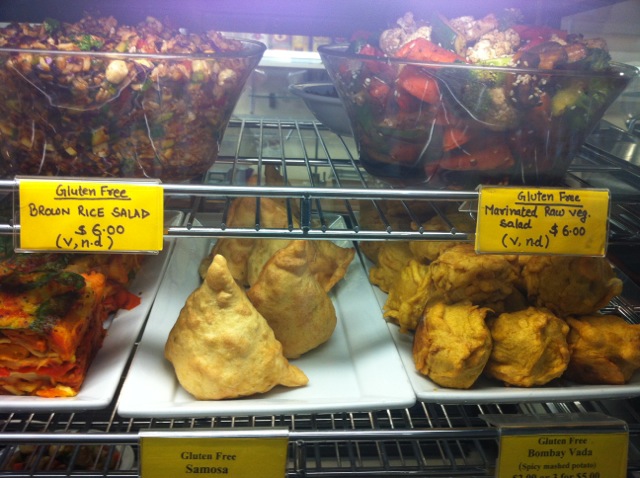 Lasagne!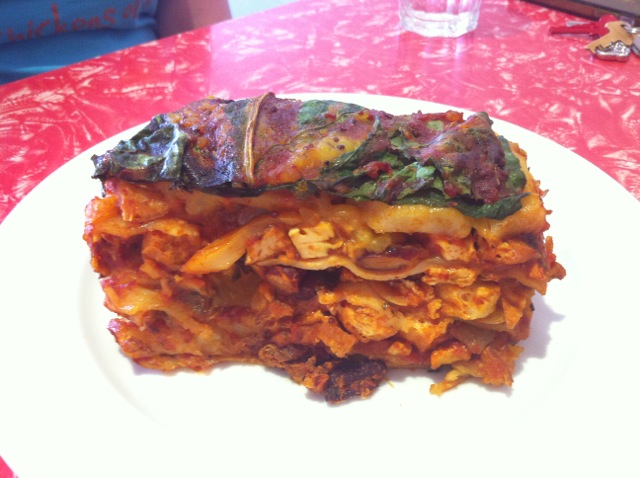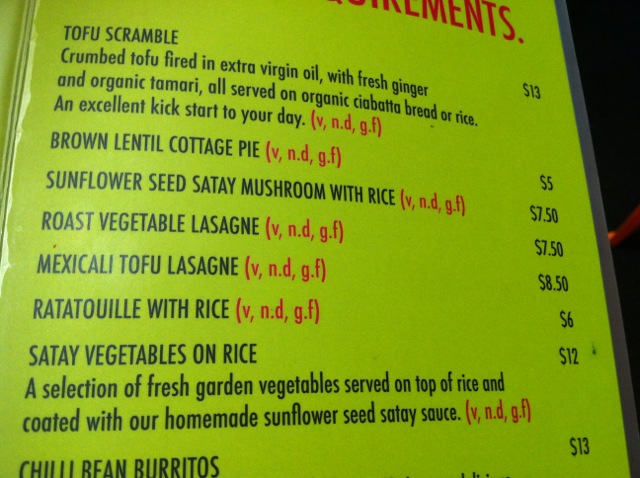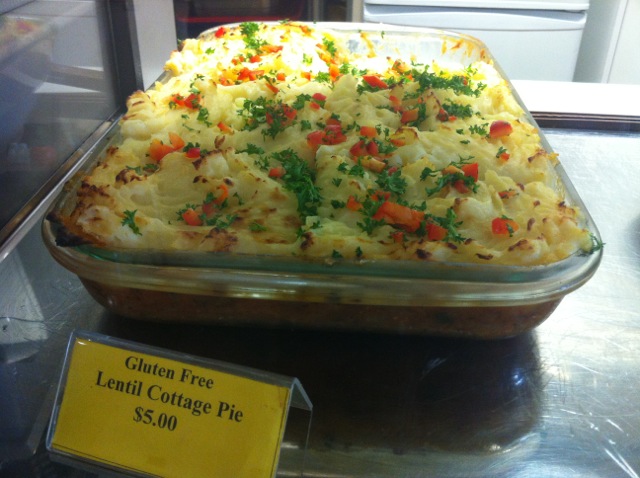 Lentil Cottage Pie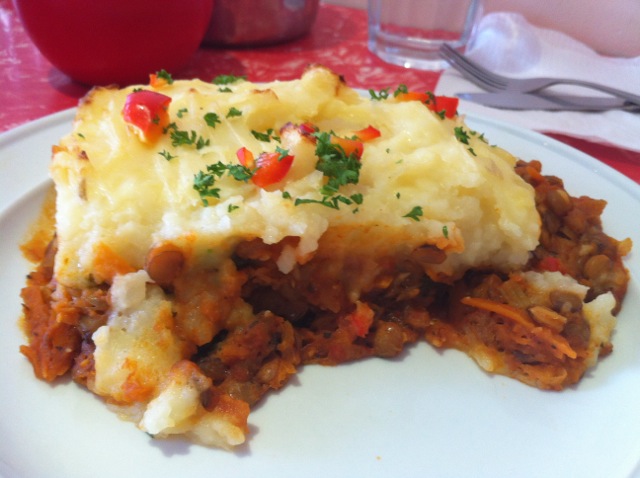 Masala Dosai
The "Vegan Deluxe" pizza :-)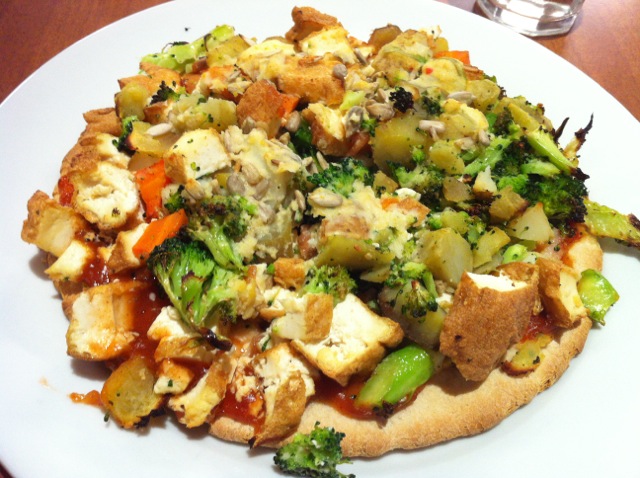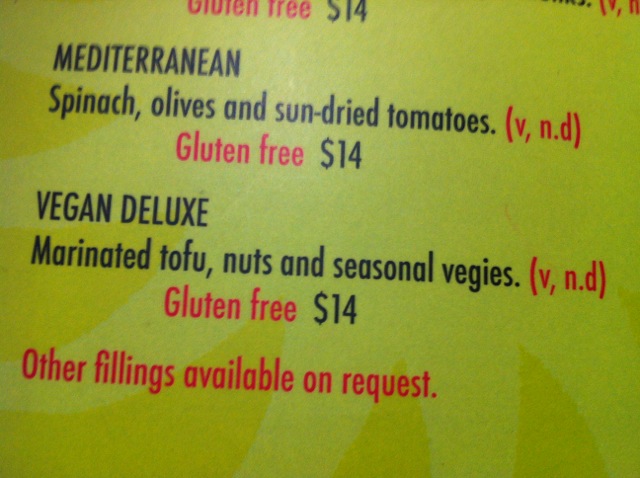 Circadian Rhythm was fantastic!  Thank you very much to Sue and everyone involved!
"The Joyful Vegan" Farmers Market stall!
The Joyful Vegan is a farmers market stall worthy of the legends!  Held at the picturesque Dunedin Railway Station each Saturday, this Vegan family business has an absolutely jaw dropping arsenal of Vegan goodies at the ready.  And it sells out within hours, they cannot keep up with the demand!
 direct download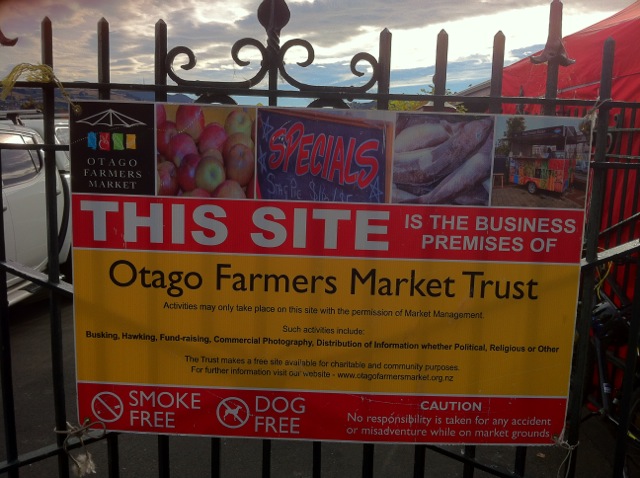 The Joyful Vegan caravan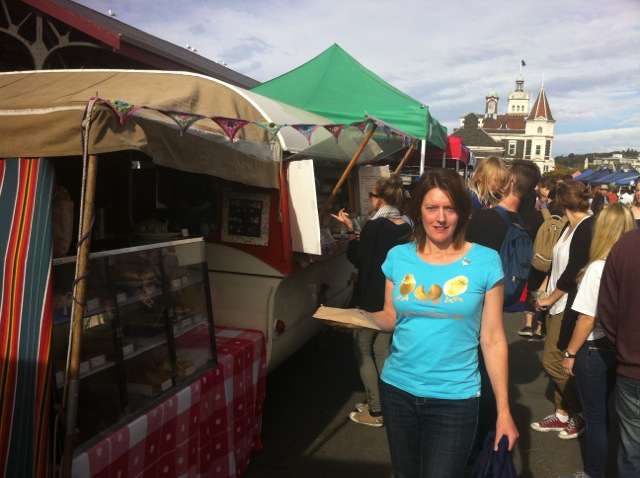 Theres always a sizeable line to the main caravan!  A separate bakery section is on the side, and people dine at the back!  Its a marvellous example of a Vegan business, absolutely.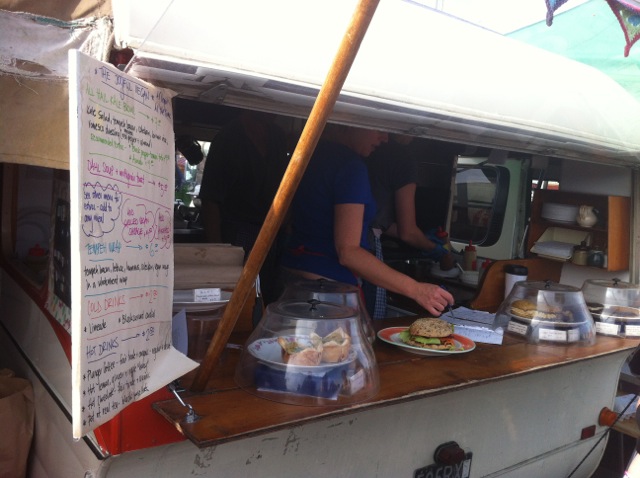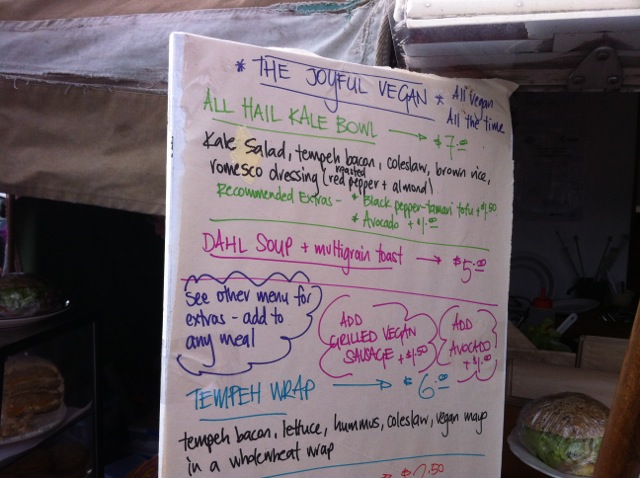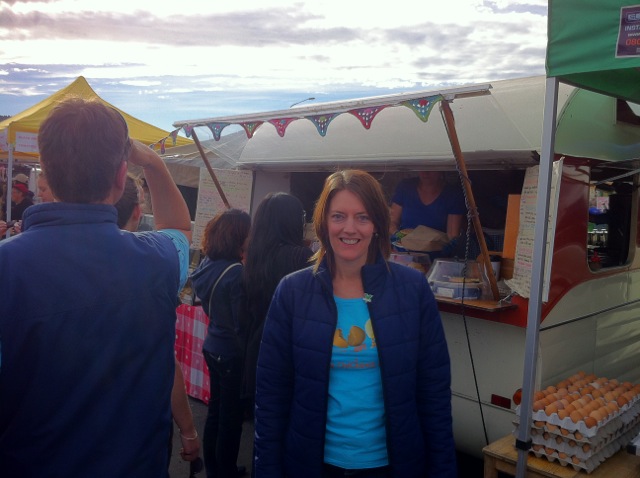 The hens eggs are at the stall next door.  Being a Non Vegan farmers market, there are all kinds of parts being sold.  "Havoc" pig flesh prides itself on being ethical, "hear no evil, see no evil, EAT no evil!".  I wonder if the pigs would actually agree with that?  They look like an entry on "Suicide Food", a blog that shows Non Vegan restaurants that seemingly offer animals PROUD to be killed!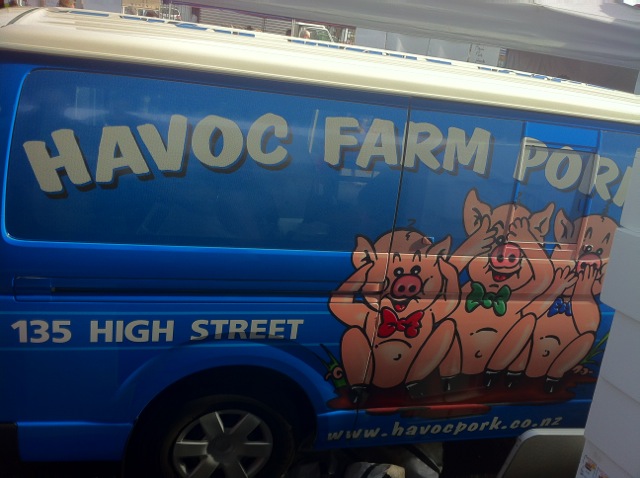 Who needs Non Veganism when "The Joyful Vegan" has such a great selection in the bakery section!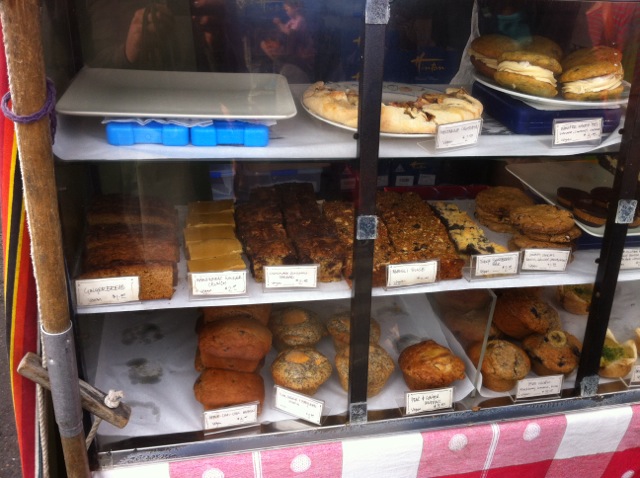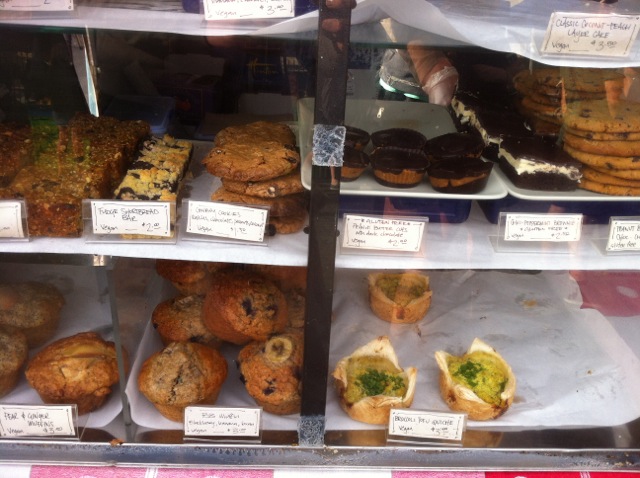 This "Classic Coconut Peach Layer Cake" cost just $3.50 :-)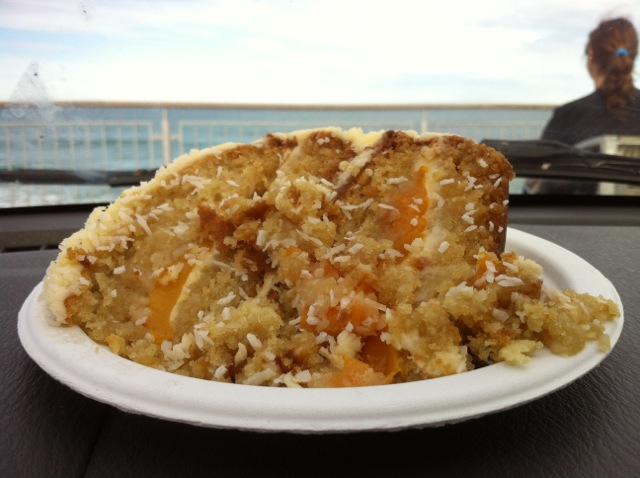 The dining section of "The Joyful Vegan", we met a lovely family from Hawaii :-)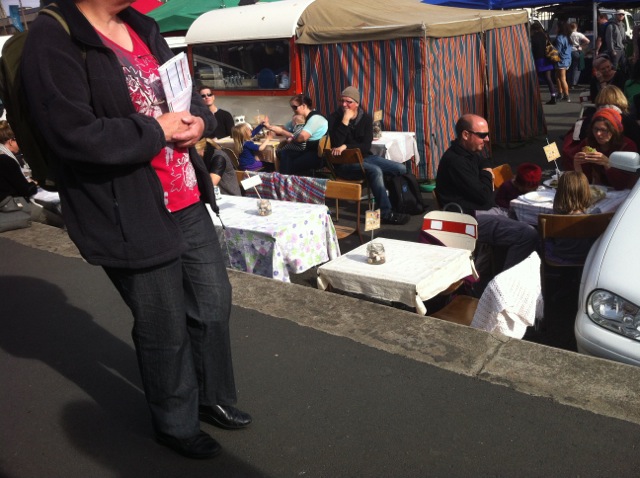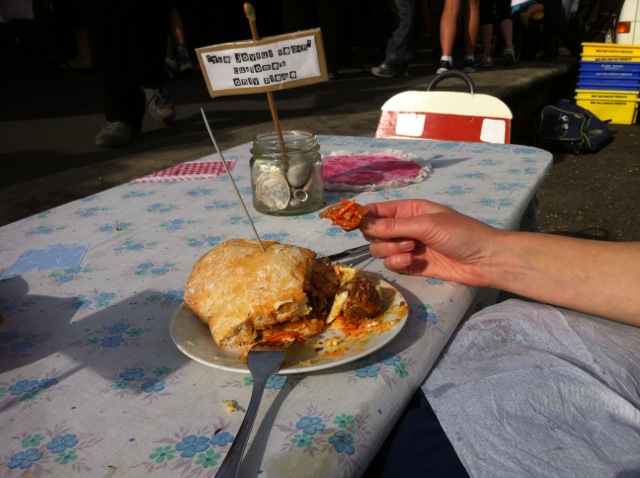 Jen ordered the "Meatball Grinder"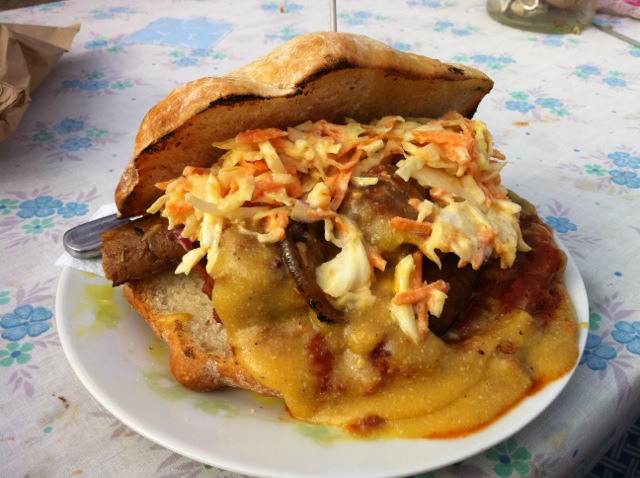 I had a HUGE burger.  Seriously, I'm 1.95M tall with large hands and even I wondered if I could deal with the colossus!  Move over "whopper" and "big mac", Vegan burgers are taking over :-)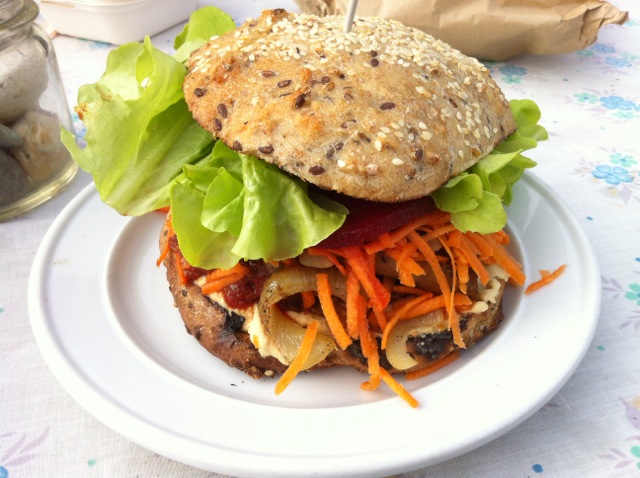 Trains at the railway station.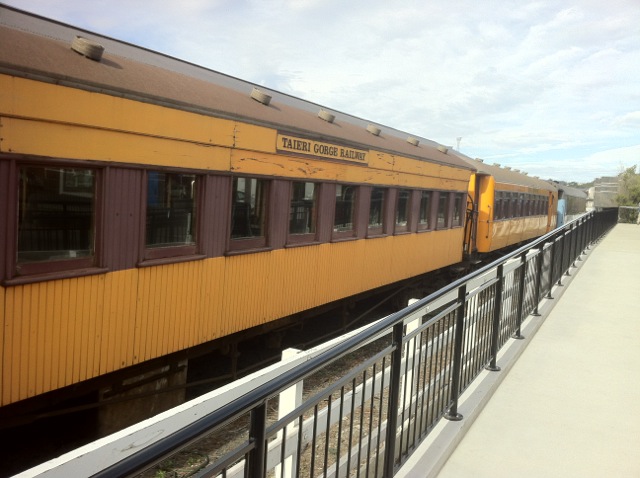 Swamped with the crowds and surrounded by Non Vegan stalls, "The Joyful Vegan" is a highlight of the Otago Farmers Market.  Apparently 95% of customers are not (yet!) Vegan, but with such a shining beacon showing the way, "The Joyful Vegan" will win anyone over :-)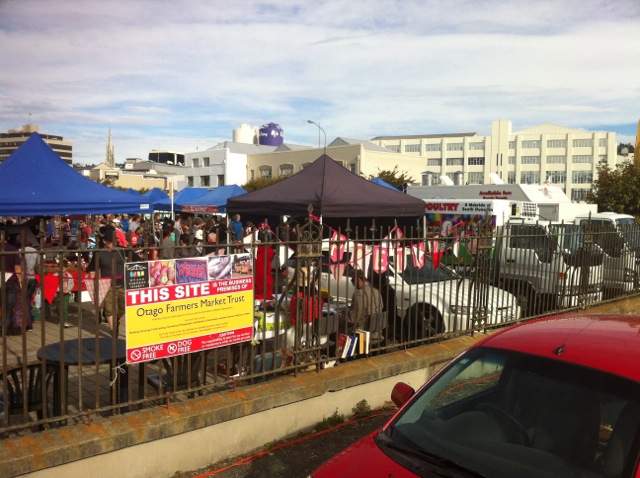 Modaks Expresso, a great Vegan friendly cafe
Modaks Expresso is located in the heart of Dunedin city.  We were excited to meet local Vegan superstar Pamela Smith and her family at Modaks!  Pamela organises Vegan events in Dunedin, and is a lovely person!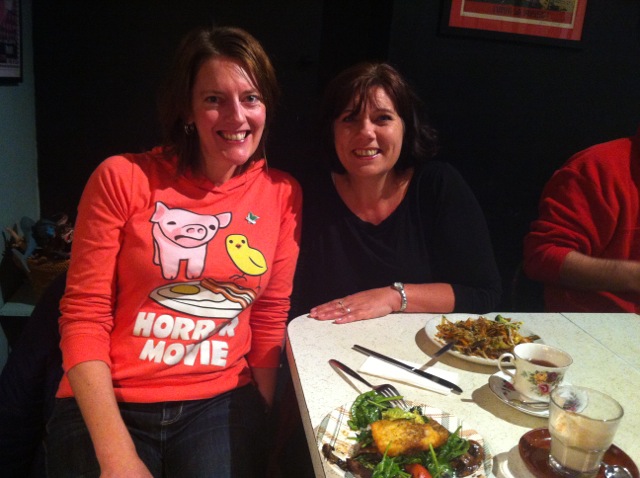 Vegan breakfast, a hashbrown, fried tomato, avocado, salad and more!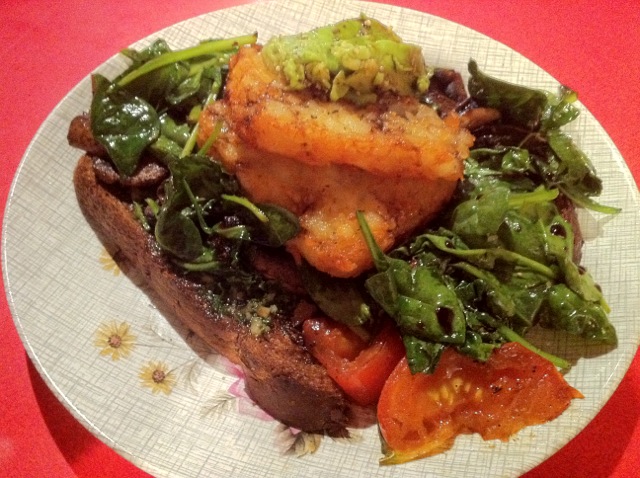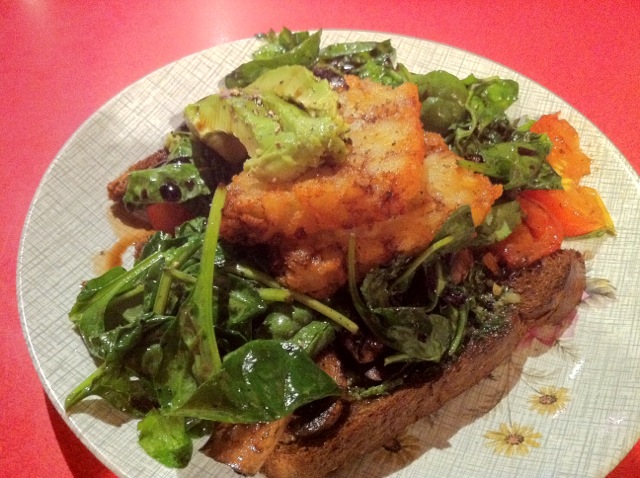 Vegan pizza :-)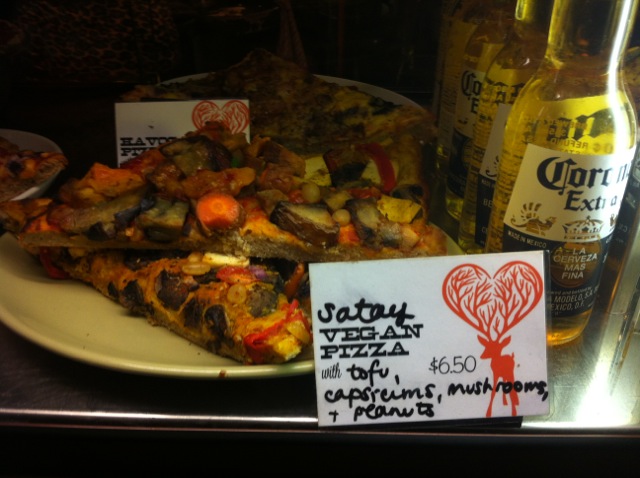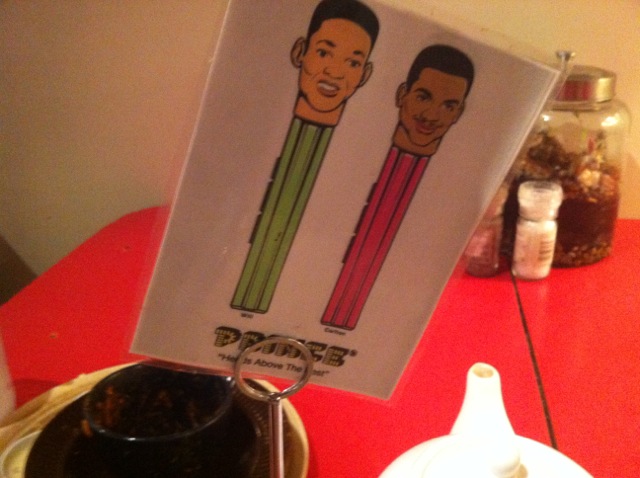 Lush cosmetics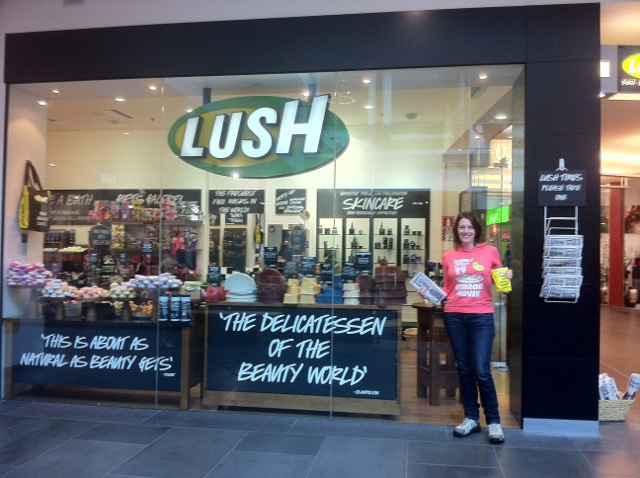 "…do not commission tests on animals…..using only vegetarian ingredients…"  We asked instore, and "at least 80%" of products sold at Lush are Vegan.  We had a conversation about Veganism with the storekeeper, and she explained she had recently gone Vegetarian and would "probably" end up Vegan before long :-)


Vegan!  Its surreal being surrounded by Vegan logos :-)

We also ventured out into wider Otago, leaving the Vegan food of Dunedin for winding steep streets and amazing views.
Near Portabello, someone here is clearly a Dr Who fan!
Port Chalmers
Port Chalmers – home of the colossal crane!

  

Nearby bays
 
 
Aramoana
Aramoana is a beautiful seaside town that is rather unfairly remembered most for a grisly shooting.   New Zealand movie "Out of the Blue" came out in 2006 and portrays the event.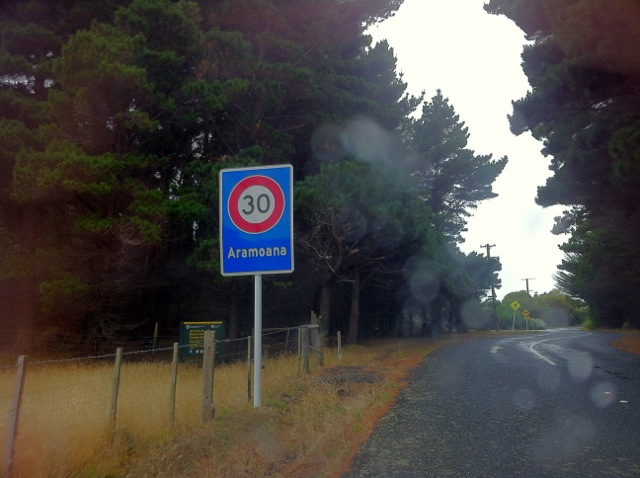 The beautiful beach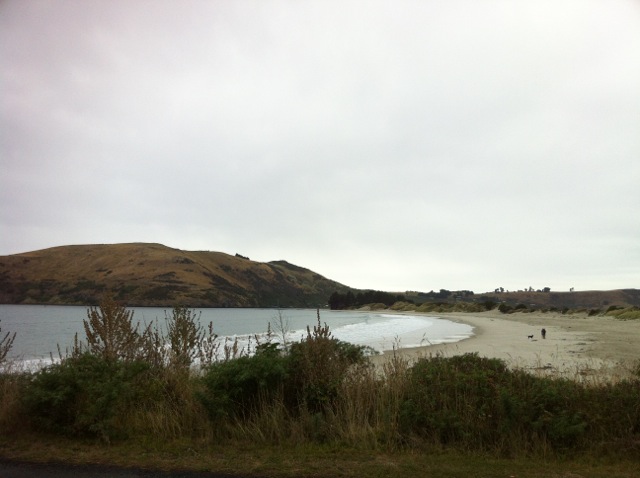 "With its white beaches, rock formations, dunes, expansive salt marsh and stunning seascapes, Aramoana provides a rich and diverse area where visitors can explore and enjoy our wonderful natural environment."  I'm not the only one guilty of long sentences! :-)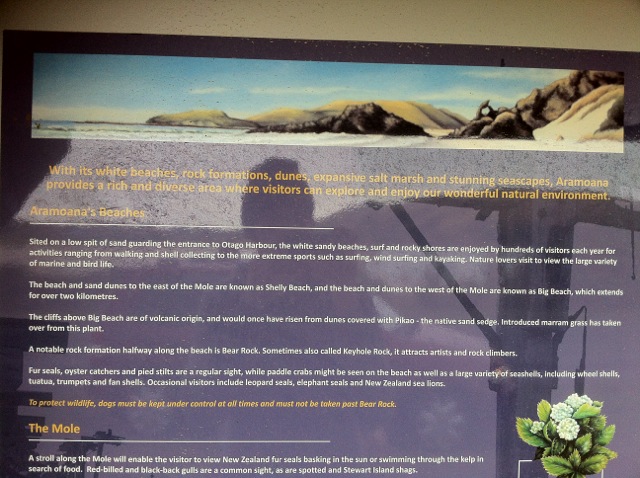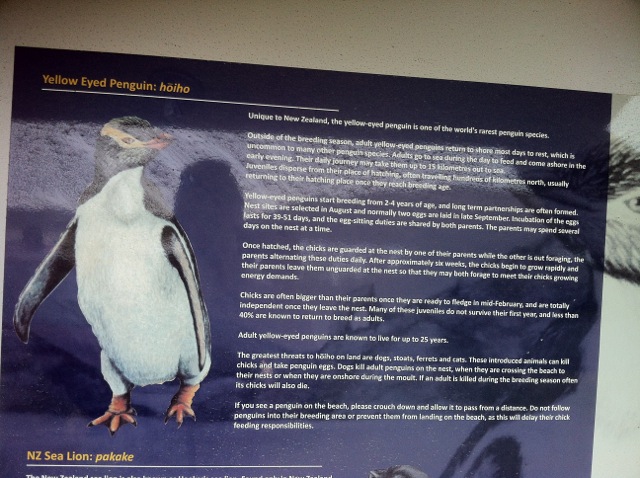 The "Mole" at Aramoana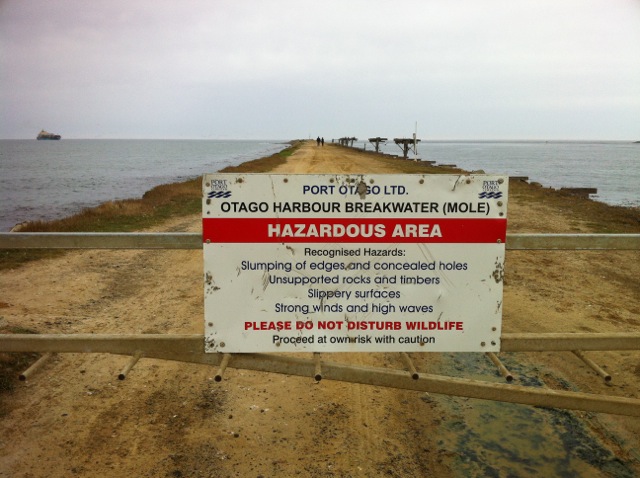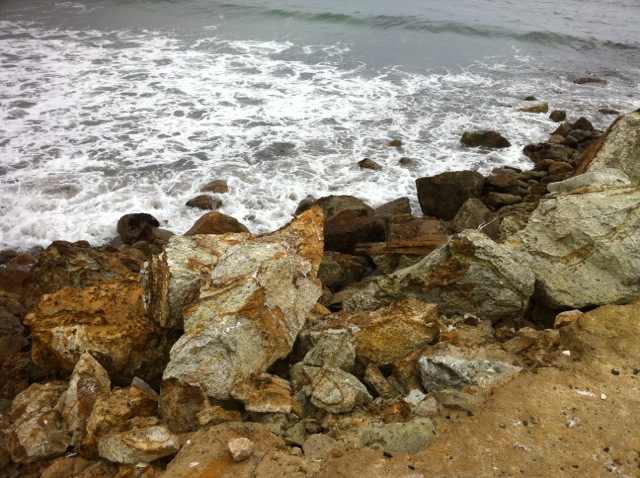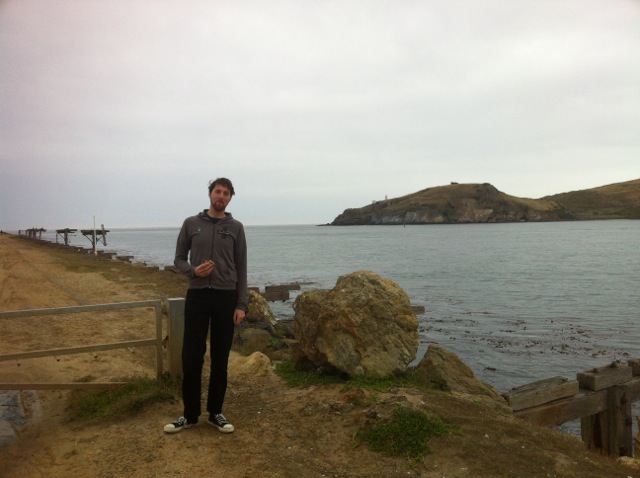 As we spoke, this huge container ship heading for Port Chalmers seemed to LUNGE forward at an incredible pace!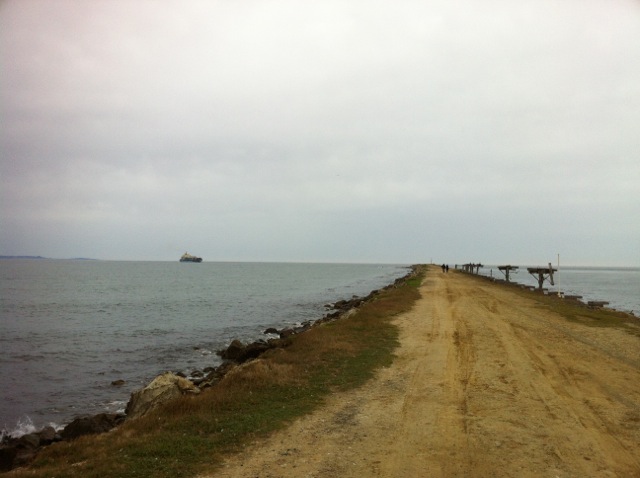 A blink of an eye later!
Houses in the tiny settlement of Aramoana tend to have interesting architecture.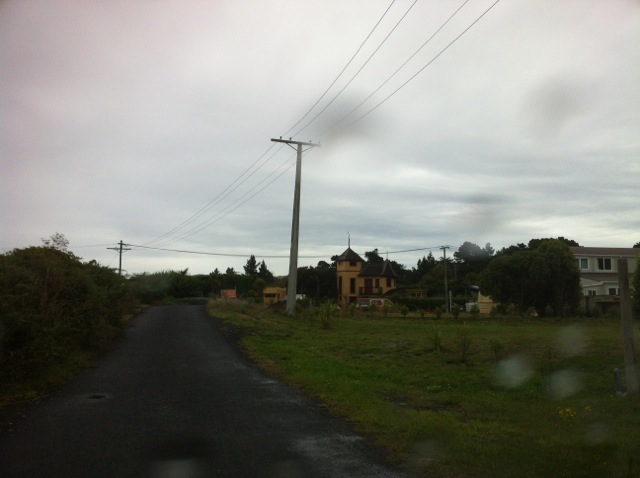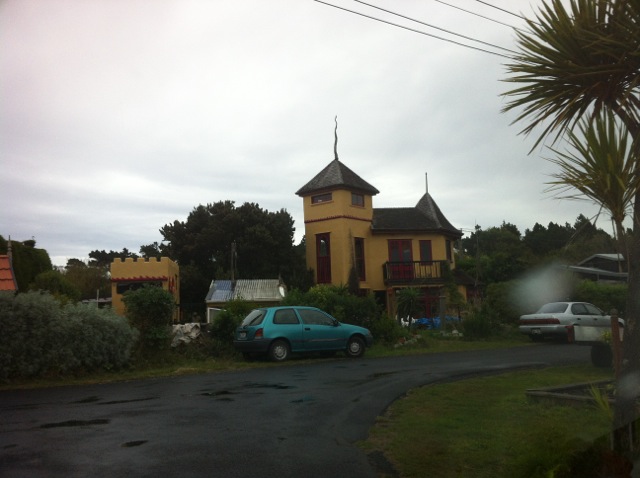 We visited the massacre monument to pay our respects to those killed.  The monument is along a short walkway from the carkpark near 55 Moana Street.  The killer's house was at 23 Muri Street.
The monument to those killed.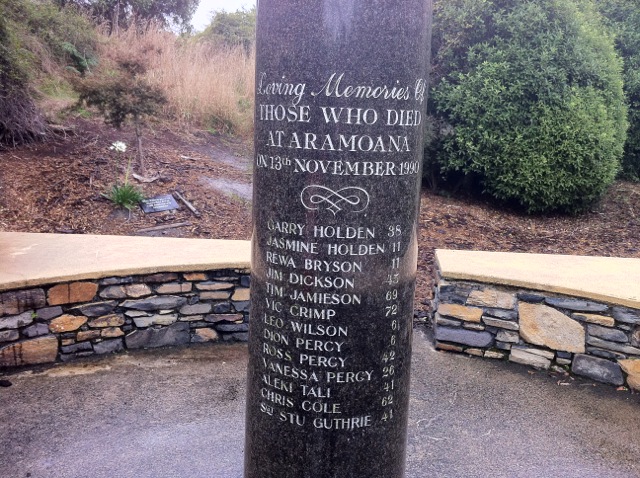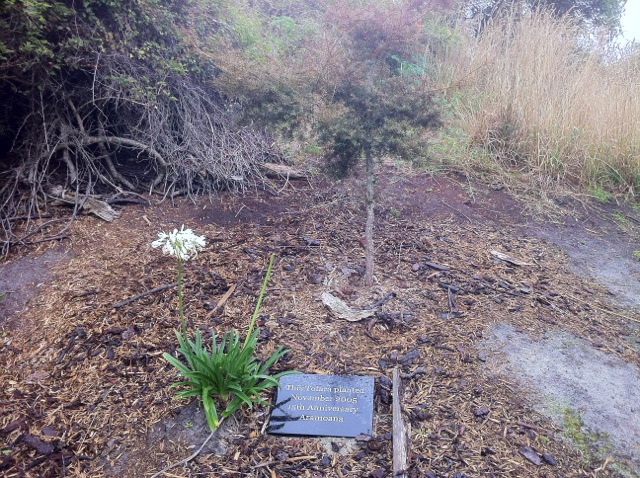 We left Aramoana to visit the other side of the bays, higher parts of Otago, beautiful views…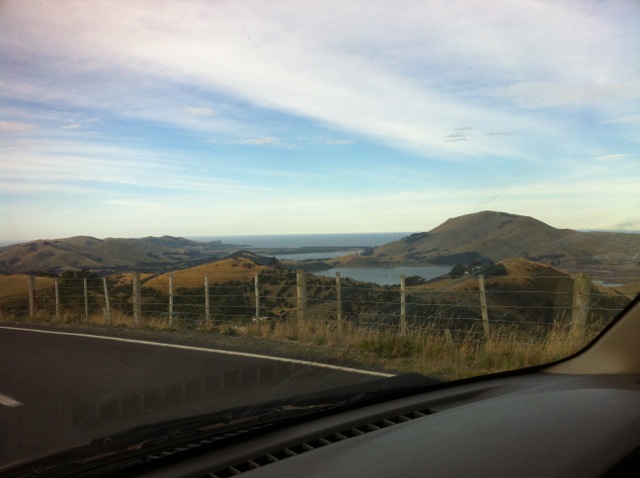 …but terribly steep streets!
And speaking of steep…..
Baldwin Street ("The Steepest Residential Street In The World")
Back to urban Dunedin city, you'll find the monstoristy that they named Baldwin Street.  Picture the movie "Titanic" three quarters of the way through, pre "I'll never let go Jacky poo, I love youuuuuu!" ice scenes.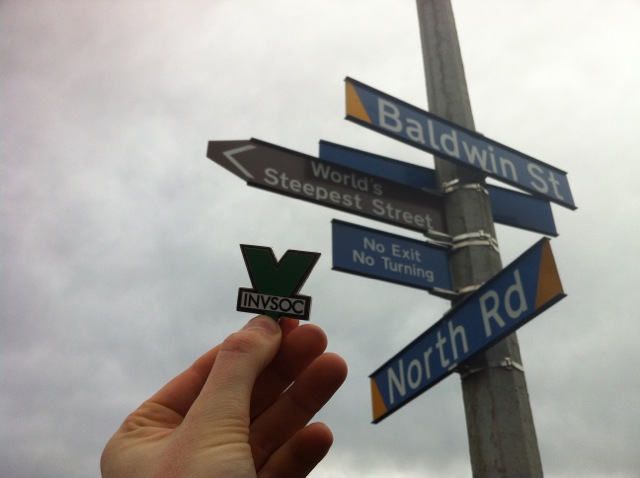 What a wacky street!  Who designed this thing!  Eat your heart out San Francisco, Dunedin NZ boasts "the steepest residential street in the world" :-)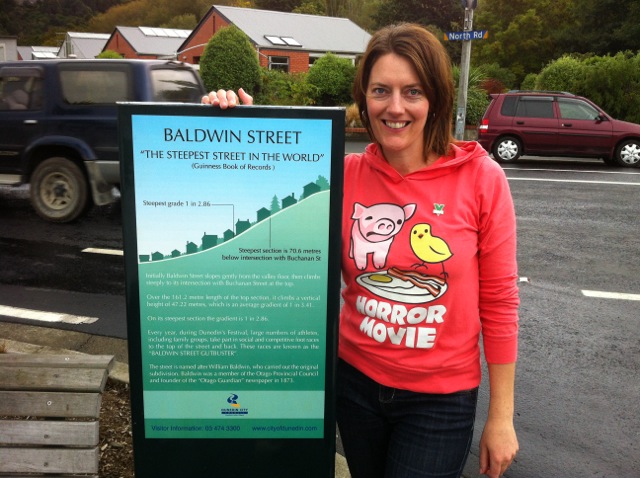 Part of the way up you'll find an art studio which sells $2 certificates for climbing Baldwin Street.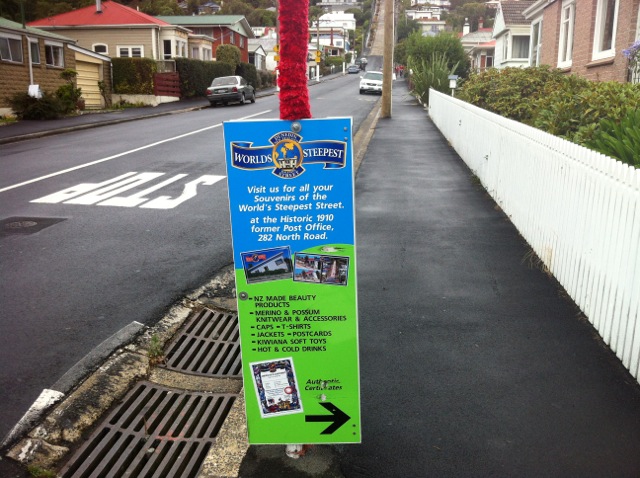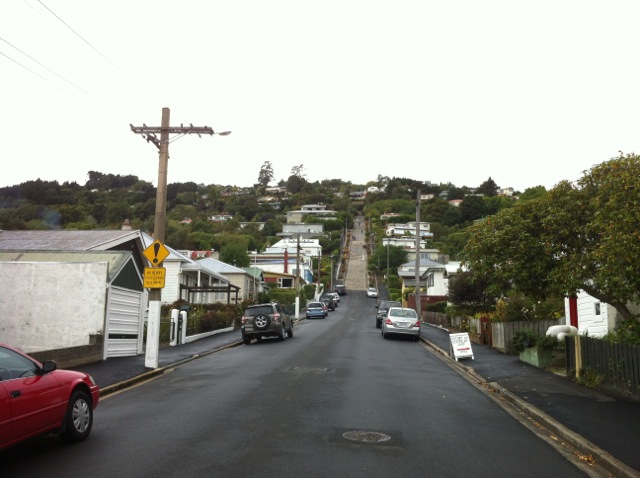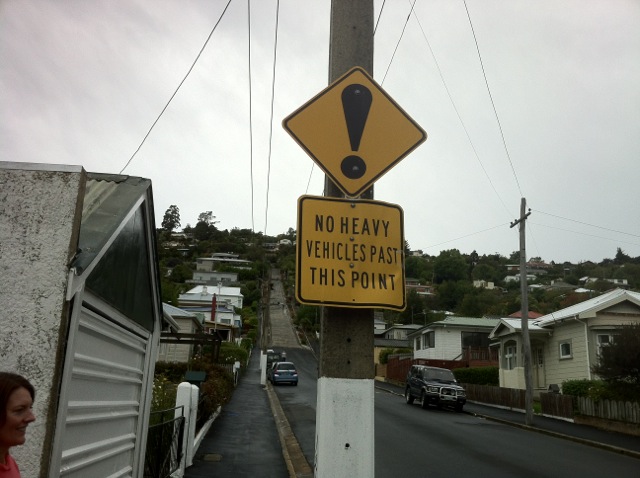 St Clair beach
What a beautiful beach to stroll along :-)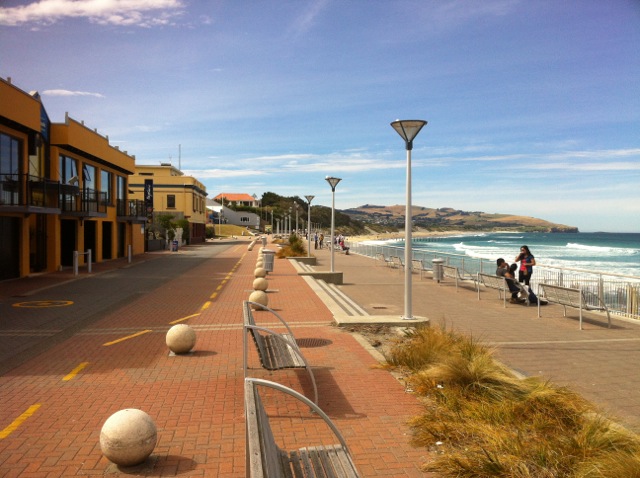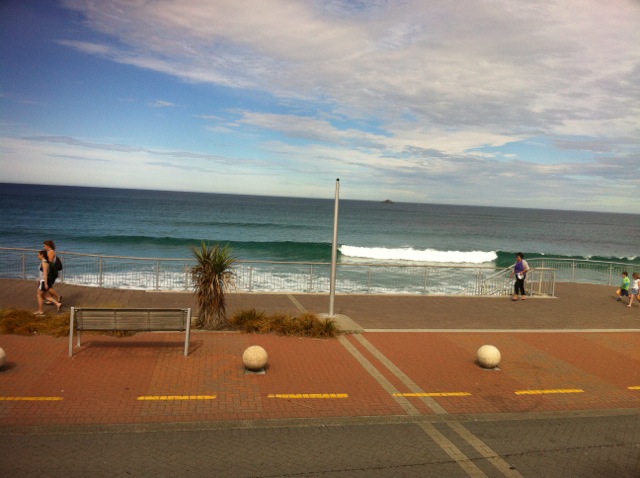 Sharks are evidently rare, but remembered.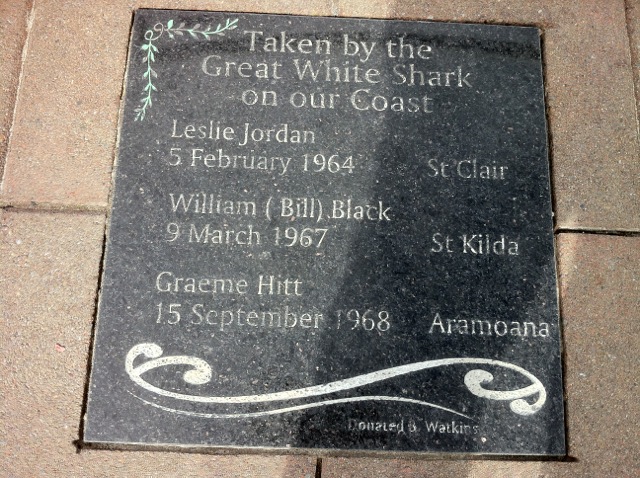 "…avoid all contact with the dunes…old landfill site….industrial contaminants…"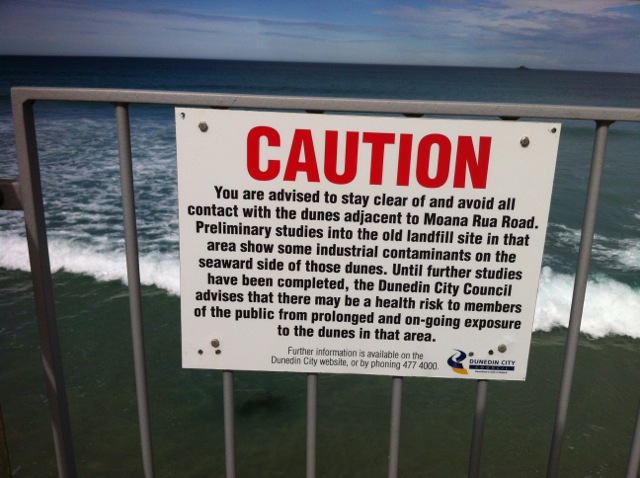 Jen and Sandcastles!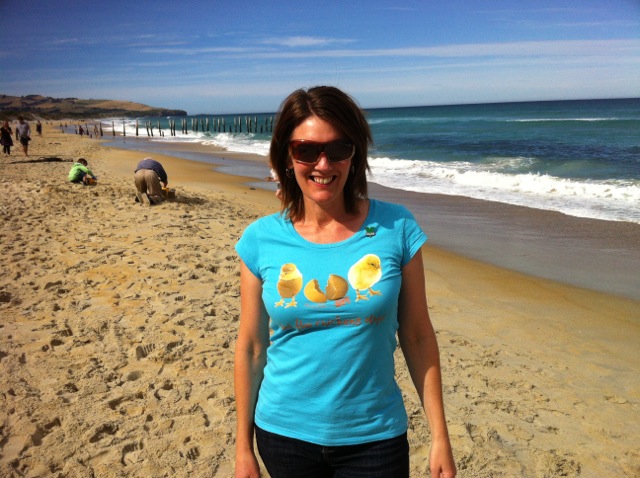 Look at that daft log!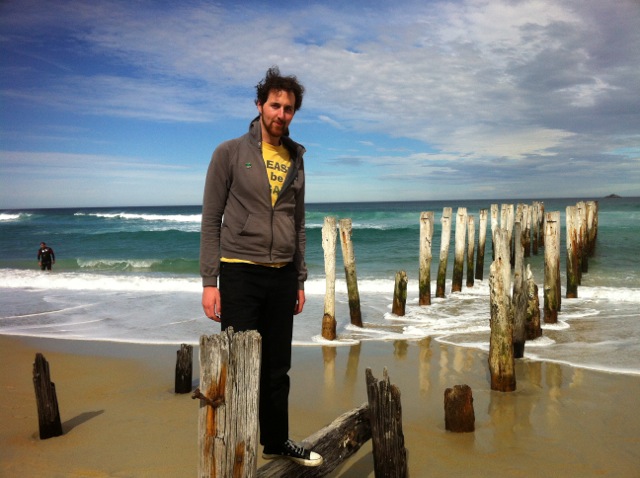 Happy dog :-)
Jenny has a friend selling a home in St Clair.  A great house for vegan potlucks, it has a large kitchen and a serving door through to the dining room!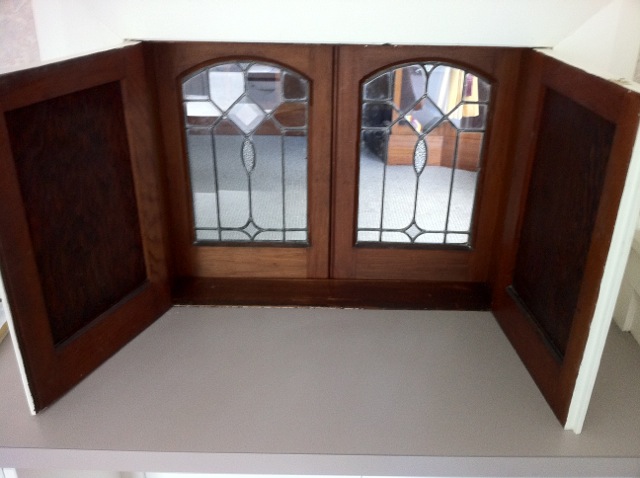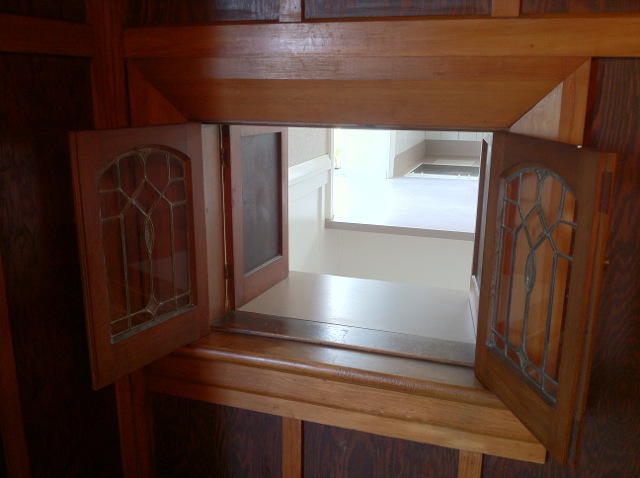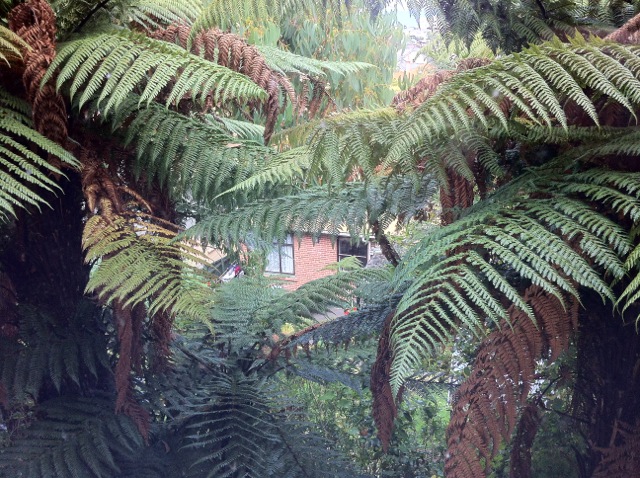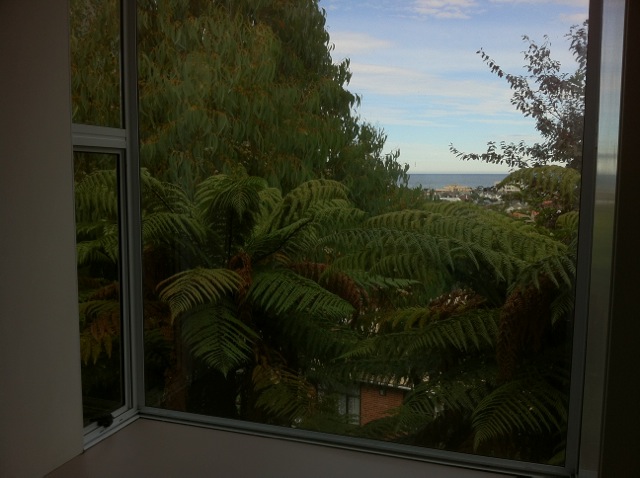 We had a lovely trip to Dunedin!  All jokes of Marmite limits and shopping trolleys that go on lockdown aside, the people of Dunedin we met were friendly and inviting.  The Vegan food was second to none, and the beaches were beautiful.
Perhaps we should buy the house in St Clair and run the Invercargill Vegan Society from our Dunedin exile? :-P