"Can be fried, bbq'd, added to pasta sauces, curries, anything you want :-)"
Makes 8 approx 100grm sausages
"In a small bowl mix wet ingredients
– 1  and a 1/2  C  vege broth
– 4 tbsp tomato paste
– 3 tbsp rice bran oil
– 3 tbsp red wine vinegar
– 3-6 cloves garlic crushed/chopped fine
In a large bowl mix dry ingredients
– 1 2/3 C  Wheat gluten flour
– 1/4 C  Chickpea flour
– 3 tbsp nutritional yeast flakes
– 1 tsp ground corriander
– 3 tsp dried herbs
– 1 tsp ground sea/mineral salt
– 1/2 tsp ground pepper
"Add anything else you want to flavour them with, fresh herbs,olives,sundried tomatoes, let your imagination go wild!

Form a well in the centre of the dry ingredients and then pour the wet into the dry.
Stir with a spatula until the "dough" leaves the sides.
Knead "dough" for 3 mins.
Leave to rest for 10 mins.
Knead "dough" for 2 mins.
Pre heat oven to 180 Celsius or 350 Fahrenheit (German for "American Freedom Unit").

Tear 8 even pieces of foil and lightly oil with a  pastry brush
Divide dough evenly onto foil and shape into a sausage shape, roll foil and gently twist ends.(being carefull not to pinch dough in twist)
Bake for 35-40 mins (depending on quality of oven)
Allow to cool as flavour develops over 45mins
Unwrap foil from sausage."
Enjoy with your friends :-)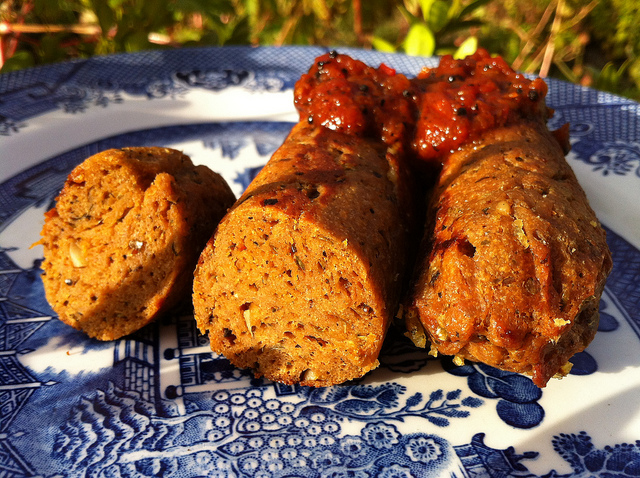 Idea : slice one up and include it among a Pizza, as Russell demonstrated at the February 2012 INVSOC potluck!

Honorary member of the Invercargill Vegan Society Jessie Hume of the terrific food blog "Tahini Sauce" offers us the secrets of her own recipe,  "Unbelievable Sausage Success"