"I'm not too sure what to call this, one day I decided I wasnt getting my daily dose of the colours orange and green – the resultant "Pumpkin Kumara Curry" *will* provide 100% the Recommended Daily Intake of these two colours, heck, if anything, its an overdose!"


Ingredients
– Pumpkin
– Kumara ("sweet potato")
– Silverbeet
Optional:
– Soymilk (a little stirred in goes a long way into making for a smoother, creamy end result)
– Curry powder (adds spice)
– Fried sausage/patty (adds a delectable chewy element)
– Marinated Tofu (looks good on top)
Utensils needed
– Steaming pot set
– Large sharp knife for cutting Pumpkin
– Smaller sharp knife for cutting Pumpkin skin, dicing
– Spatula, makes cleaning the pot easier
Serves 2-4
Start with a pumpkin (whichever kind you prefer, I chose a "Butternut Pumpkin", which I believe has different names worldwide), a Kumara ("Sweet Potato") and Silverbeet

Using a large sharp knife, carefully cut the pumpkin into halves, refrigerate one half for future use, and using your large knife, cut a smaller piece to use for this recipe.
Take a smaller knife, and trim the pumpkins skin off, it wouldnt taste very nice! :-)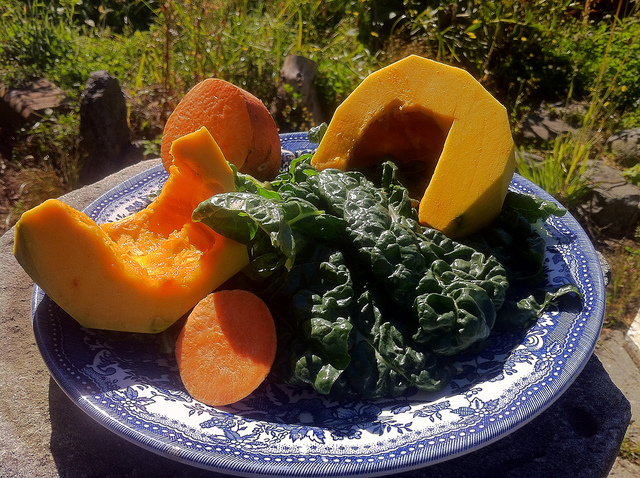 Dice the Kumara and Pumpkin, and place into a steaming pot as show below  (A large pot of water at the bottom, with this smaller part on top, with a lid.  The top part where the vegetables go has holes all throughout its bottom, for steam to pass through, pressure to build with the lid on)


While the vegetables steam (will take a couple of minutes), you might like to fry a sausage and/or a burger patty, they go great with the end result when they are chopped and added in, something tasty and chewy amongst the orange and brown vegetables :-)


A couple of minutes later, you'll have steamed, diced vegetables.  Turn off the heat, and let them stand.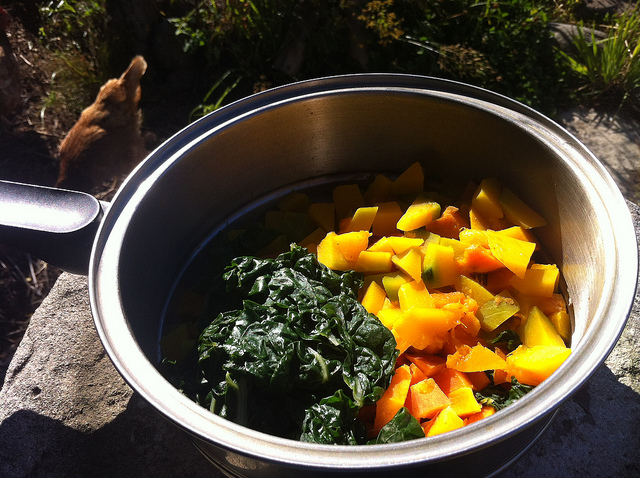 …and steamed, diced vegetables wont be the only thing which is ready within a couple minutes, so will the fried patty and/or sausage!  Dice these also, bonus points if you create a Pacman from the patty while dicing :-)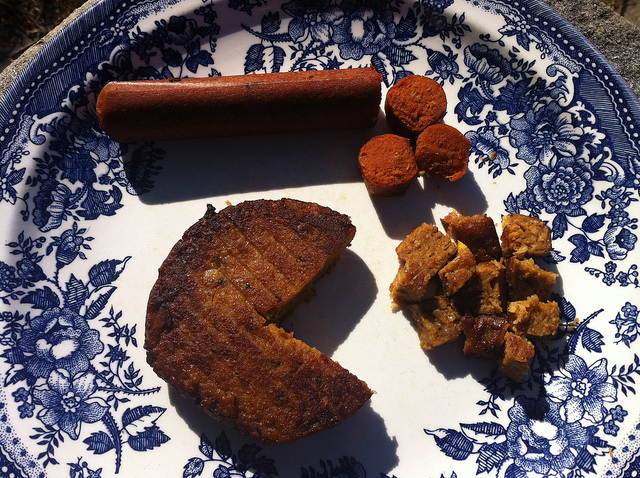 Pour out the now unneeded water from the larger steamer pot, and tip the diced, steamed vegetables into the large bottom pot. Use a potato masher to smash/squash/destroy/"mash" the steamed diced vegetables, then stir using a wooden spoon.  If you add a very small amount of soymilk, the "curry" will become creamy and smooth.  Adding curry powder is optional at this stage, although it certainly lends legitimacy to my use of the term "curry"! :-)
Add the optional diced sausage and/or patty, and stir.
Serve into bowls, and enjoy with your friends :-)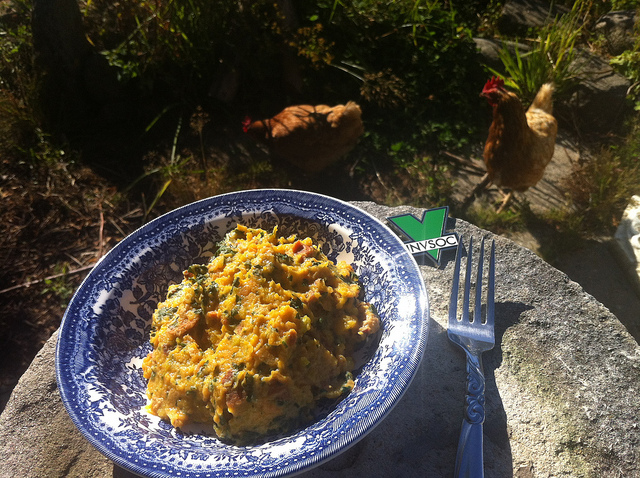 Adding marinated tofu on top is a great option! :-)