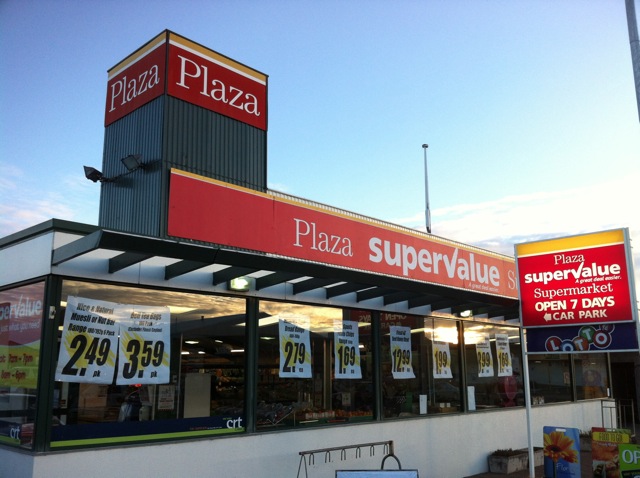 Plaza Supervalue is a much smaller supermarket than the others, but it has some very useful products.  Not one but TWO Vegans have worked here in the past :-)
Right as you enter, theres a very good "Gluten Free section with "Orgran" products, which are ALL Vegan :-)


Vegan custard and chocolate mousse :-)


Not all supermarkets have Nutritional Yeast, which is often a good source of B12, and the product is used as a "cheese substitute" for its flavour.  Quite "nutty", a "strong" cheese taste.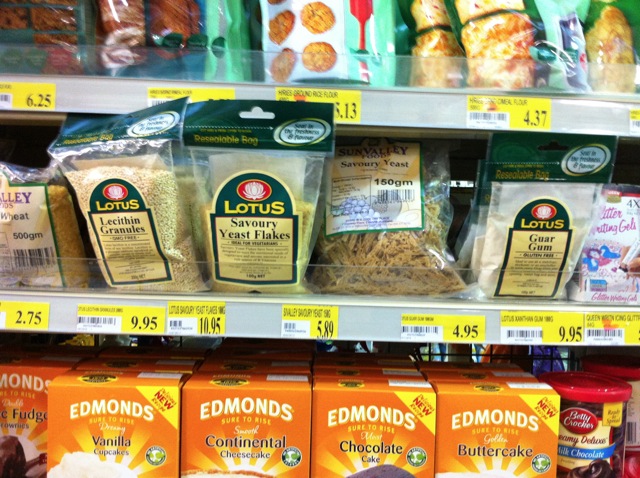 Here we see the finely ground Lotus brand is effectively TWICE the price of the coarse Sun Valley, which is also larger!  I bought the larger, cheaper product, the flakes crumble up in your hand nicely into powdery flakes.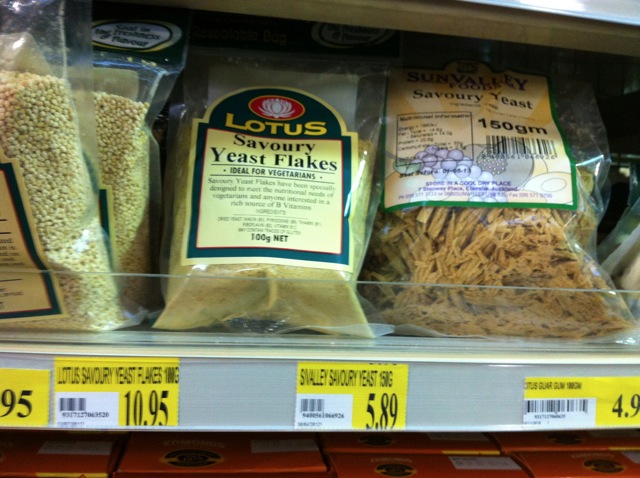 Whittakers dark chocolate (70%) is more often than not Animal Free, vegan :-)  Several of the smaller, "fancy dark chocolate" products are also vegan.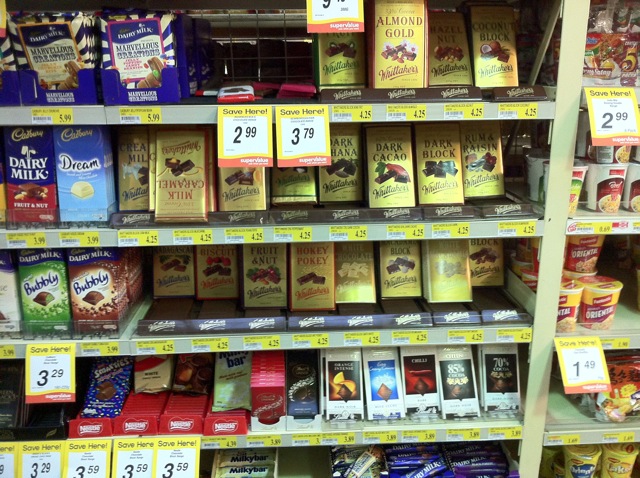 Plant Milk (Soymilk, Oatmilk, Ricemilk)

Ecostore products are not tested on other animals, but *are* environmentally friendly :-)
 "Certified Organic Wholemeal Flour", certainly sounds impressive!  All its missing is "Gluten Free"! :-)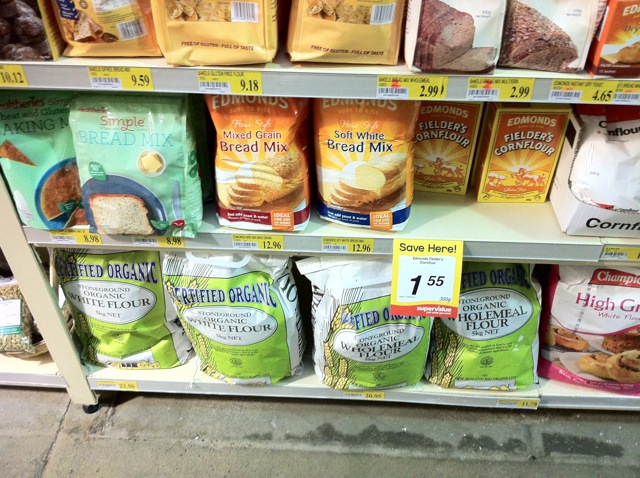 More nuts and baking ingredients than you could shake a….pinenut….tree…..stick at….. ? :-)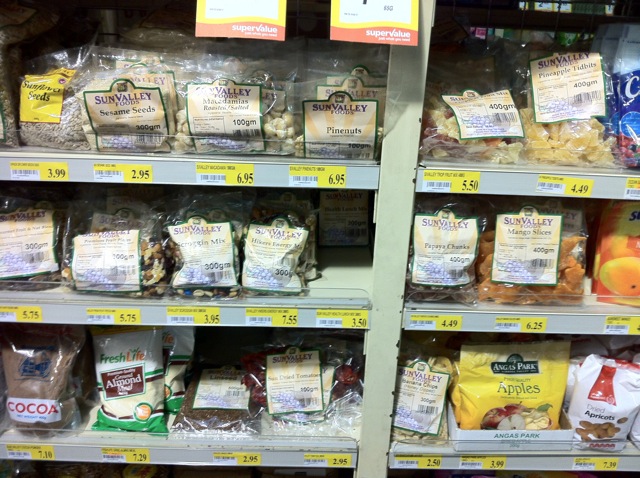 Plaza Supervalue seems to have a very small range of Bean Supreme tofu products, the two on the left are vegan, free of animals.  Do you want to reach through the shadows of the valley of death to grab a packet though? :-)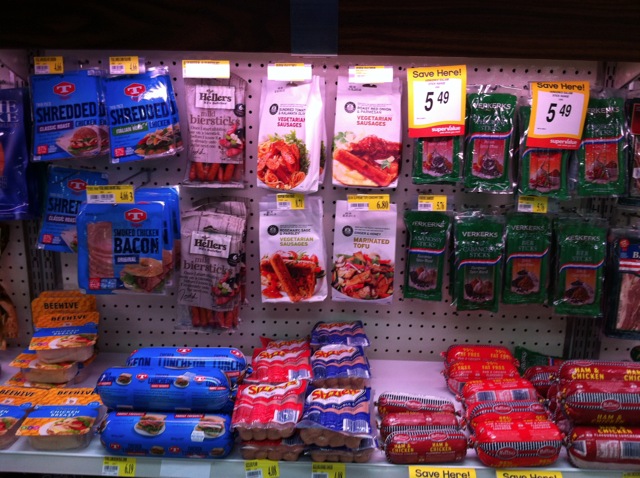 Waiwera mineral water comes in beautiful, gorgeous glass bottles.  Its apparently sold overseas for a huge price?  Yours for just a couple dollars.  You could even be really sneaky, buying a couple glass bottles of the mineral water, THEN refilling the nice containers for each for each of your potlucks, served chilled.  Works a treat, but shhhhhh! ;-)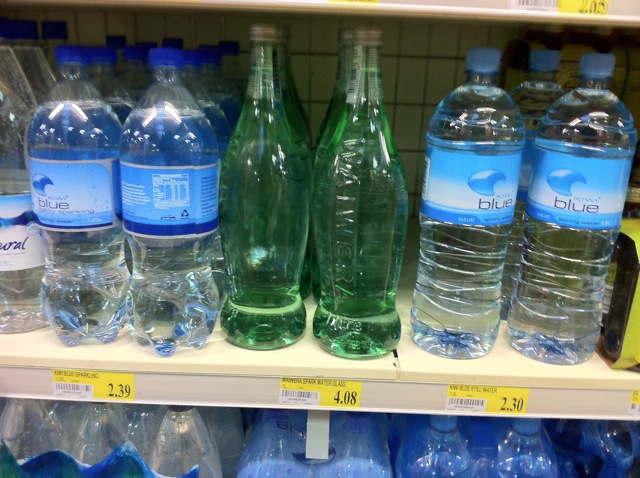 You could even put colourful Chicken Friend stickers on the bottles, although this WILL blow your pretense of always serving chilled new "mineral water", when your guests notice the same stickers on the same bottles :-)

Part of the fun of Plaza Supervalue shopping is browsing the community noticeboard!
Here, this "5 foot 3″ ,"pleasant nature[d]" Cinderella has forgotten to leave ANY contact details – can you find her glass slipper, then the dainty foot which fits?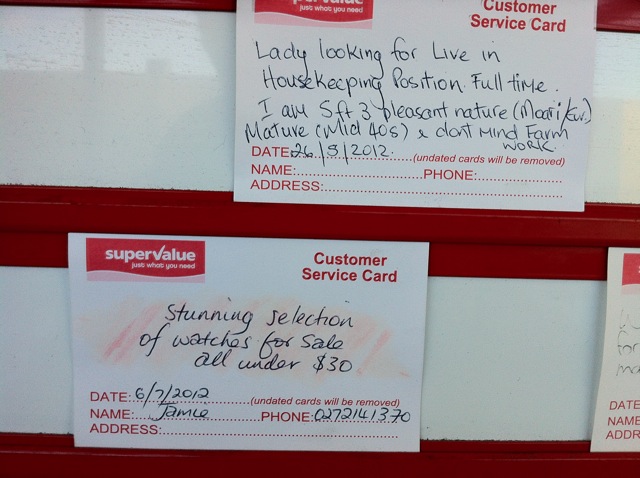 Love the pastel shading!
"Want to be rewarded for your efforts?  Want to join a pyramid scheme?"


Notice the Countdown card, bottom right, left on the Plaza Supervalue noticeboard! :-)  Another person who's learnt the ol' trick of taking a bunch of cards, filling them out at home then leaving them at various supermarkets:-)
Hot Rod guitar modification


Fan of Andre Rieu?  You've come to the right supermarket!


I might have to start a similar "friendship group" dedicated to Michael Jackson!  Look for meeting details at Pak n Saves noticeboard :-)

Who left these here???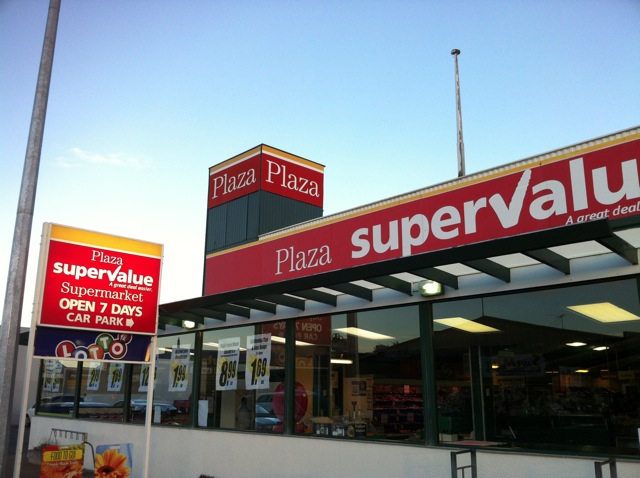 Plaza Supervalue 103 Yarrow Street