We held an impromptu emergency October potluck for a special guest!  Ashlee is cycling across New Zealand, and for one night only, he's staying in Invercargill at the new INVSOC HQ :-)

With just 20 minutes to organise a potluck, it was small and efficient.  As soon as Ashlee arrived at INVSOC HQ, we sent out the word, and begun cooking! :-) Jordan, Jenny, Dan and Ashlee attended.  Bicycle pannier bags loaded up with hummus, he was a great guest :-)
Take a look at Ashlee's great journey traveling from Hamilton to Invercargill.  He's about to head back home, hopefully with good memories from the South Island.



Taking the Interislander ferry between Wellington (North) and Picton (South).

Looking back at the North Island wind turbines around Wellington.

A snack before the potluck :-)






 "Whatever it takes to get to an Invercargill Vegan Society potluck" :-)




  
With keen cyclists in the room, we spoke of road bikes, Queenstown cycle trails, European voyages and padded bicycle pants :-)
And THATS when we discovered Ashlee had some horrific prehistoric beast hiding amongst us…..a Nokia N900!  Begin the geek pissing contest!  Dan brandished her Android flagship Nexus 4 running a stock 4.3 Jellybean, Jordan dug around through the bowels of INVSOC HQ, dislodging a Galaxy Nexus, Palm Pre, iPhone 4 AND a Nokia.  The N9 was the successor to Ashlee's terrifyingly open source N900.   The N9 launched into a harsh world, who frowned upon its eccentric MeeGo ways.
If only Nokia had went with Android instead of that wicked Windows Phone OS……….Jordan's N9 dualboots into Android 4.1 Jellybean, showing a glimpse of what could have been……


Believe it or not, theres more to phones than trying to out nerd one another!  Sometimes, phones can bring people together, to share experiences, to connect communities.
During our October 2013 potluck, we were emailed by a new Vegan couple!  It's always fantastic to hear from new Invercargill Vegans :-)

Hopefully our cycling and cell phone-ing ways wont scare them off! :-)
Our next potluck promises to be a big event……please contact us if you'd like to come along to our 1st November World Vegan Day celebration :-)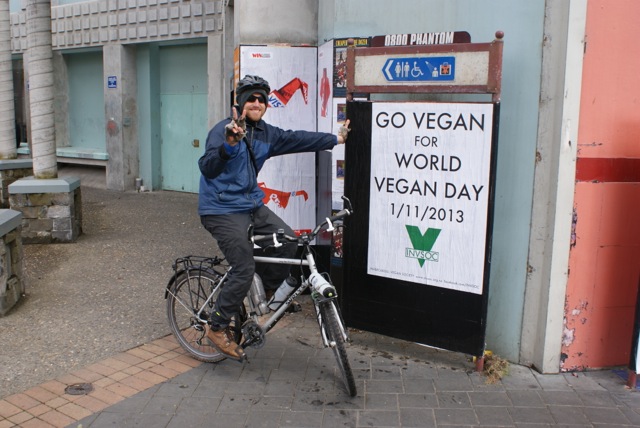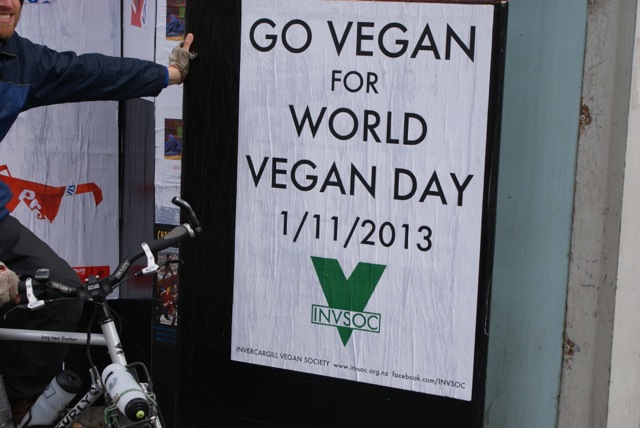 Thank you very much to Ashlee for staying with us, it was great having you visit :-)