"This recipe was stolen in a ramraid from The Vegan Society of New Zealand, leading Vegan chef Alice Leonard provides a wonderfully concise masterpiece of her art here
But…you wanted a rambling BEHEMOTH of a recipe, complete with a "magical voyage" in the middle of the tale, right?  Well then, bid farewell to Auckland, grab your yellow mini, catch The Interislander boat ferry from Wellington to Picton – coz "[we're] taking this bloody car to Invercargill!" "
httpv://www.youtube.com/watch?v=vP29ff2i0f4

Ingredients
Dough:
– 1 cup Soy Milk
– 1/3 a cup dairy-free Margarine (I used Olivani)
– 1/3 cup Brown Sugar
– 90ml water (about 1/3 of a standard 250ml cup)

– 1 Tablespoon active Yeast
– 4 Cups of Flour
– 1/2 teaspoon Salt
Filling:
– 3/4 cup of soft Brown Sugar
– 1 Tablespoon Cinnamon
– 1/2 cup of Margarine
– 3/4 cup Walnuts
Optional: I've added Rasins before to good effect
Utensils:
– Medium sized pot
– Large Mixing bowl
– Stirring spoon
– Spatula for cleaning up dough
– Cup
– Baking trays (I used two square cake tins bought from Pak n Save, the sides help the rolls keep their shape as they bake)
– Rolling Pin
– Large knife for slicing rolls
Optional but recommended
– A wire mesh surround for when the dough rises, to keep curious insects away
– Wire cooling racks, for the baked rolls to sit up off your bench etc as they cool
Makes "8 large / 16 Moderate rolls"
Instructions:
"Heat milk, water margarine and sugar in a medium – sized pot until the margarine is melting"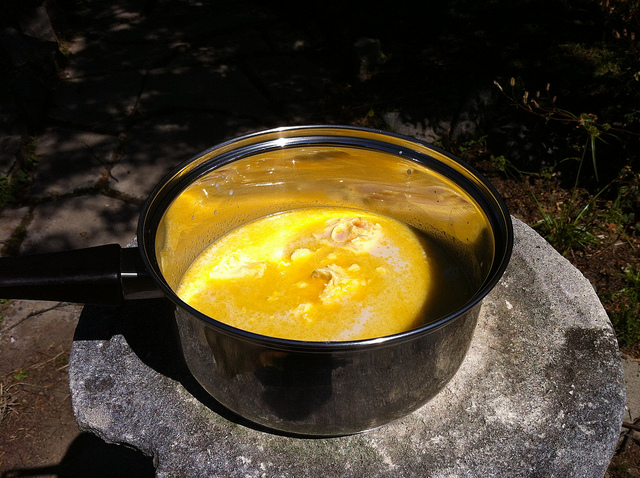 "Tip into a large bowl.  Check that the mix is warm, not hot and stir in the yeast.  (If hot, let it sit before adding the yeast.)"
See the yeasty lumps below?  Yeah, mix those in well :-)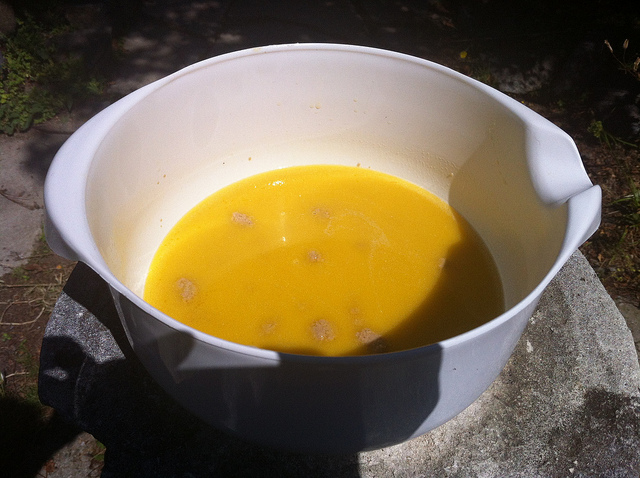 "Add flour and salt and stir well."


Stirring….


"Tip it out onto a floured surface and knead until the dough is smooth and elastic"
I covered a flat baking tray lightly with flour, and "kneaded" (roll, poke, prod, slap, coerce and ball to your hearts content)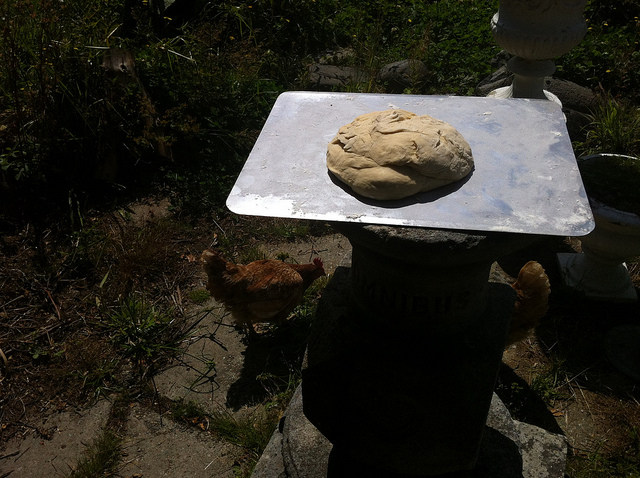 "Put it back in the bowl"
"…in a warm place and allow to rise until double in size (1 or 2 hours)"
I covered with a wire mesh surround, and kept behind glass inside in our sun porch, anywhere warm will work, for the yeast to do its work expanding the dough.

While you wait for the yeast to do its ("their"? :-) ) thing, 1 or 2 hours, why not go on a magical adventure with your Hen Friends, Mighty Boosh style?!
"…sure I could tell you the location of The Magenta Blossom….but then I'd have to KILL you!"

Black Chick, I'll give you the first Cinnamon Roll!  "ok FINE, its over here, follow me please…"
"Behold!  Wonder in its purple-ness!!!"

*ahem*, where were we?  Oh yes, the Cinnamon Rolls!  The dough will have risen :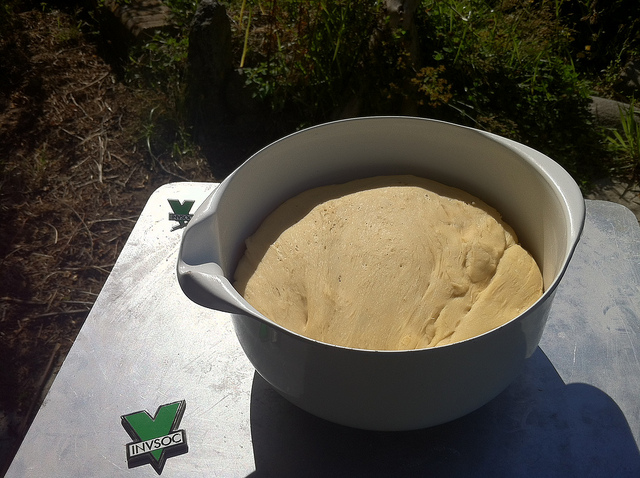 The recipe instructs "  *PUNCH* the dough down…"
You didnt have to tell me twice!


What do *I* do with the mad that I feel?  Why, I pound some dough!
httpv://www.youtube.com/watch?v=yXEuEUQIP3Q#t=4m15s
"…and leave to rest for 10 minutes."
"Meanwhile, mix all the filling ingredients together."
3/4 of a cup of Brown Sugar, 1 Tablespoon Cinnamon, 1/2 cup Margarine and 3/4 cup of Walnuts.  Optional: Raisins.  But you remembered all that, right? :-)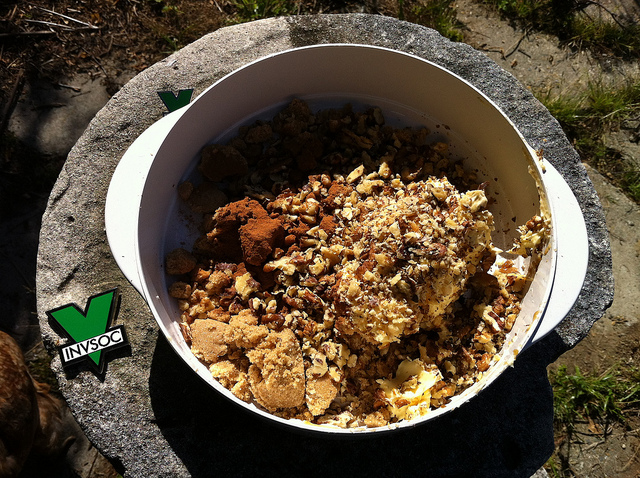 The Margarine will be a little hesitant to combine smoothly, use your spoon to mix and keeping with our theme of violent descriptors, "stab" and "crush" it all together, into a smooth mix.
"Roll the dough into a 30cm square (for 8 large rolls) or a 30cm x 60cm rectangle (for 16 more moderate rolls).  Spread filling evenly across the dough."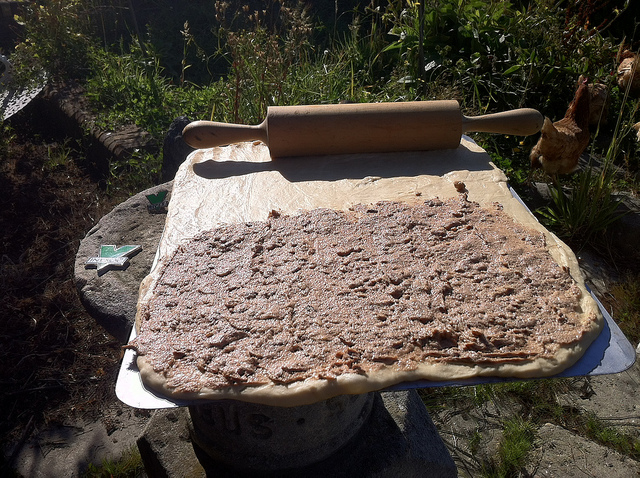 "Roll the dough up (from the long side, if you've made a rectangle) and PINCH the seam to seal"
I pinched the hell out of it, pinched it into submission, as though it were the first day of the month!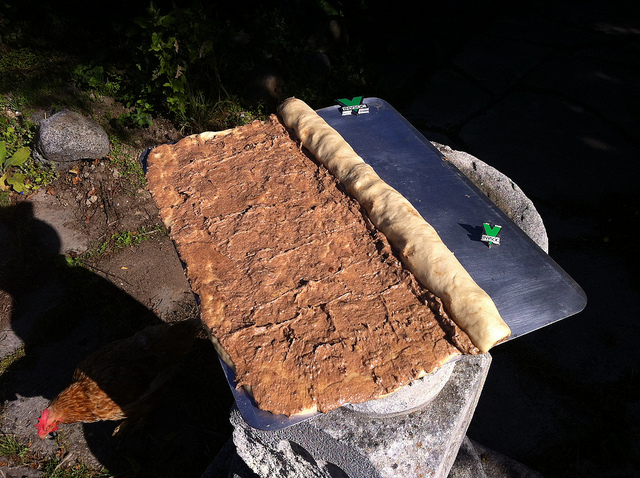 "Slice into pieces and set on a lined baking tray"
I sliced and kept on an UNLINED flat tray, later using anti-stick magic coated baking trays bought from Pak n Save for ~5 dollars each.
I used a large knife to slice down, and then "push back and forth" to separate the roll from The Dough Log, before pushing each cut off roll to the side.  Seal down the lines as best you can, tight and close to prevent the outside curl from coming apart, the roll losing its shape while it bakes.


"Here comes a candle to light you to bed, And here comes a chopper to chop off your head!" "Oranges and Lemons" nursery rhyme included in "1984".
What an odd thing for Alice to have included in her instructions!  Stick to the recipe please! ;-)

"Put the tray in a warm place for about an hour, until doubled in size".
I covered with the mesh again, and left outside this time, to watch them rise in the warm sun.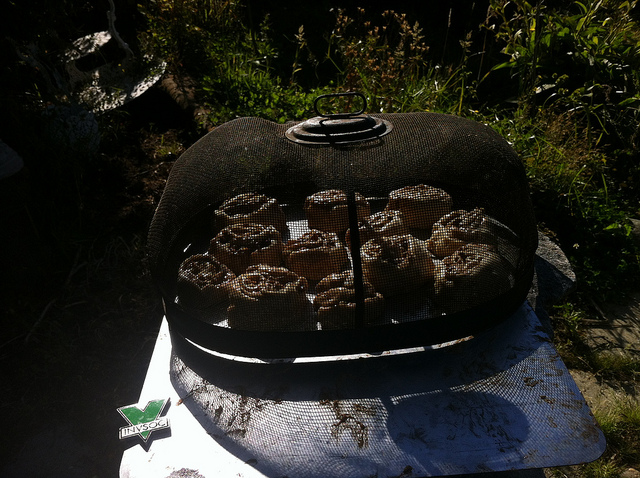 "They're now ready to bake in a preheated 180C degree oven for about 30 minutes, until the tops are golden brown and sound hollow when tapped"  End of the recipe :-)
My dear friend Barbara DeGrande took pity on my first, shapeless attempt at Cinnamon Rolls after having used a flat baking tray, she sagely suggested using a cake tin, the sides provide gentle nurturing guidance for the rising, baking rolls, not unlike a Mother Hen!

A few simple steps, and half a million photos later, ta-da! :-)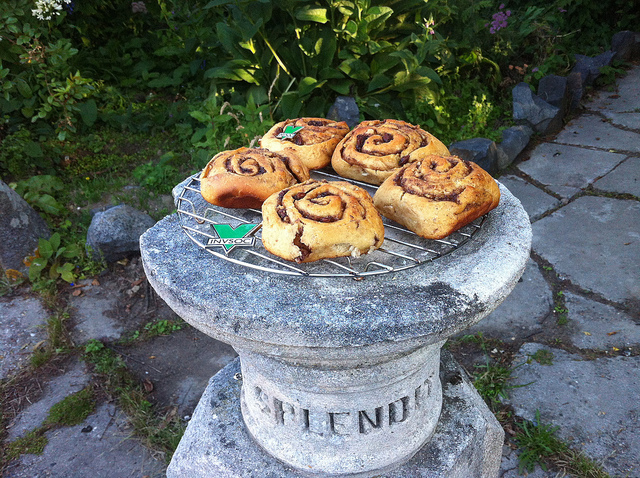 Enjoy with your Friends :-)