Our August 2015 Invercargill Vegan Society potluck, where we were joined by Diana Ross (like the singer!) and visiting conservationist San Diegan (from San Diego) man of the world Taylor Parker.
Add superb vegan Banoffee pie, and "The Return Of The Tasty Chocolate Square Things" into the mix, and it was one heck of a night!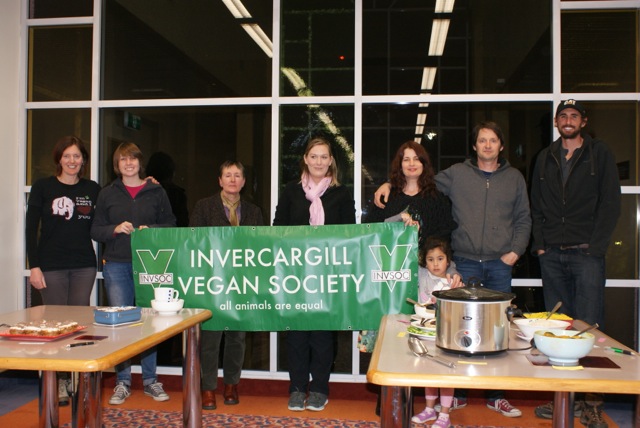 Taylor is a) tall, b) dark, c) handsome, while also being a "…habitat restoration ecologist that works primarily in wetlands",  boxing instructor, he's good with kids……*and* vegan.  Ladies please, one at a time! :-)
Taylor with his Sea Shepherd hoodie, with INVSOC member Nikki who lives on a former whale killing settlement!  As vegans, we can't wait for the day when we respect all animals.  Just 51 years ago, New Zealanders legally killed whales, but *now* we love them.  The day we likewise open our hearts towards our fellow earthlings can't come soon enough for the chickens, sheep, pigs and pigeons of the world.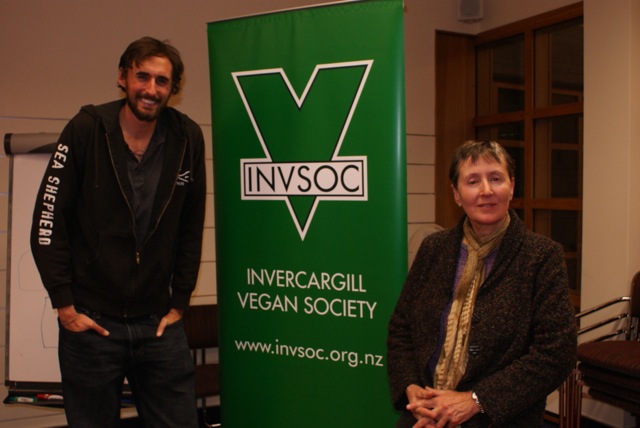 Mahalia was shy at first, but soon….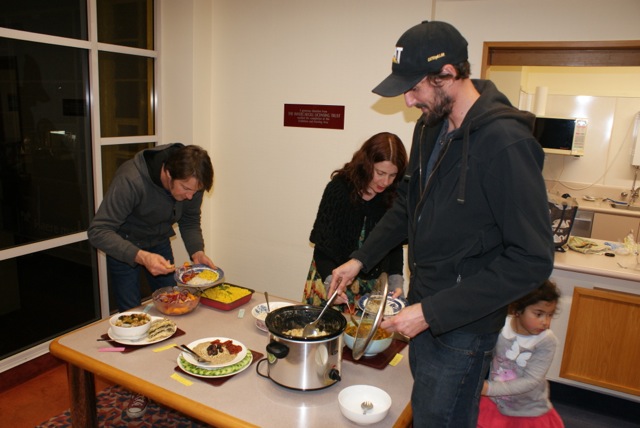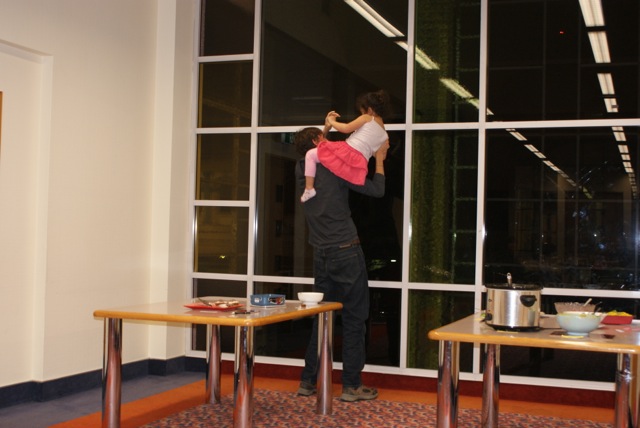 Our August 2015 potluck also brought about….The Return Of The Tasty Chocolate Square Things!  Bless you Steph, the description is quite appropriate for such tasty, chocolate and square "things".  We've even got her special recipe for this INVSOC favourite delicacy, at the bottom of this page.
Diana makes an incredible vegan banoffee pie too, captured here in muffin-ish form for easy potluck share-ability.  With coconut cream and vegan chocolate, Diana's dessert was an animal friendly treat.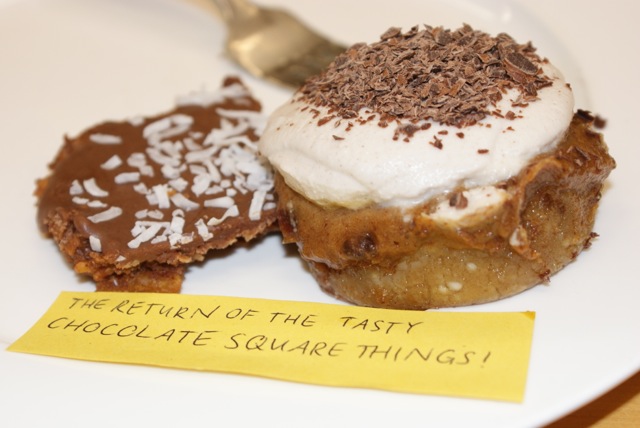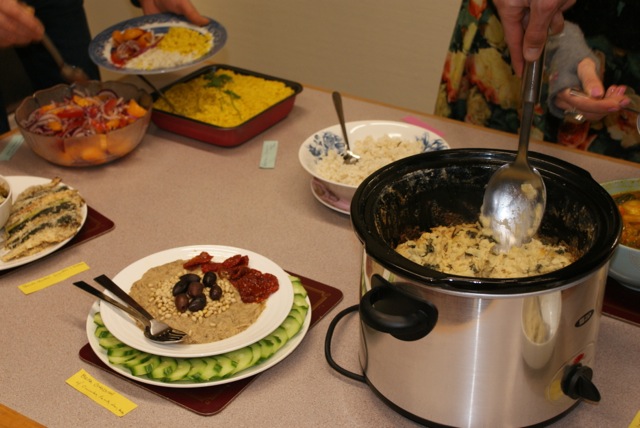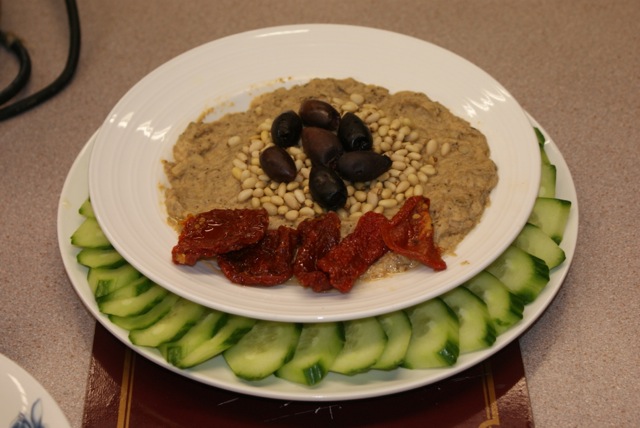 "Chris' brussly broccoli curry"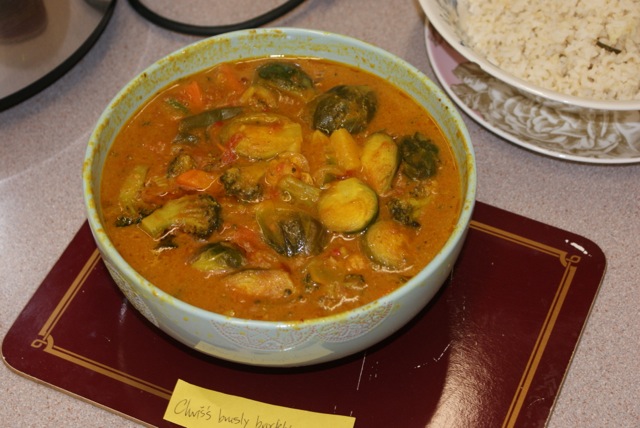 Broccoli + cauliflower with cashews, panko crusted courgette and eggplant.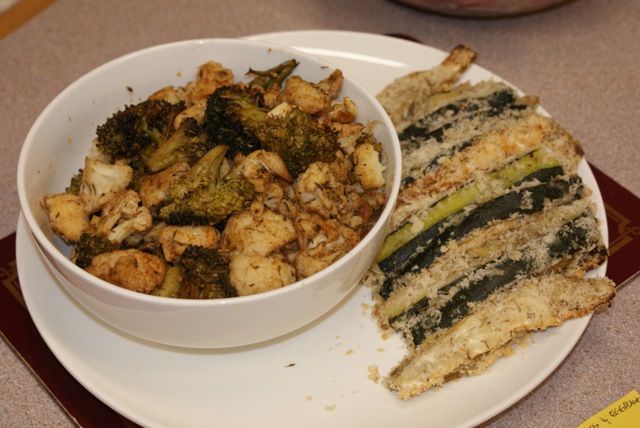 Red Onion/Tomato/Mandarin salad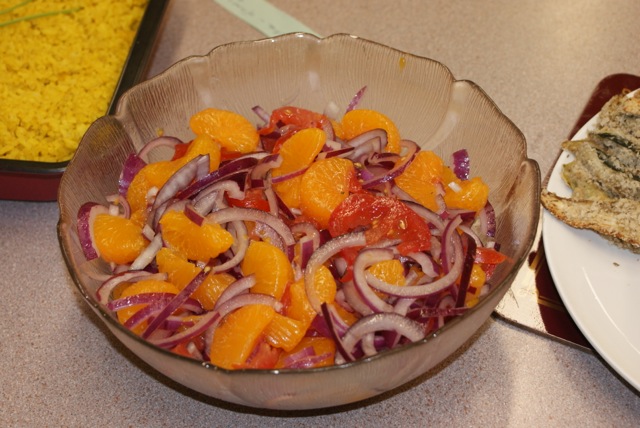 Vegans around the "Invercargill Vegan Society boardroom table"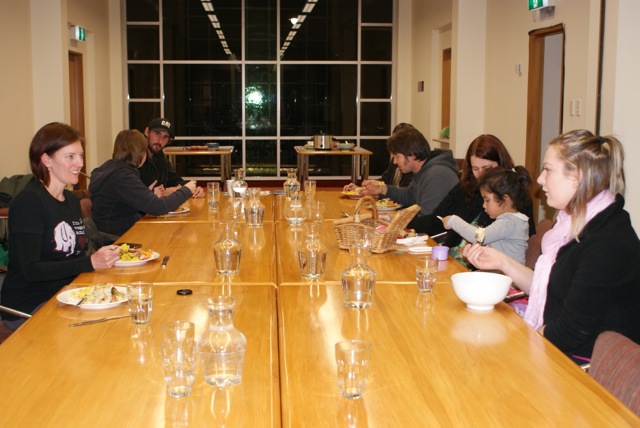 Macaroni cheese (vegan), golden rice, panko courgettes, mandarin salad….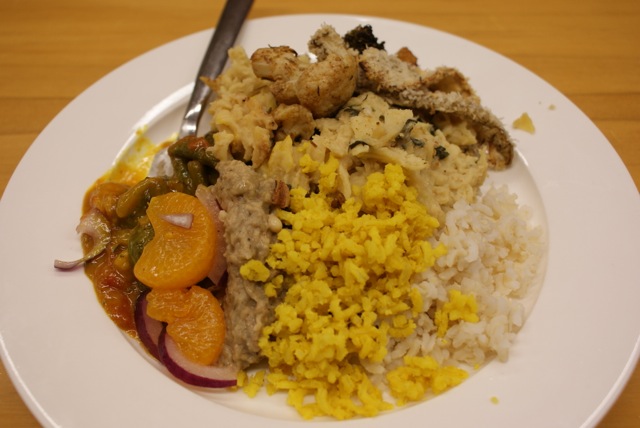 Honestly, Diana makes a mean vegan Banoffee pie!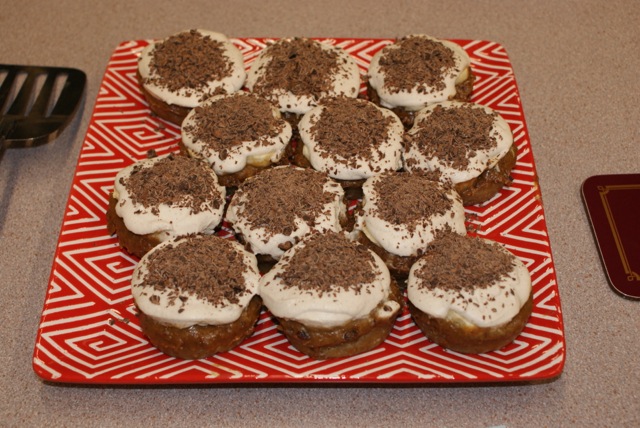 The Tasty Chocolate Square Things were initially restrained for our personal safety.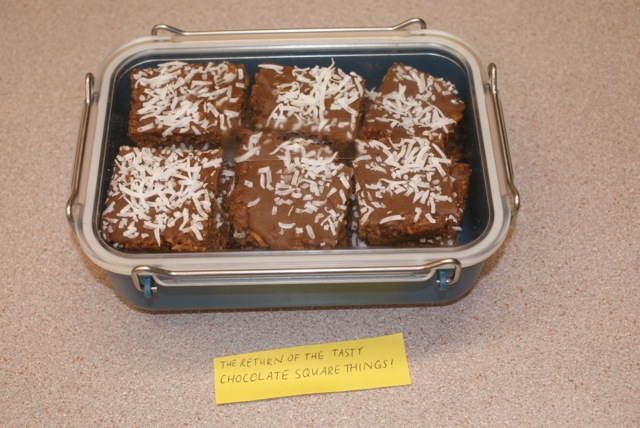 Behold, the recipe for making "Tasty Chocolate Square Things"!
Ingredients:
* 180g of vegan margarine
* 1t vanilla essence
* 1C coconut (dessicated or shredded)
* 2-3C cornflakes depending on desired crunch
* 1C flour
* 1t baking powder
* 3/4C sugar
* 1/4C cocoa.
Method:
* Preheat oven to 180, mix the dry stuff together, then melt the margarine and add in the wet stuff.
* If the mixture looks too dry, add in little bits of water. If it looks too wet, add more cornflakes or flour.
* Line a pan/cooking vessel with baking paper (I use a roasting dish) and press mixture down until it's packed and flat.
* Bake for 20-30 minutes until the slice is no longer soft, and let cool.
* After that, cover with icing (water, icing sugar, cocoa) and decorate however you like.
* Once set, cut that bad boy into squares, and congratulate yourself on creating such a thing of beauty.
Thank you everyone for a great potluck!